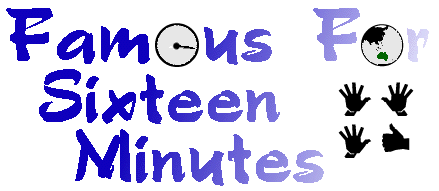 The Life and Times of Peter Green
Archive: 18 December - 31 December 2000
---
HAPPY NEW YEAR! (2001)
One second past midnight and we are all still here...........tick tick tick....
---
December 18th 2000
Happy Birthday Puffing Billy- Turns 100. The little steam train that runs through Melbourne's Dandenong Ranges is one hundred today. It's the toot toot you hear on the Nigel Griggs (Split Enz) Video interview as it runs right past his Melbourne home.

Xmas is approaching fast so I think it's time to send off all my invoices to get paid for the last few months....of course half of the band's won't get them on time but eventually we will get paid. Thankfully nearly all the Xmas pressies are out of the road so it won't be a 'we are starving xmas".

At the time of writing I'm noticing that this website suddenly has a lot more "hits". Not sure if it's the 100,000th hit contest or the new people who have just discovered us, all a lot of old readers who have nothing better to do at Xmas? Hey I'm happy. Was hoping to get 100,000 "hits" by the end of the year so it's pretty close- thank you everyone. Hi to the many new readers.

It's 2001 and this is my odyssey....please read on.


---
December 19th
Visit John and Caroline and their extremely cute baby Ellie. They are friends of ours who lived downstairs at the Woodface apartments, and they ended up buying Tim's Periscope Studio and once again it's a house. Talk about a LOT of work, the studio people really let it go and it is an amazing Deco house- so they've started work on it- really fixing it up to it's original grace. We sat out back for awhile and I had a chuckle as the letters ALT are still spray painted on the roof. John mentioned that the house is directly under one of the flight paths...so possibly if you look hard you can read ALT when you fly over Melbourne (hey I said look HARD, even at 10,000 feet it's pretty small). Glad I called by with our Xmas hamper, and I left feeling very clucky, Ellie is a cutie and she already loves her Dad (Daddys girl I can tell).

Spend the day getting all the envelopes etc ready for both the Crowded House-Finn mail-outs AND the Bardot mailouts, huge- that's about 15,000 pieces of mail between them. (No joy). We won't get the newsletters till late December and knowing the Xmas mail (supper slow) it will take awhile for people to receive them.

Home working and Fred from Skyhooks calls by. he was the drummer in this seventies icon band, just called by out of the blue- it's his birthday and Bassist Greg Macainsh in a week or so, both turn 50! Fifty...half a century- imagine (well don't imagine if you are Marky- he almost needs to be jumpstarted each time he has a birthday....sorry you are as young as you feel!).


---
December 20th
Spend the day with Rosemaree working on Newsletter stuff- her timing is perfect and the new machines just make life easier...had to raid our safe today in the office for some $- I hate paying the mortgage...think I'll work my sorry looking arse off next year and pay the thing off. Still better then rent, but it would be nice to not owe the bank.

Hmm DVD review of the week. "TWO HANDS".

It's one of those aussie films that Mark and myself LOVE and the rest of the world would just be confused by. It won 5 AFI awards including-BEST FILM, BEST DIRECTOR, BEST SUPPORTING ACTOR.... yes sexy ol' Heath Ledger is in the film....as is Bryan Brown and Rose Byrne and that guy from Seachange that always sounds like he is going to cry (but he has a "normal" voice in this movie). It's fast, and has non stop swearing...in an Australian Kings Cross Gangster sort of way.

heath plays Jimmy, basically loses $10,000 of dirty money.....he was suppose to deliver it to a woman who lives opposite Bondi Beach. She is a regular chimney (aka pong-breath= smoker) and she croaks it. Jimmy can't deliver, decides to have a swim (nice underpants Heath...so Coles Australian) and 2 kids ripp him off. Bryan Brown plays a Kingscross King Pin- really funny character...tough as nails says the "c" and "f" words all the time.... but loves his kids and gives girlfriends of the guy he is about to kill $20 so "she can get a taxi home ok". The bank scene is great especially when one of the bank robbers slips on the counter and knocks himself out.

You laugh- get totally embarrassed as you KNOW some of your distant rel.'s are exactly like these guys..... I think you have to be able to laugh at your culture to enjoy this one... it's yobby and blokey, fast and silly and the music is good....who doesn't like THE REELS version of "This guys in love with you".....the film finished with Kare Kare by Crowded House....and you know that song has such a "twist" that it really DOES fit like a glove for this movie. Australians will love it (except Fran who still has her "hating Heath" thing). Overseas- many of you will not even get it- put it along side- The Castle, The Dish, Don's Party, No.96 and don't even go there. We are a scary bunch downunder!!!!!!!


---
December 21st
Escape the office and Edward at Giza has some fun with my hair. Back to being dark, some red and blonde in it...kind of like the woman from "1001 Dalmations"...ok kind of cooler. The highlight is the discovery of the straightening wand. So my hair is very Monica (aka-Lewinsky) V's Sophie Monk......an interesting look and I know my hair...it wont last a day like this. When those Aliens kidnap me each night they do things to my hair.

Of course it starts off sunny and then Melbourne is hit by a storm. make that THE storm. One of those fast strong storms where all the energy is compressed into 10 minutes instead of hours.

I drive home and huge trees are down all along Glenferrie Rd, 9 sets of traffic lights are out. I change into 4 wheel drive mode to drive over trees while other motorists are stuck. Shop fronts are down, and I call home to make sure the big trees out the front haven't killed anyone. (they haven't).

Get a Xmas card from Tim and Marie Finn...was hoping Harper would sign it with his feet or something. Heaven help me if I have a child they'll be foot stamping everything.

Katie Bardot texts me that she'll be in Melbourne for her birthday so we should all get together for drinks. Cool.


---
December 22nd
Katie and sally arrive back today from Timor- all went very well and they were happy they went. Mail off Sophie Bardots drawing prize- Andrea Purton from Tasmania won it, I can never track her down on the phone so she will be surprised.

Amanda tells me that the Finns office is closed till Jan. 8th. Just mailed off a huge parcels of cards and letters. Still not sure what I'm doing next year, have a few ideas around work and it may mean saying NO to Neil, not sure. hey have to be asked first.

Go out present shopping for Katie's 25th and find these micro disco cubes that you put by your bed- all freaky-mini light show. Plus a stress pig for the next tour. Have no idea what to get people.....I do find a great green glass tumbler for Marguerittas...for myself.


---
December 23rd
Katie and Paul call by- I like these guys. Really the Bardot girls could of been total bitches but they are pretty damn easy to work with and it's nice to have some "away from Bardot moments". Mark likes Katie as she is really normal and a good chatter. Show 'em the house and Paul rents the spare room for the next 10 years...yeah it's a good place- we are lucky. So I tell them I'll see them at Candy bar for drinks etc. Do a quick change routine...as if I'd ever go to Candee Bar in shorts and Glam Tee.....plastics and Routee 66 shirt and those new red runners...ok a bit loud but groovee.

They've grabbed a table with friends- one blonde girl I recognise- small world- her name is Henry and she use to make our breakfast at the Blue Elephant nearly every day. She says "the staff liked you, out of all the customers" which was kind of sweet.

Buy a decent bottle of champayne and Jj and Miss Renee come over. Half an hour later an ol' battler called Nick Seymour wanders in. He's been at his parents place for a few days and just wanted some seafood. So I introduce him, really great- world feels right when St. Nick is back in Melbourne. The only other Crowded House person he's talked too has been Paul...well recently. To make my life more bizarre I'm about to leave and I run into Charlie rooke....he was in the Sharp when I worked for them. Charlies girlfriend Em is an old mate...how strange is this, too many faces.

Get home and Ben calls by to work on the computer. he gives us some early Xmas presents- Glayva and Cointreau...hic hic hic. he is the biggest softy with a heart of gold. Plus he just knows my Imac like it's an old friend.

I really feel my day is complete..ok I am exhausted and a bit pissed but that's ok it is Christmas. Need an early night as we have the big drive to Sydney tomorrow.


---
December 24rd
Wake up fairly early and we leave 30 minutes earlier then scheduled. The four wheel drive is just great- love that air conditioning and the sound system...Melbourne to Sydney depending on traffic 8-10 hours and I'm in the Pilots seat all the way. The traffic is pretty light- and the weather changes from a lovely Melbourne 22o to 30o. We post a huge bag of fanmail somewhere remote- fill the box so the local post people will be freaked.

Eat our lunch off the freeway at some Truck rest area- surrounded by Australian blue gums. Just lovely this country. Nothing beats Australia, no wonder it's called OZ. OK some of these damn flies we could do without.

I have fallen in love with cruise control so I set the 4x4 on that and I think it saves us a bit of $ on fuel too. As soon as we crossed the border Petrol prices went up. I drop mark off at his Mums- her first comment is "You must of been speeding" and I can say I wasn't...but I did sit on the speed limit. I get to my Mums house, drop presents into the neighbours, Mum makes me a sandwhich, I wash the car, have a shower, unpack the presents, jump in the car and head to the club to pick the uncles up.

I feel like a prize moo cow on display- they introduce me to everyone. I gulp down a beer (hey I'm an aussie-plus they only offered me a beer)...headed to the Pokies and won $20. I didn't have the heart to tell my uncle that those "dancing women" on the PokerMachine were really drag queens! Strangely enough it was on the "Priscilla" machine that I won all the $....loved those Stilletoes!!! ($5 per shoe).

The Uncles love the new car and fight me for the keys, they want to go off road and drive up the side of Volcanoes and stuff.....(that's where I get it from).

Various relatives turn up for the night before Xmas and we end up spending most of it outside as it's a stinker of a night- so hot. I hand out presents with my recycled Santa outfit (quick change in the bathroom)- a huge round of applause. One of my cousins asks me if Ricky Martin and the guy from Savage Garden are gay- I double nod! Roll my eyes, how would I know. Then again I bit my tongue as I was about to ask them if they were.....but I was good, plus his Mum was very close. Like who cares- I'm going to go up to people and say "Do your parents know you are a Hetro sexual"...it's a good line. My other rels wanted to know about the Bardot girls...." all the secret, hidden bits". I just told them about Tiffs Boob job that was enough. What else- apart from my Mum pinching me in "Old Lang ..." and I resisted being thrown in the middle of the circle ...it was good.

Stayed up and talked to my brilliant sister most of the night...the 8 hour drive started weighing on my eyelids...but I had a restless night.


---
December 25th
It's only 6.00 but I drag my bones out of bed and get dressed in the FULL Santa outfit...manage to get this new hairstyle under the hat somehow. If Santa was a Toilet Spice Girl I'd be Dunny Brush Santa! Bad hair day.

I sneak out while everyone was asleep and say a silent prayer for Pop and Dad who I really miss and hope some of the sadness around the world goes away for this one day at least.

I sneak in and wake Mum with a huge Ho Ho Ho...she almost wets herself laughing. My sister almost needs a heart starter, she is soooo asleep. She sleeps so quietly- it scares us all.

We put on the Ally Mcbeal Xmas cd and I do my best Santa dance to several tunes. Loved my presents, feel a bit spoilt, all things I love.

Sneak back to bed and fall asleep for another hour- in my Santa outfit.

Drive up to Pops where Mum starts making the Xmas pudding (from scratch) and all the other Australian Xmas lunch things. I become taxi boy and pick up the older relatives....and gee that was fun getting them up into the four wheel drive!! (not). So we pig out, I wear my fake Santa beard at the dinner table- and remove it later...have you ever tried eating through one of those beards?

I read in the shade later on...belly content.

Take Mum and Sis over to the crematorium ..and there are so many flowers. So many people. I love how the Budhist temple is part of it all now. I do understand (now) why people make the effort- but I still believe in make the effort while people are alive.

A hot sticky night- in bed early........big drive tomorrow.


---
December 26th
Pick Mark up at 8.00 and we head off. Pretty much the same drive, but the last 100 kms had me feeling a bit freaky...there is this long long stretch of trees with Koalas Cross here signs everywhere, and I kept looking up.... thinking one would fall out and land on the car.

We get home in the afternoon and hairball and Cosmo are totally fine- Rosemaree did a great job feeding them...(well hairball). Miss Ball is excited to see us though....two days and she just misses us heaps.

Cant remember what else we did.....maybe napped and unpacked, Xmas almost over for another year. Hope yours was fun?!


---
December 27th
Nice to see that the 2 stolen Koala's from San Francisco Zoo have been found- their names are Pat and Leanne. Some kids stole them and kept them at their house. They were returned hungry but unharmed. Koala's have a nice habit of peeing everywhere so that would of been the final straw.

get an email from leanne in Perth (no not the Koala the other crazy one), she has blown out her flight. We are all a bit crappy as we cancelled plans to be here. Even Marky thought she was really making the flight. Have to tell Fran who is equally as happy as we are.

Ben has been playing me Johnny Cash's RUSTY CAGE cover and we just spotted the clip on cable tv- have to buy the UNCHAINED AMERICAN RECORDINGS. Cash rocks.

Wow night of wild passion. Must be my Men's Function Support-saw Palmetto,Tribulus and Ginseng. Could just be my extremely good looks!!!!!!!!


---
December 28th
Neil is spending most of his time at the beach, it's such a great house down their- I like it much more then the city house. I think i'd just live their all the time.

Today is one of those recover from Xmas but NYE is approaching fast days- you know that week between Xmas and New year that is kind of a nothing time. have no idea what I did today. Have just been told I have to stop typing the Diary stuff to eat.....yes master!


---
December 29th
CJ and Jen spoil me again with pressies. I never know what to say- (thanks guys). I am using CJ's notebook present to make notes in on the F.16 Diary book project. Spock returns Jan 8th 2001 and I want to have all the text for him so we can get edition #1 to the Hong Kong printers as soon as he is ready.

Realize I am totally happy, just all good relationship stuff. My partner is just the best and even writing this will freak them out- totally head over heals in lurve!

Suggested to Katie Bardot that we get the girls and some songwriters together and have a week retreat- just so everyone can work on some songs. It's worked for several other groups that I've worked with- basically we look after all the meals and "needs" and they focus on the songs. Hopefully someone will pick up this idea and run with it.


---
December 30th
Happy 50th Birthday Greg Macainsh-Skyhooks.

Watch Kylie Minogue singing "Santa Baby" on Top of the Pops. I adore Kylie but prefer the version by Ally McBeal on the Ally Xmas cd. Thought Kyles was trying too hard.

Have a chat to Bob today- seemed to talk for ages, we get along well. Ben is in Adelaide working on several gigs- he's doing well. Think all the major bands are getting him to do their sound now.

Head off to clear the grass at the Forest House so the fires won't have any fuel- we don't want another Ash Wednesday.

Have brekky with Jj and Miss Renee-and the Sushi Guy. We make them change the music to Bowie- yey.

Spend the late evening working on the text for the F.16 book....it's coming together..just want some room left for photos etc. Thinking of giving each Year of the Diary Book a name. Example Book 1- "Hussy". Not sure why...just "Hussy" sounds good to me. Maybe "Glamour".

Nicole emails me and the site counter just keeps jumping. I'm getting emails from weird places- new readers...none of them Crowdies fans....all very spooky. Maybe I will get my wish for the 100,000th hit on 1-1-2001 (With the USA etc being a day behind I might scrape in on a technicality- so everyone reading this please hit REFRESH -NOW!!! *grin*).

Remember the lucky 100,000th person wins a big prize pack. Just print out the counter and send it to us with your name and address.


---
December 31st
Make a few BBQ things today- Rosemaree and Tania and Jake are calling by....BBQ and then we are all sitting on the balcony. It's kind of an open house so god knows who will drop in.

Time to reflect on the year I guess. Resolutions...oh I can tell here-I'm going to swear less, ignore idiots, try and do more kind things, I'm not sure, it all feels good as it is.

The last 12 months have flown by- a very quiet year for Neil, but Tim has got the music vibe and he'll keep churning stuff out in and on his own terms. This year will pick up for Neil, still have no idea what I am around him anymore....will have to ask. Then again it always takes it's own shape when we get closer to a release....my work kind of falls into place.

Well all the readers of this quirky little diary- thanks I'm sure I come across as a freak sometimes, it's rare that I erase stuff that I type, so you get what you pay for (but hell it's free)....I still don't read it.

Have a fantastic 2001...it has to be a good year. Maybe the world will end at midnight? So check back here next week and I'll let you all know if we are still alive (grin).

Britney Spears Rocks! God where did that come from? Now I'm scared. OK I'm ready to go......no need for that restraint.

Goodbye so long....... ( and the sounds of beeping car horns and fireworks exploding over Melbourne's Yarra River fill the void................)

WELCOME 2001. (with open arms).

---
If there are any problems with this site, please contact webmaster@aswas.com.