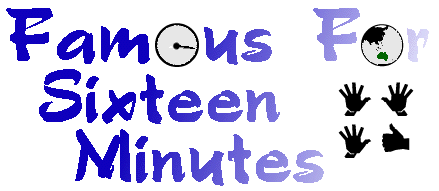 The Life and Times of Peter Green
Archive: 21 May - 3 June 2000
---
May 21st
Happy Birthday Sharon....all the best people are born in May.

Head to Babble for breakfast with Fran and Rosemaree, the weather has turned the corner and it's obvious Winter is on the way. We eat inside. The Sunday crowd is always different to the weekday people, people that are just recovering from the big night out, business people. I like the weekday breakfast better , more calm and less aggressive. ...more silly.

Get home to find a message from one Doris Fish. DF is a ghost writer and does some interesting interviews, not sure if I have anything to say so I don't know if I'll do this one. Sometimes I wish you can do an interview and decide half way through to scrap it or not. It's like diving off a high rock, you just can't change your mind half way. God how many interviews have the Finns done when they probably felt they were going through the motions. We already see it with Bardot, a few stock answers creeping in, Tiffany and Katie are probably the exceptions.

I wish I actually did something to be interviewed for (grin). Fame is....!? (Fill in the blank).


---
May 22nd
Well my weekly lotto winnings continue- $24 this week....must be the 6th or 7th week that I've won in a row...shall I believe the big one is around the corner.

Hmm another May baby is Morrissey, happy birthday Mozza for today.

We get our NZ charts in and those Bardot girls have invaded the Finns homeland, the single Poison #1 for the third week and the album debuts next to it at #1 on the album charts. I guess Asia is the area they will target next. It's amazing how quick N.Z. was, I thought New Zealand would be a bit pissed off. The TV/Girl Group thing came from NZ originally, they started the experiment with the rather horrible True Bliss. So I thought that NZ conscious would mean Bardot wouldn't get the public support....but it looks like not being the case.

Get an interesting phone call from Bic's manager Campbell, a possible NZ tour with Bic, Tim and Dobbyn......still far from confirmed but it would be fun so I'd like to do that one. So Mums the word...don't tell anybody.


---
May 23rd
Have started on the next CH/Finn mailout....have been delaying it being printed till I find out what is happening around the Neil possible Olympic show. Crowded House are NOT playing, it's one of those things, the more people outside the band try to push and make it happen the less and less chance of it ever happening...natural is the only way from within the band. Still not sure if Neil is even playing.

Stuart from our graphic company comes by, glad we are working with him, he's a nice guy, good music tastes and is a bit of a bad school boy! (grin). I see another gang up session happening...Mark and Stuart picking on 'you know who". Sign off on some artwork....gee I sound professional.

Had heaps of emails from fans who have voted for the Neil website in the upcoming Australian internet awards (ONYAS). If you haven't voted you still can for a little bit longer (Till July 15th).

So head to http://www.onya.com.au/inner.asp
Section 1/ best Australian Artist. Scroll down till you see Neil Finn. We also have Skyhooks and Mark Lizotte sites nominated in that area so please feel free to vote. Or go to the Frenz.com Neil Finn website and there is a helping Onya transfer button. Thanks in advance.


---
May 24th
We had a bit of a chuckle today over the "Everyday shopping guide with the GST". I love on some items how we are 1c better off on some products. So if I bought that product and it was 49c. Isn't the supermarket suppose to charge me 50c anyway simply because 1c coins no longer exist as Australian currency.? Already the beer companies are on board running anti GST adds. Someone should play John Howard's speech less then a year ago saying Beer would not go up more then 3c..... if nothing else the GST will do Howard and his sidekick in at the next election but sadly the public will be the ones stuck with the mess. How did this happen? Like most people we are trying not to think about it.

Get a quick call from Tim who just arrived in town, he forgot Paul Hester's number and needs to borrow some drums for the Continental show. I remind Tim that Mardi is about to give birth any second so he may not be around.


---
May 25th
Welcome to the world Olive Hester. (I told you it was any second). At 4.20 am Mardi gives birth to a baby girl. She is gorgeous. Paul is all cheeky smiles.

Head to The Conti with Fran and Lara and Mark. Have dinner down stairs and I almost eat it all. Our waiter is the usual guy who changes his accent everytime he comes back....he totally throws us off balance, in the end we just ignore him. The Conti is 85% full and Stuart and Lisa turn up- we all get a bit blurred around the edges.

Go and see Duges and watch Tim from the wings, always a funny spot looking out over the crowd, people captivated. I have to admit it's one of the best Tim shows I've been to and I really liked his voice. Over the past few years there has been some solid criticism of it but tonight was really special. Good to have Dugald back working with us.

Talk boy stuff with Fran and Lara....I did sell out the male of the species and now the girls know all our weak areas (sorry guys BUT it was a free drink).

In bed asleep by 2.00....the wind and rain are dancing in the trees outside. Climb down deeper into the bed clothes. All warm..sighhhhh.


---
May 26th
Happy Birthday Robin. Well she escaped to Qld so no surprise party for her. She told me I was the only person who called her. Probably heaps of messages on her machine.

Give the tax man some money...I hate that even more then paying our phone bills.

Head down to the Conti with the Leica and do a few shots of Tim rehearsing. For the mailout, also a few B/w's for the collection. He looks great.

Tim sound man is doing the gig, he did some of our Bardot stuff. Found out he use to be in Jj's band "An Affair"...small world. Asked me for a Bardot poster for his niece (sure it is Tim).

Get back to the venue after a three hour phone marathon (just as much my fault) with some of Tim's stock. Always amazed at how many record companies never have cds available at the artist shows. Full house sign is up and Tania and Spock are in the audience.

We head back to the house a bit Vodka'd out...a nice end to the night. Tania is louder then Spock!


---
May 27th
Happy Birthday Neil. Give him a quick call, all the family are at home with him, sounds great, and we are going to catch up soon. Told me he is looking feral. Feral Finn...could be his new stage name!!!!!!!

Toija meets us for Coffee, and she is off to Italy soon, rejoining with the other half who is over their studying Opera. keeps asking me to go, it is tempting.

I spend the afternoon working on the Bardot kits, these go out early next month. Bardot are in the studio tonight- have no idea what they are doing...is it a new song?

Got word that it is snowing up at Beenami and the surrounding countryside. I have visions of giant gum trees covered in snow and the gingerbread type house all white. I wonder if the Kangeroo's hide in the barn to stay warm. They can- we have an open Kangeroo/Marsupial House rule..all critters allowed (except fat leeches). Next major snowing we are heading up and will take some photos.....can't wait.


---
May 28th
Well it was cold down here but a nice day in Sydney. 100,000 people walked across the Sydney Harbour Bridge for Reconciliation Day. John Howard was visually shaken by the heckling and the people who stood up and turned their backs on him. The silent protest. How can saying Sorry be all that hard? Was really proud of Australia today. (well most of it ).

Sat down and penned Vali a letter, been meaning to do it for ages. She is still with all the animals in Italy.

My big purple Star balloon that Alison gave me on my birthday is still floating about, 17 days later. Must be the cold weather?

Kind of a boring day.....wet and grey. Good day to read so I polished off a few books.


---
May 29th
Jj calls and is excited about a song he just finished. I have to admit this is the best he has done for ages so I'm sending it off to the States when he is ready. We head to Revolver and celebrate with some champayne. Spend most of the time being cynical about the "art" on Revolvers walls....not even average.....and they want $3000 per piece. Someone's taking too many drugs and it's not me.

The cold grey turns into a soft hail...and sleet...and the whole of the street is white, cars have to pull over and the Grey Ghost is now a white ghost.....it is so close to snow. Mark is hiding under his Alpaca bedcover so I force him outside to have a look (all moans and groans).... Cosmo decides to investigate and hops around the atrium playing in the snow......a snow bunny! Her fat little body is keeping her very warm. Hairball watches her from the warm heated kitchen...with that "stupid bunny" look on her face.


---
May 30th
Spend the day dealing with bank accounts and BN (business numbers) and guess what this week I didn't win any money on Lotto. So much for the big one around the corner......I don't trust that Lotto machine!!!!!

Notice some of the illegal Bardot products are on the market- the unofficial Poster magazine, and stuff like that. Always a sign of success.

Rebecca left the country a few days ago for the Seekers mini U.K tour....don't think the pre sales are all that strong but they should get a walkup. Hey at least she gets to go to the UK.

Speak to Pete and Susan to let them know that all the invites have gone out. Even the various Coffee shops have used them all up. I'm more worried that it will be a miserable night as far as the weather goes. But they give good Art so they should have a turn up.


---
May 31st
Well goodbye to May and all those birthdays.

Today this site turns four years old....and 75,000 hits later! God that is so many, well for me anyway, probably not compared to the Mars Rover or the kill John Howard site. Anyway thanks, I guess. Still can't remember why or how this started. It wasn't one of those lines from Priscilla "I had a dream.... to do my own Diary site" it just somehow took legs. Thanks Deb.

The O'Doherty's arrive from Sydney, car overflowing with art. Start hanging it today, for the show tomorrow. Paul arrives with Olive in the afternoon......buys several pieces, one being the "Tram" painting which I could of killed him for. I got revenge and purchased "Yellow Chair"...a big chunky deco chair (painting of)...that I know he will regret not buying- plus I love it.

The weather report is horrid for tomorrow.....


---
June 1st
First day of Winter and we get the hint. OK maybe not as bad as Alaska or Canada but the wind is lined with snow flakes I just know it.

Pick up Neil and Sharon's "better late then never" present, the dvd set of The Planets Series. They'll love it (I hope). Running out of ideas for them.

Rosemaree arrives and we head off to the artshow. She assures me the 2000o heatwave inside the car is important as my heavy breathing is fogging up the back window (OK I'm very horny...sprung)...but outside its very wet, windy etc....so we expect that will halve the attendance.

Mark likes one of Susan's abstracts titled "Portal" so we add that to the shopping cart. I also hand over three bottles of Vodka...if it's like Siberia outside we might as well drink Vodka.

Some people say Hello and I pretend I know who they are, I have no idea. I am either very vague or there are too many faces. I am kind of hopeless.....and no not a single glass of Vodka has been raised to my lips. God that sounds so rude....

Tania turns up but El Spocko isn't dropping in till tomorrow. Fran picks Sonia up from the airport and Lara and company arrive. Somehow Lara looks very dry!

Quite a few people and all those red dots start going up on the walls. It's a healthy show and Pete and Susan are happy.

Head off for Coffee with the girls, and leave Mark with the blokes. Checkin' out the chicks.....ok that is a joke (sorry). We are almost the last to leave and I think Rosemaree missed out on Dawsons Creek so she must of loved the artwork. Thanks for the lift Ms Allison.


---
June 2nd
Head into the city to pay off some more Amex....call in and see Toni at Vali's , it's been very quiet.

The Virgin airlines magazine should be in the stores very soon, I think my Vali painting "Thornbirds in Paradise" might be one of the paintings featured. This is good.

Go post some mail before getting my train home, and find this very groovy Gifts/clothing store near Flinders St. Station- "Larama". (215 Flinders St). Very Funky and I make a promise to come back for a decent look. Nice shop name...kind of like Beenami. Weird that, fits like a glove.

Whilst at the Supermarket I start feeling ill, kind of like my body is fighting some sort of internal flu bug or something so I desert Marko and head home to bed. Take a melatonin and sleep the sleep of Egyptian Kings. Wake up around 9.30, stumble down the staircase, read, and head back to bed at 10.30. Need to get back into my Borg Alcove and recharge. Make it so!


---
June 3rd
...and I wake up fine...

Get the rough of the official Bardot site and go through it. Afternoon is spent getting ready for the Neil Finn mailout and all those Bardot kits. Mark tells me to take it slow and have the afternoon off. So we watch a UFOish episode of the XFiles. The DVD reviews of the XFiles box set are all incredible, people are raving about it all over the internet.

Play with Cosmo and the cat in the afternoon...Hairball is still trying to drink heaps of water.... we caught her climbing the staircase with her dividing rod looking for water in my upstairs bathroom....bad cat.

Get an email from Nick...he has been producing a band called Falling off a Log.....I think that's what they are called, he seems to be very busy. he thinks they have listened to a lot of Crowded House (grin). Is that a bad thing I ask him. Hope he comes home again next month.

So roll on Winter. Looks like being a cold one.

Hope all you USA fans enjoy Tim Finns tour.

Take care
Peter

p.s.- How is this for odd. I was just walking down to the kitchen and I had this day dream that I was going to get shot later on and I was worried because I forgot to mention that on today's list of things that happened to me. Isn't that weird! Will tell you in 2 weeks if I was, hopefully I will be fine. You know that feeling where you are just not sure if you witnessed a flash of the future....

---
If there are any problems with this site, please contact webmaster@aswas.com.