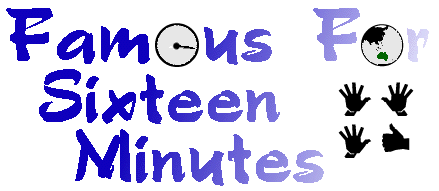 The Life and Times of Peter Green
Archive: 24 September - 5 October 2000
---
September 24th
Ok lets start this Diary update with a confession- yes straight into it. Not a bad one just need to get this out of the road at the start. Am typing in am intoxicated state (far worst than driving)...so good luck to you reader, you're going to have to wade through the mistakes, the grammar oh hell, a total mess probably by the time I get through this 2 weeks worth of meanderings. Just back from the Candy Bar with Miss Renee where we polished off a serious bottle of Champas- so much for Coffee.....just had to do it. Several hours later with the sun setting I'm home, onboard the Mac typing this.

Spend this Sunday working with Rosemaree, well she contributes and keeps our life running on it's weird little course.

Bardot do a cappella version of one of their songs on The Dream, a tv show that's on after the Olympic events of the day- taking the piss out of the serious side of the Olympic Games...


---
September 25th
Some people ask how I write all this, off my head. I'd love to say Yes but I couldn't tell you half of what happened last week- yes there is a "real" diary with bits and pieces that jog my memory, sometimes horrify me and sometimes make me laugh like the crazy fool that I am.

very happy today because our Solar Power rebate cheque arrives and it's about $1000 dollars MORE than I thought it would be- thankyou Mr Bracks, god for this much i WILL sleep with not only you but the deputy premier as well! Happy as it covers a huge chunk of the "car money". Oh to have a rich benefactor...should I throw myself on Mr Finn and beg for a pay rise....I know I won't he's been generous enough.

Like most of Australia I tune in at 8.00 and watch Cathy Freeman do her stuff. She really does more for reconciliation than all the politicians joined together. One minute she's the serious athlete the next a happy little girl who looks like she has the best Xmas present. God bless the Cathy Freeman's of the world, good to see some Tall Timber is still allowed to grow before some idiot tries to cut it(her) down. Aussie Aussie Aussie. Mark and myself work all the night long getting cds ready for the fans....we are both totally wiped out...death by c,d!


---
September 26th
An old friend visits and stays the night, great to see her. We head to La Camira for dinner, have a few Vodka's and it ends up being a late one. Blow out watching a movie as we are all worn out. It's the old peoples home next.......

The printing company send me the Neil Finn "Once Removed " book- it's still warm, fresh out of the the printers in Honkers. I think it's out in about 3 weeks. Some great stuff, he spills his guts on the "Is Wayne here..." distress code. As I mentioned awhile back our code is "I feel like some FISHCAKES" (huge emphasis on the FISHCAKES word) ....I wonder if some fans will be put off by his honesty...but it is honesty and fans shouldn't get worried that Neil means some of the things about ALL of them....... NF".......Add to the fact that so many people come up and say hello like old friends. They have listened to your music for years, they feel as if they know you. I tend to assume I know them too and gush accordingly, just to be on the safe side, but it leaves you feeling a little insincere".

I love the Iggy Pop line "...I was brought up to be polite, but at times I would love to be able to bluntly tell creeps to piss off. I've watched Iggy Pop abuse people backstage and they lapped it up-that's quite a talent. We have a code that is useful for rescuing each other from troublesome guests backstage. "[Is Wayne here] we ask (or Wendy for a Girl). If a person wants to be rescued they reply [Yes he is] At that point we find an excuse to pull them away...." All I can say is pity if a Wayne or Wendy is standing by!!!!!!!!! At least the odds of someone having FISHCAKES are much smaller Neil! (:

I love Mark Smiths photos in the book and I hope Neil's text doesn't detract by hogging the limelight- it's a good balance/marriage and I think people will love it.


---
September 27th
The Yeti arrives with memory chip firmly wrapped and takes apart every computer in the office, the clock, the Powershredder PS50, Omni hacker code box, Canon pc20 and everything else........just to install some memory. I know it';s a fixation, if it has a screw it's getting unscrewed, such is the way of the yeti, such is the life of a crew boy. he looks a bit crusty, we look wired, so the word JOINT is bandied about ...a the mini rolly machine produces one.....a New York Joint- so fine you could pick your teeth with it!!!!!(Thanks Jim).

I almost forget that my 10.30 is an interviewer for both Internet and the ABC, and when Bronwin arrives the few Bill Clinton Puffs have moved me to some new ethereal domain "high about the kitchen" (thank you Neil).....and when she pulls out a huge lop sided microphone I think both of us think SEX AID as we both laugh. So I know she will be a good interviewer...she has a sense of humor- a nice quality. The small Clintonesque joint has me giving extremely LONNNNNNNG answers to questions, so D&M that I honestly forget the question. Gee so much for my professional ethics......so I take the R/R stance (you know the one that's hand stitched on Ossie Osborne's framed napkin... Sex drugs rockNroll....so we cover all three...add to that fans, why we are all fans, fans who have wanted to do you harm (grin) and god knows what else (I can't remember).

Thankfully later she assures me I did well.....I apologize for the extra workload- (the massive amount of editing she will have to do). A classic moment was in the middle of a really good quote and my stomach decides it is VERY hungry and sounds like a soundtrack for the Volcano movie........I think my final quote was the best something about the mystery of the Sphinx. Catman and Yeti said she laughed a lot...so I think that's good???? Footnote-cancel all future interviews MG.


---
September 28th
The expensive champayne is wearing off, Mark is watch Heartbreak High- he fancies the greek girl with the fangs.....

The Screaming jets still haven't paid me but they sent me their new album. Maybe I should sell it and get at least $10 of my wage!!!!!

The Olympics is a small daily obsession and I manage to watch heaps of hockey, some basketball, the baseball, and of course the Gold medal actions of an Olympic SWIMMER who I hear is about to come out of the closet in the next few weeks. Sorry I just realized how crappy that is...really it's his business so I'm not going to "out" him.....I could go through and "IN" all the Olympic swimmers who are straight- well really it's the same thing-ISN"T it? The woman's Hockey team are just the best, I know this will be their third Gold medal games in a row. Hockeyroos rule! Chicks with sticks forever.


---
September 29th
have to get my Neil card framed soon, the art is really nice. Did I tell you about this. The next day after the Melbourne shows I get this envelope with some very familiar writing on it. Inside is the laser art of Neil's Street Posters for Melbourne....Neil scribbled "Thanks again you exotic creature!". Well he got the creature part right......(:

Ok the Womans Hockey just beat Argentina so they get the Gold! They should adopt the Gryphon as their good luck charm, 3 Olympics now. I always have a chuckle over the Aussie player called Jenny Morris as I always think of our friend from NZ-singer Jenny Morris. She's a good player too.

Went into the city today- very quick effort, bought Kylies new album for Mark at JB Hi Fi....on the way home, a really old man in an old ladys nightie hopped on the train at Prahran station.....tell me this isn't me in future years! Hey Jen Rundall at least he had good blue nailpolish on(kidding).....well he looked happy....in a old man in a nightie sort of way.


---
September 30th
Peggy tells me the date on my emails reads 1956!!!! Opps is something wrong. I don't want to know, it seems to work ok.

We work our cute arses off all weekend, so many fans will have happy surprises awaiting them at their mail boxes this week.

Apart from that the diary page is empty. I remember taking this huge sack of mail to the Post Office and Connie lets me in early, so here am I the envy of millions outside wanting to get in. The Prahran Post Office people are just divine, ok we buy $100,000 worth of postage each year but they like us, blue nail polish and all. They are a good bunch.

Wasn't meant to say anything but I think Neil may change the title of his album...again.....someone else has Second Skin....I told Marck Bailey that I bet this would happen before he headed off to Oz (follow the yellow brick road Marck). Anyway we'll all wait..at least the songs are done.


---
October 1st
Wake up, get out of bed, shake the sleep out of my head.....brekky with Sonia, Fran and Steve. I am sure I spotted Fran quiver with frustration when we all start talking about Jar Jar Binks and that he must die .....I know Fran hates Star Wars. (grin). Babble is good and we get our vip table inside....Fran is amazed at how fat the Pink eyed Freak is now. A fine meal I snigger....the little bastard bunny decides to try and eat it's way inside via the top window. I should ask Lozza about Bunny sleeping pill-spread on their toast!!!!!!! We do love it though.

Hmm I hear the strains of Buffy on cable.....must go watch some of it, back soon. can't believe Australia will have the Buffy boxset a few months before America.

Closing of the Games ceremony is on....Reg Mombassa does well, all those mambo shirts and giant blow up three legged chickens and other Reg inspired creations...how cool. A tad sad that Crowded House didn't do it now, only because I know how they'd blow people like Vanessa Amerosi offstage...and lets not even talk about INXS. How fucked were they, John Stevens sang well, the rest of INXs were really tragic...and looked 2000 years old. Leanne in Perth called up as soona s it was over and said how much she hated INXS doing this and almost broke her tv. Next day different people simply said "how crap were INXS".....it's time gentlemen please for Michael's sake don't let this get tragic. As a fan I beg you.....it sucks.

Yothu Yindi were great, The OILS in their "Sorry" shirts were great and Vali Myers tells me she thought Midnight Oil were just amazing. Well it's over (so you can be quiet now Marky).....if you don't stop hassling me I'll get you the "Olympic Flame marathon" DVD for Xmas.


---
October 2nd
In contact with Bronwin and her working title for the doco is "fan.au" which i kind of like, I'm surprised someone hasn't ripped it of for a website.

I get an email from Kevin in New York, the family is settling in, and he is doing a showcase gig (Dan and Kevin "Magic Rider cd"; at Eight Mile Creek... that's in Soho (Mulberry Street) but i don't know what date....so if any new Yorkers would like to see a member of LLT play contact the Eight Mile Creek for dates, times.....

Renee calls and I head down the street to meet her for coffee at Candy Bar. We both decide that we've worked too hard lately and order a bottle of champayne and drink it all- she's just so excited about the movie and it's great....good to get sloshed today as tomorrow she starts with her personal trainer. So what was a coffee is now several hours of talk and gulp gulp...

I arrive home and that's when I started on the F/16 diary update. It's now a few days later and I'm finishing off a can of "V" which is carbonated Guarana and vitamins-a taste I acquired on the Bardot tour. The girls would have a can of this each at every gig and the energy factor kicked in...I think it has Pantothenic Acid (is that spelt correctly??) and all those B2,B6 and B12 Vitamins etc....all those squashed rich red berries of the Brazillian Guarana Plant.....YUM (BURP). We bought so many cans on tour that they really should of been a tour sponsor.


---
October 3rd
The November Cosmopolitan magazine came out today...has 5 full colour pages of Bardot on tour....I get a few one liners and stuff "Wew meet Peter Green who's in charge of,err,ambience. Ambience? I'm in charge of making the dressing room comfortable for the girls. I basically make sure they have everything they need. For example, lots of M&M's for Tiffany, and Soy milk for Belinda, I also light some candles around the room etc etc"..... and so it goes on..... But it's an ok article and the photos are really good...very "on tourish" and the infamous Silver Crowded House Tour suitcase ends up in several shots with the new Bardot Band Room sticker over it and tonnes of passes, looks very very TOURish!

I do have a laugh today, as the group are becoming very big in Singapore. A fan sent me an email saying I was in a Teen magazine photo being hugged by Sophie on the road in Australia...I can't even remember the shot....so there you have it, I'm massive in Singapore along with Bardot- they want me to be the Poster Boy for the December Issue of "Singapore Flesh" magazine (Move over Miss July). (chuckle).

Head to the cd store and buy Green Days "Minority" cd single, has all these LOUD live songs, Jon at the store gives me some free magazines and the Green Day EPK...I feel like I am at the show, with all these show bags.....I notice HMV have put up their dvd prices AGAIN!!!!!

Speak to Ana at the office and that was nice- and later on Sophie calls.... and that is great. Talk about possibly going to cairns for the instore...we'll see. Straight after that Jane at the Sydney accountants calls and finally I am getting paid by the jets- and I know it's thanks to Aaron. So another cheque straight onto the car.

Ben leaves today for a tour and he sounds stressed, which means he probably hasn't done his washing yet.....I kept baiting him and he reacted everytime and now I am feeling guilty for not being a nice friend.

Checked the emails and Qantas got back to us super fast, adding all these flight points into the accounts. Between us it's over half a million I think, so these sleeper first class seats are looking good. Us old bastards need some luxury....and all Singapore Teen magazine stars travel first class well don't they??????????????


---
October 4th
Decided to run a special contest for the lucky 100,000th Diary site reader. If all goes well the 100,000 hit will also get close to the release (at last) of the first famous for 16 Minutes book.....if we get all the parts to the Hong Kong Printers.....anyway the lucky 100,000th reader will get a special prize pack, made up of some impossible to find tour tshirts (and yes they will be washed that several of us have worn on the tours- Crowded House, Enz tours) and a bag of other Tour/band items, basically a surprise pack. Might try and find one of the very early Split Enz tour tshirts too....anyway whoever the lucky 100,000th person is I'll put together something special. Sad little sites like mine don't often get 100,000 hits, so I think the lucky person has to be rewarded. Remember to print out the counter and NO doctoring of it as Deb will be able to tell ( she is half betazoid and knows when you are lying!). Just print out the 100,000th counter and include your name and address and send to us at p.o. box 333 etc etc.

A lovely day here in Melbourne town, wake up feeling frisky, poor Hairball suffers my "up vibe" and I have a bit of a dance around the kitchen with the cat.

Just looked outside at that wheel going backwards and I can actually say that the solar power being created is totally running the computer that's typing this update.That is pretty good.

Hmm what else, get a call from Katie, and the Bardot girls had a good time at Linderman Island, Katie has started reading again, heaps of books, so I'll have to get her a copy of "cave in the snow" to read.

Clean up the backyard, only takes ten minutes, nice and fast. Notice all the young palm leaves are unwinding in the Spring sunshine, all lush and green. Tell Mark that I am buying him a Goat for Xmas....I would if we could look after it daily, we just can't leave the poor thing up at Beenami.

Mark surfs the net and fins some 300 storage dvd players, I think there are about 300 dvds at home so the thing will be full to the brim. But it's pretty good for storage and you just attach a keyboard and type the titles on for each movie.

Notice The Models are reforming for their tour- they were big in 84/85 and from what I gather a lot of infighting has been going on...tempted to see them as the wonderful James Freud is in the lineup- hopefully he wont do that tragic football song or talk about fuckin' golf! Would be nice to see him play.....and Sean Kelly's old gravel voice' Twoooo cabsss to the Toucannnnnnnnn!" Yes Mark Sean is ratlike....could be good, mad Vivienne will no doubt be at the shows.

Nice balmy night, perfect for a BBQ so we'll eat out tonight.

The girl at HMV Prahran tells me how amazing she thinks Vali Myers is...I tell her she should go visit her at the studio and see her latest works.


---
October 5th
Some real sadness today. A good mate moved on last night , I like that term, moved to somewhere better, somewhere full of colour and no pain and good things.

Her name is Mary, some of you know her as the Finns Mum. Always at the shows for as long as I can remember. I won't talk about it much, I know the diary shows some side of me, but only a small side. It's one part of the internet that I don't like, it's a cold plastic computer case and we are talking about a person who's portal of fire inside just burns with a crackle and none of that can come across on a computer screen...or maybe I don't know how to say that I miss her already. I feel silly crying while I type this, I sit with my palm under my chin every few seconds thinking should I even attempt this, but it could add something human into all of this.....

Anyway this has been coming for awhile, she has been sick, and thankfully the few of us that knew wore it close to our heart, a gift for the Finns maybe so they could spend as much time together- without invasion from fans and people. Sometimes it's hard to accept sympathy from people who are part of your world but not "family". I know that sounds terrible as the intention is good, no better then good and I'd do these people an injustice calling them "fans" ...a word I tend to loath, as most of them are just good people. But it's hard when someone comes up and genuinely asks about someone who is sick......time and time again....so the few of us tried and hopefully it helped a bit. I passed on a message to NZ that many people have emailed me already with their sympathy and it shows that people can care to such a huge extent, a good sign for us humans.

I'm sitting here smiling as many Mary stories trickle out of my head, and you know what, nearly all of them are funny. She always knew how to play me....I told Neil a few weeks back "Your Mum always gives me a good run for my money......". I know it was her Irish side....and my Irish side lapped it up. I think that woman managed to get more tour t-shirts out of me than even Neil and Sharon, "all those nieces and nephews to cloth...". I kept saying I know you sell these for half price out the front.....(:

I'm picturing them (Richard & Mary) sitting up in a private box I found for them at The Venue in Melbourne (before they pulled it down)....I think it was the night Tim had a throat infection so Neil sang some of Tim's songs....and Finn Snrs were introduced and the crowd erupted...I kept saying Mary give them the royal wave...edging her on, she elbowed me...that Saintly woman. It was subtle, but she was telling me....I have 4 children, I have all these grand children now young man don't bait me...I'm wiser than you". She was a good shot too and she gave a quick royal wave, turned and gave me a wink. She is so proud of all four of her kids, and the happiest moment was when all four returned to NZ to live.

Anyway I know the shows won't be the same without her in the audience. Some of you met her at the Enz New Years Eve show- she was sitting with me at the soundcheck...and she looked at you guys and said "Peter after all these years they still come to the shows...." it was more to do with being proud, and not amazed at the fact. I'm now talking too much, but it just helps.

A part of me is too scared to think about the big picture, the kids, Tim and Richard and the sisters.... but one thing, I know how strong they can all be, and if you have strength you are halfway there. It's a sad moment, and I know if I play "Mary of the South Seas" I will just cave in. So I'm going to think of all my Mary stories, and say a prayer. Lets give the family some space, in this very private moment.

Thanks everyone, love this life.....

Peter

---
If there are any problems with this site, please contact webmaster@aswas.com.