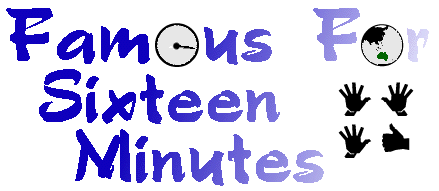 The Life and Times of Peter Green
Archive: 30 August - 10 September 2000
---
August 30th
Spend part of the day calling the various street press re: Neil Finn's 2 shows at the Prince of Wales, not meant to be back in the office for another week or so. Mary from Beat has been really good about the show- it seems like ages since Neil was on the front cover of the first issue of Beat, many years ago now.

Meanwhile the Bardot girls are playing to 4000 people per night in Manilla. Someone has stolen Belinda's mobile phone so we'll probably get heaps of calls from Manilla!!!!!!

Head into the city and catch up with Vali, poor bugger has her foot all strapped up from the fall in Positano. Haven't much spare time today so it's a quick visit.


---
August 31st
Our orders are now in place for the Neil Finn "Once removed" book, the book company tell us that our stock should arrive in about 3 weeks, the first batch straight off the presses. Email Mark Smith about an interview for the next issue of the mailout.

Send some of Jj's demos off to NYC for Paul to have a listen too, not sure if he will get it, he might need more of an indie record company.

Try and get a copy of Madonna's Ray of Light c.d single and it's deleted, you can only get the $16 import, will have to buy the album later on instead, for only a few bucks more.


---
September 1st
Had to wait at home for the Washing machine man- and in true Australian fashion he says it's fixed. He leaves, we do our first wash and it almost over flows again- so we get him back and he replaces some part that looks like it's off the moon landing space pod. Finally I get to do all that "tour washing" and what a mammoth effort.

Head to Borders with MG. Try to find a copy of Hoffman's "Steal this book", someone was obviously inspired by the title because the copy has been STOLEN. I hear they are making a movie of the book.

Decide that more tour weary throat needs a margarita, so we have dinner at Fiesta. Does help my cough, and tastes nice good and is probably bad for me.


---
September 2nd
Fave song- "Ray of Light" Madonna ( even though I have been singing "and I feel like a mirror ball and I feel..." when the real lyrics are " And I feel, like I just got home"- totally blew that one).

Fave book- "Burton on Burton"- Mark Salisbury

Fave Colour- Dragon green

Fave album- "Bona Drag" Morrissey

Creep of the month- John Howard can't win again, for him to win would be as lame as he is..... Mark is paying me $50 to put him as creep of the month but my money is on Otto Ruff the president of the Australian Deer Association for defending the use of hounds to hunt down deer. "if they catch up with a deer they bark". Yeah sure Otto, you are so full of shit, try they catch up with Deer and maul it. If you guys have to go out and kill an animal, at least give it a chance you fat arsed red necks.

Fashion piece- BIG sunglasses, thank god those horrid silver wrap arounds are over.

Fave DVD- The Nightmare before Christmas and Wilde (life of Oscar Wilde).

Sex Object of the month- Belinda from Bardot but only with her Sixties Hair-rollers in place.


---
September 3rd
Pay Foxtell so cable is on for another month. Marks mum has cable on so we will never hear from them again. Addiction comes in many forms!

Get a call from Ben' n' Bob (no not the new flower pot men) they are nearby and need some serious advice on where to shop for furniture. Have a start up coffee first on Commercial rd at one of the regular haunts and watch a 7 foot drag queen , obviously "E"d chatting up some dance boy. The old Soho is a jumpin' but they all have a zombie look to them. Spend the next 3 hours looking at love couches, sewing tables and bad seventies clothes.

Find an original pair of blood red Zorba shoes. They are so tight they crunch my toes like I've had wild sex all day, but money well spent. Ben is horrified at my pimp like appearance in these shoes that he leaves the shop. At least they are new, can't buy old smelly 2nd hand shoes. I feel like the Pimp version of Dorothy in these ruby red creations- and no they are not bright red like hers, more like a burgundy. Good square toes too.


---
September 4th
Breakfast at Babble, Jj turns up with Miss Renee. Renee makes the cover of brother & Sister magazine, a photo she did for a charity show. Getting close to the time where she will hear about the Vampire movie screen test.

Spend the day working (shock horror), have a Spring like vibe so try and get as much done as possible start on the Frenz club orders etc around September 12th, full 3 weeks of solid Finn fun.

We are still focused on getting this new car, we spot a Ford Explorer XLT in the paper and Rosemaree said she'd drive us out to the car place on the weekend- god bless her.

Have a chat to Becky who starts the tedious task of looking for a new job within the industry, good for her to work with someone young. My fear (in fact my fear around the music industry across the board) is the 5% down on sales report for this year. That's a lot for Australia's small industry.


---
September 5th
Watch the electricity counter stop totally today- so we were using exactly the same amount of energy that the Sun was creating. Wish it would stay that way. Imagine a zero electricity bill.

Some talk of Neil having a live dvd out early 2001 from one of his shows. Think they are still aways from signing off on this but I hope it happens. Now all we need is some new music.

So Crowdies were offered a chance to MIME at the closing of the games ceremony, I hear that this was offered after AC/DC pulled out. Men at Work are away in America at the time and I think Savage Garden are already doing it, Michael has left the planet so INXS can't do it, doesn't leave very many groups does it. SO CH have said no too.


---
September 6th
Catch up with Toija and she is a gorgeous creature today. Jj wanders in from a late night at Revolver in THAT coat. We stay for ages gas bagging- that sort of day.

A friend put a figure on the music sales that are down here- $18 million Aud. Wow that's a few jobs.

Our girls have been nominated for three ARIA awards- Biggest selling single, album and Best Video clip- we already know they haven't won. There's still the public vote. I managed to split my email vote using my 2 addresses. One vote for Neil Finn, one for Bardot. Anyone can vote: http://www.channelv.com.au Just click on the VOTE area. All votes must be in by October 15th.


---
September 7th
Get various press items together for Neil Finn's Prince of Wales shows (Sept. 21/22nd). I never trust sending our tranni's as we never get them back.

Been saving like a good Gryphon, getting ready to part with the dollars for this car. Just waiting on my tour money, which seems to be taking awhile. A rather quiet day today, a graphics person tells me they spotted me on the Popstars tv show, I am still blown away by how many people watched that show.

Get an email from Belinda saying thanks for everything on the tour etc, quite sweet, missing them all a lot. Touring really unites people and you soon know who you can trust.


---
September 8th
Raining again, quick trip to the city and we just avoid getting soaked.

By a new axe for the Forest House, a good one that won't break in two. We have it wrapped well because my next stop is Amercian Express and we both look a bit deranged without an axe, so having an axe is probably a call for security.

Get home and plant a few LIlly of the valley's outside the front of the house. Great for those hot Summer nights and the fragrance drifts upstairs to the top new Orleans style balcony.

Have a chat to Pink who is minding Nigel's place while he is overseas. Have a good old gossip. Trudi drops in for a late night chat, good to see the girl.


---
September 9th
The morning starts off grey, ends up sunny and heads back towards the grey. Rosemaree in the musk stick mobile picks us up and she does some serious driving to get us to the car place. Mark hates the seats on the Ford Explorer XLT so I head down toe the Holden dealer.

OK I will mention Rosemaree's swan dive. It's flooding down with rain, so we all bolt and Rosemaree finds the only crack in the pavement with moss and takes a fall. I am miles down the road and hear her calling and I look around and she looks like she is "swimming"....at first it does not register that she has fallen....I thought it was some catholic kissing of the car dealer ship entrance for good luck or something. She's also pissing herself laughing. I wait as if I bolted every car on the Highway would of looked and honked. At least she has a sense of humor, the best way to handle this. Well the Holden guy seems ok, remember this is a car dealer, a bit above Deer Hunter in some people's books. So we cut a deal on a Jackaroo SE, four wheel drive. Dragon Green (Forest Green) is the colour.....so it's all looking good. Save a small fortune and from what we are told, even a bit more as the Factory is giving another 4 wheel drive bonus. Broke till Xmas but this seems to be what we want.

Rains all the way home, and at least Rosemaree isn't bleeding everywhere......I kept telling her that's not how you learn to swim......


---
September 10th
Get a chance to sleep in, rather nice- still up by 10.00.

Work on some emails and then we head to Borders for lunch. Eat and read. Find a (non-stolen) copy of "Steal this book". Could be an interesting read. "A handbook of survival and warfare for the citizens of the Woodstock nation". Not really me but Hoffman is an interesting character. Put it this way- he writes the intro for the book from jail- that graduate school of survival! The back of the book has a list of "other books to steal"- "stalking the wild asparagus", " the Indian Tipi" , "Guerilla street theatre" and my favorite "champayne living on a beer budget"...

The Sun is out today and Chapel Street is more like a busy Oxford street, every man and their K-9 is out and the coffee houses are filling up. Feel a bit ill as I pigged out and had desert- far too early and too much chocolate- I should of known better.

As the sugar/white death flows through my system causing god knows what damage, I guess I should sign off. Keep smelling Christmas hiding around the corner. Several stores are already stocking cards and I swear I smell Pine!

Back to work soon, so my coffee days are numbered.

Peter

---
If there are any problems with this site, please contact webmaster@aswas.com.