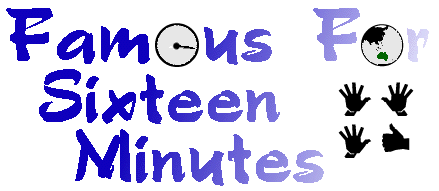 The Life and Times of Peter Green
Archive: 30 January - 12 February 2000
---
Jan 30th
Head to "Babble" with my work diary and plot and plan the next week. Also create one of my infamous "to do" lists. Yes you've got me I am a list person....just basic stuff none of those "sex lists" you know- Monday.....honey and trampoline Tuesday- nippleclips and hot ice Wednesday- Neil Finn dressed as a catholic Nun (not a Buddhist Nun) (huge apology's to any Nun's that are reading this...yeah right!) no just your common garden variety list.

Cut branch off tree before it kills a passer by

Put plastic pot around Palm-tree so Bunny will stop eating it

Buy rabbit cookbook in case it refuses to stop eating it.

Buy Nuns outfit for Neil......scrap that. Should just phone up our old crew member Ferdy, he dressed as a Nun and did his stagework dressed that way at many CH gigs. God bless him .

So I did my lists, drank my Coffee, pulled faces at the two "young liberal" party members who always sit in the same seat, asking each other why people hate little Johnny Howard (god I picked up that from Paul.....Hester always calls our PM "Little Johnny Howard" ).... the Babbles Boys are talking to the Big Babble boy about what he is wearing to Carnivale. He will be a huge drag queen, I guess we've been served coffee by the biggest (literally) Drag Queens in Australia. Miss Candee was no slim Jane. Paul at Babble always asks Mark (weekly) when the Abyss will be released on DVD...Mark always tells him the same date.....Mark is the world DVD release info man. He knows it all.....even on the toilet he drops out little dvds......he is a living walking talking DVD! Enough!

Head home and check out the Burning Man site, still no ticket news for Burning Man 2000. I liked Larry Harveys Burning man speech (5th Sept 1998). "....BurningMan originally comes out of the Bohemian Scene of San Francisco. People can live like artists....you give everything away (at Burning man) and live on the edge of survival. Cos that's how artists live...". head to www.burningman.com for more info. Hope I can get to it this year....and give everything away. (even my sanity).


---
Feb 1st
Have a few meetings today.....Merl turns up- I thought her meeting was tomorrow but that's ok we are here. Just wants to give me some codes for Mark Lizottes site...I just wish they would give us some fresh info. Guess he is writing these 2 new songs for his USA release of Soul Lost Companion. It will be out through Mammoth Records.

I thought Feb was going to be a good month, but it is a slow start.

Catch up with Jj and he gives me a c.d. - nice present- has one of his new bits of music on it. Track called "A different frequency". It's part of the Candles and Intrigue" compilation. The next wave of Australian Music. Really like his track, in fact a few.....on the Sinister Left label. Cool!


---
Feb 2nd
Toija calls by for coffee and she looks brilliant. Great dress and just so lovely. The gay boys at babble come up and ask me "who was that girl..." (then again it WAS a good dress!).

We catch up with Jj at Bibida we seem to see a lot of him these days- which is good-.he's working less at Revolver. He told me that Trent from Nine Inch nails dropped into the club last night......Trent's a funny bugger, far darker mood then Morrissey. Was it Trent that Boy George fucked? Have I got that wrong????? Why do I think that was Trent. he was recording at New Orleans when last I was there. Trent has the "look".

Get home and find a message from Marilyn. (No not Manson, the other one...no not Monroe, the other one...) She is now a Mum....and Rich a Dad....a baby Boy. Call my super knitter Rosemaree who is creating a present for them....Marilyn didn't leave a number so I couldn't call her back...plus half the world would be annoying them....will give them time to breath. Am really excited, those two met at a Crowdies show if memory serves me correct. Sweet....another baby...another soul from heaven.


---
Feb 3rd
Wow Tania is 33 years old.....it's all gone too fast. It seemed years ago that we use to skate up and down the arcade together. ....we like those grey hairs (grin).

Last night was the hottest night for 32 years....everyone looks ugly today. In fact all the people on Chapel Street look like that scene from the first Batman movie where he poisons all the makeup so everyone has to stop wearing it.....well all the people look really "bad skinned" today (I did that in my best Cordelia voice.....and that "hair"!)....ugly ugly ugly. I of course look damn fantastic.....and turn down a photo for a new street magazine called DARE or something like that.....they wanted a shot drinking my coffee......Mark was trying to escape -oh Mr Camera Shy...so I did my best friend bit and sounded like a wanker and said "we don't do photos......" dismissed the poor man. Actually I was much nicer then that.


---
Feb 4th
The new Voyager was meant to turn up today but no sign.....drat.

I think Nick is back this weekend....no one can find him. I hope he hasn't passed out from peroxiding his own hair again (joking). Will be good to have him back in town. He has been sadly missed....he should get together with Trent.

I asked him if he thinks Neil would buy me a new Jeep with leather seats for my 20th year of working for him......Nick emails me back and says "baby you can drive my car". I sent him the rest of the Beatles lyric "yes I'm gonna be a star"......beep beep beep yeah! Hopefully he got it or he thinks I'm a moron.


---
Feb 5th
My Mum is so sweet, she was mailing down this bag of dutch salted licorice......she wrapped it up and put a bow around it and my sisters dogs pigged out on it...were sick and soiled the work area ...lovely. I told Mum it was the thought that counts......she sent me another bag.

Get the car for a day ride to the Forest House. The good news is that a winery has opened up across the road.....and they named a bottle after our property. Haven't had a chance to grab one so I hope it doesn't taste like dingo pee! (whatever that tastes like).

On the way up we bought a lawnmower...Australian made and owned..a Victa. Mark assembled it, square pegs in round holes. Screws were missing but we got it together. I start it and manage to snap part of the throttle...plastic crap. So much for Aussie quality. We both laughed but really it sucks.

So Mark worked on the small yard. We both walked around the corner and jumped back....a black snake was near the back door in the grass. Freaked me a little and then we realized it was dead. Have a feeling a Kookaburra might of dropped it as it had bite holes in it...then again it could be the witchcraft protections on the cottage.......so like good Australians we fried it up with some beans and wolfed it down........ tastes like chicken. Oh come on we didn't really eat it.....it ended up in the 25foot deep composs hole.....back to nature.

Was a really nice day, just love it up here. The mountains were covered in a veil of mist. Hiding all those secrets.


---
Feb 6th
We head over to Camberwell for some shopping. Think of Michael Den Elzen and buy Deadstars new single DEEPER WATER....have told half our friends hope it helps them. need to support our musical friends.

Eat some crap food for lunch....a little bit of America in every suburb.

JB HI FI have a giant laser mobile of the Afterglow cover. They sell out of copies.

Get back to the office and there is a message that Crowded House are #3 in Spain? Maybe it's the airplay charts...hey top 3 anywhere is good. Have to track Hester down as he has the last of the Afterglow covers to sign.....and then we have them all sent out. ...think he's gone to the beach.

Am reading a lot lately.....start on a new Mercedes Lackey book.


---
Feb 7th
Finally Afterglow is released in the U.K....plus most of Europe and Canada. America still is a no show, it's really annoying. At least we did the right thing and made it available to fans everywhere....via our mail-order.

Recurring Dream figures come in and we are a massive 9 platinum in Australia, probably making it the 2nd biggest Australian album ever by a group. (Savage Garden hold the number one spot, Mark wisely tells me it doesn't count because they are a DUO not a group. We win by a technicality). ....

Kept running into the route 66 boy with the red mohawk today.... he was in every shop, I told him to stop following me. He has a great tattoo. very powerful. We talked about Alaska.

Jj calls and we have a quick coffee , gives me some more music. Glad we are seeing so much of each other- we've both been pretty flat out.

The weather is getting hot...like 40o every day. Power restrictions have started.


---
Feb 8th
Finally get word about our house getting a grid-connected photovoltaic system installed. Yes finally we are having all the photovoltaic laminates installed and the grid inverter and all that other high tech stuff, and after all last week of power restrictions EVERY house should have this. It feeds into the main system....so apart from being enviromental it also cuts your power bill in half. The Bracks government have ok'd the sales tax exemption.....and they got this running after only a few months....the previous government still hadn't gotten round to it. Adds all that excess power into the system....and it's clean and fossil fuel free thanks to the good old Sun. So that is great news....

Pick up some B/w film of when Squid and Nic stayed....hey great legs in those rubber boots Nicole (kinky!). Some great, funny shots and if certain people send me small sums of unmarked US bills I won't put them on the site. See I do love you two.


---
Feb 9th
Well Bic Runga is still in the studio and that message is still on her answering machine....but it's all going well and the songs are rolling along. Some of the new songs; "Election night". "Gravity", "Something good" ,"Get some sleep" and a host of others. The first single will probably be "Something Good" and we are looking at a mid-year release and then a world tour around August September. I think she'll do well, we get heaps of mail for Bic -especially from the States and her fanclub membership is growing all the time. It's weird we have more Americans in her club then New Zealanders. I told Campbell that the song "Beautiful collision" sounds like a description of my life! Exciting times coming up for Ms Runga.

Interesting timing as Neil will probably be touring around the same time. I've never had a conflict of touring, odd if I went out with Bic instead of Neil........I'll try not to think about it.

Have to go to our body corporate meeting, even though we live in a house, because they are unique they are part of a body corporate structure. Handy if we get some rentals next door that just suck and you want them out.

Melbourne is a cookin'! Hot Hot Hot. The office is nice and cool, it's all the bluestone in the walls, keeps it cool in Summer and warm in Winter. A great house to live in.


---
Feb 10th
Recover my sunglasses from the Babble Boys, I swear when it comes to leaving my sunglasses I'm becoming Nick Seymour. Today I almost left two pairs.

The emails are rolling in from the U.K. heaps of Crowdies fans wanting the last few club memberships. We have reached the 13,000 mark and are now going through any memberships that haven't renewed. Neil mentioned on the bonus UK Interview disc that the next "Afterglow" type release will probably be available via the fanclub only....so that has sparked a few more people to join.

We've been getting a lot of requests in from people asking us to do a club table at the next Camberwell cd collectors Fair. To be honest the last time we were saying it was probably the last time we would do it. It's so nice to be able to sleep in on Sundays. It is a good day and we always meet a lot of new fans so we will probably do the next one...take it a Fair at a time. Thought it could be cool taking Neil's new Enz costume along and maybe Tim's....they look brilliant and if fans want to have a photo wearing the jacket they can. It's also really rare to see the costumes up close without the full stage lighting etc. Is that a good idea? It's as close to Neil as you can get (grin) and a good Enz souvenir...especially now that Neil Finn is no longer signing any autographs. That was his new years resolution....so we let fans get into his stage outfits instead! A bit perverse.


---
Feb 11th
At last it's raining and only 19o outside, it's a sexy rain too...all misty and cool. I have the urge to walk naked down Chapel Street. Except the awnings cover the street so I wouldn't get any of that sexy rain on me...just odd looks-rather pointless!

Very chirpy today...life is plodding along at a solid pace. A few things out of synch. but you have to accept that, don't you.

Watch "Cliffhanger" on dvd. HMV have this $5 off all dvd's discount coupon in their free magazine so it's a decent saving. Refuse to buy any of the Tristar dvds which are now $40. Will get them off the net instead. The one thing about Cliffhanger is John Lithgow . You can't get over that he plays Dick Solomon on Third Rock from the Sun.......and he has this really odd voice. Still a disposable action film is always a good thing....is it not. Even with Stallone....acting (ahem).

Mark reminded me that Buffy is back on Tuesday.....new hairstyles a plenty. So much better than crap like La Femme Nikita, which has that Australian girl in the show who always gets voted as the worst actor on tv.....then again the rest of Nikita's cast fit that mould. No wonder it's on at 1.00 in the morning. Droll. La Femme La Turkee'


---
Feb 12th
Well Alaska is looking even more tempting than Egypt...if we decide to do the drive we would have to head from San Francisco and drive through Canada and arrive at Alaska. Pretty full on but it seems like a great drive. Means I escape my birthday, and Jj was inspired to do the same thing- he wants to head off to Thailand.

The supermarket finally got small containers of HoneyBuzz Yoghurt back in stock, they sold out in an hour, the whole shelf. Lots of addicted people out there. Buy a small block of chocolate, my first for ages...just had the craving and was happy to surrender to it, as long as it does not become a daily ritual.

Had an email from Mark Ryden and sadly both his latest paintings sold so we just missed out, have to wait till he paints a few more. Hope the new owners appreciate how wonderful his work is. Am reading Monicas Lewinsky's book.....not as horrid as I thought.....am enjoying it. Love those big haired woman! Bring back BIg hair...oh I like Monica.

Slept in today, I woke up and thought what the hell...and curled up and slept like a Gryphon on a mountain peak. Well have to go iron Neil's Nun outfit, hung it out to air all night long.......sorry better stop that or someone will believe me. Am enjoying my break, thanks to all of your well wishes, the batteries are recharging at a furious rate.

All the best
Gryph.

---
If there are any problems with this site, please contact webmaster@aswas.com.