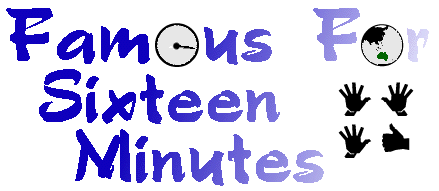 The Life and Times of Peter Green
Archive: 31 July - 11 August 2000
---
July 31st
Have breakfast at Babble and lend our our Babble Boy our dvd of Independence Day....with the extra few minutes on it. He is very excited and almost closes up shop to go watch it.

I'm back into the city, call into Vali's studio and have a chat to Toni, am going to put in some studio time over the next week and give her a break. head to the bag shop and pick up this new bag, I love it- such a plump little bastard- perfect for touring.....I feel weird carrying a suitcase around the city centre- people are expecting me to set up next to the blind accordion girl and pull out a talking puppet I think.

The weather is just amazing, Spring in Winter and the city gardeners have started putting out tubs of daffodils already, by the time the "real" Spring hits we'll all be as frisky as new lambs (bahhhhh- no NZ jokes please!!!).


---
August 1st
Just work and work today.....feel a bit dodgey with this flu thing and I keep forgetting to take my herbal tablets so my body is not "prepared".... my own fault if I finally get a heavy dose of the flu, have to get over my superman syndrome...I feel like I never get very sick. Idiot- famous last words as I get struck down with some horrible bug. Urgh everyone is coughing and sniffing around me.....germ-y bastards.

Going through the transcripts of my Katie Bardot interview and I love the "media" quote. I asked her about critics and the press. " I've learn't a lot about the fact that a lot of what's written in the media is not a search for truth just a search for what will sell." So true....they dig for dirt like groundhogs on a picnic around this girl group.....nothing is sacred. Never trust a journalist. (or a diary on the internet!!!!).


---
August 2nd
Was sitting in Candie Bar with Jj and noticed our old buddies Pansy Division were on the front cover of Brother & Sister....grab some copies and mail them to the boys in San Francisco.

The Solar is officially connected and we have this ceremony out front watching the "wheel" slow down and it actually starts going backwards. The citipower guy makes a joke that if we hit zero we'll have to fight them to get money out of them.......I tell him I've dealt with the toughest promoters so citipower will be an easy prey (cocky bastard that I am). I've love for us to create THAT much solar power......neat though because the whole day (almost) the power wheel turns very very slowly, it's just at night when their is no Sun that we gobble up the power. Hey it's environmental and the wonderful Victorian government gives us a rebate.


---
August 3rd
Marky gets a bit paranoid that by printing babble and Alley cats address that a whole new bunch of stalkers will turn up...."there goes the last of your privacy" ....... doesn't worry me too much I'm pretty weird looking and I have my frown working well (thanks for the hints Morrissey)..... we'll be fine.

Into the city and clear all of Vali's Birthday messages. She turns 70 today.... born in 1930...that is really freaky. When she left Australia she was 19 and celebrated her 19th birthday on the boat that took her to France. How brave she is to get off at Marseilles.....after the war with Europe still in tatters...and displaced persons everywhere from the camps. She said that she got along instantly with the street kids and basically became one when her money ran out...they all scrounged and described the street life like they were a "pack of dogs" not really friends.

Anyway Vali in a world of copies you stand unique and just amaze us all..... we'll celebrate when you come home from Positano. I call her that night and she's home in 10 days.


---
August 4th
Have a chat to Bill from the office....totally baits me with a line about sex with woman, and of course I act offended. I wish he was on this Bardot tour, just feel that things are all ok when he's on the road with us- he did some of the Crowdies tours , always good to have someone aboard that you can trust with your life. Touring is such an oddity and it has all kinds of levels, pacing yourself, the temptations, the head trips, the power trips, the Ego's the new friends, wondering if you are a freak on a leash , the odd person out on the tour....acts of God and the Goddess, weird fans, amazing fans , total nutters and people who become mates for life. It always reminds me of the carnival (small hands and smells of cabbage...sorry old joke)....all those lights and movement and the public turning up and laughter and applause..... I can understand how it gets into peoples blood.

The hardest part is coming down after the tour. Many a time I have woken up and picked up whatever was by my bed about to call for room service or a porter. You can miss the "gathering" very BORG...a cluster that is a creative unit....hard to explain till you do a "real" tour. So I shouldn't try should I? Rambling- sorry.

The office is getting excited because we have the dvd release date for Spinal Tap- yes the ultimate tour video is soon on dvd and it's the extended version. We are a tragic bunch.


---
August 5th
An amazing day and I'm feeling heaps better...I tend to bark like a dog at night from this virus but on a day like today- all sunshine and blue skys it's too nice to be sickly.

Bardot perform at the Bledisloe Cup- several of their songs and the Australian national anthem. It's Australia V's New Zealand. The original group True Bliss that Popstars was based on(in NZ) sing their songs and the NZ anthem.....without being biased Bardot are better singers. Ok I am biased, stuff shit! (sorry). To top it off Australia beat NZ and the Wellington crowd get pissed off and start throwing bottles etc. hey it's only a game guys........

Obi-Wan from Star Wars dies on the weekend (Alex Guinness) ....

get a call from Little Pink and we chatter for an hour....I love those phone calls where everything is just a bit funny and wacky.


---
August 6th
Another amazing day- so much for Winter.....but it is Melbourne and we all know what a terrible tease Mother Nature is here...I can tell it's not really Spring, but we all run outside to grab that Sun while we can, even us vampires........

Jump in the Grey Ghost and head to Sth Melbourne with Marky. We both need some new jeans as various roundish body parts are almost hanging out like the bells of St Clemons and we fear we'll be arrested (or get a proposition!!!). Damn GST has put the price up by nearly $10.

We purchase a safe for the house and it's a heavy fireproof bastard....Mark does his strong man act and carries it on his shoulder.....topless in a pair of tarzan speedos...and yes I am lying girls....... just calm down! Really he cut his hand, hit his head and we swore at each other- normal.

Finish the Katie transcripts in the kitchen while I eat dinner...very bad and make a note not to make this a habit. Michael tells me that she is changeing her haircolour from blood red to BLUE. You just know everyday someone is going to say "Katie are you feeling a bit blue today...".


---
August 7th
Take some time out to email all our acts for work....nearly die when work out how much money is owing.....will cover a few bills. Now pay up you guys (grin).

Went into the art studio today for a few hours- was listening to the news and they said a guy jumped onto the road when the Olympic flames torchbearer was jogging past and tried to grab it- I called home worried that Mark's threats of dressing as Mrs Doubtfire and stealing the flame was becoming reality...he answered (phew).....than again they would of said a weird old lady tried to steal it!

Quite a few smack busts went down in Melbourne today....it's a modern day battle, they clean up and area and it moves to another. We watch "Trainspotting" on dvd. Did you know that our fave Jeti knight was previously a smack boy. The scene where he climbs into the dirtiest toilet in Scotland and swims down through the "water" is amazing.....I like Ewan he's cool and he always shows what's under his kilt, in every movie! One of the good guys.

Naomi Campbell says she hates nice-ness and wants to go down in history as being known as a bitch. Sorry Naomi you are nothing more than a ignorant old slag. God why am I wasteing valuable website space even mentioning this dopey bitch. Naomi sux.


---
August 8th
Big Hairdresser day at last..Edward returns from the Flu and I'm on my way to Hawthorn for my much needed hair cut- colour, style, reclamation. I have this thought on the way- his name is Edward..he's a hairdresser- Edward Scissor hands (sorry)....poor boy he must get that a lot.

Am running early so I get to call in and hang with Toija and Marco...the flat looks different in the day time so I have to use the mobile to find out if it's the right place. Nice to catch up...miss the tram so I walk the 200 or so shops to GIZA . Nah not all the way to Egypt, that's what the salon is called. Am spoilt and it's a long day, but the hair looks amazing....I call it my Rumtomtugga Look....my hair looks like it could be used as an extra on the Cats set.....bronzes that become coppery, and some blonde and this incredible red brown.....I love it and my hair is now all thick again....you know when you get a GOOD hair job.....I actually gasped. A very happy customer.

Edward wants to call me a cab but I insist on the tram as I want my public to see my hair (plus I had an all day ticket and the traffic would be horrible in a cab). Several trams later, and some serious window shopping at Park Lane antiques and I am finally close to home. As I jump off tram #3 the heavens open and I actually wrap my jumper around me hair!!!! I head inside looking like a drowned cat from CATS.... Mark says all good things, in his best Ramone Voice (from Rommy & Michelles highschool reunion)..... Marks latest is that he is becoming Ramone.....he has this weird voice, all he needs is a pencil thin moustache.....be scared be very scared what goes on in that boys head.???! I live with a madman. he wants to create a website that no one will visit....his alternative universe F/16 site.

Soaked to the skin I decide I might as well venture back out, the loudest thunder clap I have ever heard, so loud my ears ring.....sounds like a bomb has gone off. We find out later that a mini tornado hit part of Melbourne....very freaky weather. The whole side street is now flooded I leapfrog from island of grass to island of grass and eventually get our Indian food.

Sleep really well....the rain tap dancing on the tin and slate roof.


---
August 9th
The true test of a good haircut is next day....I wake up and it looks damn good, messy alley cat.

Work all day preparing for the Bardot tour, clearing the last of the emails and packing the band room bag.

We have brekky with Jj for the third day in a row , he keeps arriving earlier.....strange days indeed. We chuckle over our current joke....one of those secret silly things- we three are just boys......very immature of us. (grin).

Head to Pattersons bakery and Mark discovers the worlds biggest rabbit in a amagzine. It's name is Dancer and it is from England. Weighs 26 pounds and is over 3 foot long. It looks like something you store P.J.'s in....gigantic.

I still haven't heard about my : flight details, accommodation, tour info...only 2 days to go...well I think......it's like they are doing a tour and just forgot about me, I know it will be an eleventh hour thing.

All our fave shows are going off air for their break. X Files goes soon.

Expect Nick Seymour from Crowded House to arrive home soon, will be good to see him, another face at breakfast...another silly boy to joke with.

Hmm few days to go, a tour without you know who....not digging it already- gotta tell you. Think i will read my way through six states.


---
August 10th
My poor old paper diary is overflowing with lists of things to do and things not to forget, I know I will probably stuff something up on this tour. How hard can it be, work and work, on the road and off, I've done it a million times before so it should be a piece of cake- but I'm nervous as hell. I know what it is, not knowing the crew, and no Ben, Bill, Sharon etc.... all these girls and all new faces.......I'll probably read my way through this tour.....Mr Ambience becomes Mr Tour Hermit!

Meeting and parcels arriving all day.

The new Voyager Video is out...Mark points out that I was willing to blow out the tour just so I can stay at home and wait for the new Voyager.....and he was right!

Had no feedback on how the Finn/Runga/Dobby NZ tour is doing, should be a sellout but more so I want some gossip and wild stories.

Hmm am switching off my email so no one can email us till around September 1st.....instant trash bin I think.....I hate coming home to endless sea of emails.

Thought I spotted Nick Seymour today but it was some old lady...now there's a compliment, maybe a blonde Nick at 70.......he would not be impressed, she was riding a "razor" scooter- those new funky silver scooters- maybe they are only a fad in Australia.....she reminded me of Disco old lady in Studio 54!

Finally get my flight details for the tour...so I guess I'm really doing this.......


---
August 11th
Wake up early and lie in bed pondering........it's grey and wet looking outside....

Babble- what no Jj for brekky....seems odd after him turning up every day. maybe he is really flu ridden.

Come home and we spot a Ford Explorer Limited edition out the front- yes Mark found it, god he blows his own trumpet......like how could you miss it- shiny black huge mother******er car..... So we climb all over it screaming I want......I want.....great seats- it's a Ford- hell we are selling out!

Will have to get KUNDUN on DVD....another Buddhist movie....what am I becoming- will have to wear heaps of orange on the tour...shave my head...nah.

Rosemaree is being a darling and driving me to the airport- Leanne will catch up with me at my Perth Hotel...it's the one I stayed at before.....which is pretty good. Flying all by myself on ANSETT!!!! Ford instead of Holden, Ansett instead of Qantas...hell I'll be voting for John Howard next, yeah right!!! Like ahhh never....one eyebrowed twat.

Decide on the Burton on Burton book to read on the plane. It's the Mark Salisbury revised edition, looks good, light funny, interesting.....the DEPPster does the forward.

Well better go, sorry it;'s a short rushed Diary .....just wanted to get one issue up before I head off.

I'm hoping September will be more Finn related, he's spending his time with the family, and that's his choice and a good one methinks.

Take care
Mr Ambience.

---
If there are any problems with this site, please contact webmaster@aswas.com.