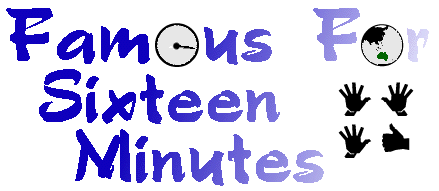 The Life and Times of Peter Green
Archive: 3 December - 17 December 2000
---
Dec 3rd 2000
Swimming in the bay today. It seems to be much cleaner than years ago, probably all those new modern pollution traps that the council installed, nothing worse then a hypodermic needle floating past you (urgh). The seas are not very active, snoozing in the sun on the buoys- no thoughts of been clubbed to death- everything is ok on this part of the world. Swim and swim and swim, salt from the water drying on my lips and making your hair go all chunky...like wearing the roof of a Gilligan's Island hut on your head.

Bill stays the night, which is good as we haven't caught up in ages, a weird kind of week around management so it's good to have a chat...everything will be ok. Give him some weird knitted jellybean animal things for Daisy and Molly.


---
Dec 4th
Buy our Xmas tree today, another real one in a pot- this one has heaps of fresh green buds and she's a pretty tree- the best of the bunch...love those Norfolk Pines, will look good at Xmas Tree Alley up at the Forest House when Xmas is over. All the mirror ball decorations look great, they are so small I wonder how people managed to glue all the mirrors on. Someone suggests I light it up with baby spot lights...... makes the house smell fresh. Araucaria Heterophylla rule! (See I do know what the Pines are really called).

Get a card from Neil which was very kind, the Finns seem to be doing ok, though the first Xmas without a parent is always a hard one, everyone tries to over compensate...well we did. I hope they have a good xmas.

Think all the Xmas presents have been bought, you know that feeling where you think- hmm did I miss someone, should I buy an emergency present.... just in case.


---
Dec 5th
Good to see Spock at Babble, have coffee. He has said he wants to do all the graphics for the first F/16 diary site book, but he's off to Vietnam for 3 weeks so he'll start it all when he gets back- at least I've signed off on photos. Think the F/16 logo should go on the front of the first "year" and maybe the painting of the 2 Peters killing themselves (by Phil Judd) on the back. It's taking awhile but I have to be patient, Spock is exceptional so I'm happy.

Amy finds all the signed Bardot cd single covers- I was so panicky, I thought they'd been stolen...and was trying to figure out what to do with 60 cd singles with no covers....they were on Michael's desk....so I've sent him a Michael is Evil email.

Wow less then 3 weeks till another Christmas- I'm going to be so chilled out this year.


---
Dec 6th
Work on the various art and text for the mailouts- all of them will be a few days before Xmas...talk about cutting it fine.

Call the Hard Rock Cafe about some items of mine they are showing, they have a vibe and want them for a longer period....maybe I should ask them for some Hard Rock merchandise...someone will want it....my Mum always runs into fans and people down the street who want free everything..... they seriously must think we make millions and millions of dollars from our bands. Such a head trip.

We get this cute cheque from Earth Sanctuaries, our first dividend, something massive like $5! But the $ were not the reason why we invested, and $5 will pay for a new???? Well it must buy something these days? More Mirror Balls for the tree, maybe I'll just cash it and buy 2 copies of the Big issue, keeps the Karma rolling along.


---
Dec 7th
The NZ office sends me another Neil cdr and it hasn't been finalised either- I kind of baited them a bit- with "I know Neil doesn't want me to hear his cd" and they seemed a bit crappy...we can still play it- just funny how it's always our copy. Could of been worse, could of been blank.

Mention some Neil tour areas in the upcoming club newsletter, not going to put them in the diary site, everyone can wait, just in case they change......... don't know if I have the vibe to tour or not.


---
Dec 8th
Send off our final payment for the last batch of Neil Once Removed Books, the Australian dollar is really crappy, so the UK publishing company got a very big cheque from us. Add on the excess postage -mailing them to the UK is $28 per book(how much does that suck)....at least they've now all been mailed, I hope they get to the final few in time for Xmas.

Aaron sends me an email that the Jets are special guest on the upcoming KISS farewell tour....the Aussie leg. They should cover some Kiss tunes as bonus tracks on their next single, that would be good.


---
Dec 9th
Happy Birthday Nick Seymour.

Up very early and Rosemaree drives me to the airport (God bless her), her Mum lives nearby so it was perfect. It was all very trippy- the Melbourne airport has had a major facelift and parts are exactly like Sydney- especially the new Freaky Flyer Lounge....massive. Arrive Sydney and head off to Wonderland, the Bardot Girls are playing on the main stage as part of Wonderlands 15th Anniversary. Wonderland is miles away, out in woop woop land and I'm even wondering if I'm on the right road. Just as I think of calling Ana -my mobile rings and it's her....our spider-senses must of been tingling. Yep I'm heading the right way and they are only 10 minutes in front of me. Security takes me through and there are the crazy sisters, all in their backstage tin change rooms. Katie is in the shade putting on makeup- she looks really fresh and happy.

I get all of my Bardot stuff out of the road, have to get the girls to pose for a Xmas photos- I have these fluffy Santa caps just for the occasion. Hopefully it will be a good shot.

Mirella is there- my old partner in crime and we grab Sophie and head out to the rides. I agree to go on whatever ride she wants as it's her birthday, I totally forget that I'm with one of the most recognizable faces in Australia and that every boy in the theme park just oogles... anyway she decides that the DEMON is the only ride we can go on. The Demon man spots us and puts us in the front carriage....by this stage I am seriously crapping myself...and Soph and myself have our hands firmly clamped together (pre-terror). The ride backs up like 15 stories, hurdles forward, triple somersault upside down & all weird twists...I manage to fight the G forces and turn my head and ask Soph if she has her eyes open...all she could mutter was something about her hair and being onstage in 5 minutes.....she looks better then I do.....and the rollercoaster backs up again...slowly painfully slowly....lunges BACKWARDS in to the triple somersault upside down...lovely feeling going backwards upside down (NOT)...at least at these speeds its over quickly..... we stumble back to the stage area.

The Taiwan tv crew is with us in the change-room, and I ignore the camera thats 2 inches away from my left nostril...help put in everyones "ears" for the stage (the electronic packs)....after that ride I probably look even more disgusting then my first Popstars debut...nice one.

Tiff decides to keep her Santa cap on and the girls head onto the stage, a cluster of screaming fans down the front, kind of a weird gig. They do a signing afterwards, sit next to Belinda and give out some free stuff...I think I said "shit" on Taiwan tv (sorry) but hey the camera man moved away after I said it..(grin).

Afterwards we head off to the Old Time Photo area , its my 21st birthday present for Sophie and we all get to dress up- I look really terrible in my outfit....but it was heaps of fun.

Decide to surprise Mum and drive down the coast......it's a long day and a hell of a drive but Mums are special (I know how lame that sounds but I dig mine)....so I make the effort.

Call home from Mums and Spock is almost killed in a car accident...so I don't sleep, read most of the night. Find out it's a pretty horrid weekend as 3 other people I know all lost family and friends....


---
Dec 10th
I'm awake early again, and a nice brekky is here for me (yum). Call in a see my adorable sister....and she just adopted this stray mother cat...think it was feral but slowly the cat is trusting a few people again. Hell if I was an animal I doubt I'd trust humans.

On the way to the Sydney office Katie Bardot calls so I make a detour and eventually find her house. She's in the car with Ana and myself today for the big drive to Newcastle. It always seems like a long drive. Still katie and Ana are always good company.

There are about 1500 fans at the calendar signing. Staff are nice and polite and Ana and myself do our thing- Ana has to play bad cop today (grin). I see this one girl, all normal , and she comes up to the first Bardot girl and she just changes and starts to sob, just freaked out......the girls are good , nice and soothing. I still get amazed by all of this.

Belinda is in the car , back seat with me, Ana is driving and Katie in the front- so I get an interview out of the way. We call into some small town and buy food- I try being healthy with a nice sweet potato and lentil soup but my heart isn't in it (or anyone else's heart thankfully)...

Take Katie home and have a cuppa and a bit of a sing with her boyfriend. She tells me how to get to the airport and I manage an early flight home.....very hot in Melbourne when I get in. Really tired, have to get a real sleep soon. Am in this druggy haze...


---
Dec 11th
Meetings all day, artwork, disaster with the film for the Finn related newsletter but our friend Stuart is being a saint and repairing it all. Slowly check off all the stuff on my list, now the phones are ringing endlessly- just want to yell "STOP".

Our friend Judith arrives in the evening and we stay up late talking and catching up.

Move the cars and decide that this week I'm going to get the windows tinted, just to cut down on UV etc. By chance the guy next to me at Babble had a Tint shops # and high recommended it, plus he had the same 4 wheel drive as us and it looked pretty cool.

Still can't find an Elvis Cloth badge for Robins hiking bottle....looked everywhere.


---
Dec 12th
Mail Nigel Griggs some Enz shirts that we wanted for Xmas gifts. Nick Seymour is back in the country, so we will see him soon. he's at his parents place for Xmas.

Off to La Camira for dinner with JT, she's shouting us- so that's nice. Ask for a Vodka and Tonic and get a Vodka and Soda (urghhh).

This fortnights DVD review is The Basketball Diaries. The main "star" is Leonardo DiCaprio- this is on DiCaprio movie that I really do like, like all Pre-Titantic stuff he's great...basically he plays the part of a High School Basketball hero that starts heading for trouble big time in the dark areas of NYC. Mark Wahlberg is in it as well, and Bruno Kirby. Living life on the Edge. Features music by: Soundgarden, The Cult, The Doors, PJ Harvey etc...works really well. DiCaprio's James Dean phase and it's really good. Maybe one to rent as a few people probably still want him to be that guy from Titanic....so it won't be everyones cup of tea. Was going to review Gladiator but I'm sure everyone knows how good it is . Worth buying straight away...just hand your money over to our mate Russell Crowe. The deleted scenes are pretty full on- far more violent. No need to review it- it's all been said already.


---
Dec 13th
Split Enz "Mental Notes" voted the #1 Kiwi album of all time in Rip It Up magazine. Some life in the old girl still...wonder if it will help sales, most people don't know that Mental Notes has never gone Gold in Australia or NZ. Sad being the debut album...

Still thinking about what we will do in 2001,maybe just let fate do it's thing- she's been pretty kind to us so far. It's like a leap of faith, you just got to let whatever happens happen...and maybe add a bit of energy into it occasionally. Sounds like good ol' hippy talk to me (grin).

Buy some dry rabbit food and Cosmo is just so spoilt she wants gourmet! The rabbit is starting to enjoy her washes, an affinity to water, I thought she'd freak out and have a heart attack. Looks like a ferret when it's washed. All spindly and spikey.

The F/16 site is around the 90,000 mark, we are adding bits and pieces every week into the prize box for the lucky 100,000th person-so if that's you print it out and include your name/ address and we'll get this prize box to you.


---
Dec 14th
Happy 21st Sophie Monk.

The youngest Bardot member- 21 today. Try calling her all day and she is rehearsing for the Carols at the Domain. End up leaving a message, will probably catch up on the weekend.

Head off with Ben for some serious guy BBQ shopping- I think we look at every model...and for some reason there is a BBQ stand shortage in Australia have no idea why just everyone was sold out of BBQ stands. We assemble it back the front a few times and finally get it right. I must of failed building blocks when I was younger.


---
Dec 15th
Happy Birthday hairball and Cosmo the Rabbit. Hairball is 17 human years- which means she's about 102 years old...and she still has all her teeth!

Take the 4 wheel drive in and have all the windows tinted, just on the legal level...I now look like a Mafia member (or OJ Simpson). Cuts down the UV a lot- very funky.

Drop in and catch up with Vali, John is over from the valley and we go and have some lunch. She's doing well in Holland and is thinking about a major exhibition next year in the Netherlands. Her leg is mending well, did a little dance with me when we were heading to the Alley cat for coffee. Head up to the New York Deli for dinner and grave the Braveheart DVD for a Xmas present for someone.

Head to the 24 hour Supermarket and buy food for the Xmas get together tomorrow. It's like there is a cookie mix shortage on in Melbourne- must be massive amounts of Pot Cookies being made....will have to make them from scratch. Never done that before.


---
Dec 16th
Start cooking at 11.00, Miss Hairball doing the old get under my feet and make those awful cat noises for food. The cookies turn out really well, they look like Cookie Shop Cookies. Will probably make too much food but that's ok. Someone always wanders in later on and finishes it up.

The Yeti is working at the Meredith festival so he doesn't make it, and Spock is in Vietnam. Good to see everyone, just never get the chance to talk to people though- I was a bit vague...spacey (and no it wasn't the cookies).

Our new Avalanche Ice Shaver works well- makes really good shaved ice for Margueritas....by 2.00 it's all over. Climb into bed and it wasn't too hard to sleep.


---
Dec 17th
Wake up feeling a bit spoilt ,and spend the morning cleaning up the house. A few other people are calling in today and Tiff/Belinda and Soph from Bardot are in town and have threatened to call on by.

It's a stinker day- going to get very hot, hopefully our place will stay nice and cool.

A week to Christmas eh? Hope all the readers have a happy one, Xmas can be a real shit for some people- just nice if everyone gets at least one good happy moment from the festival season. Special Xmas cheer to Deb too who has been brilliant to me over the year/s (per usual). [ed. note: thanks and same to you!]

So have a Happy Xmas, next installment around New Years Eve.

Peter

p.s.- not going to read this, just send it off....mistakes and all.

---
If there are any problems with this site, please contact webmaster@aswas.com.