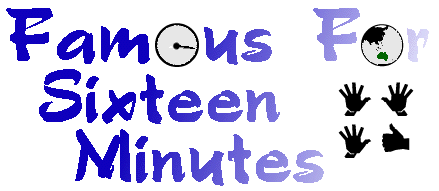 The Life and Times of Peter Green
Archive: 4 June - 18 June 2000
---
June 4th
Get an email from Marie and Tim in Nashville-one gig over and they are very happy. Looks like they got into the country- a few days ago the promoter hadn't had a working Visa so everyone was a bit stressed!!! The USA Tim Finn fans will be very happy, wish the tour had some sort of budget as it would of been a fun one to be on. Considered doing one or two dates but that's a bit lame, if I'm touring it's a tour...not just one or two shows- I want the real thing....those pack your bags before bed time, waking up in "limbo land" trying to remember exactly where you are...and looking up at the ceiling counting the funny plaster shapes that Hotels stick up there for people like me to ...well count! (hey beats sheep). Seeing what movies are on the in house T.v system and seeing if you can get the Porn channel for free but watch very little of it. The exciting thing about the Porn channel really is the effort to get it for free....it's rarely interesting, exciting and unless you are a lonely crew guy missing his girlfriend/boyfriend THAT much porn and Mr hand are a bit boring.

We watch "Boys don't Cry" on DVD tonight- and it is really good, sad, tragic and you can understand why some women hate the male of the species. I was into it till Marky told me it was based on a real story and then the rug was pulled and I felt really sad. Totally messed with my head but the theme song "Bluest eyes of Texas" went round and round in my head. Was this ever a single (from the movie???). Those Texas girls Janet and Renee would probably know. Will have to ask them.


---
June 5th
World Environment day so I did a few extra "good to the Earth" things like picked up littler, sent the toner cartridges back for recycling, checked on tap washers and told a few more people about Earth Sanctuaries. Guess it all helps. So what did you guys do??????? What nothing? Slacko's.

Book La Camira' for a friends birthday. She just wants the 4 of us. A reproduction of last month.

have some food with Toija in the morning, which was nice. She's off soon to meet up with Marco, all sounds romantic in a Romeo and Juliet way without the tragedy! Viva La Italia.

Slip Toija a melatonin in a plastic egg that has one of those little animals that you build......looks very suss and we all make Midnight Express jokes, as she is going via Thailand!


---
June 6th
Bardot end up having the highest debut of the week with "I should've never let you go" the girls second single. Everywhere we turn girl groups and boy groups. I hate Destiny's Child, what a crap group. Glad their album stalled at #2 here, Sony must be spewing.

Still no Bardot dates, it's a time window thing (and a promoter thing), areas like Singapore and the rest of Asia are locked in, but dates here keep getting shuffled about. may have to be as late as October but considering it's now mid-June at the time of writing, that isn't too far away. My other thought is , if the Bardot tour crosses over when Neil's tour is on. It really is a case of who asks me first. I'm worried if I say no to the Bardot dates that Neil will delay his album/ tour and I'm stuck twiddling my thumbs and starving.

Rosemaree does mammoth typing job for Bardot, and she has been feeling ill so it's a good thing and appreciated.


---
June 7th
See some roughs of Mark Smith's Neil Finn photo book and it look's great. They are talking September but you can never be sure which country etc etc. We will make it available via the club.

Go to buy Neil and Sharon belated birthday present and it's sold out......decided to get them The Planets on dvd as I know they'll love it. So I've had to order it in elsewhere.

Robin and Trudi call by for Robins birthday dinner and we all head off. Plot and plan for a big escape together next year, so Marky can avoid a surprise birthday party that his Mum will surely attempt.

Dinner is nice but they don't make Marguerita's.... so the girls say that is an omen....I decide on Vodka. Marky JD and after a few I want to head to the bar area and mix the drinks myself.....but I control myself.

Late nightcaps in front of the fire.....friendships should be like this.


---
June 8th
The Olympic Flame arrives at Uluru and Mark is escorted away by Police dressed as Mrs Doubtfire armed with a fire extinquisher. he is determined to put the flame out- as I point out to him a very red faced New Zealand Prime minister already had the flame go out when it arrived in NZ.

Get an email from Chrissy of Pansy Division who loves the Afterglow CD. Such a big Crowded House fan.

Well my ten second day dream of getting shot hasn't happened yet, just putting it down as a weird random thought from a parallel universe and it can stay in that zone.

There is a this "thing" going around between the Bardot fans....have you ever been on the t.v. show. I decided to only answer Yes and remain a mystery man. Kind of funny as I know the huge majority of House fans and most of them come up and say Hi etc,but this girl group thing is all fresh and new and I can be a mystery man again. Fun! Will have to create some form of notoriety all over again. Mark suggests having sex with all the members of Bardot...but I'm not sure if that is his wish or his way of getting me on the front pages!!!!


---
June 9th
Issue 51 arrives so we will be spending the next few days putting that together and then mail it out takes forever and a day. Our busiest time period too. Somehow between film and printing Neil's letter go missing so we'll have to just send it out as a photocopy when fans write in. We just don;t have the budget to mail it out to everyone separate. have no idea how this happened, but it's annoying.

Get a funny Enz related email today from the young kid who was on the Enz Uk "Beginning of the Enz" album cover. The "little" Tim Finn. he was 8 years old at the time.....funny how people make the effort to track us down after so many years.


---
June 10th
Wow Slayerfest #3 starts today- 3 days of Buffy- gotta love that. It seems like everyone is getting on board for Buffy these days- Rolling Stone magazine (Australian edition) just had Buff on the cover, Juice a few months ago etc etc. We were there from day one...wish we had shares in that franchise! Even Leanne in Perth is watching Buffy- thing she likes the perve factor and the alternative universe "Willow" (ahem).

Somehow work and watch SlayerFest at the same time....it can be done. Apologies to any fans who get envelopes with extra dribble in them......! (Urgh).

Tim blows out his Northampton Gig think the jetlag has caught up with him.


---
June 11th
Today blurred into yesterday and will probably blur into tomorrow. One of those days. Even the Sun slept in, it was very overcast at midday, yes the Sun has forgotten to get up! Could well be the end of the world. Mark shouts Turkish Food so it can't be!


---
June 12th
Cosmo the rabbit has this new thing where it jumps very high in the air to look in the office plant room windows. very odd- very Cosmo. Dugald is buying a rabbit for his girlfriends little kid- no cats but a bunny is o.k. We pass on Lozza's "Bunny's love toast" tip (I think Lozza told me that) and I'm assuming it's all bunnies. Dugald asked with or without vegemite.

Spend the afternoon doing some of Ms Fish's interview. My condition is to use some on the diary site...not sure why. Guess it depends on the questions. I like not giving boring answers but you have to draw the line and not be too extreme or you could be looked upon as being a wanker with a capital "W". I feel like one even saying yes to this.


---
June 13th
Call into the studio in the city and talk with some playright. We talk about doing a stage play on Vali, donate a whole pile of ideas (Vali spot lit in her cage side stage...one spotlight), give her some quotes and ideas around Warhol and the Factory's involvement with Vali. I say I'm donating these ideas on the condition that I play Warhol in the stage play (grin).....but it has to be a good Andy wig. lets face it I can probably look down and say "Oh Gee, oh Golly" with the best of 'em.

This must be Vali Myers day as I get a letter from the artist herself- she's still in Positano at IL Porto...."I feel like a war vetran and bloody life is a battlefield with a little light entertainment thrown in"...yep that's Vali.

Spend most of the day working on Bardot emails, have been passing on heaps to the girls to read. They are replying to mail etc, so great to work with artists that want to reply to fans.


---
June 14th
Neil plays Tabac tonight- one of those little unannounced show- Jim Mogini from Midnight Oil arrived, as did jay jay Johnson from USA and BOTH Wendy and Lisa. Amanda tells me that she was over the moon because Wendy and Lisa played FOUR of their songs too...such a treat.

We finally get Marks extra flight points added into his account- I was slightly evil to the Qantas Freaky Flyer guy...pulled rank and finished with the line "with all the bad publicity that Qantas Frequent Flyers has been receiving you'd think after three requests that you could get this together...." the guy tried lying- which I hate, and I decided not to let him escape so I hassled him with evidence, and he tried back-peddling and then started stuttering- that's when I felt a little bit guilty- so I was kind Policeman again.....next day he leaves a message on the office machine saying yes we were right, apologizing and added all the points....so Qantas are in our good books again.

Call in and visit my travel agent, she books my ticket for Tasmania , 2 Bardot instores- should be fun, and very cold. Hope the girls don't pack too many leather mini's! I expect riots! Wish we had time to drive to cradle mountain to explore.


---
June 15th
Hey diary site hit's 76,000. Shiettt! I think we'll have to have a party or something when it gets to 100,000. That is so weird. I'm sure it's a spirit writing through me....once I type this mess I just let it have a life of it's own and NEVER read it. I tend to cringe if anyone reads it near me....

Just that reminder again about the Australian Internet Awards (ONYA's). Please if you get a chance to cast a vote head to: http://www.onya.com.au/inner.asp We have 3 websites in the awards- Neil Finn, Skyhooks, Mark Lizotte- all three are located in the 1/ Best Australian Artist area. (Just scroll down). Only takes a minute to vote. Voting finishes July 15th. ...in a month.


---
June 16th
Next Friday- Australian fans remember to watch Channel Ten (7.30) "Happening Seventies" show with Molly hosting it. Tim Finn is one of the many people on the show. Not sure how long he is on it, but it could be worth checking out. (Thanks Mark).

Pay my morgage, on time which is good- but I still hate giving the bank money. need a big Tattslotto win.

Nelly Girl has just left EMI, she is one of my favourite people....but we'll stay in contact. Kind of hate change around the music industry, some people you work with really well- Nelly was one of them.

Have to put up our Gold+ award for Afterglow, it's sitting by the fire and should really be up on the office wall....found a good spot. get an email from Nick Seymour today- just funny stuff, and gossip- have to ask him when he's coming home.


---
June 17th
Have the day off, no computer, no emails, no phone calls.

Head to Beenami and the hire car people give us a NEW car...and trippy azure blue.

I buy an axe from Kmart as I figure that every good Forest Home should have one for firewood (no not chopping down trees). I tend to let the trees deliver the wood- usually after a storm. I wonder what it will be like with all the recent snow and if many of the trees have came crashing down. All along the mountain path trees have been down by the roadway and all the giant ferns look like a big arse has sat on them.....we arrive and our property has little damage, one tree lost some limbs by the cottage and the barn floor is wet where heaps of snow would of melted off the sides but that's it. Kind of cold outside so we have the fire going, I decide to chop some wood and...the axe handle breaks in half-first swing! How piss poor is that, and when you think about it-how dangerous. I call Kmart and hassle them....they are selling faulty axes and soon they'll be selling faulty axes with the damn GST on them. So I'll get a refund.

All these native orchids have sprung up inside the fence area- I think they must be Winter bloomers but I heard that the pollen is toxic. "My garden is full of beauty and everything is poison".

We drive up to Mt Baw Baw and it is a horrid road, turns and curves and we are both a nice shade of green.....the Baw Baw snow people try to charge us $18 for ten minutes- sucks so we tell them and head all the way back. It's a lovely vomit free 60km drive......several hours later we are almost home...nothing like the appreciation of a freeway to make you feel alive again.

I curl up on the couch and sleep for an hour.....wake up refreshed....watch the brilliant Velvet Goldmine on dvd.


---
June 18th
Drive to New York cafe at Armadale as the cheap dvd store is close by. They have good coffee at the NY cafe. CC Music have the new Bardot single for half price so we have to let all these fans know. It's on High St Armade, they also have very cheap (NEW) dvds....up to $10 per dvd cheaper. We get "October Sky" and "ExistenZ". Jj swears by ExistenZ. Do we trust him (grin).

Spend the afternoon doing washing and washing.......and some more washing! The rest of the day is on this computer.....seems like we spend 5 hours a day living on this thing.

So on this now grey Melbourne day I sign off....enjoy life everyone.
Peter

---
If there are any problems with this site, please contact webmaster@aswas.com.