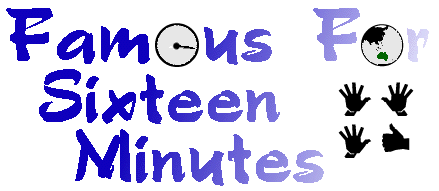 The Life and Times of Peter Green
Archive: 5 November - 19 November 2000
---
November 5th
The Chapel Street Festival is on today-it's a yearly thing which now seems to be an excuse to eat and get trashed. Looks packed so I watch the passing parade from the balcony.

Renee calls and we head off for a coffee. She decides she wants to go to Babble- hey today is my Babble-Free day....but I agree with her they make the best toasted sandwiches. So we get a table on the street, 3 hours later we are still there- various people say Hi and pull up a chair and sit. Jj plays truant from the recording studio and comes on down. It's a lovely day and I've had far far too much coffee. Move into a higher gear and start scribbling ideas down on napkins...... Do some great drawings for Beenami.....all this for the price of three coffee's.

It's now 4.00 in the morning the Chapel Street festival crowd are finally going home so I can get some sleep. (No I'm not asleep on a table outside of Babble- it just seems that way).


---
November 6th
Popstars starts on cable today, I wonder why network seven didn't replay it again, it was such a huge success the first time.

Sounds like Neil is ok around a USA release for his next solo c.d, his comments even confused me....just the state of the industry I guess. Then again the charts are not as bad as I thought- the Spice Girls DIDN'T make #1 here, so I'm happy over that. They are such whiney cows.

Get a call from the hardware store that our Beenami sign is ready for the Forest House, the original sign is up and I just hate it, I'm happy for the winery to have the original name.


---
November 7th
Melbourne Cup -day off. Marky is just working and working, so I've put away a Xmas bonus for him- he'll read this and it will blow the surprise. He really is the backbone of my companies.

Drive to Glen Waverley (outer outer Melbourne suburb) to catch up with Tania and her 5 year old son Jake. I promised that some of the guys will take him to Putt Putt Golf. Mark is working so good ol' Spock takes the challenge. have bike races with him first- it's a great day- sunshine falling all around like rain.

We manage to play ALl the gold courses, 4 hours later am totally frazzled. Everyone was impressed with the several "holes in one" in a row.... all total flukes of course! Good to see Spock again and Jake had a ball...well he lost a few golfballs in the alligator swamp.....so guess who had to put his hand into the sludge and retrieve them !!! So don't shake my hand on future tours-rank!

The day ended with myself sun-baking on the back of a fake Zebra- could of easily fallen asleep on the thing! Nepalese for dinner.


---
November 8th
Well someone didn't turn up today as promised......I hate being stood up. I'll probably sulk for a good solid week. Ahhhhh! Call Bardot's Tiffany in Jakarta- she turned 23 today! Just a baby. The girls all sound tired, they are working incredibly hard.

We watch PITCH BLACK on DVD, this one I'll review- mainly because it was filmed here (well the desert areas of Queensland). It's some Australian sci fi- financed by Universal Studios. The guy who penned The Fugitive wrote this one.

Basically a bunch of marooned passengers end up on some weird world (it has three suns but we won't go into the Physics of that) all very desert world and some great dinosaur bones. A vicious little shit of a convict (Vin Diesel) who obviously found time to do some gym work in the State pen... but he has neat eyes...that come in handy when the longest eclipse ever happens..... like they say evil knows evil and Vin is getting the vibe that the dark holds some rather brutal killers. They are murderous beasties, and are a cross between the Aliens (from Alien) and a hammerhead shark..... they seem to have a taste for human flesh. The one thing that expels them (and burns 'em up) is the light........so the scene where our cosmo's Gilligan Island casterways are huddled around a diminishing light source has you going "ohhhhh gawd".

The dialogue is a bit iffy and the characters could of been a bit more dimensional.....we enjoyed it- but most people would be better off renting it. The odd Australian accent & aussie expressions like dickhead, bloody and of all things "crikey" (even in australia no one says "crikey") added a quaint flavour to PITCH BLACK. Points for being a bit scary, night computer creatures and the some great landscapes from the best country in the world.


---
November 9th
We are invited to the opening of the new Melbourne Museum- their first major attraction is "Body Art". Everything from piercings to plastic surgery. They also have a sense of humor methinks as a huge portrait of Danni Minogue is in the plastic surgery area. Whole boards of clips and nipple covers and sections on brandings- all the way back to early man. Tattooing is covered, to the point of a copy of a Tattoo parlour. Some incredible Tattoo "guns" which I just loved. Vali is invited along, and she will be giving talks at the show- explaining why all her dogs names are tattooed on her feet, maybe talking about the Tattoo she did for Patti Smith or Holly Woodlawn from Warhol's factory etc etc. I go and give her a kiss and she hates being in that blasted wheelchair but her leg has to heal and shit she is seventy.

The Museum puts on some body art, impossible to describe here, but it just showed how wonderful and open the Museum space is. I usually prefer the grandeur of classic museums but the new look Melbourne has something, and a bravado of youth- similar to Australia itself. I don't mean horrid modern architecture, as it somehow contains the good parts of the archaic "shell", but a feeling that many young people are working with the Museum board (or they could even be on it. More power to them.

The opening night crowd- some made the effort- I went for the fetish look and Mark had on this incredible shirt that dazzled passersby. More men than woman in nail-polish, and guys wearing heaps of product in their hair, woman looking very "boyish" again- and undertones of gothic too. What a good looking crowd- Melbourne you are beautiful!


---
November 10th
We start on some serious Xmas shopping, determined to have it all under control this year.

I also head to Emerald to visit Nigel and get him to sign a pile of Enz 2000 tshirts for use on the Frenz.com site later on. Noel and Tim Finn from the Enz will also sign them.

Nige tells me that there was a huge storm last night, it must of passed us by in the heart of the city, his massive backyard looks rather windswept and I can tell he doesn't want to go outside and clean up natures extremes. His two other cats follow him around and I can tell he still misses Gollam.

On the way I call into this great bakery in the hills and but him some cakes they make a really good vanilla slice. I can't wait so I eat mine in the car, what a piggy I am today. My sugar levels must be low.

It's a quick visit and I am just tempted to go up the mountain pass and head to Beenami for a drop in, but time is against me and I have to be home in time to go to dinner with Lara, Fran and Steve and Igor Snr. Nige tells me of a shortcut which ends up being longer.

The girls are on time so we walk to Globe. We put together a special "gift box" for Miss Lara, one of the items in it is the "Sacred Orb". You ask it a Yes/No type question and it gives you some advice in the magic "eye" piece. Perfect for friends who have boy /girl problems. Plus heaps of other joyous things like a moo cow key-ring that you squeeze and a fake brown "poo" like balloon pops out of it's bum. Yes class acts we are! Especially when you don't tell them and they accidentally squeeze the cow in the restaurant.

Good to see Steve again who is now happily back in Australia. We are totally embarrassed as I think we somehow appropriated his Rolling Stones live video. Hope you are feeling better Miss Lara. Go to bed at 3.00.


---
November 11th
Spend the weekend sending out more Neil Finn Once Removed books. Such a mammoth task, as they take forever to do but we are finally seeing the light at the end of the tunnel and the bulk are in the mail.

We clean up the office for the Camberwell Collectors Fair, we only decided to do this at the last minute. We never get a chance to sleep in these days. catch up with the infamous Simon Cannington and he collects his auction prize. It's good that it's going to a good home, I like it when fans get something really special and you know the person will really like it forever. He gives me one of those "you had a late night" looks...and he is right. My wild man of the party scene reputation is still intact.

Just worked all day, and tried calling the Bardot girls in Kuala Lumper.


---
November 12th
Mark wakes me up....for once my body clock didn't work- I'm calm and kind of rational considering it's Record Fair Day (similar to Ground hog day). Whereas Mark plays Ying to my Yang and is mad, frantic, nearly breaks his arm on the metal trolley...swears, questions why we do these *%#@#$# Fairs.

The new car gets us there is 10 minutes....and we are set up in 30. Of course it's raining. Meet some new club members which is good, and a chance to chat to some of the lifers. Poor Thea, she was very quiet today, she does these brilliant cat drawings and I stupidly chased after her to tell her that we really dig them. I think she thought I was stirring her- which I wasn't she is really talented. I'm so loud and she is so quiet...what a mouth I am.

I manned the table all day, took some signed Bardot stuff and that was gobbled up very fast. Some guy tried to give us shit in front of everyone, and we cut him down to size in 10 seconds flat- musically people should be able to like whatever they want- if some kids like what the Bardot girls do then so be it. Yes I would pick You Am I'd Savage single over Bardot's anyday but big deal, who's to say my tastes are so damn good.

It ends up being a long one and we bail at around 3.30- I figure 8 hours is enough.....we pack up in record time and Mark almost kills one of our fave club members when the trolley takes a dive down the stairs!!!

Home and order in food- too frazzled to cook.


---
November 13th
Have a Kidney Disease check up, using one of those albustrix test strips. They suspect that 100,000 Australians alone have failing kidneys and the majority don't know it. The Australian Readers Digest magazine is financing these test kits- they come free with the latest issue. Basically it's a screening test for detecting Protein in your Urine (you should have no protein in your urine). Naturally you should have regular checkups on things like this, but it felt good when mine was A'ok. So grab a copy of readers Digest if you live in Australia and have a quick test. Could even save your life.

Speak to Hessie today, will drop by and see him later on in the week- he sounds great, baby Olive is growing up fast.


---
November 14th
Spend the day telling people how good YOU AM I's DAMAGE cd single is (its more like an e.p), it's in my favourite 3 cds released this year, could even be my fave. Interesting as from memory I think I also thought their HEAVY HEART cd single was the best single of the year awhile back. Hopefully their new album will be this good. Deserves to do well.

On all our Christmas presents this year we are using Starlight Children's Foundation Cards. It's a great cause- the Starlight Foundation grant wishes for seriously ill children and their families. A decent % of each card goes to the Foundation....and all those Kmart type stores stock them. Except the store at Southlands as we bought up every single packet they had- hey might as well create a rush!!!

Mark thinks the big Xmas tree should go in the dining room area out back- he could be right, the space is already filling up with presents- I've done a serious job of wrapping things this year and am refusing to leave it to the last minute. Though a tacky side of me still exists I've noticed- this year being the "return of Disco" I'm planning the tree to be covered in miniature mirror balls... Each year we get a real tree and one the last day of the year we take the tree to Xmas Tree Alley which is the far corner of our Forest Place and plant it...they seem to grow ok but the Wombats get confused and think it's their idea of "home delivery" as the bottom of the tree has serious nibbling going on.


---
November 15th
Ohhhh was the unlucky 86666 person to check out this F/16 site today....all those Sixes- if I'm evil today I have an excuse- blame the counter! The devil presides on my site.

I keep thinking that more and more people should write stuff on the internet. More diaries and private stuff....I get bored with Postings etc as it tends to always be the same related stuff...then again I guess they are more for sharing and receiving information....I like the idea of people putting even 5% of their life on line. Not sure why, possibly to see how the other half lives.

Someone asked me today who I want to see win- Gore or Bush. Gore , but I only know what I see on CNN etc- you can never be sure of what they say is what they really think or will do. American political campaigns are so incredibly tragic and such bullshit....and some of those people look like they have escaped from bad re-runs of Dallas! Was happy for Hillary. Marks Mum is convinced that Hillary will ditch Bill in a years time!


---
November 16th
Tim Finn is putting pen to paper for the next newsletter, as is Paul Hester and I think Neil so a few letters from the boys. 1Rumors flying left right and centre about Tim touring Europe in 2001, but we won't comment till the dates are locked in- would hate to get people worked up over this and then the bottom falls out. Tim might mention it in his letter to the fans.

I notice that all the Australians have received their Neil Finn Once Removed Books, guess the overseas people will start getting their copies next week. I waited a few days before mailing out the English ones as I'm sure the UK mail system is in tatters after all these floods and I'd hate for fans to get waterlogged copies.

Just heard that the Popstars T.v series will have a UK release in March 2001, courtesy of ITV. So my ugly mug will appear on English t.v (very briefly) early in the new year. It also means our Bardot girls get their launching pad for England. Asia is falling to their womanly charms....the album is #2 and their single is #1.


---
November 17th
get a call from Paul Hester and it's a nice day to visit. Olive Hester is just a delight and giggles and tries to bite my finger- yes she is teething. Sunday is growing at a mile a minute and is a beauty. Incredible happy for him- and he is so at ease. The home studio is a beauty and we talk for ages, hear some new "stuff" and I'm involved in it somehow (I think). "Best in town" is one of the winning tunes- nice Hammond organ in it. Great vocal and lyrics....

While I was there Paul penned the letter for the newsletter, in his own "style" (grin). I'm shattered that he has been playing golf!!! But I guess exercise is good....our photo shoot has him posing hitting lemons with his goldclub! Cheesey Hester grin. We have some of those deep moments, and I promise we'll catch up more often. I do adore Paul, and it's always a pleasure to see him, usually ends up with us laughing with tears in our eyes. I'm just happy for him these days- that cloud of darkness has gone elsewhere.

Call into my Skyhook bassists house but I find out later that he has gone to Sydney for Apra work. Hope he got back on the board. Had a weird dream that his seventies band Skyhooks reformed for a special "Federation" concert (as next year is Federation year in Australia)........weird eh?

Watch "The Rock" last night- hey Sean Connery, he's great. There are a few James Bond jokes in the script too. One of those Friday night action movies.

We find out the X-Files second season dvd box is delayed in America by another week (huge grumbles in the force over that one).....and all these English dvd magazines mouthing off that England gets the Buffy DVD Box set before anyone else and puffing out their chests. Sorry to tell you this England- Australia (add huge chest puff here) gets the Buffy Box Set a week before anywhere. Like it really matters.

So Mark returns from his week off- he's been spending it high in the hills of the Grampiens in a wooden cabin with the girl who plays Willow in the series. It's a huge secret affair so please Mums the word....yes and no Tara in sight (oh that's only a t.v lesbian affair...I always confuse the two. Hey I'm a guy- I'm sure Lesbian fantasy's are high on my list). Anyway you read it first here- Mark and Willow. He does kind of look like a tall Seth Green! (well when Seth turns into a Werewolf...he does).


---
November 18th
Sleep in because I can...and needed to-we've been putting in long hours again. Wash the rabbit- she's getting use to it- well 90% of the wash but every so often she will try and escape. They are so alien looking when they are wet. Sunny day so she's all fluffed out in no time- must know it's a good thing as she hops over and starts kissing me on the arm. Cute! Hairball hangs with Cosmo today in the Atrium- both huddle together for some sunbathing.

My sugar goes into override so I nap- well for several hours, diabetes test is my next one. Maybe all those jelly babies didn't help.

Decide to make Chicken Parmigiana for dinner...wish I had more vegies.

have no idea what to write today. Maybe I should sit back and open up my brain to you. What I'd like to do...next year and beyond: (the odds)

Work with U2 on a tour. (3/10)

Do a very small tour with Neil Finn because he is and always will be the best person I have ever worked with. (7/10)

Survive our Inca Hike in July in the Andes. (9/10)

Get some violet contact-lens in February. (5/10)

Spend a month in remote India helping to build the Buddhist Nuns new monastery. (6/10)

Pay off our house, just for the boring old security of always having a roof under our head. (3/10)

Learn more about Solar Power and add some more cells. (5/10)

Work 6 hours a week in the Aids wing of the Alfred Hospital. (6/10)

Have our finished copy of F/16 book #1 in my hands just after Xmas (providing the printers don't take a month off). (7/10)

Build the Grottoes at Beenami (8/10)

Things pop up on my list in my head, some I 'll forget about till the time is right, I guess everyone has lists of some sort, life is too short so I'll try to do as many things as possible.


---
November 19th
Must of been a warm night as I'm down to a single cotton sheet and nothing else.....climb out of bed looking for the main bed cover and decide I should just get up, slept too much lately.

Was thinking of heading to Babble with Rosemaree but she is away with her Mum, and in the end I get sidetracked with work and this update. So breakfast becomes lunch and I call the Babble boys to prepare some food.

The Greville Street Market people are setting up as I walk past, I like to watch them- always a weird feeling- like a past life experience of a caravan setting up camp at an Egyptian Oasis. I just stare at these vendors with their tents and poles and rugs....some remnant in my memory of a long time ago. Very odd feeling, like when you walk past someone who's pealing an orange and the orange skin triggers off a sensation when you smell it. But these "tent" feelings are more obscure and fragmented. Very odd.

Pick up my food from Babble and am weak and buy some Carrot cake, not just for me, so at least the calories are halved.

Hairball is watching me, so I stop everything and have a dance with her- she likes to be cuddled and her stick like cat arms stretch right out as she tries to lead in our rhythmic liaison. Her 17th birthday soon, and very close to the cats birthday is Cosmo the rabbit who turns one. Possibly on the same day.

Can't wait for December to arrive, "Borders" usually have a massive Xmas sale and I am in urgent need of some new reading material. I should raid our library again and see what un-read treasures I have....I'm sure to find something.

Every week I find a new thing for the Famous for 16 Minutes Lucky 100,000th reader contest. So a little box of goodies just grows and grows. So remember if you are lucky 100,000th print it out and get in contact with us, you could win this bunch of goodies!

Think I've actually ran out of things to write (now that IS a scary thought). Look after yourselves.

PG

---
If there are any problems with this site, please contact webmaster@aswas.com.