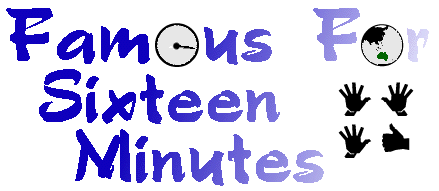 The Life and Times of Peter Green
Archive: 6 October - 19 October 2000
---
October 6th
Finally see that"The Waiting Game" is coming out...so we finally get to hear Neil's "Spirit of the stairs" on something- guess it will have a soundtrack released as well? Such a great song.

Mark is watching Wild On and Brooke has just gone in RED BALLS on Melrose- good to see it still exists...she picked up a giant pair of RED FUR Pants (fake fur of course)....I think they have Marky's name on them...good to see Red Balls still exist. What a fun shop.

Received heaps of nice emails around Mary Finn, so many people care about those Finns, just amazing, some were very touching emails. The world does have a lot of goodness in it still.

Mark is becoming the Hugh Heffner of Australia, I'm scared to leave the office for a day in case I come back and we have a giant Rolling Stones Tongue shaped swimming pool with semi naked nymphettes serving him Jack Daniel's (stirred not shaken-3 cubes please).....


---
October 7th
Ok Rosemaree has spotted the new Anne Rice book....will have to get it but MG has put me on a budget this week....so it has to wait for the next pay day! Apparently she is spewing over the Queen of the Damned script.

Homemade sausage rolls today from the master chef Igor Senior.....double the amount, they taste great per usual. Good effort Igor. YUM.


---
October 8th
The air feels very "thick" today, everytime I walk into a new room in this house it's like the air is turning to jelly....kind of cold too but the sun is shining outside. maybe it's a spirit convention.....very odd house that we live in, also it's about 130 years old so god knows what esoteric emergence happen here. A few times I've walked down the third level staircase at 4.00 in the morning and used my night eyes instead of turning on the chandelier...and felt like I've walked straight through "something". .....and they called Fox Mulder "Spooky".

Hairball the cat has a new obsession she will only sit on top of the coffee table On the Neil Finn ONCE REMOVED book....weird, just an old senile cat obsession. Cats arse on Neils face...sure he'd be impressed!!!


---
October 9th
Well the Bardot album jumps into the Top ten in Singapore- I've said this from day one, the Asian market will be a big one for the Bardot girls.

mailed Hessie his Raven Records cheque for the LLT song, the OTHER ENZ cd just keeps ticking over. get inspired to ask Paul if we can release the LLT album via the club- so many good songs just sitting on the shelf.....much prefer the fans to have them and love them.

Wow Chart shakeup in Australia. The Olympic cd is still #1 -stopping both Madonna and Kylie from debuting at the top spot.....Radiohead too only came in at #2. Kylie just seems to be doing press everywhere, so I think she will eventually make it to #1...says I the Guru of the pop charts.


---
October 10th
Pay our citi power bill, just great, the solar power has knocked 50% of our electricity bill. $50 for the quarter not bad.

Send the Holden guy a Bardot pack for his daughter...a big girl group fan. Just a nice thing to do.

Watch Molly Meldrums Russell Crowe interview, would of been great except Russell drove us batty, every 3 words he would say "you know?"......which became really annoying....you know? It got so bad we started counting all the "you knows" and when it got over 1000 we started losing track of Russells replies to questions. He did OUT Molly, like wow (not), and oddly enough the interview got a severe chop after that...what did he say???? I am happy for the Crowe man, The Sum of Us is just a great movie and Gladiator is just HUGE...and LA Confidential....all cool BUT his band stuff is a bit average.

Vali calls and heads into hospital on Friday to have an operation from the fall in Positano, "I'm not wearing one of those ugly hospital gowns" she crys.......she'll drive them crazy and they'll love her. She has two ideas for some quick paintings....am intrigued.


---
October 11th
Lovely day outside so I head into the city, catch up with Vali and that's nice.,end up missing the train by a few seconds and that annoys me, but I work out a calming down spell in my head and I'm fine....

Finally finish reading U2's AT THE END OF THE WORLD tour book....one of the best Tour books EVER written, will have to recommend it to Chris Bourke. Took me forever but I really loved it. (thanks Igor for suggesting it). Churn through 2 other books by my bed and suddenly the floor is "bookless".. ...that's rare for my bedroom. U2 debut at #1 in Australia with their new single- which I quite like.


---
October 12th
Release the news to the public that Bardot are performing on the Arias. They'll probably do the latest single THESE DAYS, will probably move it to sell Gold. means all the single shave sold at least Gold.

Catch up with Spock our old friend and that is just great- it's like blood and some things don't change. Too many coffees, Michael from Babble joins us so it's a fun afternoon.

Bill Flanagan penned "At the end of the world".....so grab a copy.

Watched a great Lou Reed interview on Arena TV- talked about his ECSTASY cd. He tours here very soon.

bring down THE ART OF HAPPINESS and leave it on the dining room table, just nice to read parts of it whenever I get the vibe.


---
October 13th
The best Jelly Babies are the ones from the Natural Confectionery Company of Australia, nothing beats them.

Mental as Anything play some Uk dates soon:
8th November- Walkabout Club-London
9th November- King Tuts WahWah Hut-Glasgow
12th November-Whelans-Dublin Eire.

Go check them out English fans, a great drinking band.....have to remind Nick Seymour that they are playing at the Dublin Venue.

Grant calls and promises me some Bardot Gold records as soon as the next single hits Gold.


---
October 14th
Wash Cosmo the rabbit- she is pretty relaxed considering she is covered in BLUE shampoo ....the warm water is calming her down. She fluffs up like an angora sweater, and spends all afternoon grooming herself. We consider washing hairball (bag of bones) but we both look at each other and go :"hmm bad idea". She'd freak.

Diary site hits 83,000, am putting together a collection of tshirts and other fun items for the lucky 100,000th person who clicks on the site. Remember to print out your 100,000th counter.....and send it to us. At this rate the first F/16 book will be done just in time for our 100,000th "customer".


---
October 15th
Watch some of my Bardot footage, forgotten some of it- the part where Belinda "moons" the other hire car...and I thought they were classy dames! Kind of neat. I like tour video memories.

All my tour money and pay cheques have arrived so it all goes on the new car, will have to add some to Amex too....but it will be worth it.

A laid back sort of day, water the plants, clean up the backyard etc...... normal people 'stuff" sort of day.


---
October 16th
Spinal Tap is in the stores today.....Bill Cullen will be a happy man.

The Screaming jets album debuts at #36 in the national chart, have kind of given notice, told Aaron that I will work with them till the last day of this year...sometimes you just have to move on.

Miss the GoConnect Chat tonight, something weird about my Java Script, and Ben is away on tour so I have to do all the computer stuff myself (Yieks)!!!


---
October 17th
Karen from California sends me some PMS nail polish. "Nympho Navy"-liberate your sexuality. Changes to "Groaning Green"-Go ahead speak your mind. Yes Nail Polish that changes colour. The breakfast crew at babble loved it...everyone did their fingers. I loved the "Groaning Green" line.....sounds very orgasmic! Thanks Karen. between you and Jen I can now open my own Nail-Polish business......it will last a decade at least!!!!!!

The 5 finalists are announced for Australian artist of the year. Savage Garden, Killing Heidi, Powderfinger, Silverchair and Bardot. So we got the girls in, well the fans did. 21,000 votes ...so that's impressive. The Aria awards are on the 24th of this month.

Wow Bernard from Powderfinger looks like a very young Bowie in their "Don't wanna be left out" video...the song does next to nothing for me...but he looks amazing. I tell Jj and he is in a dark old crappy mood....and answers with a "NO". Lo/Tel are a great band...really enjoyed "Teenager of the year".....plus I have to admit that the lead singer Luke is a rather dashing sexy bastard- he seems a bit camera shy too. "Teenager of the year" is from the motion picture "Looking for Alibrandi".Lo/tel were on VChannel-By Demand area...acoustic versions of a few songs. Good new young aussie band.

Nearly 200,000 DVD players are now selling in the USA PER week......hmm a year ago a few fans sent me emails saying they were convinced that DVDs would never sell in America. Hell that's a LOT of players. The Gladiator on dvd now has over 50,000 advance orders on American Amazon.com....it will end up being the biggest dvd says DVD Guru Igor Tumilovics.


---
October 18th
A quick run to the city pay some more bills.....jump from tram to tram like a crazed trapeze artist - I get home within the hour. Didn't even work up a sweat. The phone rings and the record company tell us that the Bardot Girls are now #2 in Singapore.

Make a decision- lunch or the Lo/Tel cd single...I'll pick Aussie music anytime, so I fork out and buy it.

Get a call that our Neil ONCE REMOVED books arrive in a week.

Speak to Amex today and the girl says yes she will let my several thousand dollars go through on my card for the car.......(phew). I only grease up a bit. My Holden man calls and he is including a new metal bullbar for Free. So God help anything I hit (I'm tempted to draw a shape on John Howard on the windscreen)....we should run a contest on the diary site...if I slam into the PrimeMinister at 120 km's how far would he fly. Like him i wouldn't say "sorry" for doing it either!

Cosmo is at the office door near the atrium I can hear her sneaking around so I leave the Imac and go and give the bunny a cuddle....and a carrot. I bite it in half and we share.


---
October 19th
Decide to spend all of the day in the office, heaps of work to do, all of it boring., Deb is having a few well deserved days off so I'm making a huge effort to get this diary update to her early. [ed. note: Thanks, PG!] Won't have time to check for mistakes so apologies in advance.

Take care everyone, Xmas is just around the corner. Be good to each other, the world seems very violent at the moment...then again it probably always is, from kids being made into vegetables from rubber bullets, to people being kicked and stabbed to death in jail cells- it almost makes you cry. Some of this in the name of religion, some for revenge, no excuses, killing is killing and people who go to those extremes are not human beings. Some people really don't want Peace, I think I believe that now, which is really sad for the many who do and have to suffer bullets in their hairdo's.

Happiness, humor and being a good person most of the time isn't the answer but I'm sure it is one small step.........

Peter

---
If there are any problems with this site, please contact webmaster@aswas.com.