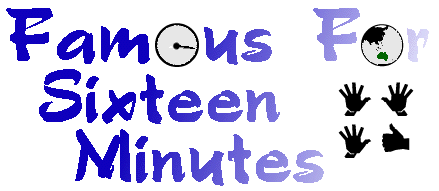 The Life and Times of Peter Green
Archive: 8 May - 20 May 2000
---
May 8th
Wake up knowing we have the #1 album in the country, platinum on advance sales alone, add it to the growing list of Australian artists who have hit the top spot so far this year (OverKilling Heidi Vanessa what's her face etc etc).

Rebeccas birthday today- one of the run of many- too many Taurus people in this neck of the woods....they never seem to end this month.

Spend most of the day contacting all the glossy magazines for free plugs and updates.

Holden call and are mailing us some information about the new Frontera V6, a good hybrid, cross between a car and a 4 wheel drive- pretty funky.

Earth Sanctuaries Warrawong sanctuary is over the moon, their species re-population plan is going well. They have spotted three baby platypus in Blackwater lake. Platypus are incredibly sexy when they mate. They do it underwater. The male swims after the female and gently catches her tail in his bill. After that this amazing courtship "dance" takes place, the equivalent of Platypus ballet. The mother feeds her young on milk. They are so special, when I was very young I remember my Grandad saving one from a polluted stream. Carried it home and we took it to the Zoo at Sydney. It totally blew my mind, the weirdest combination of parts- God does have a sense of humor after all.


---
May 9th
See Toija for breakfast and she gives me the worlds biggest bunch of flowers. Took 4 vase to put them in. Amazing colours and scents. She looks great. Such a pretty girl.

The rabbit managed to chew down another palm-tree today, she really wanted those fresh green leaves way up high- 'timbbbbbbber". Spoilt little fatty. Every so often she makes a noise and makes lovey dovey eyes at the cat.

Spoke to N.Z office today and Neil was out with the kids. So I missed him again. Endless phone tag at the moment.

Found some carob that I actually like. Nu-vit- carob licorice sticks. I think the molasses neutralizes the carob cardboard taste.


---
May 10th
Give the tax man some money today- actually it was Marks tax, mine is a bit later, some horrid amount of provisional. Hate to imagine what Neil pays on tax.

Tim Melbourne dates are selling well. The Continental on May 25/26. No free list either night, so everyone will have to buy tickets. Think I'll go to the Thursday night show (25th) as usually the set list is better at the first show. Last Tim gig for ages in Melbourne.

DVD-Review
X-Files Box Set

Now this is how it should be done. Entire seasons released as one set. None of that pissy two show per dvd- take not Star Trek franchise. Mark says to point out that the 2nd X-Files box is out in November. Buffy the Vampire Slayer are also taking a note out of Chris Carters book and that too will be done as a season box set.

The box itself is great, multifold-so all 7 discs are neatly stored. The extra stuff is a bonus but it's not a major bonus with startling material. But it's something new, so X-file buffs will lap it up: 11 minute documentary on the making of Season One, 12 interviews with Chris Carter on his fave episodes from Season one, a lot of promotional spots and PC heads can enjoy a dvd rom game- "Roots of Conspiracy".

If you haven't watched season one stuff for awhile , it's a treat- Scully looks odd, and changes shape, hair styles. colours and even her legs go from milk bottle shape to what looks like a leg extension. Is she a living breathing real X-File? Is she Alien. She has that motherly glow towards the end of the season one, about to give birth to her first child. There is some odd angled dialogue between Scully & Mulder, and Mulder gets some of the better joke lines.....even the odd "blue" oral sex" related comment.

Mulder's hair moves around a bit from a Neil Finn Dennis the menace to a huge dunny brush peak. Maybe it's just standing in the Jetstream of one too many UFO's! Mulder's bod. was in better shape in those days, more times he took his shirt off then on, and Scully did her bra scene. The million dollar question is -what happened to the man that was in Scully's bed in the pilot episode and who was he. Well here is the scoop, yes it was ME! I have a milk bottle fetish.

20th century fox did a great job with this, the price was good. (It goes for about $90 USA on Amazon but Video Cave NYC got it to us in two days.). It retails up to $150 in some USA stores. Not available elsewhere yet. A case of internet shopping. This is how it should be done.

p.s. they sure got good use out of that Forest in many early episodes!!!!!!!!!!!!!!!!!!!!!!

*Footnote- David D. will now get paid $400,000 per episode in the final season (but he's only signed on for eleven episodes! Sounds like another payrise for episode 12 and onwards). www.foxhome.com/trustno1

Other box sets coming up (info from Marks DVD world):
1/ Simpsons
2/ Planet of the Apes (August-USA).


---
May 11th
GT's office calls and I'm back to Sydney on Monday.

Big Birthday for me! Decide to celebrate all week. The divide and conquer rule- no surprise parties. Knocked one on the head. The problem with big parties and dinners is that you never get to talk to everyone. So heaps of breakfast, lunches and dinners over a week is more fun. Like everyone called, dropped in.

This year I loved every present. I know it's the thought that counts but every single thing just made me happy. When it was all over I felt loved and spoilt and happy. Couldn't of had a better birthday- so thanks to everyone.

Off to La Camera with Trudi, Robin, Mark for dinner. Robin takes us the wrong way. Am buying her a compass for her May birthday.


---
May 12th
Rosemaree drops in the Jets update. Not sure how much longer I want to work for them. Just finding it hard to keep my vibe up, and a few other related bits and pieces. So I'm thinking of finishing up with them July 1st.

Head to the pub with Rosemaree and Tania and Mark. Handy having a local and the food is good. First time ever that they are not playing Crowded House. They seemed to be obsessed with "everything is good for you".

Spend the evening getting a few things ready for tomorrows trip to the country. Didn't sleep too well, think it was the Vodka.


---
May 13th
Up bright and early and my hertz boys give me the top line car for use for my birthday. This birthday thing looks like stretching into a month!!!

Grey sort of day but it should improve. We are saddened because the cake bakery near the farm has closed down. Horrified more like it.

Arrive and the grass hasn't grown up much, so no mowing (yey). Head to the creek to check on Marks "bridge" project. I point out a Yabbie in the creek, it grabs my stick and Mark picks it up. Has neon purple claws, vibrant. We put it back in the water.

Ok classic PG moment. We went for a walk looking for the old fire trail and I clipped back some blackberry bush. I was wearing some Levi's and my big black gum boots. As I clipped the bush two very big black leaches fell onto my jeans. Normally they are small and you just flick them off- these were huge. As soon as they touched the Levi's they went skinny and instantly borrowed into the material.

Well I went white, never have I seen leeches go this fast into fabric (and my leg). I screamed kicked off my boots, ripped off my Levi's. They wern't attached to my skin thank good, they were somewhere in the jeans, which I refused to put back on. So here am I by the main logging road, standing in knee high black gum-boots, white calvins and a shirt. Hmm don't think this fashion will catch on up here!

I walk back to the house like this, grab some salt and watch the leeches froth and exit the jeans. I really did hate this. Even now I look back at it with both humor and horror. I think it was the speed that they went through the jeans. Urgh. Give me snakes any day.

A Forest mist rolled in and the temperature dropped so we had the fire blazing away, just read and pigged out. Mark said a baby bat got inside and kept him awake for some of the night. Could hear the wind in the gum trees for most of the night.


---
May 14th
Try calling my Mum on Mothers day and she is out- my sister must of mum-napped her.

Driving back in the car I hear that Labour have taken the seat of Benalla from the coalition. Just amazing, this seat hasn't left the National party's hands for 96 years. The Nationals in Vic. must be worried, 2 more losses and I think they loose their third party status and $66,000 in salary perks. John Howard would not sleep very well tonight. The GST will be the final nail in the coalitions coffin. What a mean spirited bunch.

Finally track my Mum down. She's partying as much as I am!


---
May 15th
Drive the hire car to the airport, that way I can deposit it there and not have to pay for a taxi. Clever bastard. have to avoid the expressway as the car has no Etag, so I pretend to know where I am going and I actually get it right. Have my Gold express card so I just drop it off and walk away.

Today I'm off to Sydney (again) for a 3 hour meeting. All Bardot Girl band stuff, but worthwhile as I get to understand the full game plan. Get Rebecca at the office to change my flights a few times as I'm running late.

Melbourne Taxi drivers are much nicer then Sydney the guy who took me to the airport was an arsehole. Had no food the whole day, so I had some munchies at the frequent flyer lounge.

Back in Melbourne just as the sun was setting. Mark makes dinner, feel a bit worn out.


---
May 16th
Well the Australian Internet Awards voting is on now. Head to: http://www.onya.com.au/inner.asp

1/Best Australian Artist website. We have three sites nominated- Neil Finn, Skyhooks and Mark Lizotte. So please take a second to cast a vote...it takes very little time.

Susan and Peter O'Dohertys art show is on at The Jackman gallery June 2nd -18th. Love their work, so does Neil and Hessie. I think we all have a few O'Doherty pieces of art on our walls. One of Sue's (I call it Big Yella) is at the very top of the staircase at home- on the third level really well lit. I think part of liking art, is liking where it's hanging. Anyway if you are in Melbourne between June 2nd-18th head to 33 Grey St, St Kilda and check out the work.


---
May 17th
The Finns send this crate of wine, and a note about me being an old bastard. (: Finally catch up with Neil and he is doing bits and pieces for the next mail-out, also working on the Neil Fun site (yes Fun ). Will have more on that as soon as we have info- Issue #51 will have details. he finishes up his album late June I think he said. He sounds really good.

Watch Andy Warhols HEAT - a present from a very sexy person! Stars Joe Dallesandro and Sylvia Miles. I think this is the first Warhol related movie where Joe doesn't show off his cock. Some serious 'acting" maybe? Like most of the others Paul Morrissey directed and filmed it. This time in Los Angeles. High comedy and low tragedy. Annoying, horrid and I enjoyed seeing it again. Was originally filmed in 1972. I have to read my Warhol books and see if the fat, horny motel owner was Warhol Factory person Bridget Polk. Bridget knows all the Goss on The Factory years.


---
May 18th
Smash Hits magazine calls about some quotes for an article. They were kind of nice.

Still no news on the Enz Video, the guys are taking their time. Have to check with Tim on the new release date. Not sure what the delay is.

Pick up all the leaves and fill up the composs bin....the worms are having a field day, yum yum crunchy leaves. Save some for Cosmo who seems to have an appetite for them too. Weird rabbit.

The balloons that Alison sent me on my birthday are still floating about....am keeping them all inside as I don't want them landing in the bay and some poor dolphins choking on them.

Check my Tatts card and there was $22 in prize money waiting. Covers lunch. (: Always a good thing.


---
May 19th
Students raid the RSL on the RSL's anti gay stand. So much for being wiser as you get older. Are the RSL saying there are no old gay people. What a load of shit. Why can't people just let people be in this world. RSL have lost my support.

Have a meeting with a few graphics company's , all work and work. Call Jj up and we head to Globe. Run into cam from the Uk and his girlfriend. Seems to be a musicians hangout today. Jj introduces me to this far too good looking songwriter. No one should ever look that handsome- what a bastard (grin). Cool guy. We share a mouse cake and coffees. OINK!

Chapel Street has a great feel about it- Melbourne people look their best as it nears Winter, and the street looked very European today as we sat there watching the world walk by.

Home and onto the supermarket....once again the lady behind Mark has...Cat food. But she didn't try to seduce him this time.

Watch Dr No on dvd. yes early James Bond- love this one. Especially the radioactive suits, very Austin Powers. The intro music/images are great for Dr No...unlike all the other Bond starts.

Sleep very well.


---
May 20th
Wake up and decide to clean up the rest of the leaves, very overcast and it's sure to rain today.

Hear that the Space Station is falling behind again, the Russians to blame again, strapped for cash so they haven't sent the main module up. Soon they say. Meanwhile the Australian Olympic torch goes into space with the latest Nasa crew- who are heading to the space station to do some replacement work. Looks like Australia is going to kick arse in the swimming...and the hockey- always remember the hockey. I love the hockey girls.

Decide not to check the F/16 diary today- just going to mail it off. Feeling very lazy (sorry). At the end of May the Diary site will be four years old. Have I got that wrong? Can't be four years. Well anyway I'm glad you all find something in this waffle.

A girl at the book shop asked me about the diary (she reads it). Wanted to know how much of my real life was in it. I told her it's about 10% of it. Sometimes it's just boring, like do you really want to know that I'm dying for food and about to run and have a small roll with shaved chilli salami, sundried tomatoes, cheese and ginger chutney. No didn't think so. So I just put stuff that comes into my head or is scrawled on my real paper diary. Thanks to Deb for putting this up every few weeks.

Almost mid-year. Can someone put on the breaks, I want the days to go slower. Maybe if I walked slower that would help.

be good to yourselves.

Peter

---
If there are any problems with this site, please contact webmaster@aswas.com.