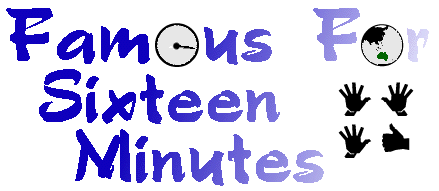 The Life and Times of Peter Green
Archive: 9 April - 22 April 2000
---
HAPPY EASTER EVERYONE!
April 9th
Rosemaree calls and we have breakfast. Sunday is always packed down here at Babble, and the air is getting some bite to it so the crowds all want a table inside. Our timing is perfect and Paul from the cafe manages to save us a good spot. (Yep spoilt Gryphon).. Sunday is also good for the "next dayers"...these days it always seems to be women here in the morning...mobiles ringing and making excuses why they don't want to see the 'stud" from the night before. Or maybe we just always sit next to them. Two that we always hear-before we see,...really loud, horrid things that have no idea what a relationship is....Mark wants to bound across the table and ram the sugar dispenser down their mouths...say it after us people- "TRASH"...thankyou! Thankfully they were absent on Sunday....a few of the regular gay blades were present....last night really was a night on conquest for some.....we sip our coffee and roll our eyes. Cafe society...gotta love it!

There is an old exhibit poster of one of Vali's shows at the cafe. She leaves today for Italy- she wants to dance with the Gypsy's at the Easter festival at Positano. So I'm back in the studio for a bit of time, bit thankfully Toni is doing most of the work.

Spend the afternoon looking at Digital cameras, really want a Leica...they are my favourite...I like all the funky attachments that you can get for them.


---
April 10th
Tim was suppose to be in Sydney today talking to a publicist and the head of his Aussie record company...still don't have a release date but it's soon. I guess.

Our Popstar girls-Bardot are platinum on advance sales of the cd single (Poison). We officially start work for them today....it's going to be full on.......I can feel it. At least I have Neil's blessing so that's a good thing...I'm looking it as hard work and fun.

Mark tells me I am not allowed to mention him this diary site as he is scared that all the crazy Popstar fans are going to hunt him down when he announces that he is fathering Sophie's child!

The weather has finally cooled down, and the big trees at the house have started dropping their leaves......a few flow over the roof into the atrium and Cosmo goes crazy and chases them and eats them. The rabbit is becoming more of a vacuum cleaner. The Atrium floor is spotless.

Hmm just work stuff today.....nothing to write home (or internet) about. So what to talk about....hmm Easter- religion. Oh it's such a touchy subject. Only had a few emails around the chocolate christ....scary part was that the majority of them LIKED the idea (grin). Hmm what do I believe in...I hear you ask. Well I don't think much of the church, I like when the church DOES good things , I even like the odd clergy....but I think a huge part of it is bullshit and a big % are hypocrites. It always seems to be the "word of man" instead of the "word of god"......but sometimes the church can save and can add something into someone's life so that is good (I guess). I believe in goodness and good deeds far more then the church.....and it's fear of eternal hell. A lot of it seems to be what a man has said is so....or a group of men .......and women tend to get a raw deal (yet again....except for Mary...and I don't mean Finn).... and a lot of fear and eternal damnation.

I remember when my Mum stopped going to Church.....and a friends father said you should go to Church to pray etc. My Mum was so quick- and pointed out that God doesn't care WHERE you pray.

Hmm God...I believe in something but I still don't think it's the churches vision of God...(and deff. NOT the Star Trek vision in ST#5 the movie....that was so naff)....oh this is becoming boring...sorry. Oh roll on the chocolate Christ...(sorry kidding). ...far better then the glow in the dark cross or the denim bible.


---
April 11th
A few of our websites have been nominated in the Australian Internet awards...voting doesn't start till May. Still think ONYA is a stupid name for an award....

Send off an email for Earth Sanctuaries....we sold some of our futures stock, got rid of the internet stuff before it all comes crashing down and Earth Sanctuaries is such a nice Green company...they refill part of Australia with Australian native animals. It's a good thing to support.

When Hairball goes to the big cat house in the sky we have talked about getting an Eastern Quoll. They are amazing creatures, known as Australia's native cats...Quolls are very very cute. Small pink noses and vivid white spots on a fawn coloured coat. In nature they aid in the process of natural selection by preying on sick or dying animals.... hey it's natures way. The thing that has made them almost extinct in parts of the wild are those damn feral cats...the cats carry toxoplasmosis (in cats intestines) and just spread it to the Quolls and they have nearly all gone. I've been told they are happy to live indoors and yes they even LOVE cat food!! Maybe Miss Ball needs a Quoll to play with...oh yeah toxoplasmosis..almost forgot....damn.


---
April 12th
Neil plays Tabac tonight and Tim is jumping up for a sing too...there is some talk of him doing one of the new Enz songs that they demo'd. Still no idea what is happening with these roughs, time will tell. I wish we had more time to mention tonight's Tabac performance.... half a day isn't much warning. Off to NZ sometime after his Byron Bay show to have a meeting on the future projects and stuff around Mr Finn.

Our Earth Sanctuaries Prospectus arrives. The trading of shares and options commences on May 22nd...(as "ESL"). Earth Sanctuaries Ltd will be the first public company, in the world, listed on a stock exchange, with the core business of conservation. Website- http://www.esl.com.au Nice Prospectus...time to put our money where our mouth is...and we've always been prone to liking the odd Rufous Bettong or Bilby (Hey you CAN get chocolate Bilbys at Easter.... I am serious for once, and I think a small % of sale goes to their breeding and research).


---
April 13th
Totally blow my wage for the next year and buy the Leica...digital. The people at Teds Camera store were just so horrible...that I headed to Michael's and bought it from them. ...and to think I dressed up in a gorilla suit to promote Ted's years back.....(hey they paid well). It's a great camera...will be very handy as it also converts over slides etc....great for work stuff.

Michael who co manages Bardot calls and runs through some stuff around their Southlands cd signing. He sounds very tired. Talk to Bill at the office and I miss not being on the road with him.

Go to bed wondering what to expect...the Popstars tv show is huge.....have a feeling it's going to invade a big part of our life. How crazy can it be? (final last words I bet!)


---
April 14th
Tim locks in his 2 dates at The Continental. (Prahran-Melbourne). May 25/26th. They are now taking credit card bookings on (03)95102788. Should be a good night. Sydney announced later.

Vali calls from Italy and she has hurt her leg, fell out of her super high loft....all bruised and battered, poor thing...remember she is 70. May need to fly in and check on her...and get a helicopter to fly her out.

It's now the afternoon so I jump in the Grey Ghost and drive out to Southlands. I sit on the third level and have a coffee and watch the crowd building. About 1000 people, not bad for a signing. head down to the security area to see if the record company people are here yet and chat to the main security guy. I have a marketing list for names, addresses...he says "that's not the crowd for Bardot". Totally puzzled I ask what he means.....it is where they are performing/signing. He says walk this way.....5 minutes later in another part of the complex my jaw drops open as the line goes on and on and on....then around a corner and outside...ten thousand people!!!

By the time the girls are on the stage 10,000 screaming crazy fans are squashed in, like sheep. It's so odd...I'm so use to Neil's fans, a few crazy's a few people who will always think they know better then the people around Neil but that is it......it's been a long while since I have seen this across the board hysteria.......but they are very well behaved. They are kind of sweet asking which is my favourite girl.....I decided to wear my PORNSTAR tshirt that was given to me by a dear friend in the UK. So it was like Pornstar meets Popstars..... however this also is a target for tv cameras....so I keep moving so they can't focus on the shirt.

The one thing that I can say about Bardot, they are incredibly thankful and dedicated. They autograph their hearts out, the shopping centre closes down for the night and they are still signing. Katie the Melbourne girl is great.....all seem nice in fact. I eventually get home, no voice and feeling fried. Have a bad nights sleep....this project is a crazy rollercoaster ride.... they signed 3500+ cd singles tonight. I would be very amazed if they do not debut at #1.


---
April 15th
PG's DVD review.

We watched "Happiness" on DVD..the same guy who did Welcome to the dollhouse (Todd Solondz)..it was good, still like dollhouse but "Happiness" was good....and odd. Most people will get freaked by this 139 minute little oddity. Lara Flynn Boyle is still glamorous and just wants to have this relationship with an obscene phone caller (Philip Seymour Hoffman.... why do these people all have three names!!!! (Peter Mark Green)!!! Trish the housewife who is just the nicest bitch in the world.....we wont talk about the cum shot, the teen who wants to cum, Joy the funny looking gal who is rebounding from her latest breakup (but I do like your happiness song Joy).....and the biggest shock is Trish's husband who has the most horrid secret that would make most cinema goers squirm. Middle class perfection is shattered, fisted and thrown out of the top story window......but hey Todd directed Welcome to the dollhouse...and to expect anything less would be appalling. Some people may throw a shoe through the t.v....not for the faint hearted or people who enjoyed Titanic. It can offend your sensibility. Probably why I liked it, as did Fran and Marky. (Perverts the lot of us). Maybe rent it first.


---
April 16th
Well we got our charts early and I can now say that I work for a Girl group...and they have the #1 single-nationally and in every state. Debuted at #1 and platinum already.

Hairball went very weird tonight, just stared and went totally limp. I grabbed her off Mark and we both looked terrified....surely it wasn't her time yet. Then again she is 16 and a half...that's old for a cat. A few minutes later she was normal again...scared the shit out of us....hell knows what we will be like if she dies before us! Something I don't want to think about. If humans go to heaven, where do cats go....and where would Goofey go if he isn't a dog!

Started reading "More tales from the city"....into it again, have to get the tv version at some stage, I haven't seen that yet.


---
April 17th
Ben calls and Deborah that use to be at The Conty (she use to zoom up into the ceiling for the lights) asked if she could stay at the Forest House for a few days with a friend.... we like Deb so we handed her the keys. It's a good escape.

He's off on tour with Paul Kelly and I think he assumed I was heading to Byron for Neil's show. Just too busy.....in truth I almost did , but Easter and airline strikes I decided it was a huge effort and just wanted to be at home.

Mark tells me that DVD titles in America have now reached 6000+. ...that doesn't include Porn of course. Ok it's 6038..... I think Porn would be a further 6000.

Fran heads off soon to Europe and she keeps trying to entice me to go along.....she needs a break, but the Australian dollar is like 59c- $1US...insane.


---
April 18th
Urgh horrible wake up at 4.00 in the morning feeling shit.....and sad. Very odd....so I go to work. have a cuppa on the balcony and the street is deserted.....a bat flys low over the rooftops, and the horizon has a very very faint bit of colour. Still a few hours till the sun comes up. I feel like I am the only person in the world awake......I expect to see the "dream stealers" going from house to house with their big black bags and striped long stockinged legs collecting bag loads of dreams while we are R.E.M.ed.... but all I see is the street cleaner truck...huge orange lights disco inferno-ing the street.

Clean several hundred emails...one from Di at the gallery, she tells me that Pete O'Doherty's latest art show in Sydney was mega successful -sold every piece. Told all my friends they bought good investment pieces. have restless day...type a long email that never got sent, Peggy in the states plots my 2 bad days a month.....maybe I have special Gryphon periods! (urgh like NO!..not wanted .....urgh)... hey i guess two bad days a month isn't so bad.


---
April 19th
Have a fun trip Fran....out on the midnight flight. That's kind of romantic.

Peri from America emailed me and asked what I would of been doing if I didn't pick the music industry for a career. I was tempted to create some horrible answers for fun...but decided the truth could be good. It was either an art teacher or an Archaeologist . Hence heading off to Egypt etc etc. Somehow music weaved it's spell and here I am.

Marky did something great today...came home with The Planets dvd set...The Planets is a fantastic series....loved it. Moved me out of this weird mood. Thanks MG.

Our girl group makes the news again, this time 60 people are treated for heat exhaustion as 15,000 turn up for the signing in Perth. Michael our manager has a run in with a journalist who hassles him about the crowd numbers...like yeah he can predict how many fans will turn up.

The Sydney signing will probably be just as crazy...god help Ignatius Tse will turn up and blame me if anyone faints! I can see it now- it's the Opera House all over again.


---
April 20th
Uranus arrives on the scene and I'm meant to be rejuvenated. Now I know why I never get into this stuff big time...I still feel like shit! (grin).

All I do is make more phone calls......forget Uranus and give me more spinach leaves...I think improving my food intake would rejuvenate me more. Run into Fred from Skyhooks who spots my camera and asks me to take a photo.....I feel a bit odd taking snaps in a supermarket.

We watch "The Sixth Sense"....still think it is equal to Stir of Echoes...and sadly Echoes did next to nothing. The one really good thing about The Sixth Sense is that we never saw one review that gave away the ending......it's a movie that you have to see TWICE.....and you all know why......!

Jj working on some songs for the record company guy that keeps asking. It's nice when the company comes to you.


---
April 21st
Deborah returns the keys for Beenami...and brings us a Billy can and a roll of firewood...which was nice. Toija comes by and shaves all of Marks hair off...ok she just gives him a trim... looks very Mod Squad and not like one of the Three Stooges as MG says.....Hey Mow!

We give her some Eggs and take a snap of La'Toija wearing the Bunny ears (cute). Cosmo gets jealous and tries to hump her while she is wearing them.

Send Mum and Sis some Easter flowers.....no Easter daisys to be bought anywhere. Marks dad is coming down for a day. Mark says "what about those Storms"!!! (private joke).

Run the new digital camera chip through my Imacs /microtech USB box and the images are just great....perfect for touring. Neil Finn in the shower, Neil Finn as Dame Nelly, Neil Finn as Tim Finn ...think of all the shots I can do...and yes I am joking about the shower shot.......please some of us do not want to watch Neil shower! (Ok some of you odd little creatures do).

Mark has filled his quota of mentions...he is stressing this.....the F/16 site has now banned all Mark mentions.

Hope the bunny or christ or whatever you believe in....gives you some good faith (and yes Eggs) today. Happy Easter weekend.


---
April 22nd
Cold night last night .....and a bit of rain so I sleep really well...... decide to chill out and relax and do very little work. The diary site update is the only thing I do except for some house cleaning.

Have some great warm hot cross buns.....can't believe they have been on sale for over a month now.

Soon all the holidays will blend take down Xmas to put up Easter to put up mothers day etc etc... shall all just become one big blur....all in the name of the big buck.

Hear from Bic and she is in LA working on the album, REMs drummer has been helping out too and Bic is in the producers chair.

Anyway this is a short update. Just wanted to wish every one a nice Easter...and remember don't give your dog any of those chocolate rabbits (as the stuff in chocolate can kill dogs- am serious).

Take care

In God we trust...

Peter

---
If there are any problems with this site, please contact webmaster@aswas.com.