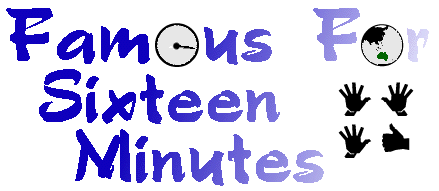 The Life and Times of Peter Green
Archive: 12 March - 23 March 2001
---
March 12th
I hate public holidays, ok I admit it's damn self indulgent on my part, for most of the time we can come to work in our PJ's, have our nude day, frock day or watch reruns of Prisoner or Voyager while we are working....I think it's that feeling of waking up on a Monday- reaching out, catching the vibe and being shattered that you can stay in bed, let the day drift by... ignore the phones, hell have a wank ! (Opps sorry).... well today was such a day, no not for wanking (be nice) a public holiday.

Oddly enough it is also the day that has had the largest amount of "hits" EVER since this site started....and I think a lot came from Australia...I can picture you guys curled up in bed, all cozy seeing what that wacky Peter is up to, and Uncle Mark...and Cosmo the psycho bunny ...with your little laptops purring away....the F.16 site getting your all frisky....

It got so close to being the highest day that I panicked, threw Ego to the wind and emailed Nicole and asked her to click on as I only needed 3 hits to break the record....well I didn't have to, about 20 other readers jumped on board.... not sure if it was good timing ,the imminent release of F.16 Book 1 (Hussy) or maybe a growth in readers...whatever, I still got a buzz so thanks everyone.

So what did I do on my day off- washed the car, gave Cosmo a squeeze, unloaded the dishwasher, had a wank (not really but I wanted to see if you were awake still)..... time to turn the page...


---
March 13th
This is more like it, up early, all vibey, feel good.

Call into Vali's studio just to check that all is ok, it is. Clear the message machine. Haven't heard from her, guess she's enjoying her animal sanctuary at Positano.

Well we have now sold 20% of the HUSSY book, already, it hasn't even been put on the print rollers yet...amazing. For those who have emailed me wanting to use credit card to order it, just go the Merchandise area of this website, and you can use CC in that area. Deb will look after you. It looks like the book will be complete by the 2nd week of April. Really happy, as the binding is going to be stitched, no that crappy glue binding, so you are stuck with Hussy forever! We had a horrid experience in the Enz days with BOOKENZ. It has glue binding and after only a week the covers just started falling off. It really upset Nigel as most of the photos in BookEnz were his....so it was his project in many ways.

You Am I have their *new* 5 track cd out- "Get Up"... maybe it's a recoupable thing but the song Damage is on this EP too...so really it's 4 new tracks and 1 previous release. Hell it is VERY cheap $5. I liked "Be Prepared" on the ep...not sure how it will go but good to have some quality music in the stores. So much crap in the charts. Bring back the songwriters I say.

Speaking of songwriters...."Rest of the Day off" enters the top 200 at #77, the highest Aussie chart spot is in Victoria , we are getting the word out and I'm hoping for a 21 spot jump next week...flexing our muscles a bit. The song is #11 on the Australasian chart which is good.


---
March 14th
Hear from the Bardot girls, they are feeling the cold in London, hanging out with Westlife and getting good Popstar advice from Kylie....seems weird not being there but at the moment Neil Finn is the focus on my work. Still I do miss the wacky sisters so it's nice when I hear from them. Guess I'm still with them, so they tell me, need to talk about wages and stuff soon though.

Do a bit of cooking tonight and decide to ask 2 people who we've never really had dinner with-Spock and Leanne. Not Leanne Perth, but Bob who is Ben's better half (opps)...nah we love 'em both.

So it's an Indian food night, I cheat a little but do serious preparation with all the vegies. Head to the vegie store next door to Revolver music shop- they are great- fresh vegies every day, good prices and when you pay they always give me all this extra "stuff"- a giant bag of peaches, a sack of plumbs..can only just carry it.

So dinner was nice, and we end up watching The Nightstalker on DVD. The Nightstalker was this classic seventies TV show starring Darren McGavin as Carl Kolchak. he's a newspaper writer who snoops about and finds all the freaky things in life...this time it's a Vampyre. The Nightstalker is probably known in Cult circles as the original X-Files, in fact the main X Files guy- Chris Carter plays homage to Darren McGavin by having him on several episodes of the X Files.

Anyway without going into a massive DVD review, the Nightstalker is a TWO story DVD (Night Stalker and The Night Strangler)...it looks and sounds amazing- all those seventies clothes, hairstyles. The first story is set in Las Vegas and it's a great time capsule to see Vegas in the Seventies. Our favorite line is " he's probably high on pot..or the HARD STUFF". Sorry we all chuckled over that one....Leanne was rather impressed with Darren McGavin's topless scene....

Anyway for seventies spooksville buffs check out the Nightstalker DVD- it's a USA release and distributed by Anchor bay Entertainment. As the dvd cover says "see all the wrinkles in Kolchaks suit for the first time!".


---
March 15th
The club I LIKE IT RARE cd is coming together really well, Nigel has narrowed his song down to one of three, he started with close to 150..... Neil is sending the Crowded House "MY LEGS ARE GONE" track over from NZ, all coming together.

Today I went a bit strange, the cover art for the book arrived and it spun me out a bit, not sure why, just messed with my head...I'm holding this full colour glossy print in my hands and it's weird.

Spock suggested that it could be because all the other projects are around the artist but this one is around myself...he could be right. Not sure why but every time someone orders a copy it's kind of a buzz... will probably lock myself in the loo when I first see it in a book store. Enough!

Was putting out the rubbish tonight when Courtney the cat walked by and decided to turn around and say Hi. She just strolled in, I carried her inside to see Mark, a bit saddened because once again it reminded us that little Miss Hairball is no longer Earthbound....Courtney is a sweetheart and liked Hairball. The really weird thing is that Courtney has suddenly started wearing the exact leopard skin (fake) cat collar that Hairball did...we never see cats with those collars, very strange.

So naturally Courtney jumps on Marks lap, she's up for a good pat. Doesn't go anywhere near Hairballs adoration but we do like Courtney and she is one of the few cats that could just wander in. Give her some milk and she walks back outside...meows a goodbye....Cats are funny.


---
March 16th
Sounds like the Sydney Tim Finn shows went well, several encores, bummer he didn't do "Sawdust and Splinters" such a great new song...

Apparently Neil is off writing for a few days, not sure why or where... maybe his next album (:

ONE NIL is out on Monday, well in Australia and I guess NZ....trying to get sales figures in, I'm hoping it has gone Gold already or very close. Thats a tall order though as nothing is selling at the moment, the charts are really weak.

I spend the day working the stores/charts...really tired from it all. Take the rest of the day off (grin) and go shopping for supplies/food.

We are eating at Malvern Central when two girls walk right up too us and almost sit down with us...one is very pregnant- I point at Mark and he points at me and we say "He did it"!!!! The girls quickly run away.......we have a chuckle.

Some more James Bond DVDs are out so we grab them...he is a suave one that Bond...sexist pig- oink! We do like him.....those outfits..terrytowelling pant suit (ummmmmm).

I'm in NZ in 2 weeks, Amanda just sent over my rough job description and they will work out my wage later on.....hmm does that mean I'll get $10 a week........lucky I trust them! (GRIN). If you can't trust your boss after 20 years it's time to move on. I think this will be a lot of fun.

The weather is finally changing...grey clouds and maybe some rain....I decide it would be good to vacuum out the balcony's gutters, the leaves are slowly turning to gold...Autumn is a few weeks away (even though it should be here now).

The kitchen is full of roses, big blood roses and huge yellow ones, it looks like Valentines day...nice smell, I do some work on the big stone table and let the floral perfume mess with my head...romance is alive and well and living in my kitchen.

Think about giving Bic Runga a call, been over a month, need my Bic fix, also I want to interview her while I'm in NZ. Gee I'm jumping from topic to topic....had far too much "V" energy drink.

The EXTRA minute website idea has been put on the shelf, simply because of time, Deb is into it but I have to do all these interviews, maybe the Bic one can go up on that area..... it will happen but when we both get a spare minute, I know Deb is busy too.


---
March 17th
Well last night I just couldn't sleep- I felt like my head was overflowing- thoughts, images, ideas, emotions the whole whammo... so I climbed out of bed at 5.00 and headed downstairs and went on line...did some work for 2 hours. Didn't help much, it's raining outside, the first time for this year I think...Melbourne has been very dry. I considered grabbing my red speedo's and heading to the pool for a swim.... Hmm maybe it's time for the Best/Worst List instead....

Fave website- La Luz de Jesus Gallery (L.A.)
http://www.laluzjesus.com/ The current art show is "Uncommercial art by commercial artists".

Fave Book- The Art of Mark Ryden-by Last Gasp Publishers.

Fave CD- Am loving Neil Finn's ONE NIL a lot- it clicked and I sink into it like a comfy bean bag, and I wander around his lyrics like a sleep walker....

Fave Food- Fruit, all of it...

Fave clothing- red fluffy "flap hat" pity when I head off it's back into Summer again..perfect for the cold.

Fave TV show- Buffy..just gets better and better.

Fave DVD- Blue Velvet...Frank Booth (no relation to Rebecca) is so evil!

Fave Expression- (on eating) "I like to graze..."

Creep(s) of the month-Two of the three independents that form Victoria's government...for ignorance around defacto couples (of all sexes), time to pull your head out of the sand guys it's 2001...and lets not even mention just how fu*ked the Melbourne Catholic Church is- hypocrisy at it's worse. The Victorian Liberal Party for being spineless.

Sweetheart of the month- Marie Finn.


---
March 18th
Sleep in a little today- decide that I have earned it...a few good rocket ship dreams last night. The rain slaps the leaves on the big oaks outside my window, I always sleep better when it's raining.

Well the by election (opps I just typed BI-election) in Qld is over but the votes are still be processed. It's been a safe Blue Ribbon Liberal seat for something like 52 years, Labor have gained a 10.6% swing which is massive for such a safe seat..down to postal votes but it looks like there is a chance that the Liberal party will loose yet another seat.

John Howard is trying really hard to have a happy "poker face" and is that Peter Costello sharpening his knives in the background.....you reap what you sow and I have to admit it's very enjoyable watching this governments "use by" date expire at the speed of light....what a carcass is this political corpus delicti! Even if the Liberals hold this seat the swing is so massive it's a huge stain that wont be washed away . I still think it's going to be very close...down to the last postal vote.

Have some breakfast with Rosemaree, very grey as we sit outside, but much nicer than the previous few months of sunshine.

Basically work all day, answer all my emails, have a bit of a cleanup in the office for next Sundays Cd-Collectors Fair. It's at Camberwell Civic Centre (340 Camberwell Rd, Camberwell) and is on Sunday March 25th. Doors open at 9.30 and the club/s will have a table in the Foyer. We met a lot of new fans last time, so come on down and find a bargain, hundreds of other tables inside so they might have cds etc that you really want. We are always tempted to stay in bed, but it's good to chat to the fans and see some old friends.

I spend some time cleaning the mirror ball for the tour bus, every tour bus has to have at least one mirror board on board, it's in the manual for touring bands- the bus will not leave till that mini mirror ball is up and rotating. From what the lovely Dee tells me there are 1 or 2 familiar faces but mostly new people- all a bit scary, but I can't imagine us having horrid people on the road.


---
March 19th
Hear from the NZ office, get some merchandise figures to Amanda for the Auckland tshirts, and a few other ideas for UK merchandise. I think we are starting to run out of time on some items on my list, which is always sad. Good merchandise takes time.

At least I know of most of the stuff that I am doing at the NZ shows....I think neil trusts me enough to let me do "what I do".

Watch REM do a great cover of Galverston....very non Glenn Campbell...can't stop singing it..had a weird dream of being onstage with Eddie Veder and Neil singing it, thankfully I woke up before I totally ruined the song!!!


---
March 20th
Happy Birthday Phil Judd. We all tried to call him but he was asleep! How old......can't remember (that's $10 Mr Judd).

Tim sends an email- he has at least 3 possible songs for the club RARE cd, Peur de la Vie (from 1992) and Comet and Making you happy (both from 1996) so he can decide, we are just happy to have something unreleased on this cd.

Mark gets all excited as we have found the worst hairstyle for 2001- it belong's to Janet Jackson, 3 huge red knobs poking out of her head, all fluffed out on the ends. You could turn her upside down, put a lampshade over her legs and no one would find her for weeks, what a tosser.

Tania and Jake drop in, Tan needs a pix of Jake scanned and emailed off, I give Jake my please be good look as I'm in an antsy mood. The night gets better as I open up a present box from Meredith on America.....one item SWOOP the flying dinosaur will end up hanging in the tour bus...he has tour mascot written all over him! Not sure about the girl guide cookies...are they made from real girl guides???? Sprent the night making the most horrid dinosaur noises with Jake..."cahhhhhhhhh cahhhhhhhhhh cahhhhhhhhhhhhhhhhhh".

Only one thing stops the world turning here and that's BUFFY night. Tonight's episode focused around Tara and was really superb, the perfect script. I fully understand why this show is super massive.... the Tara/Willow bed scene was handled with incredible class.


---
March 21st
Well this Sunday 25th March the club will have a stall at Camberwell Cd/Collectors Fair, time for a massive clean up of the office, god knows what we will find. We won't be at Camberwell next Fair so this is the last one for the year for us. It's at Camberwell Civic Centre- 340 Camberwell rd,. Doors open at 9.30. We are in the foyer, turn right as you enter. Come and say hi, always good to meet new people.

Spend most of the day in the city, mostly stock hunting. Neil's REST OF THE DAY OFF CD single is starting to become hard to find. The city seems kind of empty today, and every one is in low gear, could be the recession that is looming over our heads.

John Howard seems more cocky today that the Liberal Party might have a chance in the Ryan bi-election, but I know that the Labor party will just creep over the line with a few votes and steal it from them. Into this big time.

Head to this cute little Japanese import shop that does not take any credit cards, am after some Akira type images for the next F.16 book cover- BANG! The Akira cell that I wanted was gone, so I had to be satisfied with some smaller cards, but Spock will make me into some sort of cartoon character... we just want to keep the books rolling along. Right this minute I envision some old man in a small factory doing all the stitch work on HUSSY, the binding takes the longest time but having it done correctly is worth the wait. I'm happy that a few mates have gone and ordered copies, no ones being scabby for freebee's, Marks in charge of Rocket Pockets Sales area and he rules the Freebee list with a steal fist...so everyone has to go through him first (grin).

Scan a few new Neil Finn photos for the Frenz.com Finn website, we both realized the photo area was waiting on some shots, so they should be up by the time this new entry is ready. [ed note: um, sorry... see earlier about Deb being busy :)]


---
March 22nd
Well Bardot's new manager is in town and I'm just waiting on a call for our meeting. He's down for fashion week. Kind of good as I have a bit of stuff to give him to pass onto the girls, everything from fanmail to boxes of free hair care products that arrive. They are still in the UK, where it's snowing. The UK version of Popstars seems to be taking off, #1 single etc etc, Bardot were on the UK tv show, good publicity for my girls.

See a great video today- ESKIMO JOE with "Wake Up", very clever, check it out. Been awhile since I've had a laugh watching a video, so sick of serious Vid's.

EMI tells me that stores are running out of One Nil and many have had to rush re-order, Melita from EMI and myself are trying not to get too excited about the possible chart spot, however HMV tell us it's their #1 biggest selling album of the week- that's a good sign.


---
March 23rd
Friday, we have a really busy weekend so I decide to send in my F.16 update a few days early. We watch Red Planet on DVD which isn't as bad as the reviewers make out. 7/10 on the Sci Fi level. We are over the moon as our DVD player ignores the stupid Warners USA code- what a turkey of an idea, they spent all that money and the damn thing rarely works.

Anyway after Red Planet I finish up on the F.16 update, I get a call from the book printers and they tell me that the printing and binding is moving ahead very quickly, as it's very very quiet out their in book printing world. So we could have the books 10 days early.......am very excited. So thanks to everyone who has supported this first book, I sit here incredibly happy. So happy I probably won't sleep.

God this time next week I'll be in New Zealand, keep checking the Frenz.com Neil site for a new addition.....not saying just yet, but it should be fun. Once again Deb has said Yes to one of my wacky ideas...one day girl I'll get us into serious trouble!!!

No more news, I'm worried about leaving Mark alone with Cosmo the rabbit for a week, Easter is coming up and he has threatened to make the poor thing wear big Easter Bunny ears....

So getting close to midnight, I should say goodnight. Sleep tight.....don't let "whoever"...bite....(c'mon bed bugs is kinda gross).

PG

---
If there are any problems with this site, please contact webmaster@aswas.com.