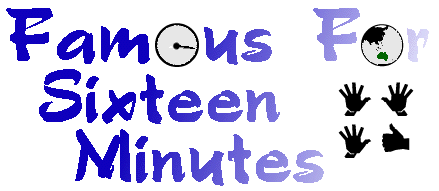 The Life and Times of Peter Green
Archive: 24 March - 8 April 2001
---
March 24th
Dig up a BUS/On Tour photo for use on Neil's Frenz.com site, thought it could be a good idea to do an ON THE ROAD area (located in the Tour area), Neil wanted me to add stuff to his own site but I thought I'd offer it to Deb first as the original thought was for Nil Fun to be graphics, music and images...zilch text, and Frenz.com for text...which I like...so anyway the BUS photo seemed the perfect image for the button.

I have to confess it's not one of our tour Buses, it's actually a shot that belongs to my Mum, of her old Bus that her hockey team use to board when they played country games...but it's such a funky deco Bus it was calling out to be noticed.....


---
March 25th
Day light savings is over so the clocks go back and we get an extra hour of sleep...which is perfect as the CD/Collectors Fair is on today, a chance to clean up the office and have some interesting bits and pieces on the table for the fans, also we met a lot of new members today so that was nice. The table sales become a fund raiser for the club.

Arrived feeling refreshed, and we leave at 3.00. Am horrified how expensive some of the Crowdies/Enz singles are at things like this $40 for a vinyl single. We leave at 3.00, it's a long day, always want to do some writing but there are too many interruptions (boy interrupted)...


---
March 26th
Chat to Enz man Eddie Rayner about his solo CD- yes his next since HORSE. It will be titled PLAY IT STRAIGHT and will have a June release. Eddie is sending us 2 instrumentals for the club I LIKE IT RARE c.d... they are titled : EASTERN MOON and WALKING THE JOG. (yes it says JOG not Dog). So we have to pick one of these.

We paid for the Post Office Box (333) for another year, think we've had it for several decades, when I die I think the fans will burn me on a funeral pyre and stuff my dust and remains into the P.O. Box... in a Marilyn Monroe sort of way, the address is on so many CDs by so many artists that mail will probably still arrive at 333 even after I'm long gone.


---
March 27th
A few emails asking about the HUSSY title...it was in my head one day, I think it came from Paul Hester/LLT's song "PARIS" which is Paul's Ode to touring with Crowded House...."Someone called me a shameless Hussy..." is one of the lines in the song....seemed to fit.


---
March 28th
Really annoyed today, been trying to track down this Titanium Macintosh for the office, we tried all the Mac stores, annoying, even all the new stores, I think the crappy Aussie dollar probably has them limiting stock...it became very frustrating and so far we don't have it (The Mac.) Which means I don't take the computer to NZ....really pissed me off.

Start packing items for the various NZ band-rooms, backdrops, Tibetan flags and wall hangings, incense holders, candles and lights...all squashed into the good ol' metal suitcase.


---
March 29th
Have an appointment with Edward at Giza, going back to Blue Black for this tour and decide to get a thick strand of bright red in the front, looks alright but the black always makes me look like a pale skin. Might change it in the UK, IF I end up going, can never tell as the tour budgets are always scary- it costs a small fortune to tour these days and Neil is keeping ticket prices as low as possible.

Noel Crombie calls by with his cd of TAKE ME TO YOUR RULER, Mark loves it, I'm into it...intrigued and also funny....very Noel.


---
March 30th
Didn't sleep too well...wake up at 5.00, before dusk and leave the house at 6.00, Mark makes a super human effort to come say goodbye...I like driving this time of day, seeing all the morning mist evaporate from the grasses in the parks...the newspaper man delivering the news....and of course I get totally lost on the way to the airport. Thankfully a jolly woman out for a walk is a godsend (was she real?) and turns me in the right direction. Jolly woman are always sending me in the right direction......so be it.

Get to the Limo. service and they freak that I am not driving the Grey Ghost, they almost have a wake for it but it's gone to a good home.

Flight over was fine, read, dreamt, got a bit freaky about a week of gigs.

I'm expecting Johnny Marr to be amazing and a gentleman , have no idea what to expect from the Radiohead boys or Eddie Vedder. The press always seem to beat up on Vedder because he won't play the game...those shorts and his curly locks....such a Pearl Jam image. Lisa Germano I hear nothing but nice things...and Sebastian Steinberg most of the Finn related people know......

Arrive NZ customs, first bags off, straight through and I am instantly met by the lovely Helen Eccles who is the other half of the Eccles Promotion team. Helen's husband Brent we have seen play several hundred times with the Angels. Instantly I like Helen and we get along well...she's great for a laugh and a chat and comes across as a really good Mum. Their son Matt is the drummer from Betchadupa...one of the strongest pounding drummers I've ever watched and such a nice guy- he's always the first of the Betcha boys to say Hi and welcome me...I always remember things like that.

I'm back at the Stamford Plaza- which has a Pool on the roof, I'm determined to start some serious swimming. I have the red Speedo's.

Get a call from Sharon, who's at home with Elroy- so it's a good time to catch up. The guys are all rehearsing at the Kare Kare room, and Eddie Vedder arrives tomorrow.

On the way out of the Hotel I spot a great white chocolate mousse cake perfect for Dawn, El and myself (OINK). Really nice catching up, Sharon has great tastes in furniture and the house is looking amazing. Really great nice. Long overdue.

On the way back to the hotel I call by the St. James Theatre and crash the Pacific Renaissance wrap party for Xena-Warrior Princess. Yes the last shot was filmed and they are using the venue for a last fling. Heaps of great flowers and next day Helen and myself scurry about grabbing them for the Finn band rooms... recycling is good especially for these lovely flowers. I overheard people talking at the party that Xena gets killed off in a very lovely way!!!!!! Heading way past midnight so I head to my rooftop hotel room and get some sleep.


---
March 31st
OK I did it, I swam today...have started, broken in the red speedo's and my Crowdie board shorts, a huge effort but I felt great.

Brent Eccles calls and I taxi to their home and we head off to Mt Eden furniture sales to grab some couches, chairs and a bar for the stage and backstage. Brent lets me do the deal and we secure the bar stool and the bar glasses which works out better then a discount. Take forever in this great bargain store getting chunky black material, decided to do a fake upholstery job ...the couch is kind of beat up but all 3 of us decide it's extra comfy.

Head back to the Hotel and end up watching the Charlies Angels Movie which is a bit of a let down, has moments but overall it doesn't work...even Ling and cast...it could of been really great, so many twists but ends up being a 5.5 out of ten...

The TV is acting very weird, I'm thinking major Sun spot eruption problems. This recent sunspot eruption is the largest in 10 years, 13 times the size of the Earth. My top floor view just allows me to view a small part of the "Aurora Australis"... would of been amazing to see the whole natural light show. I wonder what early man thought of the "southern lights"...probably thought it was the end of the world.....what's cave man for "pretty"...????


---
April 1st
No April Fools Day Jokes..was let off easy.

Arrive at the Venue and work on all 6 band rooms, all day, and 1 main room that I call "Sanctuary". It has Tibetan Flags crisscrossing the roof, woven lamps, the wonderful sari's and lights and incense and a small bar fridge. We add Neil's Optigan (model 35002)...I LOVE this machine. Probably because I have found a musical instrument that likes me.

Picture me with black and red hair pertruding out of a winter flap cap (fake fur sides) in the red bowling shirt (always worn at the first gig for good luck) pumping out a song in a room lit by candles and coloured globes... both Ed from Radiohead and Sebastian had a decent chuckle at my "musical image".....Lisa attempted to dance to my jungle beat but even her dancing skills were thrown off by the odd bad key!!!!!

Head up to dinner with various people, some I know, some I don't, we have the top of the theatre catered for every night, it's a good spot for a chat. This cute guy is sitting opposite with very intense eyes that kind of not only look into you but go for a walk....I figure he is a new crew member, as we have 1 or 3....

Eventually food is over and I tell Sharon I'm heading back to the band rooms for a final check, so she comes along and the crew guy. he has a laugh at my usual weird comments that somehow escape out of my mouth and get me into trouble...I'm sure it's all an insecure thing on my part....someone will write a song "Big mouth takes a fall" one day I'm sure...

Well I my head snaps as the crewman walks into Eddie Vedders room and I add it up 1 and 1 =3...this IS Eddie Vedder. He shakes my hand warmly and I am feeling silly for not even knowing who this is- the man is loved by millions and I'm sure he thinks I'm a complete tosser.

Just from a few moments of chat he comes across as incredibly intelligent and a pool of calm floats in that head...I can see the wheels turn as he thinks before replying....... gone are the long twisted locks, gone are the shorts and he is petite'. Photos and rock dog videos always make him look tall, well in my mind anyway. he has a golden tan from living in the surf. The best thing is I don't even think of him as this rock star, the better thing is, he seems not to either- a huge relief. Neil goes past and says "I see you've met Eddie"... I nod.

Rehearsal is underway and I am captivated by the incredible Johnny Marr of The Smiths fame, they play "On the Corner" and I am so happy. Marr is everything that I thought he would be.

I head back to the rooms for towels and stage water and find Eddie trying to get sleep, on the floor. Which as the backstage warden is a huge No.No, I will always do whatever I can for our band to make backstage more comfortable...eventually I put two huge couches together and take him upstairs to the darkened balcony which is a nicer nap area.

Neil meanwhile is having fun onstage, the unit is gelling, sounding hot and I am in musical bliss. I could sit and watch all night. Neil mikes if I've seen Eddie and would he like to rehearse a few songs, he's been napping with the door open and this "i'm here, here, here" voice . He heads downstairs and the final piece of this musical group takes form...... this week will be incredible, lucky red bowling shirt or not....

Head home and call Marky, my first 12 hour work day is over. It's raining outside, this always happens when we play Auckland.


---
April 2nd
Up at 8.00 and head to the roof and swim in the rain. I notice 3 office workers watching me from their glass tower, I settle into some long swimming strokes...they are still watching when I am toweling myself.

The great news is that One Nil is still top ten in Australia and remains at #1 in NZ. A good sign.

Have breakfast at Sandeli, they make good coffee so I always go their.

Arrive at the St James and set the couch up for stage with Helen, a huge effort as the material is pretty damn ugly. Comes out really well, considering how small the stage is.

Meet the lovely Alice from our NZ office and she drops the tshirt stock in for Merch. Peter our tour manager has this extremely lovely daughter Brooke and her friendly Lizzy who are my sellers for the shows- hell I'd buy a tshirt from such beauty's.

Eddie says Hi and I confess that I'm incredibly happy that he is one inch shorter then I am...he laughs and says "small men are smarter as their brain is closer to their hearts".

Neil signs several hundred cd covers, and tells me is loves his room. The Tibetan wall hanging looks like House of Finn Camelot style.

I end up doing the bar onstage, trying to hide in the shadows, but several songs I just dance my arse off. Betchadupa walk on as special guests towards the end of the set and Vedder works them into a frenzy....History never repeats/I Got You.

Tim climbs up for a few songs, one being EDIBLE FLOWERS, the song the Enz demo'd and it will be one of the tracks on the next Finn Brothers cd, which will be recorded later this year. So they are making this their own. Sadly I don't think the Enz will ever record again.

Two encores, a great show, Lisa looks amazing with her violin. The radiohead boys are fun and amazing muso's... I talk to a certain major pr lady who thinks Ed O Brien from Radio head is sex on two legs...and yes he is.....he stalks the stage with his guitar...a great look...and where as Ed Vedder is is my height, Ed O'Brien is tall that clouds float under his arms...

13 hours at the Venue today...spoil myself with icecream sorbet desert when I get to my room. The 2 hours time difference means I can call home every night.


---
April 3rd
Rain again....and up at 8.00 for my swim...and I catch the 3 office workers still having a look...so I give them a show. After 6 laps I strip off my board shorts and cruise the water in my red speedo's, my stomach is getting nice and flat.....I even do a flip turn...maybe not Olympic standard but I fluke it...I impressed myself....move over Grant Hackett. (:

Read the newspaper in bed and Russell Baillie who some musicians think is a tosser gives the gig a glowing review...good to see.

I head to the Venue after buying fresh flowers and more candles, one of our new crew tell me that both the couches and the bar are being moved up higher....I want lower so people can't see me...several thousand people in front of one is a bit scary...I just won't look up.

I leave my camera in Sanctaury saying PLEASE TAKE PHOTOS for the bulletin board. We have this big board in the corridor and it's just crying out to be covered by snaps. By the end of the night my film has been used up.

Give Helen a hand with putting paper on every seat (it says MKE ME FLY on it) so everyone gets to make a paper plane - Neil's idea I guess. Can't believe Helen did every seat last night, a huge effort.


---
April 4th
Bic Runga has several shows just down the road, she decided it was time to test a few new songs, it kills me knowing she is playing and I'm working ...argh, try not to think about it.

Swim again and the three office people have added a shorter person to their enclave...she's in the middle and they are surrounding her, all 4 are watching...she is very short....maybe it's Eddie Vedder watching me swim? (:

Speak to David at Whitcoulls, am amazed, will finally get to meet the amazing Mercedes Lackey and her equally talented husband Larry Dixon...am blown away. All these people turning up across the other side of the globe. Mercedes as most of the readers know, has for a long while been in my top 3 writers...Rosemaree will be blown away as she loves her stuff too. Head to the venue with a huge smile on my face.

Christian has been a gift from the gods, he helps me out every day from ice to alcohol- just this cool guy- stands next to me at the shows...he's a baby face 18 year old...I'm an evil man and keep asking him for ID when he has a drink. So Chris if you are reading this, thankyou.

The guitar solos are red hot tonight. Neil gives me a thanks onstage but I'm backstage checking the band rooms so Christian is standing their ...pretending to be me....confuses Neil a tad but I'm always on the run.

I'm wearing my Lacrezia De Sade patent leathers tonight and that lovely Vedder man says he really does want to get into my pants.......... to possibly wear onstage. We are the same size (waist not dick...well I've never asked that).....my one thought is that he'd probably cop crap if a press person spotted him.....he asks if we could just swap pants for one song...I say we should do it onstage, just drop our dacks. It's a possibility. I like to look at people's body parts.....Marky has the best nose in the world, Ben Shapiro the back of his neck and his fingers (like all sound-men?), Neil Finn good eyes, Belinda Chapple amazing legs, Sophie Monk a great nose, Ed O'Brien, perfect cheekbones, Lisa Germano lovely neck, Liam Finn amazing eyes, and Eddie Vedder it's ears and eyes. Myself I have great ears ...and sometimes my blue eyes look good.....sadly usually only after sex.....which means only one person gets to see them, unless I'm reacting Sparticus or having sex in a public place!!!!


---
April 5th
Well I went to bed really upset last night, Mark has been sick, severe food poisoning, he sounds better but I hate not being at home for my best friend in the whole universe....It upset me too much , had a small cry, sounds silly but it seems useless being so far away.

I am ten minutes late but I catch Mercedes and Larry doing their talk, really fascinating, I didn't know Larry thought of the Gryphon's... he describes them and yes I am a Gryphon under this human skin. Had to get back to the Venue half way though but it was just great, they sign a book that I'll pick up tomorrow.

I have one copy of HUSSY with me , and Eddie V. takes me into his confidence on a fun stage idea, so I know the book has to go to him. let it be known now that he has the #1 book and I did sign it..... I tell him not to show Neil yes as I want to give Neil/Sharon their copies, Sharon has had a quick read. Anyway I give Ed the book, its a non diary moment...all good.

So he comes out to see me in the foyer a few hours later, I think he went back to the Hotel and read it...am blown away by that, and a bit embarrassed as even I haven't read it..... the one thing he is amazed with is that someone else knows who Prince Planet is...he confesses that at school he made a Prince Planet medallion that was heat sealed......its a vague memory of Prince Planets existence- exactly like mine and I take this as the ultimate sign... this is so cool.

Brent totally spoils me and drives me to see Bic mid gig...we miss the show but she is still in the Venue, she jumps and screams and its just does my heart good to see her so happy. We have to get back to the show but we'll catch up tomorrow night, very kind of Brent and the wonderful Merlin who is our driver.

After the show some weird vibe must of filtered out to all concerned, within moments Sanctuary was changed from a chill out zone to a wild party. To me with my empathy , it felt very much like Voodoo, people were dancing it and Neil's Optigan was pumping out the beat, we congo lined, we limbo'd we danced freely and damn sexy... Moet was balanced on heads, people just cut loose...incredibly free. I snapped a few images, danced and danced, my feet were so sore when I finally went to bed.

Talk to Becky for ages on the phone, just a vibe to call.

Can't get "Better man" out of my brain... what a song.


---
6th April
Very little sleep but I still swim and the famous 3 are their on time...sorry girls I was 10 minutes late. Still the water did wonders for my aches on my feet and back....so flip, just graceful strokes.

Drop in film from last night, took this lovely shot of Ed OBrien and Johnny Marr and his lovely wife Angie...doing the totem pole shot, 3 heads on top of each other...you can do that with Ed as he is so damn tall. So come back to the F.16 site soon as I'll send Deb some of these snaps for the photo area.

Have a danish at Whitcoulls and I collect my book. From what I gather both Mercedes and Larry both checked out the gig, and loved it- even that rockin' bar man.....so they signed a message in a hardcover book and left their phone numbers etc in the USA with "give us a call.." really sweet people.

On the way to the film shop Idecide to call into the DEN sex shop to buy a PVC jacket for the stage tonight. So funny , the owner was unloading stock while I was paying for the jacket, as I was signing my credit card receipt this 10 inch jelly looking dildo was in front of me on the counter, and every stroke of the pen made the thing wiggle...hysterical.

Run into Mr Vedder and Mr Marr at soundcheck, they both say there is a surprise song in the set but neither will tell me what this treat is, but I will, our of everyone love it....... Sebastian and Phil blow it by saying wow "The Smiths"- How soon is now?.....hard to keep a surprise at rehearsal, but I AM over the moon.

I'm alone with Johnny Marr and we talk about The Smiths, and Morrissey and I keep saying I shouldn't talk about it as I'm sure Smiths fans hassle the shit out of him etc.....but he says that simply because I'm not hassling we can talk, and that felt good. He will be treating us by appearing at some of Neil's UK shows so for that reason as well I hope I am on the tour.

What a week, I feel like a kid who has the keys for the magic shop, I have that silly smile on my face, I'd love another week like this....

Helen types while I read out the lyrics for How soon is now, just so everyone gets it right...for those of you discovering old music get The Smith's "Hatful of Hollow" cd as "How soon is now" is on that- you may recognize the lyrics as the song for the CHARMED tv series, its not The Smiths playing it but similar...

I head out to the road-case to do a stock check, its in the St James Foyer, I leave the doors open so the fans waiting in the rain can hear soundcheck. Eddie comes out and tells me to head to his room in the 2nd half of the set (oh honey)....but sadly it's just for "the stage project".

The show is underway, sold out again. The second half I am in Eddies room , attempting to make his hair into a Split Enz mohawk ...that's the secret, during TAKE A WALK Eddie Vedder will have a (small) Enz mohawk, eyeliner, makeup and an original Enz shirt made by some girls in 1974...with THE SPLITZ on the back...Anne from the front bar had this...save dit all these years...and I tell he rit's fate as Eddie needs something to wear thats Enzish.....

Our problem is that his hair refuses to stay up....no time to do the old soap trick so I'm holding it together, he's upside down allowing gravity and eventually and tonnes of hair lacquer we have something...not what we wanted.

But the reaction is good...Neil just grins, loves it. They do a kick arse version of TAKE A WALK......Eddie thanks Neil for SOME GREAT SEX....No No No he says , for a fantastic week.... I am killing myself so funny. I can picture Neil wondering if I have corrupted Eddie Vedder.... massive hair products, kohl eyeliner, eyeshadow, clothing, gay jokes....BUT Mr Finn it was all his own doing, I wasn't even a catalyst....honestly!!!!!!!

So this is it the last night, our prize winner bar person is Kylie and she gets down, dances and says its the best night in her whole life- she is all smiles...she means it. I like it when people are happy.

After the majority have left I start to pack up the band room, have a dance with Lisa Germano... she tries to teach me the tango..I do ok but need more lessons. Bridget the publicist arrives and gives me a lovely full colour group shot that gets signed by all the St James artists...it's great and will be framed for the office. The photo should be used in Rolling Stone.

Head back to the hotel, which is behind Tabac where the after show party is underway. Neil has left his green jacket behind again..this jacket has more lives then a cat..so I find it and wear it to Tabac...he's outside, saying goodbye to Tim and Marie so I give him the coat to his delight.

Head inside and practice the Tango with Lisa, head to the couch and Alice from our office comes over, I massage out the stress bump on her neck....

Tracey Magan rocks up, we've all known Tracey for years, daughter of promoter Ian and she looks great, squashes onto my knee and we just both go into hysterics, talk bra talk with Dawn, Mr Marr is signing a stack of 12" Smiths vinyl, and another family friend Geraldine takes her spot on the couch...she has great legs, and gossamer stockings...share her splif...think it's Niugini Gold as two puffs and that's a bit of a superlative high..hey I'm a cheap date.

I give Anne from the St James a cuddle, she has these lovely black glasses, like the ones Katie from Bardot wears...it's a good look. Go and say goodbye to Eddie last, he pockets my card with all my contact numbers on it and says he is totally hopeless at writing, and I assure him that's all fine, as long as he has the numbers, our paths will cross, just one of those fate things, if not it's ok- good to know that all multi million selling rockstars are not wankers, it's been a great week. I leave a few hours later, Neil is still enjoying himself, it's going to be a late night in the Velvet Lounge.

What a night, finally fall asleep at 5.30.....sleep takes me over like a stubborn mistress.


---
April 7th
Wake up at 9.00, the true test of swimming is doing so even when you don't want to. I feel fatigued, but I put on a brave face, climb the stairs to my roof pool and do some laps....it helps, I feel good.

Call Neil to say thanks for a mighty week, I thought he was Liam, they are starting to sound the same. He thanks me and says he will call in a few days to let me know if the budget allows me to go to the UK...I'm kind of cool about it- either way I am fine.

Alice calls by and sits on my case and we finally get it closed. Katie at reception thanks me for the gig tickets, which was nice and she gets a car to take me to the airport. I am incredibly happy- I smile at all the wildflowers growing next to the road to the airport.

I scribble this down: "I sometimes love the impossible and at times the impossible loves me back". Not sure what it all means...but it's a feel good sort of day.

Head to the VIP lounge, just write and read, very chilled. It's a long flight back, sleep, well very lightly...just want to get home. Arrive home to find that Marky has made some of his world famous sausage rolls....spoilt. Watch Buffy....happy.


---
April 8th
A grey Melbourne sky, think I've packed Aucklands weather in my bag too, which is ok I like the rain. Start signing the hundreds of F.16-Hussy books, am trying to mail them all tomorrow. For those readers who still want a copy of the Famous for 16 Minutes book, Deb has created a credit card area- just head to merchandise....or email peter@frenz.com if you are a club member and mention you would like price details for Hussy.

Rosemaree calls by and we head to babble for Coffee....they almost didn't recognize me with black hair.

Time for the Fave/Creep List.

Fave Snack- Cadbury Snow Flake-a chocolate flake with a white centre.

Fave person-Eddie Vedder.

Fave couple award- Johnny and Angie Marr

Fave Song-Betterman- Finn/Vedder version.....and How Soon is Now.

Fave Hairdo-Bic Runga.

Fave fashion piece- anything black and shiny.

Creep of the month...for once I love the whole world!

Fave swimwear- Red Speedo's ..must have drawstring.

Fave body part- ears!

Fave DVD- Tackle Happy- 2 men, 2 dicks 2 much spare time. Directed by Mick Molloy. It's the infamous Puppetry of the Penis" guys on the road. Also contains some footage, never before shown, of POTP at Hessies Shed. As Tony Martin says "Just like a John Pilger documentary but with more penises". Woman love these guys... a hit at all Bridal showers.

So that's it for me, better go and get back to the signing of more copies of HUSSY.

Rock Out!

Peter

p.s.- this has ended up being a huge Diary update.....so I'm not checking for mistakes. (sorry).

---
If there are any problems with this site, please contact webmaster@aswas.com.