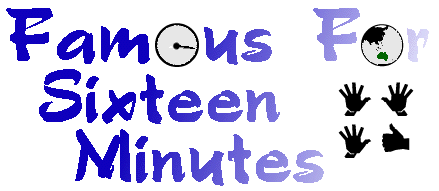 The Life and Times of Peter Green
Archive: 25 February - 11 March 2001
---
February 25th
Head out to Spock's home amongst the gum trees. I make the odd "direction" call but manage not to get lost. It;'s nice that only an hour out of Melbourne you can get to see, taste and smell the real Australian bush. We end up spending five hours editing away the first book- "Hussy". Mark has made a massive amount of corrections, add to that new photos being dropped in and swapping a few things around. It's coming up really well, we are about a week ahead of our deadline, but that will be bumped back as I'm waiting on the odd photo and word from our printing connection Anders. I ask Spock if he is sick of it, but he seems to be enjoying it, and oddly enough so am I...in a third person sort of way.

Jen has ran with the Doris Fish interview on her Fame Is site, a few hundred people have read it, some interesting feedback (chuckle).....


---
February 26th
Just find out that my Bardot girls will be on England's Top of the Pops. March 29th. A huge list of UK media , it's really a full on 5 weeks of UK promotion. Top of the Pops will do them justice, it's the most watched pop show in the world.

I won yet another $20 on Tattslotto on the weekend, never the big prizes but $20 each week covers breakfast...food from God. Amen.

Think I'm on the English Finn tour, Dee tells me that their is a bunk with my name on it, on the tour bus- God bless him. Happy to be doing my backstage bits and pieces, hopefully looking after the VIP's and such. I think they'll let me have a "free hand" as far as work, they know I god freakazoid if I'm not working on the road- so they'll always get good value. Hopefully not too homesick- a bit sad that 90% of the crew will be all new faces, but that's just my hatred of things changing, however I still think we had an amazing crew on the last tour- the new people will have a lot to live up too.

God England, foot and mouth disease, train crashes, grey skies and expensive dvds. I love the place! No I do, I always feel good when we tour the U.K. I think it's because we have our tour bus and not have to jump on flights every day. I just made a mental note to take my Tour Bus mirror ball, it's like my red bowling shirt- tradition......gotta have tradition lads or the tour will be a disaster.


---
February 27th
Well Jj and Miss Renee return today, sneak some flowers up to the apartment and a six pack of hot cross buns, it's nice to come home to flowers.

Spend 2 hours with Kylie my travel agent, we have shuffled the overseas July trip around about 10 times, in the end I think we have a "working model". I look at the Peru to Los Angels run and cringe at the 14 hours, so that is now Business class too. The girls are happy for that to be Economy, as long as we don't pinch, squeeze or touch Trudi and let her have her space (grin), whereas Robin will go into comatose state as soon as she sits down.

We catch up that night and run through it all. We decide to make extra money by attaching a 'sweat collector" under Marks armpits when we are hiking through the Andes, we will then re -sell it at Gracelands in those small vials that say "Elvis's Sweat" on them....GRIN!

I found out today that Australian's are the greatest consumers of on line Pornography (in the world)- proportion of population, visiting AO sites. 33% of Australia's 6.8 million net users accessed Porn from home in December 2000. That's a lot of horny people and sticky keyboards (yiek)!

Run into Jj and Renee at the coffee place, Renee shows me her latest model photos, incredible really, she's about to break into the Japanese market. They look relaxed in a "just flew in" sort of way.


---
February 28th
This month is so sneaky, you always think you have a few days left and then whammo, it's March. Oh well roll on Autumn, it's at least getting cooler.

Totally angered by the Taliban authorities in Afghanistan, they should be sent to Islam hell for destroying all those statues of Buddha- total Islam bullshit- what a crock. That sort of thing will turn around and bite them on their pimpled backsides I hope!

Well my day was exciting, ordered another 12 fences for the goats...these goats better love what we are doing.....decide to get them when we return from Peru, so they won't miss us.


---
March 1st
get a call from little Pink...her birthday soon. Manage to buy a fairy bubble bath for her...the fairy's face looks like hers, cool. For those of you who watched Prisoner, Kylie (Pink) was on that for a little while, she is also in the Split Enz "Never ceases to amaze me" video as the fairy floss girl, filmed at Melbourne Zoo.

The office gives me the o.k. to head off and purchase some band room supplies, so several dozen Indian cloth light covers, a weird green fake grass triangular lamp, quality incense and other "additions" I return home satisfied that the band room will be looking and smelling good for Neil's tour. Think we are heading towards a Polynesian look, will be working with Sharon on our "look". Neat.


---
March 2nd
Well Bardot are now in England, hear from our new manager and so far so good, think the girls will be recording the new single in the U.K. So it's all happening. I have a few personal whinges so they need to be sorted out or I could exit the whole project, don't want to as I do love the whacky "sisters" but at the end of the day it's a case of how much time we are putting in.

We need a new portable computer for the road etc, so I have a few ideas, really after Macintosh's new "Titanium G4 Powerbook" so fingers crossed, that one inch screen is amazing.

Spock got his motorbike license today- takes nearly the whole day to obtain the thing, so he's probably driving around on his mo-ped as I type. So if you see a man sideswiping gum trees it's him!!!!


---
March 3rd
Happy Mardi Gra Sydney.....and Happy Birthday to Squid Girl! New liver on the way!!!!!!

Make some fantastic home made Mango Lassi, Yoghurt drinks are great, especially whilst eating hot Indian food, neutralizes the chilli burn!

With 5 minutes to spare I sign on up for the cable version of the Sydney Gay & Lesbian Mardi Gra. It is the coolest Mardi Gra in the whole world, and everyone is looking fab. I loved the Queen in the 20 foot high outfit made from clear plastic bottles filled with blinking fair lights (no puns please).

In a strange twist of fate, Noel Crombie (who made all those amazing Enz costumes) calls and he and wife Sally are making an out fit out of bottle caps for Melbourne fashion week. I jokingly ask them if they salvaged all the bottle caps off the Mardi Gra man who used all the plastic bottles...the outfits would look great next to each other- bottle frock and cap dress!

Every year at Mardi Gra the Reverend Fred Nile asks God to rain on the Parade, to upset all those HOMOsexuals...of course God thinks Fred's a wanker like the rest of us do and it rarely ever rains...this year it rained for 3.5 minutes...after that balmy weather. The Parade is massive, the crowd gigantic and everyone is having fun. It ends at the old showgrounds at a giant dance party that finishes at 10.00 next morning.....


---
March 4th
get an email from Andy White, he looks like being in Australia in April, no shows or anything just a drop in for a coffee....he's a good lad.

Spend the day working, it's all Neil Finn for the moment. Email the Bardot girls, they are appearing on England's Top of the Pops on March 29th, they have had some very decent press so far- hell they could break into the UK market. It's probably the toughest market so far but it seems to be slowly crumbling to their charms.

Have stopped reading this month, just seem to be really busy, at the end of the day all I want to do is go to sleep.


---
March 5th
Happy Birthday Mum. Send her some house orchards for her birthday, all strange Australian hybrids, they should look cool.

Well Neil's tickets for Auckland went on sale today, with so many amazing guests all shows should sell out.

Catch up with Spock , who hands me the mock up of the book. Weird, you are holding this batch of pages that will end up as some sort of time capsule on peoples book shelves. Chicken out and cancel the whole project- never! part from the advance orders there have been some credit card orders via this website. Just click on the merchandise area, if you want a simple way to order the book this is probably it. Stock arrives in April.

The support for this project has been incredible, I think nearly every reader has ordered a copy. Looks like there will be a Second Edition re-print!


---
March 6th
Escape to "Beenami", I promised myself that as soon as Spock hands over the draft I'd take a day off, besides we Aussie Bush men have a goat fence to put up. In the end Mark takes over the responsibilities of the goat fence. It's a hot day , poles go up and the fence arrives later. They have a huge living area. I attack the "goat house" with fresh paint- forest green of course....think it needs some climbing roses painted on it.

We really want some small horned beasties....just two will be fine.

Spend a big part of the day inside, relaxing.

We head home and the sunset is amazing, a massive orange fireball. So bright that the traffic grinds to a halt as we are all blinded. Home in time for Buffy and really in life, that's all that counts (*grin*).


---
March 7th
Tim arrives today, starts rehearsals with EVEN at Revolver rehearsal rooms.

Meanwhile the Russell Crowe kidnap attempt is everywhere, front page of Who Weekly. The FBi have been brought in, Scotland Yard....we cash in with a photo of Russell at the Finn after show party...lob it in the F.16/Hussy book. All of us selling copy from Russell's misery...we'll all burn in hell (probably with Russell!!!).

Speak to NZ and we are heading over a few days before shows to look after the acts, set up the band rooms. At all these VIP shows it will be a case of non one allowed in for rehearsals and no fan meet and greets, think it will be very strict.


---
March 8th
My hands are sad.

My eyes are tired

and occasionally Nicole shines and hits the nail right on the head.

We work on the "I LIKE MINE RARE" cd project, it's just coming along so well, this little benefit cd.

Speak to Noel and Nigel from the Enz first, really I just wanted to get approval and publishing waivered on a very rare Enz song called MURDER. Both band members blow my mind by also offering a solo track each, totally unreleased as it's a "good thing to do". Just spontaneous...Noels will be some quirky track called "Take me to your Ruler", Nigel is still deciding but it could be "Car trouble". They are fine about "Murder" too. Next is Eddie Rayner, and how incredible., Eddie offers the same thing, and ok's Murder too, Eddie has been working on a new solo release and has a few spare songs on his work discs, so that will be a new song too.

Crowded Houses Paul Hester has this song called THE BEST IN TOWN, and that will be going on, love this song. he tells me that he sees Nick Seymour once a week and they work on some stuff in the studio.

I chat with Neil late one night, I'm all vibey and he sounds chilled out, he just did a radio show, he hands over MY LEGS ARE GONE- an unreleased Crowded House track- a song that should of been on one of the albums, very generous.

Catch up with Tim in Melbourne, and he also happily agrees to donate a demo track- studio recording. So what was a 3 track CD has now sprouted legs, and is a classic collectors item for fans. It's only being made available to club members, so if you are a clubber reading this, just drop me an email at: peter@frenz.com and put RARE CLUB CD in the "subject" area. Mention the country where you live and your full name and we'll send you some info.

Hell it's a new project every week around here! Talk about productive.


---
March 9th
Tim Finn -The Continental.

Catch up with Tim at sound check and he signs a huge pile of Say it is So cds for tonight's show. Even and Tim have had 2 rehearsals, and today it sounds really impressive. I like EVEN. A really good Melbourne group. One of the Even boys really digs "Beginning of the Enz" cd, I like it when people love that early Enz stuff.

Head home for my meeting with the printers/publishers, and they both are enjoying the HUSSY book project, saying there is "nothing like this" on the book shelves......I take it as a compliment (GRIN). OR are they saying "you are such a freak..." nah- I'm really happy , they are both passionate about this little oddity, feels comfortable. The other good thing is that the pages are "stitched" together as well, so the binding is really strong, and it will be in hardcover.

Before I know it, it's time to head to the Continental. Lots of familiar faces, totally weird though as we get the EXACT amount of people that Tim had the last time he played here- the EXACT amount. I tell him that every single person last time must of liked the show and came back. The room is 10 short of a sellout, so it's a strong crowd. I love one of the new songs "Sawdust and Splinters" which is only played this first night. He substitutes "Not even Close" the 2nd night. Matinee Idyll is superb, it has such longevity...some songs survive really well from that early Enz period and just allow for a current 2001 facelift...chat to fans and mates afterwards. Nice night. Stuart and Lisa have a good time, a lot of regulars who made the effort, every one left contented.


---
March 10th
Catch up with Jj and Renee. Johnny is writing away, he asks me some questions about writing, shit I don't know I'm not a writer.....Renee is heading to Japan in a few months- her latest photo shoot really is hot.

I don't like the coffee bars on the weekend as much as the weekday, you get a lot of people heading to Prahran to groovy ol' Greville street, and most are simply freak hunting or demanding arseholes. Go to Greville Books and I imagine what it will be like when I first spot Hussy on the shelves.

Manage to find a way to wrap Little Pinks Bubble bath fairy, so I can mail it to her...those darn fairy wings, poking out everywhere...she'll love it.

Back to the Conty, go later tonight, no urgent rush...

Some regular readers came up and told me they loved the Doris Fish /PG interview that went up on the Fame Is site. I was happy with the questions, it wasn't chopped up too much. Think Jen told me 300+ people had read the thing, anyway if you want a look go to: http://hussy.fameis.com/

I do like the photo with the mechanical Crowded House with Wings, one of the very few good shots.

Tonight's Gig is good, once more almost a full house, some middle ages lady asks me if that's Tim's autograph on his solo CD......I was going to say "No it's Neil's" but bit my tongue- how weird- who else would sign a Tim Finn solo cd, it so obviously says Tim Finn. Odd.

Marie Finn takes Life member Alex backstage to say hello to Tim and get a poster signed (thanks Marie).

During the last 10 seconds of "Weather with you" Tania & Spock turn up... they'd been to see The Lovers play, Spock was ah err "merry". He's having fun. The three of us stumble home and surprise Marky- "SURPRISE" (hic). We pour some Vodka's and after such a long day it was nice to have a spliff. haven't had any pot for ages, it was kind of nice. Just as we walk in, cable tv is showing a feature on "wife swapping" parties....full on and everyone is OLD. We have a few drinks and end up watching music/cable.... I swear the You am I "Damage" clip looks totally different to the original I watched months ago....and no it wasn't the pot (be nice).

Head to bed at 2.00...dream baby dream.


---
March 11th
let myself sleep in, some neighborhood dogs are barking and keep breaking my relaxed state so I climb out of the gothic bed at 10.00...a little bit fluffy in the head...nice morning hair, instant mowhawk.

Cosmo is being cute, getting ready for a few dinner guests this week.

Deb emails me and the Hussy book is now in double figures on internet sales (yey HUSSY). Decide to work on Finn stuff for most of the day.

So I guess touring is in the air, a few weeks and I'm off to NZ, still waiting (like many others) on the official word on the UK and Europe... I am both excited and horrified, as I've grown to love being at home.

I've had a great few weeks, John Howard has had a terrible few weeks, hmmm maybe life isn't so bad after all.

Take care of your mates!

Love and Peace.

PG

---
If there are any problems with this site, please contact webmaster@aswas.com.