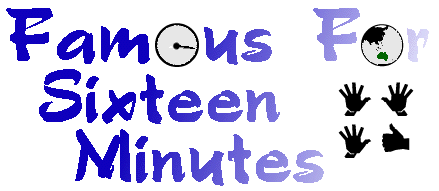 The Life and Times of Peter Green
Archive: 26 November - 8 December 2001
---
November 26th 2001
I am the first person in the bank today- my Rumba pay cheque in hand, ready to be banked. I am a good Gryphon and don't splurge it all away.

It's young Toija's birthday today, she's still away touring with that husband of hers. We leave a birthday message, I refrain from singing. How old is Toija now, I knew her when she was 14, I must of been 10 (ok who just said 'yeah right'-I heard that. I am not old- just wise.

See you've thrown me off the track so I'll just move to another day..........


---
November 27th
Up at 8.00 and the lovely Mrs Finn turns up for our breakfast appointment. Sharon is one of our favorite girls, always sounds sucky when you say that- not meant to be, I just like her strength. We share a trust, it just feels good when those Finns are in Melbourne. Think it's time they ditched New Zealand, surely they are bored now (serious NZ baiting going on here). I know inside they love it and are their forever- damn it. I am worried that all the Babble boys know her name already, know what sort of coffee she wants and they have our reserved table all shiny.

Ben is setting up his new house, so he misses the breakfast, which is a bummer as she digs the Yeti too, Mark and Mary are Babbling too. Good vibe and laughs all round. We get the official invite to the anniversary party next year...I have ideas about our costumes, and volunteer to climb the giant palm trees and wrap them in pixie lights- I work out I need 1000 lights per tree- yes I am not frugal when it comes to pixie lights.

We return to the office and get the news that the Bardot single has jumped to #5, so a top 5 hit. So a real hit, I only think a song is a hit if it makes Top 5. I hate all those CD's that say contains the HITS blah blah blah and you go "yeah right" #147 on the charts does not a hit make!!!

Decide that EMI-Melbourne office gets my vote for lack-lustre record company state office of the year- where have all the passionate people gone that use to work their, we had a connection, sadly faded away to nothing. I get more passion out of the Warner's office, they contact us, work with us, have hits with us. The EMI Melbourne office has a connection with us somewhere below the Salvation Army Clothing Pickup and the Stonnington City Councils cat registration. It would be an interesting experiment NOT to work our charts stores, buy stock for the club etc and let a Neil CD have it's own success in Melbourne. The safety net of whatever sales we give them would be gone and I know without a doubt that the charts would show a different story. Sydney is a different case and the staff communicate with us REALLY well. Sad Melbourne EMI use to have such a great vibe......


---
November 28th
Fried so escape to visit IGOR. Hmm nice people have stolen our solar generator. By the time you read this they would be dead- major curse happening....or karma. Really annoying- how dare some little thief invade our property.

Get our frequent flyer tally for next years holiday- back to the UK and Africa I think...some serious safari or the Orient Express....the ideas and destinations come flooding out. I need to amass some more freaky flyer points. Who knows where we will end up.

Finally mail Deb her presents, talk about a packed parcel....it feels like I've sent her two bricks. (I haven't Deb really).

Tiff Bardot calls and she is accessing the fan emails and sending replies, she just does her thing. We talk about the joint tour with Human Nature- HN are kinda Naff and you can feel the rot has set in, which is brutal but after seeing so many people leaving before they came on at Rumba, it's obvious that their popularity is sliding.

I email our manager David about my 'possible' part on the Bardot tour... have had 2 other offers, so I need to lock stuff away. Could be a fun one.


---
November 29th
Sad day for our inner family, our buddy Rosemaree's Mum passed away. The funeral was today- was incredibly proud of her strength. Usually Catholic funerals drive me crazy, and they seem to go on and on- however this one at St Monica's was kind of nice. Four of us went, and joined the masses in the church, we had the back row, which I like....shared my hanky with Fran, more so because of Rosemaree's sadness. Really nice Eulogy that actually told you something about the persons life, from one of the people who shared it, I hate it when the Priests go on and on about someone they hardly know. So this was good.

I felt rather pious at one stage, and the Virgin birth statues took on a soft blurry glow....even the odd Amen crept out of my lips.

Makes you wonder how things will be when one of your friends departs to the higher plain. I decided to try and put more into life, not get caught up in all the B.S. and just enjoy the calm moments.


---
November 30th
Head to HMV and buy a big pile of '7 World' CDs. Neil is busy signing covers as we speak.

Call into the charity shop with Mark as we need to get some old lady clothes and glasses for the GLAMOUR! photo shoot on the weekend. Two old ladies are looking after the counter. "Hey old ladies do you have any spare old lady clothes and glasses?"

I am still amazed at all our friends (well 90%) getting the vibe to do the shoot, all said 'it will be fun'. So it shall be. Even though this is a heads and shoulders shoot, we find a really ugly tartan skirt and just had to buy it.

John from Vali's sacred valley comes into the shop looking for shirts, he asks what we are buying. I say "old ladies clothes so we can hang out at old lady bars..." He looks scared. Mark finds a true treasure in a hand knitted chunky pink cardigan.....as we try the various artifacts on, people seem to leave very quickly.......no respect for their elders!

As we walk around Prahran we both get the annoying habit of starring at old people, we discuss quick grab and runs of granny glasses, and even the prospect of shaving a granny's head for her grey hair- as grey wigs are becoming hard to find!!! Old peoples home across Melbourne have been put on high alert.


---
December 1st
First day of Summer and it's lovely and cool and a fine mist of rain. I love it.

World Aids day today, didn't see any badge sellers.

...and then there were two-George Harrison dies.

It's sad, very sad but I put this to you dear reader- George Harrison had an amazing life, so much achieved, so many magic moments, he created so much happiness- he had a full life- feel sad for the people who live their life with no joy, no self achievement, no magic.....for they have lived but not really 'lived', so feel sad that George has gone, but how lucky (and talented) he was.

We get some interesting figures in from the recent Election.
The Liberals had 4253399 votes.
Labor had 4340567 votes.

More people voted for Labor. The national Party votes and the swing in certain areas kept the Liberal party in power. I thought the Liberals had more votes but on a party to party level they had less. Ah politics.

Ben blows our date out (grin) and I head off alone to buy our Xmas tree. I go crazy in the plant shop and buy Mark a tree for his room, a massive pot and other stuff. I also spend the last of my cash on flowers for Rosemaree and that makes me happy. They are from all her friends and they are lovely.

We watch the new adverts for Chryslers PT Cruiser. What a lovely car, if ever a car was 'deco' this is it. The black ones look X-cellant.


---
December 2nd
We gather for breakfast at Babble, Fran drives back from her raunchy weekend. Nice to have everyone at the breakfast table.

I spend the rest of the day working, sketching and crossing 'done that's" off my endless list. I am a list person, I can confess that to you all.

Make an effort to track down Anne Heche's CALL ME CRAZY book...we do like Anne in all her kooky glory. Our fave line is when she got busted for Ecstasy last August. "I was driving to my spaceship, completely clean and sober, when in my head I was told to take the Ecstasy pill". She abandoned her 4wd in Fresco and just wandered into a nearby house- she says she was taken over by her alternate personality named Celeste. A being from the 4th dimension here to teach the world about love!!!

She is a classic, and we dig her, unlike Mariah Carey who is as close to hideous as possible. All chant at once "Mariah must go...". Maybe Celeste can just take Mariah shopping in the 4th dimension and make it a one way fare!

I have to admit my flight from NYC to LA, with a bit of Ecstasy in my system had me seeing a rather amazing flying saucer too, it was only the numbing pain from my face being squashed against the planes window that made me finally ignore "watching it". As I think back I'm sure that was Anne behind the wheel flying it.........


---
December 3rd
Ok this is weird- Australia has a national coin shortage. How really strange is that, I can never remember ever having a coin shortage in this country. Where have they all gone? Are people not clearing parking meters, telephones, pinball machines and 20c peep show window boxes...where are all the coins. Is this a conspiracy? Are Coin necklaces coming back into fashion, what is going on here?

Well our support for Neil Finns '7 worlds' cd in Victoria has paid off, our state had the highest chart entry. Bardot are still top ten.

Vacuum the house, even the top of the cupboards. Patch a few wall cracks as Sunday we are painting the dining room and kitchen. Sharon gave me some good advice and ideas around our Indian tiles- knew she's love them....my head is full of renovations and colour charts....


---
December 4th
Meeting with Spock today- he hears me tell off the lady from the bank, what is it with some bank people you tell them clearly and exactly what something is and they don't get it, is my star trek communicator turned off? So I just went for the jugular. Karen from the bank calls me back, apologies and I even fire a shot at her. Maybe it's me today, but in this case I don't think so. I am over banks.

Spock agrees. he's excited as Boom Crash Opera do a show soon, we are hoping it will lead to more. Sadly it's at the casino so this little black duck won't attend, not even for my beloved BCO- I hate the casino....I hope there are more gigs, want to see them play.

The Baroness from babble gives me "her" photo for Glamour! She's looking good! Spend the day buying fake beards, hair spray, face scars, make up, eye patches, and the list is endless.


---
December 5th
Mark at Babble heads to Caulfield to track down some rare glitter lipstick for my "look" for this weekends photo shoot. Am calling the shoot "Some Girls, Some Boys". Woman are becoming men, men woman, the list is growing, we have bikies, hookers, Valentino, Elvis, Mrs Doubtfire, female Hitler, Gangsters, Nerds, and many other sex changed people. All swapping their sexes just to be on the front cover of Glamour. The wine will flow, the odd joint and the whole back room of the house will be turned into a studio. I have this amazing running schedule, and Toija is being makeup queen. I'm shooting in all formats- slr, digi, polaroid and video. Should be at least one classic shot of everyone, condensed to passport size and lined up across the front and back of F/16 book #3- Glamour. I look a good shoot.


---
December 6th
This week has seen a huge amount of orders for BANG! arrive, they come in rushes, sometimes 20 at a time, it's like 20 people wake up and go "must order BANG!". I'm running out of things to write- I'm not very good at the signing thing. I failed celebrity school, so no earth shattering scrawls on the inside of the books....just the odd pearl of wisdom inside *grin*.

Raining today- so much for being Hot and 30. This is a good thing.

Good old Russell Crowe gives Skyhooks a huge rap on foxtel cable tv last night- says they were an amazing band, Living in the 70s is THE classic cd etc etc phoned Greg Macainsh and told him- he was thrilled.

get this email from Larry (Dixon) who is Mercedes Lackeys other half- they work together on the wonderful Valdemar books- he does some very brilliant illustrations. Anyway I am so honored, on the upcoming NEW map for the Heralds of Valdemar he has put some new towns in unexplored areas....two names you might know- one town is called One Nil the other Petergr , how happy am I. Immortality and part of Valdemars history. Being a Gryphon at heart Larry knows Valdemar is my kind of place. Made me smile. Larry and Misty are massive Finn fans, if you look closely at the '7 worlds' DVD you will see them dancing near the mixing desk at Neils St James gig.

Wow my own town..................! Bet it's full of misfits!


---
December 7th
The list continues to grow for the Glamour! cover. Just seem to think of many last minute items and a few people's alter Ego's have changed (in my head) so I have to get some extra bits and pieces for the shoot. Toija- thank the Gods- will be doing most of the makeup, I'll assist in some areas. Mark is worried about his Euphegenia Doubtfire "look"- I assure him it will work out fine.

Open P.O. Box 333 today and find a wonderful surprise from Deb- the most incredible Kaleidoscope, which doubles as a tree ornament. At one stage everyone in babble was crowded around the table going "ohhhh and arghh". It's direct from the Worlds Largest Kaleidoscope in upstate New York. We are blown away, it's full of baby stars and crystals. Each kaleidoscope is numbered, even typing this F/16 update I start drifting off and spend time peeping into the tiny window...thanks Deb. Ok we might of thought it was a sexual device as you suggested (grin)....say no more. [ed. note: who couldn't use a phallic xmas tree ornament that's actually a hand-crafted artistic kaleidoscope? you're very welcome!]

What HEFFNER on TV, the unauthorized TV movie of Hugh Heffner- yes Mr Playboy himself. It was ok, loved that round revolving bed and we want our own waterfall inside the house....I think it gives me weird dreams all night.


---
December 8th
Didn't sleep too well, very odd dreams, very real. Keep waking up, heard a window close at a strange hour....I know no one is in the house, all the downstairs sensors are on, the security grid in the yard is on Green alert still, the death drones are inactive...all is well. I fall back to sleep, feel early morning sexy and ignore it as I have the GAMOUR! photo shoot today.

We move the massive Robbie Porritt painting, and change the big table around, the dining area is well lit with many floor to ceiling windows and doors, so it's perfect for a shoot.

Spock & Bob are first on the list, Spock will be a cross between the female Hitler and a Hooker, Bob a young Sailor...and maybe Bogan Bob (Redneck Bob) if we get time, yes a duo roll.

Toija turns up just as we are adding Spocks moustache. She starts work on Mark Doubtfire....adding years to his face with layers of egg white- it dries and then goes all crackily like old skin. She really works him, and the end result is myself on the floor close to peeing my pants- it's an incredible look- BETTER then Robin Williams and all their studio makeovers...it's a classic. I have to stop shooting as I have tears in my eyes.

Everyone starts having fun, which (naturally) targets on the huge pair of fake breasts on the makeup table...Spock loves his Hitler moustache, and all that masses of blonde (wig) hair...Bob is young sailor boy...so innocent. I'm next in the chair, mine is simple, a cross between Pete Burns of Dead or Alive and 'The Great Tyrant' from Barbarella (who was played by Keith Richards girls friend Anita in the movie), I end up more like Pete Burns. My black wig is massive, patent leather of course for the top and pants, and serious Hedwig lip cover...my diamond encrusted eye patch is the final item. Trudi turns up and goes Clarke Gable on Us and then a Gypsy...very good looking Gypsy- many requests to stay that way. Rosemaree is a cross between a greek godfather and a Jewish elder, the cigar is huge and stinks to high heaven when we light it. Bec turns up at the same time and she really is our devil and turns into one....it's getting scary as the polaroid shot she looks very evil and it spooks us all...I worry about how long it will take for the red face paint to come off. Tania is last but not least and we make her into a Californian bikie...the shades are very Californian. Several other friends are going to be "worked over" on the computer, Ben calls from his work and I think he will be a school girl (is that his fantasy- or that could be ours?). It was just a fun day, ok a long one but fun....and the collage of these passport size photos on the third F/16 book GLAMOUR! should look pretty damn bizarre. Someone once said , you can judge who your friends are by how quickly they say yes to your strange requests. (Ok I said that). So today I felt really happy that so many said Yes so quickly.

Soak in the tub, make homemade Pizza, want an early night as tomorrow Mark and myself start painting parts of the house....we have the vibe.

Next installment will mean it's almost Xmas. This year at Xmas I am going to be more relaxed, and even if people are extreme I won't be drawn into a head butting match (well I am a Taurus after all)...Mr Chill that's me.

Enjoy your Xmas shopping and remember the people who have sadness in their lives this Christmas. Sometimes a simple act of kindness is the best present you can ever give.

Peter- (aka-The Great Tyrant).

p.s.-if anyone requires HUSSY or BANG for a friends Xmas stocking, if you order via the frenz.com merchandise page, we tend to mail off the order the same day, so do it this week and you should get them in time for xmas. Plus if you buy it via the website, a % goes towards the Frenz.com site.

---
If there are any problems with this site, please contact webmaster@aswas.com.