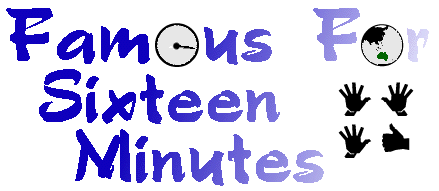 The Life and Times of Peter Green
Archive: 27 May - 9 June 2001
---
May 27th 2001
Happy Birthday Neil Finn.

I wait till the afternoon and give him a call, he sounds good, think he has been enjoying his short time at home before the Aussie tour starts. This year I sent him yet another blank lyric book, a really nice one with chunky recycled pages and this shot of Elroy as the gaffer tape Elvis, taken on the UK tour. Hell what does one send Neil Finn.

Head off with Mark in the morning and we have some coffee at Brewhaha at St. Kilda, then up to the new Jackman gallery to catch up with Susan and Pete O'Doherty who are down in Melbourne to pack up their art show. Mark was right about Susan's work, she has grown as an artist, really incredible abstracts, it's like she has been set free . We buy a massive work called "Overtones"- it just jumps out and bites our arses...love it, damn huge and have no idea how we are getting this mammoth canvas home.

Good to see them again, they tell me that Mardi turned up but not Hessie which is a bit odd, he was probably busy in the studio.


---
May 28th
"Don't dream it's over" makes the Top 10 Australian songs of all time, voted by the APRA board. Jodi Phillis who last month got our fave album of the month (In dreams I live) sang a version of "Don't dream" for the special invite only crowd.

Have a lunch meeting with Spock- talk about the second book- "BANG". "HUSSY continues to sell, every day a dozen or so emails from people who love it- I like feedback like that.

We already spotted two copies for sale on the auction areas, highest bids were $50, which is close to three times what people can buy it for....we still have a handful of copies left from the first hardcover print run. Please don't get ripped off and buy it at auction.

Remember to move my car, back into the normal run of the mill lifestyle again, garbage night, clean up all the leaves for the compost bins, move the car for street cleaning, wash dishes, buy toilet paper, let Cosmo inside when it's raining....life away from touring.


---
May 29th
Urgh the infamous dentist appointment, this is the main one, full tooth reconstruction....at first I was fine, two hours in the dentist chair, but the last 30 minutes was horrid, I made them stop twice, I felt like a first time mother giving birth- GIVE ME MORE DRUGS! After 3+ hours getting a Tattoo I thought my pain levels were at an all time high. Nothing like a dentist hitting a raw nerve and cutting your gums to make you want to kickbox him to death! Actually the Dentist and his staff are really nice, I just hate having this done...I jokingly told Rosie our caterer to warn Dan that I'm out to get him for doing this...(grin).

The extra drugs kick in and I feel like I have had a stroke on the left hand side of my face all day....dental hygiene. Urgh.


---
May 30th
Go and get a ceramic match at the other dental place... no pain, this is good. Have a chat to Belinda from Bardot, there is a slight chance they might be in Melbourne filming a new video soon, I think she is getting Tiff to call me when they hit town.

Neils Aussie band will have Scott McPherson playing drums, he is an American who has played with Elliot Smith?


---
May 31st
Book La Camira and head there for dinner with Robin and Trudi. Finalize a few things about the trip in July/August- should be fun. Strangely enough Trudi had to go to the dentist the same day I did, same tooth, same side, same expense.

Stuart calls by, he is putting together the Hussy Postcard, all full colour and glossy, mainly for a Melbourne postcard drop. Spock has done some backing blurb for it, all coming together.


---
June 1st
Welcome Winter. I think Winter and Spring are my favorite times of the year. I like the cold, the rain, the bite on the air.

Get an email from Mercedes and Larry, truely lovely people. Misty sends me some of her book stuff that I've never read before, one is this great short story of her waking up in her bed surrounded by all the characters she has written about...very funny. She confesses that the both of them went to one of the Auckland shows and just loved the gig, if I would of known they attended I would of handed the barman job over to them for the night.

Hearing from them totally made my day- I love their work.

Mark reminds me that Marilyn Monroe would of turned 75 if she was alive today. Goodbye Norma jean.....


---
June 2nd
Head to Beenami with Rebecca today. Turns out to be a lovely day- still has the feel of Winter but that's ok as we have a roaring fire going.

Mark finishes up the main part of the goat fence and I head off on an adventure hike with Bec. We find this huge open "field" type area with a huge tree in the middle and a wooden ladder- I think it's a fire watch platform and the field a monstrous fire break.....we explore hidden tracks and stumble upon a very sus house, pretty sure they had a huge dope plant greenhouse.....but the owners/dealers were about and it was too nice a day to get one's head blown off. We head deep into the forest and discover a small abandoned cabin, messed up but it has a nice wrought iron framework that we may score at a later date...you almost miss seeing this play as the ferns and creepers hide it well.

We hiked back and had a BBQ in the farm, far too much food but it tasted great. It started getting dark so we climbed back into the 4WD and headed home....a really lovely day.


---
June 3rd
EMI buys a minority stake in software company ROXIO Inc. One thing Roxio creates is the software for people to record music onto cdrs. It's one of the first major music companies to put money (around $90 million aud) into a company that allows technology for music fans to burn cdrs.

Get a parcel from Qantas, inside is a free upgrade certificate. Will use that thank-you very much.


---
June 4th
Neil's band for the Aussie tour are now all in NZ and rehearsing away.

Miss July sends me my birthday treat- the final 3 episodes of Voyager.... am over the moon and spend the afternoon watching sci fi- a very happy Gryphon.-thanks girl.

Neil's album jumps back into the Australasian top 20, and we are only about 4000 units from obtaining a Gold record here. As soona s we get to Gold it will start feeling better. Depending on the USA/Canada release and any future tv promotion etc, I guess One Nil will end up selling the same as Try Whistling This.


---
June 5th
One of those days where I fiddle about just finishing bits and pieces. Start on some of the possible Crowded House DVD, never know if a project like this will continue to roll, hopefully but there are so many areas of copyright etc etc involved we just have to wade through it. Thankfully Catherine who is the main person working on it , is pretty together and that makes life easier.

Deb sends me a huge pile of Hussy orders so the afternoon is spent mailing them out, mostly American sales.


---
June 6th
Well we were suppose to have Ben and Bob over for dinner tonight- but it never happened and we both just threw up our arms- it ain't gonna happen, not going to try anymore. If food can't entice the Yeti nothing will (:

An invite arrives by courier for a launch of Dakota 501, it's only around the corner on Chapel street, our friend Nelly works for Levi's now so that's where it would of came from. We've been getting a lot of invites lately, if we were more socially active we could go to something every night....

DVD review
Tank Girl
"In 2033 justice rides a tank...and wears lip gloss."
have always loved this movie, I guess most people won't get it, in your face- from graphics to extreme outrageous reactions and a soundtrack full of Hole, Bush, Bjork and DEVO with a mutated version of Girl you want....
A huge meteor has hit Earth and it just ain't the same place, no cable, no pizza delivery's and no WATER. Malcolm McDowell extends his white haired villain role (god how many movies has he been the white haired villain?) as Kesslee- the Gm of Water & Power. He is a dictator and only two things block his path....The Rippers-(mutated Kangaroo men) and Tank Girl....and the Gorgeous jet Girl (ok that's 3 things).
Lori Petty is Tank Girl, Naomi Watts is jet Girl (looks a lot like our friend Toija)....
Torture her, stick her baby sister in a water seepage pipe but nothing can break the spirit of Tank Girl. For people who rock, for people who appreciate drops of comic art style graphics bounding across the screen... attitude and a major butt kicker. Tank ain't no wank...we love it! 9/10


---
June 7th
In a week that's only had one Australian song appear in the National Top 50...Jj proves that all is not lost by discovering a very cool Melbourne band called Mandy Kane. Who said the SkyhookS of the new millennium?!

After breakfast I head into the city for the first of the Hussy radio interviews. The book review with Derek Guille on ABC Radio. I head to the ABC via the canal area near the river...windy and the smell of the Yarra isn't as horrid as I expected, though the odd pissing spot was a bit gross.

Debbie Leavitt meets me at reception, the first thing we both chuckle over is Deborah's almost identical name to our fave webmistress...hey what's an "a" between friends (hers is Levitt...not Leavitt)...still it's all a bit spooky. Not much of a wait and then straight into the radio booth- it goes ok but like always I miss out on certain things I wanted to say..... always leave feeling I've just chopped a few mm's off my soul. At least when writing this diary I decide on how much I kiss and tell.....live to air is better than pre-record because I can still control some of it.....I guess.

They finish the interview playing some Neil tracks so the Finn man gets a few songs played...so that's good. On the way out I run into the Regurgitator guys sitting in the foyer...have a chat- they are playing a few of the same festivals as Neil. I think they thought I was in Neil's band?!


---
June 8th
A bit of turmoil today- Tiffany calls and I think in my head that I'm running late for the Bardot new video clip- ASAP. Battery is dead in my slr camera, we run out of video tapes for the digital.....so I have to call into shops etc.

Arrive on the set- which is directly opposite to where we filmed I should've never let you go. The set is pretty bizarre, looks kind of white sci fi- like the inside of Dr Who's Tardis...if he decided to overdo it in Spanish mission white. Run into Boo (Belinda) first, just this huge smile and we both have a laugh- talk boy stuff and she makes me a cuppa. Looks good, her costume, the shortest of shorts and great boots- she really has amazing legs. So great to see the girl.

Sally is next and Jen from Warners is with her, little ferret that Sal is jumps up and gives me a squeeze...really good haircut on her, brings out her eyes- nice look. Tiff is next and has this Cabaret look happening with a patent leather hat...and tussle top...and Soph just finished one of her pieces for the clip- she's wearing some netting today and has lost a lot of weight. She says she loves my hair long- I feel like I've been standing behind a jet engine- it's so windy at Port Melbourne.

7.30 start and all flights get put back as we are sure that it won't finish till 9.30-10.00.

The only break we have is a quick trip to the local pub- Elephant & Thistle, Tiff still in full costume. I make a $5 bet with Boo that she wouldn't climb up on the pub stage and play the drums, a kit was sitting there. She stands up and heads to the stage, Sally follows her and does a loud "Ladies and Gentlemen...Miss Boo Chapple our new drummer"... to the applause of the lunch crowd. I'm next to Sophie who is queen of the salad dressing today- she's eating healthy= looking good....though we both partake in diet coke.

Straight back to the shoot and the filming starts again, overhead shots, numerous group shots. By the halfway mark you have ASAP (the new song) swimming in your head. We have 4 feral dancers, very tight stomachs and several of the people connected with the band go into perve mode... they have their bodies (fake) tattoo'd for the clip....and do some backing dancing wearing fake furs....I shoot off several reels of film and use the snapshot mechanism on the digi cam to capture some images for future use. Am sending Deb 2 snaps from the shoot- they will be located in the F.16 IMAGES area of this website. So head their for a look.

It's getting late and I say my goodbyes and leave the Bardot girls to finish the clip (and a photo shoot). The second part is filmed in a fake room (set). It's good to see the crazy sisters again, had a lovely day, and despite the girl-band/popstars "curse" I do love these wacky felines.


---
June 9th
Haven't heard a thing how Neil's gig went last night- not a peep....I'm sure it was a success but just odd that the internet has been so quiet.

I get to sleep in ,rained last night so I slept well, the tree's outside are still shedding their leaves, our compost bins are overflowing so I'll be glad when they have finished their winter striptease.

Spend the weekend finishing the glossy newsletter for Neil's mailout. Unpack the final box of Hussy books- if anyone is still after a hardcover copy they should email peter@frenz.com and mention that you want an edition 1 copy of Hussy.

Seems a bit odd knowing the tour has started and here I am in Melbourne but nothing that is going to scar me for life. For those of you seeing one of these Aussie shows, have heaps of fun, he is in fine voice. If you throw a paper plane request up- do one for me "Love this Life" for Peter Green...

Take care
Gryphon.

---
If there are any problems with this site, please contact webmaster@aswas.com.