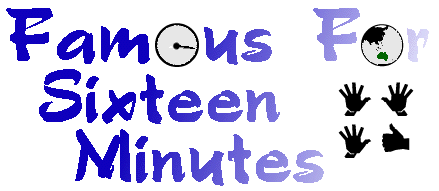 The Life and Times of Peter Green
Archive: 29 January - 11 February 2001
---
January 29th
What can I say- I never knew so many people loved their pets as passionately as we did. Anyway from a time of great sadness, the emails have been really cool- some funny, and some people have had pets pass away with pain at the end- and I am so glad Miss Hairball just faded in her sleep.

So thanks- it helped us a lot. We are still doing weird things like leaving doors open, imagining her looking at us, Mark has so much spare salmon that he doesn't know what to do with himself.

For the million dollar question- no plans for another cat, think we can only ever have the one, but the odd stray or orphan you can never turn you back on but no plans.


---
January 30th
Finally Qantas ok the flight points, so late July we "the Peruvian Four" leave Australia to walk the Inca trail. I need to start from scratch again flight point -wise (roll on Neil's tour), but we've done it well, Business class and departing on Marks birthday too. Rosemaree has a heart of gold and has surprised us by wanting to drive us to the airport. We think she wants to make sure we have gone so she can wear our sexy underwear or something!!!! C'mon Rosemaree fess up.

Work out the sizes and do a drawing of the "goat fence-pen". Next thing is to check with Fran on how we are going to get two goats from her families ever growing goat herd.


---
January 31st
Get a call from Bill, he's on the road with the big day out and PJ Harvey. Wish he was on the next Neil tour- always feel more secure knowing Billy boy is along.

Trying to think of names for the goats- Apollo and Oscar. Apollo because it's spacey (of course) and Oscar because of Oscar Wilde. Not sure, see what Mark comes up with. I already know his reply " You've already agreed that they are called that" This is from the man who calls Cosmo "Pink eyed freak". We'll end up with Horny Goat and Bulging Eyed Goat for names.

Meet up with Bob, Ben's girlfriend, and go visit Vali. Vali has these cute pointy teeth, she's getting her teeth done in pure gold in a few days, I joke saying she really looks like a little fox. I think Bob is amazed by her, "she's how old..." she says. Yep 70 ...amazing.


---
February 1st
Bardot FHM magazine is now out. Bardot girls on the front. Super foldout cover. The heading is "Resistance is Futile, it's BARDOT". The girls look pretty good, Katie's makeup is exceptional. Some of the questions are your typical pervy magazine question "Any all-night Bardot lesbian sex romps?" they should of said YES....god fantasy time or what FHM. They are expecti8ng it to be their biggest selling issue ever.

Meanwhile I speak to our printing/publishing man about the F.16 Diary Book, Spock is doing some great graphics, I'm editing the text, about halfway. We are trying hard to get it done here, to keep the printing money in Australia. So I'm hoping that will happen.

Book La Camira for Tania's cosy birthday dinner.


---
February 2nd
Check the Grey Ghost in for it's final service...am handing the baby over next Thursday to Kristy. I want it running well for her. Am leaving the Crowded House Together Alone sticker on the back window.

Check the geo tracker, and it tells me that last month the F.16 site had it's highest amount of hits- ever. Not sure what has created this massive popularity surge, must be my bonus PG in Calvins Mini Poster in the photo archive...ok that's a lie. You wish...even you guys! C'mon front up you want me....please just a little bit. Damn. I thought I was "it" for a minute.


---
February 3rd
Happy Birthday Tania

Went to Rasi Rami and found these fantastic lacquered (not enameled) food bowls- metallic blue...really great. I'm having a bit of a bowl fetish day- end up buying a ruby red bowl for us...hey the cherries look cool in it.

Renee calls by, it's a smelly old hot sticky day....so we open the bar, shave up some ice and try a few cocktails. Kind of works. Watch some bad arse videos (it's a secret).

She heads off to Revolver for work, and we stumble down to La Camira. Rosemaree, Tania, MG , and Bec. Love Beckys dress...and those big queeny boots..the dress is excellent though. Nice to see Rebecca dancing in a restaurant again. I almost joined her except I was stuck in the corner.

Good food, good friends- nice night. Think Tania had fun. Give them a paddle pop each at home for desert.


---
February 4th
Well Neil plays the Palace Theatre in the U.K. tonight. Great feedback, the fans have a wonderful time. I thought he was exceptionally generous with the amount of songs played. Roll on the U.K. tour I say.

He'll be home in NZ for the wedding anniversary- is it 19 years???

So many rumors about Tom and Nicole splitting up...my spies seem pretty sure of it. Now the real rumors will start. Nicole is really a man, Tom has a boyfriend of three years....ok the truth is I AM Nicole Kidman...no it's true....gee I can't pull a trick this week can I. No gullible readers...... Do send Spock a photo of Nicole at the airport saying goodbye to me.....OK it's Nicole Ellis...but I didn't say which Nicole.


---
February 5th
The Age
"Whats the most effective way to become a clever country".
"Breed 2 Stephen Hawkings for every Shane Warne".

Shane Warne is a tosser. Sorry but he is...

It's Monday, everyone is crappy today- those balmy sleepless nights...

I kept thinking last night if we see Galaxy's being born using space telescopes...and that the birth was millions of years ago.......does that mean if we shot a space telescope billions of miles away at a super fast speed (when we finally have the technology) that it could watch our own galaxy being born..............I think too much. Please don't email me the space theory of why's /why not's..I know some of you would be tempted.

Here from Jj in Thailand, the music scene is pretty wild...and the place a jumpin'!


---
February 6th
Neil blows out the Spain promo trip. He's a bit worn out and sick- probably that UK flu bug I suspect.

CD single of the fortnight- KLINGER. (Aussie band).

"Sayonara anyway" and "Ben Lee". It's a cd/ep. Really exceptional. Support Aussie music buy this cd. It's like if Paul Kelly joined Green Day and took some speed.

The Ben Lee song is getting stacks of play on Triple J. Very funny: "Cos you're lucky that you met me, because I'm arrogant like Ben Lee".

Grey Ghost won't start...she does not want to leave home.

A bit spooky today- we both thought we saw hairball looking in the back door, at different times. Time to move on old gal.....made me teary eyed.


---
February 7th
Buy a new car battery for the EK and give it a major clean. Scan some more photos for the F.16 book. Spock is enjoying it- so he tells me. That's a good thing. Bardot leave for Taiwan today- Tiff sends me a quick final email. I wonder if the hysteria will be at an all time high.

The Popstars Two show is on this Sunday, I don't think they'll recreate the magic, the first few will do well, but adding some Penis's into the formula doesn't mean it's a hit. Naturally we'll all watch it. (Grin).

The Bardot fans have been voting like crazy in the T.v week Logie awards- god bless 'em.

Tom and Nicole Split is everywhere, the Babble boys tell me about the REAL Tom Cruise.!!!!!! Yieks.


---
February 8th
Spend a part of the day editing, scanning photos, Spock starts work on the F.16 Year One Book Cover soon-very Warhol.

Disgusting hot day- in the middle of scanning, Kristy arrives- the new owner of the Grey Ghost- she's here to pick it up. At least it's going to a new home, and may even get a fresh coat of paint....no longer a GREY Ghost. Take Kristy for a spin, she sits in the Captains chair...funny seeing her driving with her big dance party shoe's on. She asks if she can leave the Crowdies Together Alone sticker on the back window and I say "yeah sure". So we head off cruisin' with Morrissey warbling away. I get a bit melancholy as the car drives away..I give a feeble wave. All our "C" items are leaving us Cat, Car...goes in three's you know. Not sure what #3 will be.

Robin and Trudi drop in- Robin was a bad girl and didn't call....Mark dealt out punishment....dressed up as Priscilla Presley and chased her around the house screaming I want your Elvis money (sorry bad private joke).

We all sit down and plot and plan the July escape. The Australian dollar is worth about 2 grains of sand...so there goes our wage cheques for a year!

Mark is fighting going to Gracelands...all the way. I'm eager to get back to the Andes...all four of us agree on the month away, should be very enjoyable.

Tim Finn calls and that was my nice surprise for the day. Tiff Bardot sends me an email before they fly out for Taiwan.


---
February 9th
Well last night sucked, it was like New Orleans outside without the bars and lovely houses..it was stinking hot and nothing could cool me down. So at 3.00 I read, at 4.00 sat on the balcony, 5.00 slept on the balcony, 6.00 watch people going to work early and finally a light mist rain arrive. I saw people spilling blood on the street- these hot nights just stress everyone....and our place is fairly cool.

Head into the city and do my work quickly- record time.

The cover-art arrives for Neil Finns REST OF THE DAY OFF...kind of bizarre, it looks like a drawing of Tim Finn...and a giant red tulip/rose? It looks like he is inflating the rose...arty-Finn. I like it.

The Cold Live at the Chapel date is now put back to February 24th, because channel Ten want to extend the show , more Finn and Crowded House.

Live on the computer today, so focused on Neil it's scary.


---
February 10th
We leave for Beenami nice and early, been looking forward to this all week. Call in and pay for the "goat fence"....god fencing is really expensive now, they are going to deliver it too, but because the Forest house is so remote I'll have to do this during the week and they can follow me- other wise they'll get lost, and the Blair Witch WILL get them.

Mark picks a giant tub of blackberries, enough to make a huge blackberry pie and I'm sure he pigged out on them. The nectarine tree is loaded with fruit, so much in fact that one of the branches broke off. Fill up a big bucked of them and left enough for a few more buckets worth to ripen. Natures bounty, Beenami returning the favor for looking after her.

A young honeysucker bird is inside the house, god in and couldn't get out, it trusted me enough to let me pat it.

We have the hammocks up and this massive mosquito netting, keeps all the flies away. No Kangaroo's today, spotted a dead one on the road, checked for a baby but thankfully not one around. Probably hit by a logging truck. As there were no skid marks etc from a car or broken glass.

I'm lying in the hammock thinking, reading. Enjoying this while I can before touring starts. Mark keeps reminding me that I have lost the touring vibe, still have, well kind of, but it's a necessary evil- in reality not that evil. Especially if it's a short tour.

We were offered some work around Popstars II, which previews tomorrow night, pretty sure we'll be saying no. Bardot is enough thank you very much.


---
February 11th
Sleep in a bit- Rosemaree calls at 9.30 so we can go and have some brekky. Babble is always packed on Sunday, always new faces. I just watched them , everyone involved in their own little worlds. Interesting.

Rosemaree rushes some work through for me, have moved a few deadlines forward so we can send out world tour dates.

Spend the afternoon making a blackberry pie- use the whole container, the juice is just incredible, stains my lips....but tastes healthy.

Just found out that Richard Court got his arse kicked in the Western Australia State election- a huge swing against the Liberal Party and I think Johnny Howard would of gotten the message.

Well the 2nd Popstars Series was on tonight. The first show, this is the series where our Bardot girls were "hatched". It just shows that lightening doesn't strike twice- this new series is really crappy. Not a drop of the interest and magic remaining, just more people singing really bad- instead of a search for talent it's more like lets point the finger at the ones who are shit house. It's like a well worn joke. Hope it somehow gets better, and Jackie O was truly dreadful. Bring on the repeats of series one I say.

That's all for now....have a good week.

Peter

---
If there are any problems with this site, please contact webmaster@aswas.com.