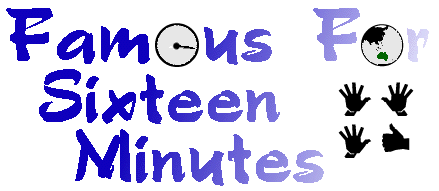 The Life and Times of Peter Green
Archive: 30 October - 8 November 2001
---
October 30th 2001
Receive a phone call from the people organizing the RUMBA event in Australia. It's Australia's biggest ever music festival starring a wide variety of acts. Several stages. From ex Spice Girls to NZ's ZED, to our own Bardot girls, Nelly Furtado and heaps of others. Anyway they asked if I had time to do the band room backstage area, so I'm signed on for the Melbourne gig, possibly Sydney but it depends on their budget and air tickets etc. Thank you Duges for all your help.

I think it's a sellout as 25,000 tickets sold on day one of sales alone, so there will be heaps of kids going crazy, and all this extra stuff like Cyber cafe, Rumba TV, autograph stage etc etc. Plus the pay is really good, a regular weeks wage in one day- gotta love that. RUMBA- NOV. 17th/24th.


---
October 31st
Happy Hallowe'en my pretties....

In true tradition carve up some pumpkins for tonight, Australian pumpkins are so damn hard, need my chainsaw to shape them.

Hedwig and the Angry Inch gets a four star review in the Age. "It's a gender bending and blending extravaganza, with a strong core of feeling, raw, funny excessive, messy, restrained and ambitious all at once". So Hedwig hits Australia, BEAT magazine had Heddie on the cover too. It's sure to be a cult hit in this country.

Sneak up to Rebecca's with her Pumpkin and leave it on the balcony, get a bit worried that it might burn her apartment down so I knock on the door. have a cuppa and a chat, always a good thing.

When I was leaving the house with the pumpkin tonight, a huge black bat flew over the street lights...hey I was impressed. I love Hallowe'en, but not another single pumpkin in sight.

Miss July in the States goes all Punk for Halloween....she seemed to be very natural in the role, yes she was Sid Vicious in a past life.

I always wondered how many Americans who celebrate Samhain (Hallowe'en) really know some of the basis of what it is that they are celebrating. It's actually the start of the witch year, and unlike previous coven "meetings" this is the time for the gathering the clans, on this night groups from a wide area gather for a united celebration. The only groups gathering that I spotted on my way to Bec's were a few fossils at the local bowling club, gathering in front of the 5c poker machines. Though my three black crows from the big tree at our house did follow me all the way and land in the tree outside Beckys...which was kind of exciting. I think I have them trained now, they eat out of my hand, I'm trying to teach them to "attack" and mane the Liberal Party handbill people who keep putting junk mail in our letter box *grin*.


---
November 1st
BANG! continues to be a big seller with the mail order fans, every day, every 2nd envelope is a book order. Have to tell Deb that HUSSY will be SOLD OUT in about a week so no more orders till we do another pressing. Rather exciting, Greville Books give me a bit of ribbing that it's one of their biggest selling books this year. I go red faced and avoid the thought, it's all too odd. But thanks...I was always fearful that these books would be flops. Hmm maybe I have some self doubts...I'm still trying to live under my "just do it" New Years Eve resolution. Not really insecure, just I know I'm not a writer, kind of like all those musicians who write books and they never get released (Jagger etc), I was worried that might happen. It's a lot harder then it looks and to that degree the "just do it" war cry pales a bit because if the first ones fails...do I change the battle cry to "just do it...again"? The sin of pride does creep in. Happy that we have even gotten to book two.

Grab Stargate #6 and Poseidon Adventure on DVD. I love all those disaster movies- Towering Inferno, Earthquake etc etc.


---
November 2nd
The Poseidon Adventure DVD.

In 1972 the Poseidon Adventure was a huge success- "Hell underwater" was one of the review tags. A classic line up of Gene Hackman as the aggressive priest, Ernest Borgnine as the even more aggressive NYC cop, Red Buttons, Roddy McDowall, Stella Stevens, Carol Lynley and the lovable Shelley Winters. Shelley pigged out big time prior to the movie to stack on the weight for her character- her underwater swim scene is great. Ten survivors struggle to fight there way to the surface of the (now) upside down S.S. Poseidon. Good drama, a bit of over acting, but a true classic.

Sadly the bonus "making" of the feature is short and crappy but in 1972 I guess mini doco's wern't done on a major scale. Anything Irwin Allen this household appreciates. However you do consider drowning yourself if you have to hear the movie theme song one more time.......

This movie along with the previously mentioned disaster films (add AIRPORT to that list) are a must have. Remember to pay close attention to the outfit worn by one of the "victims" as she falls from the roof as the ship turns upside down. Sadly the clothes were not to "seventies extreme"...but the 70's aggression is running hot, and the ships nurse has borrowed some Commercial Rd Drag Queens wig...it can't be her real hair (surely?).


---
November 3rd
SUM OF US has been released on DVD in Australia. Plenty of Crowded House music on this classic Aussie movie, Russel Crowe shows his bum, and Kassey Chambers has her version of "better be home soon" playing over the MENU area. One of my fave oz movies. Jack Thompson is very funny.

head to the forest house- worried about the road kill due to loggers trucks, upsets me to see dead kangaroos and wombats, those trucks are just going too fast, and not a police car in sight.

We collect some granite for the flower bed borders. IGOR is not very talkative today, Apollo is taunting the neighbors dog. Have a nap in the hammock, and then mow some grass..the lawn kind (hmmm wern't the goats meant to be for that?).

We do some "tracking" follow the foot prints of a very big bush Kangaroo. You can hear them crashing about in the bush. Somewhere near Beenami a Koala Bear community has been deposited from it's previous habitat, I keep looking up in the hope of seeing some near us, I just miss walking into a tree, Mark walks into a deep puddle....

The family of baby bats are hiding in the mud brick cavity...they are cute. You hear them "talking".

The solar power is working well up at the house since I cleaned the voltage boxes, take the portable cd player up and play the Best Of the Church cd. Unguarded Moment floating through the night air.


---
November 4th
Try and go through the office for some rare odds and ends for the upcoming Camberwell Collectors Fair. yes the club will have a stall at this fair. It's on November 11th- Camberwell Civic Centre- 340 Camberwell Rd, Camberwell (Melways 59 J1), it's a combination stall with several of our bands (Crowdies/Finn- Bardot-Skyhooks) some great items from each. We also have BANG! arriving on time and I am taking the last 20 copies of HUSSY. Doors open at 10.00 am. November 11th- yep this Sunday, after the Election. Would be nice to see some fresh faces as well as all the regulars. We only have the table at two Collectors Fairs a year now.

The Fair is the day after the election, I just know that this will be a close election. Interesting that several dyed in the wool Liberals voting mates have now decided to vote Democrats and Labor. I'm either voting for Labor or The Greens. Probably Labor- just to say NO to the Howard-Costello vote. All of our musician friends are basically voting Labor or Greens which is good, guess they get to see first hand how crappy the music industry is at the moment. Governments make so much money from this industry but put very little back. Plus I like it that Labor is putting more $ back into the ABC. If you want good people working for a company you have to have the money to spend. You get what you pay for. Still I think it will be very very close. Time for a change I hope.


---
November 5th
Charts are in and it's a Yo yo chart for Bardot- jump into the top ten in some states but fall back on the national chart. Still I Need Somebody keeps selling. They had around 400 people at the Sydney Instore, all very last minute but that's a healthy turn out.

Have a chat to Hessie and he has the flu still, just working out what to do with his solo cd. Still can't believe he is calling it HAIRY NUTS....I prefer "Paulo" but it's his cd.

The RUMBA people call and Bardot are now on the main stage, I guess their album will be sitting in the Top ten by the time the concerts are on.

A reminder that Neil Finn will have his webcast on November 13th. 6pm Australian time, 8.00 pm (I think) NZ. etc etc Check out NIL FUN site for details.


---
November 6th
Happy Birthday young Jake.

Melbourne Cup Holiday in Melbourne....a horse won it! That's all I know.

Head down to St Kilda Rd and pick up our old mate Jules. Jules played keyboards with Crowdies and ventured out on several of our tours. She looks great, this Melbourne rain appeals to her complexion (grin)...ok it was all that Perth sunshine. Just great to see her. She's on the road with Robbie Williams, I love how he has a Kylie cut out that he gropes during his KIDS duet! He is a bad boy. Good tattooes though. The Melbourne shows were great.

We head to The Galleon, and Duges calls and drops by, he has that seedy too much partying last night look, but still a handsome lad. Marky B's partner Deb drops in as well, as do some Babble regulars...then Danny who bought Neils Melbourne house sits at a table, plus a few others...talk about revolving doors- a familiar face every few minutes. "This is your life..." thats what it seemed like.

Jules has soundcheck, so we quickly wing past home so she can see the house and say Hi to Igor Snr. Cosmo flips on his back and does rabbit pose #208... what a show off.

Bardot arrive tonight, start their Melbourne press junket.


---
November 7th
Head into Warners to catch up with the Bardot girls. They are all looking rather groovy. Major newspaper interviews and phoners etc full on. Nice to catch up, and I admit it, when Sally was out I consumed all your cucumber from the salad.

It's one of those days where all questions of "why I work for them" goes out the window. Comes down to a very simple formula, they are fun, they are really nice pleasant people and they put their heart and soul into what they do. It's so easy for people to slag things off, and usually the people that do are just not happy with their own lives or work. Just enjoy my time with them.....I keep requesting the title "wise old man of the group".....some neat discussions. The one thing about the Popstar judges is, that they really did pick the right girls. Scandal'Us look so lopsided in all areas, the personalities, the dancing, etc. Not their fault but the formula just didn't work very well the second time- god helps us with Popstars Three. It will do well in the ratings but the actual final "product" will be crappy. So anyway spend 3 hours in the office- great to chat to Sarah and Melissa, two old mates who know the ins and outs of the industry.

Mel spoils me with a huge pile of cds- new Green Day, Cure, etc and Sarah gives me EVENs album so I am all smiles. The car blasts when I head off home.

Belinda points out that Warners also have Madonna and Jewel albums out on Monday, the same day as Bardot's second album...so we wont be #1 unless the fans go totally crazy...you never know. Pose for a group photo so we can send out to Bardot fans at Xmas....I know they will all look damn good and I'll look like a curled up flight blanket! Oh well. I guess I could lie on the site and saying the girls just jumped me because I was so damn sexy *grin*.

Haven't heard from NZ office for a week or so, I know all the NZ artists are in the studio- Neil Finn with his band working on as many as 7 new songs...Bic Runga finishing her album....all this new music.

The stage plans arrive for the Sydney and Melbourne RUMBA shows, will be fun working at both, a quick trip to Sydney. Hope the weather is nice for both gigs, don't want those DAT machines getting wet (grin).


---
November 8th
Bardot and Bert Newton...he looks very fatherly amongst them....I still think they should of gotten Bert up to sing with them...or at least he could do some funky dance steps.

Wow do I have a Liberal Party senator "stalker"..... I innocently answered an internet Poll on Who do I think will win the election. It was either Labor or Liberal...which was strange because the Greens and Democrats wern't mentioned. Anyway I voted Labor. In a very short time period I get an email from a Liberal Senator telling me voting Labor is "very silly". What a total jerk. Who ever anyone votes for is surely up to them...express an opinion on the parties but for a Senator to email this to me...and then his next email "Real men don't vote Labor".....yeah right. What ever a "real man" is.

Anyway with a minimal or research this freaky guy pops up on my screen and I tell you what- if this is a "real man" and I was a woman I would become a Lesbian. Over the next 20 minutes some very enjoyable (!) banter of emails between us....the classic line of him saying "I was trying to prove I was more intelectual" and Ladies and Gentlemen..I was SO HAPPY, for the first time in this diaries history I could tell someone that they spelt INTELLECTUAL incorrectly ...(two "l")...which left me with the line that "hey maybe you are right intellectual has 2x "l"s. That part I enjoyed thoroughly. *grin*....I mean c'mon as readers would know this diary is warts and all, typo's etc, quick and fast.....so to correct a Senator made my week. So Senator Tsebin (I always have problems with Tse's don't I ? *grin*) as I pointed out, if you are an example of a "real" Liberal Man God help the country. It was an interesting experience, maybe he should be on Kim Beasley's pay roll as he turned me off ever voting for the Liberal party.

Get a call from Anders and some machine at the book company breaks down. It's only a minor, part thing....but it means at the time of writing I am twiddling my thumbs waiting for BANG! to arrive. Hopefully still today, not anyone's fault but I want to see our new "baby" book.

That's all for now, all you Aussie's remember to vote on Saturday, whether it's The Greens, Democrats, Labor or The Real Men Party- make your vote count. I still think the Democrats are kinda hip and happening.

Melbourne fans we'll see you at the Camberwell Collectors Fair this Sunday 11th. We'll be their no matter which political party wins *grin*.

Time for a change.
Peter

---
If there are any problems with this site, please contact webmaster@aswas.com.