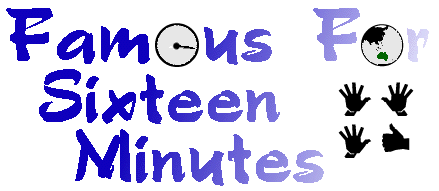 The Life and Times of Peter Green
Archive: 30 September - 17 October 2001
---
September 30th
First off sorry about the delay with the F.16 Update. I forgot to save it and it went missing in Cyber space somewhere between Melbourne Australia and Deb's computer in the USA. So I've had to re-write it- it's never quite the same the second time around. But i'll try.

"Enterprise" debut on UPN was its highest ratings winner since 1995. It won its 8-10am timeslot and average 12.5 million viewers. A 42% leap in viewers since Voyagers finale in May.

Amanda at Neil's office last day today- will seem very weird without my partner in crime on the road etc.


---
October 1st
had to rework some of BANG! Just some more editing, books are a lot harder then you think. Been heaps of orders arriving by mail, so it looks like BANG! will end up outselling HUSSY. Oh you masochists always coming back for more. I'll whip you, take you on strange journeys but I'll never say I'll love you- only Igor Senior gets my 100% adoration. (:


---
October 2nd
Help pack the yeti away in his cave. What he has Vinyl- The Clash -all the releases, but those A-ha records make you a bit suspect bloke!

Watch 'Roots & Roll'- on the MC (Music Country channel). 3 very cool acts. Derailers-Nashville, Kasey Chambers- Australia/alternative Country, SWAG-USA Power pop.

Derailers were fun, Kasey is just adorable (she also made the recent USA Rolling Stone) and SWAG- well I really like their name!!! Good program. Kasey we like.... she is pretty damn honest. In fact I like her far more then Natalie I- she'll be running a school for old groupies when she retires, and Tina Arena- just a bit over the stupid answers, and that so passe' back to the audience start to songs. Sorry on a rampage. Soul mate #9- what a horrible crap song.


---
October 3rd
Anne Rice turns 60. Poor love hasn't been too well, she look s a tad bloated. Thank god that terrible harpsichord music has gone from her website. I am looking forward to the new book "Blood and Gold" (I think that's what it's called). Australian copies are due in on October 19th- more Vamps-gotta love that.

Bardot were at the Arias tonight- Sophie Monk- you hot goddam sexy woman...oh my girls have become real women (we knew it would happen). Glad everything has worked out around management etc, am starting to enjoy myself again. Tiffany Wood just don't start crushing beer tins with "them" (you know what I mean girl), I have to say Tiff is possible the most fan-friendly band person I have ever worked with. She just gets it together, never a problem- makes my life a breeze. New single I NEED SOMEBODY will be a Summer hit here, if it goes Gold that's FIVE in a row- very tempted to remind a few friends who were saying they'll only have one hit- just shows they don't understand what's happening out there. Believe me if Bardot were cows I'd tell them to go jump....roll on another tour I say.

Drive Ben to the airport, I enjoy the airport run sometimes. He's off to America with Midnight Oil- braves souls that they are. I notice Destiny's Child cancelled the Aussie tour 3 days before it was on- good- I think they suck. Now they are all going solo- I bet only one of them does anything... united we sell, divided we flop.


---
October 4th
The club gets it's 1000th Life member today. 50% of the mail are BANG! books, amazing.

get my "Natures Garden" books for Michael at BABBLE. he needs to build a chook pen, out at his brothers country place (not at Babble). Natures Garden is great, am thinking of getting Kylie/Nigel (Griggs) a subscription for Xmas (don't you tell them Olivia).

Call into the Cake shop- the one at Prahran where Neil use to buy his favorite jam filled lamington's from- and who do we spot but the one and only Vivienne. I go up and say "I thought you were DEAD".

have a chat, I tell her I've made her a superstar (very Warhol of me), and she says "what about her reputation"? I was tempted but ended up being well behaved...when we eventually have the big book distribution launch, I really want Vivienne to Pop out of a huge cake with a silver telephone (as long as she doesn't attack me with it again). Told her about her photos being in HUSSY from the Death Series. Next day Jurate at Greville books says this "very different" lady bought a copy of HUSSY- MG and myself just go "VIVIENNE". God bless ya VIV.

The MOLLYS (awards) are on again. Scandalus win WORST PRODUCTION and WORST USE OF A STYLIST. I've been noticing fans fighting on the various websites. The Bardot fans seem to be giving them some stick. I'm sure everyone is having fun. Good name for the awards, The Mollys- wish I would of thought of that name- good name for the awards (thumbs up).


---
October 5th
Breakfast with Toija. She looks a tad like Enid today without the knobs (Enid = GhostWorld).

Valis calls and she sold another painting to her lawyer in NYC. Not sure which one. Apparently the ABC has came up with some $ for the next Valis Myers doco (early next year). Go Vali!

John Howard announces the election, gee he timed that right- while the world is at War he covers his GST. ("I will never have a GST"- what a Liar, simple as that. Sneaky little toad. Roll on November, I hope the big bloke wipes his arse (no not Ben- Kim Beasley).

Have a great desert treat tonight. Buy some Jalna swiss creamy custard yoghurt- add Corindi blueberries and raspberries and some honey.....yum.


---
October 6th
Skyhooks special on RAGE. Pays off when the fans get active. All this rare Hooks footage....ended up being quiet a good show. Good on you ABC. The fans loved it.

Spend some of the day at Beenami getting things ready for the goats, yes we are going to try and buy two on Tuesday.

Stay up late and stumble on a movie called LAST NIGHT- very cool movie- the last night on Earth. Kind of freaky.


---
October 7th
Oh yeah some of our friends will not know about this, they'll read about it here first. Got up very early and headed down to the Yarra, to be in Spencer Tunicks NUDEADRIFT photo. He's a NYC photographer. They were expecting 2000 and got 4000+. It was cold, and when everyone stripped it was kind of ok- nakedness is fine on bulk, all curves and skin....kind of lovely- everyone looked like they were polished. Not a single hard on in sight- but quite a few perves started watching, we "nudies" (our new name) started taunting them..."take off your clothes". One weird Jesus freak protester was a total pain in the arse (and there were lots of arses) he kept waving his stupid sign in front of the camera so Tunick just ripped it up- perfect. Should of thrown the idiot in the Yarra. Head to the photo section....(Images) to see the nude congregation! The biggest gathering of nude bodies ever!


---
October 8th
Dream heavily (and heavenly) last night.

Try thinking of goats names- Mad Dog, Sophie...anything but BILLY! Mark says wait till we get them.....so I will.


---
October 9th
Happy Birthday Sally (UK).

We head off to Pakenham....to the Livestock sales. It is way way out. Luckily we are both wearing our beet up Blunestones...all the farmers look at our feet first...we pass the inspection. OK I was probably the only person there with an eyebrow ring.

So many sheep, cows, only a few goats but Mark spots some down in the corner........two cute black baby ones with little horns. We could of bought 10 sheep for $35! They ended up stampeding and knocking Mark over..and despite what he wants us all to think he wasn't trying to "save them"......I swear they will do little candle statues of him soon- St.Mark- Patron saint of wild animals.

So we have to bid (it is a livestock auction) and yep we get the two we want. The auctioneer picks up the first goat and goes "do you want it now"...like NOT! So while all the other sensible farmers have cattle trucks- we sit our two goat friends up in the 4 wheel drive...hey it could of been a convertible!!!!! They travel well and soon they are at their new home Beenami. Now Goats take ages before they trust you.

I decide to call the small one APOLLO- like the God Apollo or the Moon mission...not the Victorian seaside holiday village! I check to see if he is off his milk, so you can all go to the images area and see a photo of PG bottle feeding the little tyke! Remember I have just chased this goat around for 30 minutes trying to catch it. Talk about a drama queen (the goat not me -thankyou!!!!!).... screamed and squealed.... dumb goats we just saved you from being someone's dinner! Anyway the Goats are in the photo area.

We hang with them and get all the feed etc together...and head back to the city...mmmm we smell "nice" (NOT).


---
October 10th
At breakfast Mark agrees, the other Goat is called IGOR! So there you have it Apollo and IGOR.

EMI calls and Neil Finns ONE NIL Cd goes Gold here. Deserves to be platinum.


---
October 11th
Belinda Bardot calls and she is heading to town soon, as she poses a la natural for the wonderful B?W magazine. She did it for herself, says she'll probably cop some crap from the media. Its out late November. She's in town soon so we'll hang out- she's fun....we need a good gossip. OK she really DID go out with Blair from BIG BROTHER...thank fully she woke up to herself (GRIN- those are my words). I'm sorry the guys a knob. She deserves better. Wont even talk about Sarah Marie and that stupid single....gawd she'll end up with her own diary website and gawd books!!!! Whata loser I am...no she is she I mean...not me....now I've done it. hey I look good in bunny ears (aussie tv reference-sorry O/s fans).

Send Deb the cover for "7 Worlds collide" Neil Auckland Gig- cd/dvd/ video. mark says to ban videos for now on- they are so out dated, spoken like a typical DVD obsessive person. Speaking of Hedwig...we are always speaking of Hedwig arn't we? It's out on DVD in America mid December. Nothing like a sex change/queen in your Xmas stocking/s! Buy it- it's fun. Shit America needs some fun now.....it's becoming as extinct as a hopping mouse!


---
October 12th
Meeting with Spock, he heads off soon. Finished BANG. Done- very late but we got side tracked. Thanks everyone. Just waiting for it to be printed....we have lift off.


---
October 13th
Well today was horrible, Apollo broke a metal tether at Beenami and escaped into the Forest...so much for good craftmanship.....we named him well, he just took off. I spent 6 hours looking, close to tears, he has plenty to eat etc just hate the thought of him getting lost. Dumb goat. The good news is that we found an Echidna at Beenami...such a big one and we think she was about to lay eggs. Really healthy, and they are so hairy under all those quills. Mark poked the poor thing...no not hard, then he wore it as a hat and sat on it and yes I am kidding. It was a good find though.

Meanwhile IGOR spotted some strange aussie animal...kind of like a bandicoot...Mark wasn't sure....its almost an animal park up there! I drive home and think of the dumb goat all night.


---
October 14th
Breakfast with Rosemaree which is a nice ritual, we have chocolate malt milkshakes on Sunday. She is being an Italian Gangster on the front cover of the third F/16 book-Glamour. I am being Farrah Fawcett- yes its a reverse roles cover shoot....a few celebs, loads of mates, all dragging up and cross dressing........no names. Two days of fun......scary arn't we! Anything for a good cover shot. I'm hoping it will be similar to the Rolling Stones "Some Girls" album cover.

Do the F.16 update today, don't save it and it goes astray....I am an idiot. Repeat -PG You Are an Idiot!


---
October 15th
Evan from the Labor Party has this very cool book for me, called True Believers, its leather bound and signed by Bob Hawke, Paul Keating, Gough Whitlam, Kim Beasley ....very cool (for politics).

Our electricity bill is 1/3 cheaper now with solar power. It use to be $1.60 a day, now it's just over $1.00-pretty good.

Hmm some Skyhooks fans asked me what my favorite Skyhooks song is- I LOVE LOVES NOT GOOD ENOUGH and also KOOYONG DOLLAR, both are great.

I take some recycled stuff outside and it's a very misty rain and windy, I can smell the Bay. The wet air tastes like seawater. Nice.

Buy Bob Dylans-"LOVE & THEFT" cd- it's great.....his best in a long time. Of course it won't chart- its too good.

I have finally learnt how to drink V8 (vegetable juice) without throwing up...it is harder then you think. Bloody Marys will be next!


---
October 16th
Well seeing how I was late with the diary I am continuing on...so you get the extended version- hey it's free anyway so it's not like you had to buy it!

A sad start to the day as we find out that our friend Di Jackman from the Jackman art gallery died early this morning- she was fighting sickness for awhile. I know she's gone to a better place. She was a wonderful woman, true passion for art, and I can honestly feel good that I asked Vali Myers to attend Pete & Susans art show at the Jackman, as Di really loved Vali. Another good person goes before she should....she's probably moving cherub paintings around in St Peters place as I speak...she always had a damn good eye for "placement". You will be missed.


---
October 17th
Feeling a bit "witchy" today- and when I get that tingling I've just gotta do as the voice says. It tells me to go to Beenami. So off I drive...a long way on a whim. The weather changes from Sunshine to clouds....no sign of the goat and IGOR seems ok. We talk (me and my old mate Igor)....he tries to tell me something. hell even my French is better then "goat".... but I try to understand.

I go for a serious hike, by myself which is kinda dumb...just needed trees, greenery, clean air and that creek running by. Some tree Kangaroos watch me from giant granite boulders...I only track Kangaroo no goat prints.

head home and tidy up the cabin. Shake all the Indian floor rugs, water the flowers, pick some lillies for Mark...am thinking of staying the night. At 3.00 the weather turns and it rains heavily, I have a shower using the micro solar shower- it's still co-l-l-l-l-d. As it gets to 6.00 and night throws her cape of stars over my humble cabin...I decide I need to go home. Why did I come here....the rain is starting again, so I drive slow...I think of Apollo and for the first time wonder if he is dead. Osirus and all the other gods of the Nile were watching at that moment...and hearing my thoughts. Within seconds...out of the fire trails walks- APOLLO. He stops- watches the car. I hop out ....shakes his head and runs off back into the forest. The rain starts, I feel like it's a scene from X-Files now, the daylight is fading fast and the trees creak and moan, my t-shirt is soaked, I give up. If Apollo is coming back he will do it on his terms...he's only a 20 second walk away ...stubborn old goat...now I know where that line came from. At least I know he is ok, and that feels good.

Get home and watch the Phantom menace on DVD- HI FI Supermarket had it for $33.00 AUD- a two disc set.

Sleep ok, I like the rain...it's great for washing stuff away- sins, death, bring it on I say.

Sleep tight, don't let the bed bugs bite.
PG's (second- un-checked-attempt).

p.s. a few snaps from the recent trip are also on the IMAGES page (thanks Deb). In answer to all your emails- YES readers can still order BANG (and thanks for being patient with book Two...soon).

---
If there are any problems with this site, please contact webmaster@aswas.com.