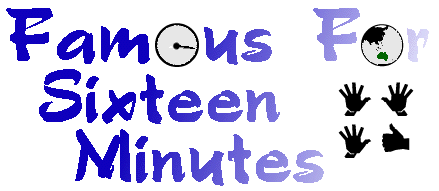 The Life and Times of Peter Green
Archive: 31 August - 15 September 2001
---
There's a light overhead, overhead
In the sky overhead, overhead
and i'm with you now, in body and music and mind
and we're silent and still
everything's so out of control tonight

In a plane that's flying fast
at a speed that makes me cry
have you left me now
to trouble that won't let me lie
I'm awake all the time
you know where I stand
holding my plastic gun.

(Turn & Run- N.Finn-One Nil)


---
August 31st
Spend the big part of the day editing BANG! Have somehow managed to go overboard with text, several pages over, and that's not including any photo's. Oh that mouth of mine, even in printed form I waffle far too much. Think the upcoming New Years resolution will be "shorter sentences". Go through photos for use in Bang - myself in front of the Pyramids in Cairo, dressed as Paul Stanley from Kiss at our first flat and the odd Peruvian photo. We need a nice shot of Miss Hairball in the book too.


---
September 1st
The phones are still ringing insanely over the sad death of Shirl, talk of a memorial in Melbourne but the venue keeps changing. Was going to be at the Botanical Gardens, but the garden people worried about thousands walking through, especially if it rains.

Ted Mulry loses his battle with cancer and dies today, another lead singer, strange that. At least he got to see the Ted Mulry benefit concert. It was sad he looked so thin and old, hopefully he's at peace now.

The Skyhooks website is getting huge amounts of hits and we have had maybe 1000+ emails. A very strange period.


---
September 2nd
Happy Birthday Spock.

Call in and take him this lovely orchard in a pot. Live flowers are good.

We both head to Mr Judd and lovely Olivia's place. Don't think Olivia pre-warned him, how mean are we, to lob ME on him on Fathers day! Good to see them both, and the house is fantastic, love all those tree's. Let me say now, they have a great kid...always a good thing, family. Nice day for us all. Phil is very well behaved (grin).

Call Mark on the way home and Greg Mac is calling by, I arrive just as he turns up on his bike. After he leaves Bongo calls, just seeing if we are ok. I think everyone we know (well almost) has called at some stage or another, I like our friends.


---
September 3rd
Almost our last Malaria tablet, glad when we stop taking these, they do make you drowsy. One more to go. They taste like chalk.

Call in and see Vali, she takes me for some lunch at the lovely Alley cat (purrrr), my potato sucked today, after all the brilliant potatoes here I guess you can't always have nice ones....I was really looking forward to it, bad luck Monday.

I notice that Shirls first wife Sandy put a message in the personal column in the herald Sun today- "You were a big part of my life-my memories will live on forever-Sandy". Nice that your ex. can still care many years after you haven't been together.

gawd when I go, I'm sure there will be a few "Good riddance" notices.*grin*

Call NZ just to see what Neil is up to, writing songs and probably loving being at home. Betchadupa are just about to release their 3D ep in Australia.


---
September 4th
Get a call from Katie in Sydney, don't want to jinx her till she tells me these new projects are 100%- Mum's the word. She sounds great, and we both had some major hysterics.

have been thinking of going up to Noosa for the funeral and the scattering of Shirl's ashes, but decide to put all my energies into the memorial in Melbourne. I just get a bit creeped out, more so from over zealous fans, thankfully 99% are ok, but a few cross the line. It's like they are trying to make up for lost time because they wern't there in 1975... just odd. I just want it to be good for the family, and great if they show their respect, guess every band has it's obsessive ones.


---
September 5th
The record company tell me that The Collection will probably get a Gold record, that and Living in the Seventies are now selling out everywhere. "Seventies" must be getting close to it's 6th platinum here. If the sales were put back to 1975 figures it would be 12 platinum.

Get interviewed by radio today, decide this is my last time, just makes me feel sad inside. The guys should be talking not me...

Stuart and Paul work on the art for the Memorial mini poster. I agreed to fund it, as a give away to fans, and family. Spend the morning scanning photos after a sleepless night.


---
September 6th
Shirls wife Sue scatters his ashes over the waves at Noosa, several thousand people turn out on the beach. It's a lovely day, water is crystal clear. No big ceremony, just like he'd want it, a few mates on their boards telling Shirl stories.


---
September 7th
A few people are dropping in tonight for Spocks birthday dinner, can only seat 6, plus it's been a long day so whoever says Yes first can come along. So Spock, Becky, Rosemaree, Mark, Tania and myself have dinner. I cook a roast, ok I cook too much food, Rosemaree brings her speciality, which we all love....and Tania buys a great birthday cake for desert. Many wine bottles later, many Glayva bottles and Yukon Jack bottles later, many spliffs later......except I didn't have one puff of Pot, good Gryphon.

It gets to about 2.30 and we say goodnight to the last person.

I did some serious dancing tonight, fun.


---
September 8th
The LA Times gets our P.M.'s name wrong...instead of John Howard he is called John Hunt, gee lucky it was a "H" key they pushed.......

Love Kylie Minogue's clip for "Can't get you out of my head", this single will be huge, here and in England.

We watch "Girl Interrupted" on cable, still not sure why people slag off this movie, I really enjoyed it.

Stuart calls by and tells us that Leisa is pregnant...so he gets to be a dad, happy for him.


---
September 9th
Wake up early and decide we need to escape the phones and emails and Shirls death for the day- we head to Beenami. On the way we pick up our new Persian rug. End up abusing my credit card and buy two benches for the Forest house. One is solid stone, which goes way down the bottom, in an area that looks like a natural meditation garden, the other Marky assembles...ok a little bit of help, only because his swearing was scarring the Kangaroo's.

It's a misty rain all day, I pick a few dozen daffodils for home, and leave about 100 popping up everywhere......a huge wattle tree got blown over so I chop off some massive armfuls of wattle as well. We look like a Florist delivery van when we head off.

Keep digging the holes for the gate poles, and clear out the woodshed where Apollo and his friend the other goat will live.

Sounds bad for Ansett, I think they are hoping Qantas will bail them out. The NZ government will easily just throw Ansett away to save Air NZ's arse, but you can bet little Johnny Howard will do jack shit to help save the 10,000 jobs at Ansett. I know as a Qantas shareholder I should be happy, as it can only help bring the share price up, but all those people with no jobs. Sad day.


---
September 10th
The Powerhouse Museum are have a travelling exhibition to celebrate Festival Records 50th anniversary- so naturally Mushroom Records is part of that (Festival being their distributor). So some of our bands-Skyhooks and the Enz will have costumes and other items on display....will start in November I think.

Yey last Malaria tablet today.

Yes Qantas shares jump today, they'll just keep climbing I guess. I remember Rosemaree telling me that the Economic person at Xavier said that he wouldn't advise buying Qantas shares...he was so wrong, even in the weakest year they still made millions and millions of dollars- good safety record and policy changes will keep them strong....our shares have nearly doubled since we first purchased them. Sometimes a leap of faith brings rewards, plus I like flying with them, I feel safe with Qantas.


---
September 11th
Well today is the memorial at the Palais Theatre. Head down to St.Kilda at 1.00. Sarah (God bless her) is already there. caroline the owner gives me her keys so I can park the 4WD out back. Do the seating with Sarah, squash Mark,Tania,Bec and Rosemaree in between Daryl, Molly, Dermie Brereton, Norm the Kangaroo and Claude the Crow have to sit next to Rosemaree-I thought she'd like that (grin).

Rehearsal goes ok, till they start playing "Warm wind in the city", that song always gets me teary eyed....and today it's ten times worse.

Great to see Bobby Spencer again, so we swap addresses etc, Red is being nice, and Bong, well Bongo is as always, a mate, same for Greg.

The photo came out well and so we project it onto the screen. Some of the old crew members are working the venue.

"Hey Greenie remember when we did Nightmoves Two here...." says Puck. He now has an 18 year old son...has it been that long?

Meet the guys outside and my friends can be the best, they all help hand out the poster and the memorial booklet. The lineup of fans goes around the corner and down the side of the Palais. People are incredibly sensitive, and say how special tonight is. Meet some long term fans/friends, many from the good old days- Mandy, Michelle, Betty, Karen etc... even Ken I will suffer tonight- but I kind of stare right through him-especially when he starts on some Shirl dialogue....we are polite but unforgiving.

Michael (Gudinski) comes up and says thanks- tell him the Hooks are family and I mean it. We all head inside. Molly walks across the Palais Foyer and gives me a huge hug, unknown to me the channel seven cameras are filming. Channel Nine are also there.....the news has had a field day with Shirls death, but they have handled it with some sensitivity.

We start to get people inside, public and fans upstairs, friends and family downstairs, the front section is partially closed off.

Places most of our speaker sin an area where they can access the stage. It starts with a loan scottish Piper (Lachlan) playing onstage. There are guest speakers from all areas- music, tv, even Norm the Kangaroo and Claude the Crow- nice to have humor mixed with sentiment. Greg writes a brilliant piece for the booklet ending with "sleep well friend..." I still believe that it was Greg who got the closest to Shirl.

Two musical numbers are performed, Daryl Braithwaite takes over vocals on "All my friends..." and Ross Wilson on "Warm wind in the city". The final song, my eyes well up with huge tears, Molly puts an arm on my shoulder which was sweet, they just become really big tear drops and I can't look at Mark or anyone....if they break we'll all drown.

Finally the Piper plays and we all exit. I head backstage as I worry (as always) about our gear, so we decide to take Greg and Bongo's gear home. I avoid the wake, need to do what I need to do (have no idea what that means).

Watch something on dvd when we get home and try to have an early night, and catch up on a week of very little sleep. I feel like my body has lost loads of weight and I feel very worn out.

Two hours later I am wide awake....I sneak downstairs, past the carved Buddha statue (I do say Hi Buddha...as one does)...and click on cable.

My mouth gapes open as I see footage of a plane smash into one of the Twin Towers in NYC. Next comes more footage of a second plane....and then the Pentagon.....I have to be dreaming. How has this insanity been released on the world.....I contemplate waking Mark....but it's some odd hour, so I curl up in our big Alpaca blanket and watch in horror like the rest of the planet.


---
September 12th
It's still dark in Australia, the Sun hasn't risen yet....CNN footage has totally messed up the few remaining bits of my mind, left from Shirls Memorial. I need to escape.

I get dressed and head out the door into the black night, just thinking. The visions of those planes crashing into the Towers just replaying in my brain. No life on the streets, except for Courtney the cat..who runs up and says hello in cat language and rubs against my leg.

The sky is full of stars, but inky black. I decide to head past Babble (force of habit) but of course no one is here this time of morning). It is so quiet, not a single car. Some sort of peace. I arrive home and there is a faint glow of the Sun rising....I head back to CNN and just watch the horror unfold.

Sometime around 7.00 I wake Mark and tell him to come downstairs and watch.

Really strange, everything seems foggy, even in my head, like I'm watching all this take place in some dream state. Can't even begin to imagine what it would be like for families and friends of the people stuck inside.

The world trade centre towers are such symbols of the USA and they have been threatened before, I was only reading the other day how Westfield shopping corporation had taken over the lease of the buildings, for 99 years....I'm sure they would be insured....and that's my last thought as both buildings turn to dust before me. So surreal. I think of Fran, Nicole and Ben, all of us having food and drinks next to the buildings only awhile back, eating at a food area in the promenade between buildings 1 and 2, now buried under a hundred stories of rubble and twisted mass.

The bodies falling out of windows, exploding out like pieces of rubble, they are still moving in the air, I pray that death comes quick to these people but you know so many would of suffered.

Life is so precious, but America has to look at her past too, how many smart bombs have gone astray and killed innocents, how many people have died because of USA sanctions....this is a horror movie right there on our TV (Greg Macainsh was right) but taking of innocent life is totally fucked, not just the taking of the lives here today.

I know Bush will put on a brave face and rally the people, but these horrible actions have taken a knife to the heart of America and not only stabbed it but ripped a part of it out. I can't even imagine losing a loved one this way, so unfair. I find no calm in the words of the priest on CNN who says they have all gone onto a better place. Not that I don't believe in a "better place" just that his words seem like some easy fix, while people are left behind shattered, and not even a body to mourn over, just pieces.

The world can be an evil place.

But good comes from bad, and I'm sure there will be countless acts of goodness from this. Still it's insane.


---
September 13th
Every channel runs CNN, every paper has America under attack, every person is talking about it. I get drawn to Neil's lyrics for "Turn and Run" from One Nil. They seem to fit this dreadful event.....freaks me out a bit, I'm sure others will notice them too.

Need an escape so, we head to the DVD library, decide on an Australian "classic". DON'S PARTY.

"Don's Party" was filmed in the seventies. Stars John Hargreaves as "Don", and a very strong supporting cast- Jeanie Dryan, Graeme Blundell, Graham Kennedy to name a few.

Don decides to have a party on election eve. It was a time when Australia was about to throw off the Liberal government that had been in power for countless decades. Gough Whitlam was Labors main man and it was coming up for a time for a change. Australia was starting to swing, and find it's own identity. Sex was in the air (and in everything else), it's very bawdy and Vulgar and the clothes and especially the decor are fantastic.

A great time capsule and we tried to think back, if our parents parties were REALLY like that. The men drink, flirt, seduce and then pass out..... the woman show as much breast as possible, flirt, tease, watch the men pass out and talk about possible lesbian fantasy's. Some of the party guests are uptight, some are crass and you get the feeling that none of the married couples at this party are remotely faithful (or happy). Nudity pops up on a regular basis, full frontal in that true Australian way.

It runs for 90 minutes and we loved it, far more then when I watched it on tv (maybe the lack of adverts had something to do with it).

At this stage it is only available as a USA release, but if you shop around in America you can get it for the cheap DVD price. Out on Fox Lorber (Winstar company). Not for everyone, but for those of you who understand how important "time capsules" like this are, this seventies period is an interesting one to have as a back drop for an infamous Aussie film.

Footnote- felt sad seeing Graham Kennedy...apparently he is in a bad way these days, but he is the Gra Gra we all love in this classic.


---
September 14th
Just have a bad feeling about Ansett, I'm sure the Howard government will not bail them out. Last night I call up Qantas and book our flights home for Xmas, I'm sure Qantas will have full flights if Ansett folds.

Mark tells me that at midnight last night the word came in that Ansett is no more. No rescue package from the Howard government, 16,000 people have lost their jobs, Air new Zealand come across as calculating arseholes. Their managers actually accepting pay rises the days leading up to their ditching of Ansett. More and more accusations start flying and Air NZ shares are frozen on the stock market. The NZ PM gets stuck in Australia as Melbourne airport people block several AirNZ flights from departing.

I think about canceling my frequent flyer account with them, if nothing else I'll be going out of my way to fly with anyone BUT Air NZ. Looks like this has been brewing for awhile but NZ lied about fund$ available etc, so I'm sure there are going to be some major investigations.

Ben and Bob arrive home safely, which is a a relief, so Mr Shapiro did you buy me a huge present (grin).

Nice to have them home.


---
September 15th
Still deciding if I am going to continue working with Bardot, their management are emailing me and calling me, a part of this is simply if I have confidence in them. I have agreed to have a think about this, so I guess I will make a decision this week.

Spoke to Bongo and he hurt his back roller-blading, so we still have his guitars and amp at the house, I told him I sold it for $50. *grin*

BANG! goes into the printers this coming week, it's behind schedule by about 10 days ,which is ok. Yes we are still accepting advance orders, just head to the merchandise area of this website.

I spend the day putting together Life membership kits, they are endless, but we get a lot done. Now I just have to wait for Australia Post to be able to send mail to the USA again. At the moment no mail is coming in or out of the states.

The world seems dazed still, time heals most things. It's scary times though, important to get close to those friends who really care and make the effort. Gee even I am sounding sensible and somewhat serious. You know it's been a tough few weeks when I am of solemn disposition.

Look after yourselves.

Peter

---
If there are any problems with this site, please contact webmaster@aswas.com.