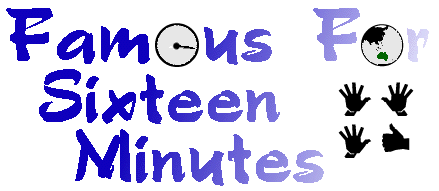 The Life and Times of Peter Green
Archive: 8 August - 18 August 2001
---
"DON'T YOU KNOW ME KANSAS CITY?.......I'M THE NEW BERLIN WALL...TRY AND TEAR ME DOWN...!"

...I WAS BORN ON THE OTHER SIDE, OF A TOWN RIPPED IN TWO...I MADE IT OVER THE GREAT DIVIDE AND NOW I'M COMING FOR YOU...."

(Tear me Down) HEDWIG and the angry inch!
website: http://www.get-hed.com
Soundtrack on Hybrid records.

Well we are back home in Australia, a mammoth trip/holiday, a week left before returning to work and your emails. America opened her arms and her legs and saturated us with sunshine, sex,tawdriness, which had some strange allure on our minds and souls. Did we enjoy it? We think we did.

Some days were almost military in their reaching point B from point A, other days I felt like we were part of the Hedwig and the angry inch travelling rock show, going from the iron skillet to wearing huge afros in Death Valley.....feeding the gambling machines in Vegas wearing Bono from U2's Fly Glasses and walking away with armfuls of silver dollars....

We did discover the F/16 MOVIE OF THE YEAR. If Velvet Goldmine was our super fave a few years back- HEDWIG & THE ANGRY INCH grabbed us by the heart and balls and we love it with the same passion. Rolling Stone says "The best rock movie ever", they could well be right. Of course the majority of Americans will let it pass by, too scared to take a step to the right....stuffing their faces with bucket size popcorns watching fucking ol' Jurassic Park- IX.... I say let them eat cake, the day that Kmart stocks Hedwig action figures is the day America mainstream will "get it", and the world will be a better place.

The runner up has to be Ghost World....superb and Virgin Records does stock Enid (Ghost World) dolls so there could be hope.... now back to where we left off.....somewhere in Peru if memory serves me correctly....


---
August 8th 2001
Neil Finn is in Sheffied, I am in Cusco, surely we could be further apart?

We start the day with a visit to our Cusco art lady. Her husband Ventura (Pablo) paints great local scenes in all shapes and sizes, water colours. I buy this small blueish tinted painting, Mark splurges on two bigger pieces for his Dads Xmas present.

Today is photo day, a tough arse Peruvian granny wants 5 sols to pose with her Llama, 5 sols- I tell her "listen darling I only want to pose with you and your Llama not mate with you". She steals 1 sol from me, I let her keep it but give her some verbal gypsy curses- hard faced she scampers off, I know karma won't be good for her today....greedy old bat.

All four of us do the Cusco walk today, all those amazing buildings, built on Inca ruins, the moderns buildings are showing signs of age, the original Inca stone base , still perfect, like it's only days old. Cusco's population is now 300,000 people...it keeps growing. We watch the young kids going to school, such lovely people- beautiful skin, their smiles touch my heart, I do feel some a kin to them.... no idea why.

My bag arrives by special courier and laundry arrives, fresh clothes, the towel boy makes me laugh, tells me he wants to work in a big hotel in London one day- he has stars in his eyes and I know he'll probably end up managing a BIG Hotel in London some day- I mention to the Hotel manager just how efficient the guy is..all helps.

Dinner at Fresco in the Plaza de arms.


---
August 9th
Machu Picchu
Wake up at 4.45.
Checkout at 5.45.

My body clock wakes me up before the alarm, still dark outside. Our main bags are in storage, so it's just have a shower, checkout and eat breakfast.

last night we had an earthquake, Mark wanted to know who was shaking the wall and beds... so weird not to have control, just movement, mother Earth pulling the rug on us all...I called the girls and they were excited. We blame Trudi and Mark, Trudi always calls in Earthquakes and hurricanes, and Mark only said yesterday that Cusco was overdue for an Earthquake... it was all a bit freaky. I decided to put some clothes on just in case the big one hits, didn't want to jump out of my bed all nudie and run down the corridors of the monastery...just doesn't seem right.

We catch the train to Machu Picchu, first class carriage, all lace curtains and tables, a collection of odd people, the English tourist called some villagers "quaint" and I "accidentally" said the word "tossers" far too loudly- "quaint" these people work so damn hard, I seriously wanted to throw them off the train....

The train is as shakey as ever, this only 12 gauge rail tends to throw the cars from side to side, adds some flavour to the journey. The scenery is incredible, Trudi captures it on film, I'm going snapshot crazy with the video camera.

Machu Picchu seems much bigger, the small shanty town still has some of it's charms but new buildings and food areas are springing up, especially overlooking the river. The ruins are magical still, I sneak away with Mark to the secret Llama area and we hang out with the Llamas...2 browns and a white. The white Lllama finds me rather atrractive and keeps "smiling" with these big white teeth....as only a Llama can do (grin).

We are back at the Pueblo Hotel, the girls call our room and tell us how happy they are, there side door goes to a balcony that overlooks the rainforest, ours overlooks the river. I think to myself what a wonderful world.


---
August 10th
Sleep really well, the sound of the river always in the background. Wake up and have a healthy breakfast, the potatoes are just bizarre, there are hundreds of local varietys.

Catch up with the girls and we do the Pueblo Hotel-orchid and nature tour. It's great, the head gardener takes us out today and he knows his stuff, he even discovered a new orchid, so he got to name it (the Star orchid). We get to meet "Yogi", yes you guessed it a bear...the speckled brown bear was on the endangered list, and the Hotel found this little baby, left by his mother...so they are getting him healthy and back into the wild, to add some extra positive news, a few days ago some people spotted a whole family of speckled brown bears by the river, so we hope that means they are multiplying. Yogi is great and has a taste for wild sugarcane...ok so do I, but i do share....especially with those lovely claws....he is a sweetheart and we all get suckered by his antics.

Walk down to the shanty town with Marky. he gets the award for heroic act of the day by throwing himself in front of a speeding train to rescue some baby chickens from certain death.

We buy trinkets from one shop because they had these 2 cute baby kittens that would sit amongst the carved animal statues-cute or what?

Dinner with the girls in the main dining room, our waiter is called Freddy, not a very "inca" name!


---
August 11th
Cusco Peru

The girls take us to the city square at Machu Picchu, we have never been there before- we hike up the main street, a huge stretch covered in food shops. A bright green parrot jumps out of a girls hands and lands on Marks foot, word is out that he loves animals and now they are lunging at him- "pick me pick me" they are all squaking....

Relax at the Hotel till the train arrives that takes us back to Cusco. Long trip back but nice, thankfully in the shadow of the mountains most of the way, the Sun has a bite. Met at the station, we now all have new "mistake names"....I am no longer Mr Creep...the sign for me says Mr Organ Artist".....so I demand to be called "organ the great and powerful" OR "the artist formerly known as Organ"...they have Mark as "Casanova, the girls names are equally bizarre- something went astray in the translation methinks.

Dinner at cafe Bombay, we get our regular room at the brilliant Monasterio Hotel, they have our bags already waiting, and the towel boy drops by to say Hi.


---
August 12th
No sleep, far too much caffeine.

watch Cusco presentation ceremony in the square, dancers and military, people on stilts and fire crackers exploding.

We watch "Heathers" on Peruvian TV...cool movie.


---
August 13th
Cusco-Lima- LA via many other places...long day.

Up at 5.00, this is the long travel day we have all been dreading. Jeremy at Taca airlines assures me everything will be ok, he is a nice guy and I trust him. He comes to the departure gate and says goodbye. Plane heads to San Jose and several other places...was that Spike from Buffy in our first class section on his way to Costa Rica?

get into LA at some silly hour, after midnight....have a few words with Robin over taxis and shuttle buses, we are just all tired....no dramas, considering all 4 of us have been together for awhile now, its been pretty uneventful in the "having words" area...a sign of good friends.

The scary thing was that the Hollywood Holiday Inn was not where it was suppose to be, the new academy awards building is being created on the site and the Hotel is gutted and being made into a new Renaissance hotel...the Holiday Inn is now kind of tiny and towards the Hollywood Bowl....my jaw dropped as we drove past the area where it originally was, thankfully our driver knew.....LA is sticky and hot, who would of thought......!


---
August 14th
Get a fax with the charts, our Bardot girls have jumped to #5 with ASAP, another top ten single for them, makes them #1 on the Australasian charts, bumping off Nicky Webster. The fans really have shown amazing support...... will shut a few people up. Probably means it will go Gold too, that's all 4 single Gold or platinum...good on them.

We head to our fave stores, we nearly knock Nicholas Cage into the cement as we rush past on our way to Aarons, he's at Manns Chinese Theatre sticking his hands in-I'm sure he could of written his name BIGGER...ok maybe not- its gigantic, no chance of not seeing who's name is in that square!!!!!

We go see Planet of the Apes, some parts great, some lacklustre, remember this is our Tim's movie, we love Tim, so when we say average to good that is a bit sad.....but still there are ten zillion worse movies.....

I find a House of Pain cloth badge for my next tour jacket.....


---
August 15th
Head to America's best theatre The Laemmle on Sunset Blvd. We have seen so many brilliant movies here and today, I am happy to say we watched two more fantastic new releases.

HEDWIG AND THE ANGRY INCH
The story of a boy from Berlin that becomes the girl from Berlin, that marries a GI , has a sex change, takes his mothers name/passport and heads to small town America.....meets Tommy, forms a band- Rocks out big time and does a tour of fast-food venues, and the story goes on..... the songs we just loved, I mean LOVED...so much, I was at that Virgin cd store buying the soundtrack as soon as I walked out the door. John Cameron Mitchell is amazing. Velvet Goldmine meets Rocky Horror meets David Bowie (when he was good)- all my fave stuff- put in a blender and the only thing remaining is Hedwigs "angry inch".

The second Movie that day was GHOST WORLD with the slightly twisted Enid, and she has a glasses collection that comes close to my own....a new set every time the camera is on her. We heard rumors of a Little Enid doll , made in Japan, and new we would be able to track one down in Hollywood for sure...and hey presto we did. A happy memento from a fun day. I am blissfully happy...I feel like I am carrying small parts of celluloid around in my head all day..sensational....


---
August 16th
America is ablaze, super hot, fires everywhere, it's resembling HELL in some places, we worry about all the animals in those forest fires... Go see America Pie II, it has some good moments and we finally get a look at Willow at "band camp" but everyone is trying too hard, number one is so so so much better...... sorry 6/10. The masturbation scene with the super glu is "interesting" (ouch)....


---
August 17th
Wake up very early, head full of ideas for the upcoming photo book, so I work on some story boards. Mark heads back to the wherehouse and surprises me with the Batman show MOVIE...I love that movie, so colourful, like the original Lost In Space episodes, really nice- thanks Marky.

meet the girls at the Green Door for brekky, we catch up with Tania & Jake at Melrose....buy a Pop Icon Polyester shirt and some red tinted Elvis glasses at New York Speed-great shop (7527 Melrose Ave), Red Balls was a letdown, no where near as cool as it use to be .....NEW YORK SPEED is now the best shop on the stretch....great prices too.

We all manage to split up and reform again an hour later....Trudi does not like to shop....Jake gets a superman tshirt, Tania gets a weird coffee that she returns..must of been your accent girl...they just don't understand what you are saying (grin).

Head back to the Hotel for a swim, I swam yesterday just a bit, black Speedo's, left the red ones at home.....sorry girls, I know, red are your favorite but sometimes black looks good......

Our old friend Peggy drives down to see us, which is a lot of fun, and we call up some mates and end up at the infamous El Coyote. The Tequila is now really expensive, the food is the same and the place is packed......I only have 3 drinks but hell that's enough.....crash and burn Green.


---
August 18th
Last day in America, we all go to Universal and it is packed, horrid really, I really only went because the others hadn't been, just the crowds and the heat, and to fill in time till our midnight flight.

Our driver arrives in his new spiffy black 4/4 and we get all our masses of bags in.

The flight is ok, the first half I take 2 melatonin and go into some sort of slumber, I still have this cough from the lovely LA air.... we are upstairs in the hub, so the seats are nice and chunky....

Arrive Australia and customs only scan our bags..the stone armadillo statue shows up on the scanner and we all have a laugh. Adam from Chocolate Starfish is at the airport to pick the girls up- which I thought was nice. So great to be home.

There is a message from Neil's management that his V2001 Chelmford show will be web-broadcast on wembleytv.com, not sure when...some good reports on the shows.

I still have a weeks holiday left, so we are not replying to emails till September 1st, so email after that date, any merch. orders etc we are going through-several thousand envelopes so give us some time to catch up. I am totally charged, full of ideas and passion.

Thanks to the hundreds of people who have pre-ordered the upcoming second book BANG....yes we are still accepting orders -mail or via the credit card booking area of this website. The release date will be very late September.

in your arms tonight!

Peter

---
If there are any problems with this site, please contact webmaster@aswas.com.