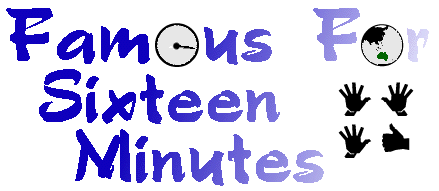 The Life and Times of Peter Green
Archive: 9 April - 1 May 2001
---
April 9th
Sorry for the delay with this months diary, totally sidetracked by the UK tour and living on the tour bus.... Where have the weeks gone, has it really been this long since I've updated the diary.......soryr regular readers.

Get our Uk charts in for the Bardot girls, they debut at #46 in the UK top 100 with Poison, it won't be a massive hit here but to even chart is a good thing.

Move car, give it a wash, call the record company...regular day.


---
April 10th
Call in and see Jurate at Greville books- 145 Greville Street, Prahran. She is great, wants 20 copies of HUSSY and says all nice things about the book...I left feeling really excited. She wants to put the original Judd-Green painting in the window. Nice lady...excited.

Sign the final batch of Hussy books, am leaving some signed copies with Mark in case some more orders come in while I am away. Melbourne readers should grab a copy from Greville Books, saves you some postage.


---
April 11th
Robin and Trudi call in and we discuss the last minute plans for Sth America, it keeps changeing...in a good way. Am thinking about the UK tour, Peru seems like ages away.

Get some nice emails from the Bardot girls about work...they wnat to keep me on so thats nice, should be a good year.

Head to the city and grab some more Neil stock, the Rest of the Day cd singles are now impossible to get, we have a few more coming in and will go out when I return from the UK....EMI simply didn't repress them.


---
April 12th
HUSSY has started arriving overseas, incredible emails, made me smile and look kind of "goofy" all day.

Speak to Hessie, he really likes the idea of this club member album of his.. another project...need to work out the month.


---
April 13th
Pay home loan...exciting- not.


---
April 14th
Head to Beenami, one last escape before the tour, Rosemaree comes along for a day in the forest. We work on the goat fence, classic Rosemaree pose, surrounded by Tibetan umbrellas, on a fold out love couch, reading a book....wearing big black gum boots!!!

We discover a huge fire trail near our property, goes all the way into the forest, the deep dark forest, no car tracks or footmarks so its long lost, great to ride some motorbikes on....will have to explore next time.

We head to the winery and Rosemaree buys some red....nice relaxing day. I'm going tomiss this while I am away.


---
April 15th
Sadly Joey Ramone dies- lymphatic cancer...I loved the Ramones, especially that first album.

Pick up some photos for Johnny and Angie Marr.

Chat to Belinda from Bardot, we were both in hysterics...one of those fun calls.


---
April 16th
Go with Marky to see Bob and Ben, they are really good mates, we seem to have some weird togetherness...it' sall good, who would of thought...fun.

Drag out all the old adaptor plugs for the tour and those spare uk coins and stamps....bags are already overflowing.

We went to Spargo's at Prahran today and it sucked...we walked out, they paniced and we ignored them further.....


---
April 17th
Pick up the badges for the tour, sit on the bag and finally get it closed.

All last minute stuff, trying to stay calm...park in the city, illegally which worked out fine...I think my car is invisible as all the other cars had parking tickets...phew!

Add some more red to the stripes....will have to do this on the road, Fudge make some great colour travel packs...means loads of red died towels.


---
April 18th
Fly out today...with British Airlines...not Qantas, the BA flights out of Melbourne have the new sleeper seats, well business/first. Am a happy man...they fold down to a 6 foot bed...with screens so you can hide from the stranger near you...all funky buttons and metal lights. The staff are exceptional, am spoilt.

Stay on the flight at Singapore, the heating goes crazy, drink a lot of water.

Wake up with 4 hours to go, see the lights of Moscow directly below. Have breakfast over Kalingrad at 39,000 feet. Decisions- Birder muesli or Friitata..fruit or waffle....


---
April 19th
Customs are fine, phew- how was I going to explain 150 Hussy books that I'm posting. The driver was waiting, even though I was an hour late..nice new mercedes. Hotel is a bit iffy buts its clean and clsoe to the Forum club where we are rehearsing....

Interesting piece in the paper- Britain is the first country to ban human cloning by law...the government will legistate soon...

Get some sleep, go for a walk, heaps of porn on dvd!!!


---
April 20th
Head to rehearsal, great to see Matty again, he lived with Ben and Bob...looks healthy and is engaged!

Robbie and Rosie are at the venue, just so good to see them...gossip and be exceptionally silly....yes you can go home...the fun of touring. Dee looks daper, he's a good man, feel safe when he is our tour manager.

Go to the hotel in the afternoon, have a sleep, wake up at 1.00 in the morning, work on the second book BANG.


---
April 21st
We are on the bus heading to Ireland, the ferry crossing is bizarre, feel like we are in the Guild ships..from the movie Dune...moving through space and time....

The Foot and mouth people raid the bus and take our milk!

Gig is good, all feels fine, get a huge cuddle from Lisa and Sebastian. Shon (I think thats how he spells it) has a very nice cowboy hat...good look and our Arnold drummer is back. Good start to the tour...


---
April 22nd
Dublin today, chat to some of the regular supporters, and Nick turns up with Neil.....felt very CRowded House. Nick is looking good from all that surfing at Kilkunda in Australia. Just nice to chat. Was that Jim Kerr at the gig?

Head to a cyber cafe and answer some emails, after 4 days there are 2000, which is impossible...answer 70.

Dublin is still lovely.... the band rooms at the Olympia are shitty so I work some backstage magic.....they are improved with rugs and hangings....all good.

Great gig......jump on the bus and we heda to Glasgow.

Had to tell Jen tonight that she can only get 2 photo passes, we never issue whole tour passes, shit happens but it's annoying that we get stuck in the middle of someone elses promises....but thats tour life.


---
April 23rd
Aeally long bus drive, getting a fever or something, can't sleep so I heda to the Bus lounge and watch the world go by...

Raining when we arrive, this tour we are following Nan Mouskouri around the UK...I find Nan's VIp room, quite gamerous, so I have a shower in HER room...yes I am naked in the same shower space that Nana was nude in......not sure what that means!!!!!!No Nan in sight.

Buy throat pills from drug shop, spot our special guest Alex Lloyd sitting alone drinking coffee...it's a great album cover shot......(grin), always thinking with a photographers eye. He tells me his next album will have angels on the cover.

I have a very high fever, trying to keep clear of crew, various tour people look after me and fuss....Robbie makes my fave soup...spoilt Gryphon.

Glasgow rocks, what a show, loved it.


---
April 24th
Newcastle City Hall

I love this venue, nice city, walk all over Newcastle. Really fantastic, people are so nice. Feel like a megastar, no I just work for one......

Heaps of club members, the largest turn out of clubbers ever, we ARE TALKING HUNDREDS...am blown away. Elroy Finn and myself do the merch tonight, it wasnt a concession and they needed sellers, its good to be out front...he redesigns my tour pass...draws Peter with a rocket pack on my back....cool.

El is great, he's growing up so fast and a joy to work with, think he loves being out front too, I just get a bit protective when people fuss over him because of the Finn connection, he is afterall a young boy not part of a collection...

Didn't see much of the gig though- bummer but it sounded good....we meet a magician who joins the club- he's very good and entertains both of us with magic tricks.

The fans wait in the rain, incredible, I go searching for towels, want to get them dry. Neil signs all their One Nil cds.

We drive through the dark rainy night...our tour bus looks like a mad demon as it churns through the willy willys and misty rain. Graham is our driver, nice chap, he's really helpful.

He pulls the bus over so Alex can see the Northern Angel...a massive statue with ahuge wingspan. I'm on the road in the rain barefoot....hey aussies dont need shoes...messy hair looking a tad like Jesus of Nazareth.....could be my next look....thought some stigmata marks were appearing but it was just Elroys drawing on my pass rubbing off on my hand.....

Climb into my bus coffin...and curl up and sleep...thanks to my old mate melatonin. No alcohol or drugs...yet.


---
April 25th
Wake up at a new hotel, sadly it's not ours, just a good place to park. OK Graham went to the wrong place. Alex has been sick all night, looked after him a bit, head over bin...he has a virus I think....needs to see a doctor.

I wake Graham as I wnat Alex to get to the Hotel, Alex gives me a few seconds of grief, hey he's tired and ill, I snap back....not too vicious....we are all a bit bus weary.

Day off, ignore the world, phone home, watch dvds, answer mail and do tour work.


---
April 26th
Cambridge.

I could live in Cambridge, maybe for a few months, I love the place...those cute ducks walking down the street, the clothes shops, good coffee, had two offers of sex today- one from a guy, one from a girl...the ducks did not offer.

Breakfast at The Junction with Robbie and Rosie, they tell me another crew member is ill, thankfully I have almost recovered. Alex is off the bus....shore leave!!!!

Brilliant show again, loved it, very happy. Shon plays some piano backstage, chat with Neil, which was nice and rare, usually the world is fighting for his time and space. Sit on the window sill with Lisa and drink red wine...she is adorable, her and Rosie the two tour loves of my life...and Robbie the big girl makes three!! (:

Heaps of fans again, one gives me a head of pot, I pass it onto a crew member, am being good, I did have a 5th of a glass of red wine with Lisa! What a devil- Betty Ford here I come.

This tour is far more grueling then the last TWT tour....glad there are a few days off soon...


---
April 27th
Homesick, thank god for the special discount phone cards, miss Marky and Cosmo...decide to work and work and ignore this sadness that wells up every few hours.

Sell with Elroy again tonight, he's getting good at this and the public like him. Plus it all balances at the end of the night.

Good show, we are peaking. John is proving to be a fun target for Robbie...ok and me too, drive him crazy with our silly road talk....he is a young NZ lad, first time on tour in the UK...but we like him. In fact its a good crew. Miss the Yeti on the road but he's off doing the Living End.


---
April 28th
Day off- yey.

Go shopping with Robbie, find a great market that has new pants for TWO pounds...yes £2...amazing, I buy 5 pairs, love my tartan bondage pants.

We also buy the crew a blow up sheep...Rosie calls her Baaabara....we buy Rosie a wedding nightie...its so ugly and John (of course) gets some handcuffs and a carry bag thats says YIELD on it.

I buy Neil a space light, show the fans at soundcheck, we all ohhh and ahh. He comes up during the show and says its the best bandroom, he loves that light, and Elroy trys to score it (grin as expected)...

Dennis Tito was the first "tourist" in space today- he made a 13 million £ donation to the Russian space agency.....


---
April 29th
Sheffield

Johnny Marr is at this show, I get tagged with "Hi there gorgeous Peter Green"...band and crew say it all night......great to see him. He signs two birthday presents for my friends Becky and Jj, great pressies. LOVE SHE WILL HAVE HER WAY , sit side stage at Marrs feet (grin)...he turns and winks at me during the Smiths song, he knows I will love this, Neil is singing so well too. But the extra guitar onstage just kicks arse.

Walk him to his car, fans start running at him, so I get him in the car after the first autograph, as he has a decent drive home. Think he will play in Manchester.

Neil is tired, been signing stuff all day, so I sneak him out the side door, no one see's him, Dee winks at me, nice and easy escape tonight, I think this is the first time he hasn't signed at the backstage door, I'll wear the blame, its good to break up the obvious....hope he doesn't guilt over it...sleep well, shows like this are the reason why I still work with Neil Finn.


---
April 30th
Run into some fans on the street of Bristol, they want to buy Hussy, been funny everyday someone asks for it, I go red still, trying to stay cool but I crash and burn....mumble mumble.....

Elroy asks if we can see so we do, we have a contest to see who sells the most its a draw of course...some venue old bag insults Elroy when I'm not there, basically saying he was fat, I get revenge by asking if she is taking responsibility for the huge ozone hole created by her excess use of hairspray and perfume....more is less! What a cow.

Sit with Lisa and one of our regular fans asks me to sign a poster, Lisa gives me some stirring....in the end I do sign it, right on the dogs arse, only because its taken from the artwork that I own...I loved the club members tonight, they are a nice bunch, glad our fans are intelligent....a few Pearl Jam fans came up and had a chat, was nice...

Neil signs his life away again....Amanda walks by with a massive container of soup for the bar....it was such a funny look. She's working really hard on this tour- her and Dee keeping it all rolling along.


---
May 1st
Southsea

Yey day off...stay at The Queens Hotel...Southsea. I love it, Edwardian style and magnificent views of the solent and the isle of Wight. A few fans live on the Isle so I guess they will be coming to the Portsmouth show.

I ask the manager to open the 100 year old pool for me, he does, so I swim alone in the rain....the guests in the bar watch me, a businessman in a great suit sends me a bottle of Moet and asks if he can join me...reeks of sex, must be those darn red speedoes so I decline...but I do like that suit!!!

The maids here are gorgeous, really stunning and milk and honey complexion.

John is very frisky, in fact the whole crew seem to be on heat...I hope Baaabara the sheep is ok!

Walk to the city centre with Paul Jeffreys, our monitor engineer, we've known each other for years, it rains again, shop and have some food.

Mail off Jj/Beckys birthday presents, watch a massive fun park-carnival being create don the allotment across the road. The crew boys fly a kite.

Go all freaky that Bush jnr is pursuing the "Son of star wars"...another button pusher like his dumb arse dad. There goes the treaty, the new fear is obviously Chin and North Korea. Fuck the allies and what they think...dickhead.

Have dinner with Rosie and Robbie and run into the crew in the bar, 3 vodkas later , I'm in some sort of party mode and suggest we all go out.... find a guy selling Big Issue in the cold, so I do my good deed and buy every copy. Freaks him a bit, hell I got paid, good to share it around. Give them all to Rosie because Michael Stipe is on the front and she loves REM/Michael, and works with them. As an experiment we set Rosie up on the corner...and she starts to call out Big Issue Big Issue forsale...she tries to resell them...its a classic, we head to several Tequila bars and she is still trying to selel them, I am in sticthes......we find an Indian restaurant and we all have fun....have a few sambuccas....happily merry. No drugs, well alcohol, but I am good. Walk home with Robbie and catch up with Steve our rep in the bar....the others return and its off to bed.....fun night- we are all clicking.

So the tour rolls on, its about 90% sold out, Last to Know will be the next UK single...out June 4th. Found 5 copies of Hussy in my bag so I will have them with me at Merchandise, so feel free to ask if you want a copy...and want to save on postage.

Sounds like everyone is enjoying the gigs, well almost, there is always someone who doesn't like the show no matter how good.

Sorry about the mistakes.....will update this again soon, and remember if you want to credit card HUSSY head to the merchandise page on this site.

Roll on London town!

Music can save your life!!!!!!

Peter

---
If there are any problems with this site, please contact webmaster@aswas.com.