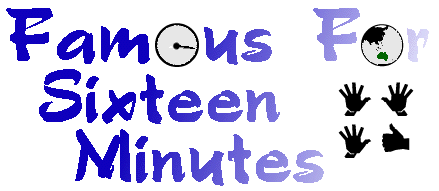 The Life and Times of Peter Green
Archive: 9 December - 20 December 2001
---


Xmas Message from the Queen of Pop!!! (or the Gryphon of Groove depending on who you speak to).

Happy Christmas to all of you.

Thanks for a lot of fun this year, as well as some incredible support.

One of my main wishes came true with the F.16 Diaries being released in book form, so 2001 made me a happy elf.

It was also a time of sadness, losing the lead singer of the band that dragged me screaming and singing through my teenage years (Shirl from Skyhooks) was really sad. However it was also a good wake up call that life is far too short and to grab it with both hands and squash as much of it as possible into each day.

I really want a JUST DO IT t-shirt this Xmas! That's all I want Santa.

The terrorist attacks, and friends mothers passing away just added to the sadness. Hairball passing away, was possibly the saddest moment for us, but to know she still stalks the halls of the house being present in some weird way that only Hairball could- makes it easier and a tad spooky. Our first Xmas without the little bundle of fur ):

However we did have times of joy- Neil Finn and friends at the St James, how magic was that, Eddie Vedder and Johnny Marr- did NF make me a happy backstage person or what!!! The U.K.-Europe tour with Neil was mighty and so many great supporters just treating us all so well. My surprise birthday party- the Happy Birthday Super group, the Marrs mansion, and my Aussie mates calling at all hours of the night...talk about big love! Sharing a taxi back to London with the Finns- as the sun came up- cheshire cat smile on my dial. Watching Cosmo the rabbit mature from a pain in the arse baby bunny to a a mature rabbit...who we have grown to love. Part of Hairballs spirit jumped in there and Cosmo now mimics many of Miss Ball's characteristics. Do we even mention those blasted goats! Apollo still being wild and free, Igor slowly trusting us week by week.

My Bardot girls- having their 5th Gold single in a row, not even Kylie has had 5 in a row in this country- staying together against all odds, centre finger raised to the critics who called out One Hit Wonders. Let them eat cake I cried.....the kids love them, good role models and I NEED SOMEBODY is still my favorite song for cleaning the house. The week it made top 5 I had a VERY clean house.

My friends, a good lesson this year of who my friends really are. They know, we know it's all that matters. We lost a few, gained a few , watched some rather full on crap happen, stepped back from it all and took a head count. Ok it isn't as simple as that but life wasn't meant to be simple....! Decided that they are all adults and they can deal with it, all the 'crap and the karma' (sounds like an album title). The world takes another spin.

So it's the end of December, it's been brutal but most of us have made it through. The strange thing is, I can honestly say I have never been happier, in all areas- I started thinking does this mean that I am now old and wise. The answer was 'No just wise....'!!! Can't be old just yet... I'm sure there is a part of Vali Myers in me, she passed on some youth germ when we first met!!!

So that's it- far better than the Queens message (then again I'm sure there is a big old queen hiding in me somewhere- NO COMMENTS PLEASE).

Roll on 2002, good cheer to all, and thanks for returning to this site and reading such nonsense- does my heart good. Special thank you and a huge Xmas pash to Debbie Levitt, not sure how she puts up with me, she is one of the good guys.

Onward Prancer and Dasher.... (ok it's really Igor and Cosmo with fake antlers but how can you guys tell?).

Peter


---
December 9th 2001
So we wake up...how do I explain the living room. It looks like an endless supply of wigs have blown in via the back door- tumbleweed fashion. Make up boxes, fur lined hat boxes, costumes, fake beards, 200 sun glasses, devils horns, and all the other remains of a photo shoot. This will take forever to clean up and I really want to paint the dining room, laundry and other areas- while I still have the vibe.

We clear the area, cancel some of the photos for today and get into some serious painting. I do the brush work, Nan Doubtfire does the roller work. The old girl worries it is patchy, I assure her it's just like watching paint dry and it will be fine. It's an interesting colour- a yellow with a touch of Gold, hard to describe but looks good.

Rosemaree is true to her word and calls by and we give her the fireplace and mantlepiece. I end up doing the laundry myself. Kitchen I have put on hold as Sharon Finn has vibed me up, Mexican tiles are the way, early 2002. I spotted this classic tile book- just looked at several photos and went- Yep that's the kitchen.

Four hours later and we have finished. A job well done. Thumbs up.


---
December 10th
Have almost given up on finding CALL ME CRAZY by Anne Heche, have tried everywhere, so weird that you can't buy it, or it's sold out. Does every Lesbian in the world own a copy or something.???

Charts are in, we are selling singles but no albums. Bardot are Gold and Gold, album and single, Neil Finn drops back in the charts, but the good news is that the '7 Worlds' DVD is the biggest selling EMI NZ DVD so far, bumping Robbie Williams off the DVD biggest seller spot. Go Neil! I get pissed off as I get a credit for Merch but not backstage. I just wish people would rely on memories and not tour guide books.....over it, bygones.


---
December 11th
Yey HEDWIG & THE ANGRY INCH dvd has it's USA release today. Get Tom from Video cave/DVD to add it to his website. Get HED this Winter!

Have an idea for our holiday next September, am excited by the thought, so I speak to the lovely Miss Kylie (yes we have our own Kylie) and she books us on the ORIENT EXPRESS. I keep it as a surprise for Mark. Pretty darn cool, London to Venice. It takes a twist for the better when one of the Orient Express people calls and gives us Liza Minnelli's room on the train (I'll have to wear my 'Cabaret' outfit and sit on the Piano!!!) Still it's ages away but time just seems to rush by.

I drift off into daydream land, sitting in ancient carriages, all plush and polished watching the Swiss albums go by....have no idea why I have a pencil thin moustache in my daydream...very Clarke Gable of me! Pretty cool. Always wanted to take the Orient Express Trip so now is the time.

I keep thinking of Mark in his brilliant award winning Mrs Doubtfire outfit playing the Grand Piano on the Orient Express as we chuff our way through the Swiss Alps!!!!!


---
December 12th
Get a nice card from Tiffany Bardot today, I like that- thanks Miss Tiff.

Watch the Bardot girls live on the Channel V BUS- it's at Dubbo today and the Bardot's go off, people screaming and crushing up against the barricade. I can vaguely remember a show called Popstars....they are singing really well.

Wow Mariah Careys Greatest Hits debuts at a massive #95 on the Australian Top 100, and only #46 in the UK. Stiff or what. The second Michael Jackson single debuts at #43. Fantastic maybe there is a God. Something evil about them both I think.


---
December 13th
It must be Bardot week. Was just signing a copy of BANG! for Katie (Ex Bardot) and the doorbell rings and it's her. Out of the blue. She is looking hot- and very happy and together. She has been working on the new TV show, with Thorpie the swimmer and Simone Kessell. Unfortunately Jackie O us on the show which is crappy. It's called UNDERCOVER ANGELS. On channel 7 next year. She's also recording, so some music. Bardot or no Bardot we just like Katie- smart and fun.

Head across town to YETI FEAST. It's this traditional meeting of weird people with a passion for good food. Ok we lie, our friend Ben has put on his chef hat and has been cooking up a storm. A few other friends are invited, Miss Fran (we all hung out together in NYC), Mark will probably marry Ben for several of his food platters alone. The dinner table is packed, great conversation, food and just a very cool night. We think he has been going to HOST A MAJOR DINNER PARTY lessons. It was better than Xmas.


---
December 14th
BCO play the Casino. I hate the Casino, love the band but I can't stand that place, don't feel a remote inkling to support it- even on the guest list seems like selling out...play The Best of BCO instead. Here's hoping for more shows...non Casino ones.

We head to HARES AND HYENEAS to buy our three Miss Candee cards-proceeds from the sale of the cards go towards the maintenance of the Gay & Lesbian switchboard and the counseling service. They need about $15,000, so we buy up a few. Candee is just bizarre looking on one card...she has been in the solarium far too long.

Mark Lizotte calls, had to be while I am all alone in the office eating a Paddle Pop....he confesses that he has a fridge full too, sounds like he is enjoying being back home. Starts recording his next album in February/March. Possibly playing NYE on Chapel Street just around the corner.


---
December 15th
The Xmas celebrations start today, a week of people dropping in....today was the A list...ok I am kidding. Just a bunch of friends getting together.

The main topic of conversation was Marks Mrs Doubtfire Polaroids...I swear we'll be selling posters of them soon. OK he looked incredible, so good we could of sent him to welfare to score some pension cheques! We will never hear the end of this. The Doubtfire band want to use him for the cover shot of their first CD. It's called "She's Got Crabs" out March 2002.

A bit of present swapping going down tonight, instead of the usual wife swapping!!! Great gifts.

Good comments on the paint job, and the devil woman herself Miss Rebecca is the last to leave- such has tradition become...but we like that. All chilled out....and the massive bottle of Moet from the Finns was consumed.


---
December 16th
Woke up and had the vibe to work and clear off the "to do" list in the office. Wrap the Finns Xmas presents. Neil gets his regular ledger, really nice one this year, just to write those hits in....boringly practical. Sharon, a heart shape box full of green glass beads for her next arty project, the kids get a collection of decals and cloth badges from one of my fave shops Route 66. Our Route 66 boy has the best Tattoo's in the world.... and discounts at the wave of his hand.! Gotta like that in a shop.

Send in all my invoices for wages-Xmas money, mostly for my sisters present. She is going to be spoilt by her brother this year. I dig having a sister, kind of a caring thing happening, some fun and we raise our eyes to the sky at the same time when the relatives lose the plot!


---
December 17th
Oh please what is Ann Peacock thinking- she has this column called TALES OF A MODERN WOMAN. Well this week she wins our award for lame-arse article. Waving her finger at us for Tall Poppy syndrome on Nicki Webster...don't you mean short Poppy Ann? Sorry Nicki is evil and must head the same way as Kenny...OH MY GAWD THEY'VE KILELD NICKI! For a modern woman Ann really has no fuckin' idea. Has she even heard Nicki Websters album? It Sux.

Head into the city, it's not too Xmas crazy, the Reject shop is doing big business, I tell the man with the microphone that I have enough Rejects in my life and do not require anymore- he doesn't get my joke...I head to travellex. They have no money, Melbourne still has a coin shortage and the Post Office is running out of stamps. What is going on? Australia is coming apart at the seams.

I worked out if every reader bought a copy of BANG! from the merchandise page of Frenz com...it would do nothing to help Australia but it would show how much you guys care. Well that was a lame marketing ploy. I apologize and i'll blame all of this on young Nicki Webster.

For those overseas readers who have know idea who Nicki is, she was the little kid at the end of the Olympics, all sweet, since the Olympics she has had a number TWO single (note not a number one), currently plays Dorothy in the Wizard of Oz stage play (I am giving the Wicked Witch big Payola for the flying monkeys to use V4 grenade launchers) and she has weird hair. Maybe Nicki wills ell more of her CDs with a copy of BANG! attached. ????


---
December 18th
Miss out on Bongo Skyhooks cocktail party- I double booked with a goat. Long story, not funny, no need for it to be written here.

Did get to watch some of the extra "stuff" on the Planet of the Apes DVD. The EXTRA material is endless...2 hours later and we were still watching it. Cool though, in some ways the MAKING OF THE PLANET OF THE APES was better then the movie remake.

The extra doco on HEDWIG AND THE ANGRY INCH dvd is classic...traces the movies very very early days...you get to watch the germ sprout legs and run... from an idea, a drag performance, to the stage shows to the movie. Loved it. get HED for Xmas folks.

Put out the rubbish. Recycle till my nails are blue (and it aint the polish kids).

Rush Rosemaree the Skyhooks update, Greg Macainsh penned a really nice letter to the fans, we get some thank yous. Did my heart good.


---
December 19th
Mark is in a pickle over what to buy me for Xmas....I finally surrender to the pain of his indecision and paranoia to suggest a few things..gawd I'm not THAT hard to buy for (gee thanks friends I HEARD THAT). I'm happy that people make the effort...the thought is the most important thing- and I've practiced my smile so even if I totally hate it with a passion you will get a pleasing response.

Home Loan today- the bank brings the rates down. That brings a Xmas smile on many peoples faces.

Breakfast at Babble and Michael has almost removed his finger with a knife in the kitchen, nothing like a finger in your scrambled eggs. I thought it was getting a bit crunchy!

Plan with the Yeti for a day in the trees, yes we head up to see IGOR tomorrow. Mark is 'manning' the office, unless he takes on his Doubtfire persona, then he's Old Grannying the office. So I have a day off, I can recharge.

I still can't believe it is Xmas in less then a week, I can still remember last year so clearly.

Catch up with Bob and Spock in one of those rushed Xmas moments. We really are all like ants shuffling from one Xmas occasion to another. Loved our book present- THIERRY MUGLER-Fashion,Fetish,fantasy.

Speak to the NZ office and Neil is down the beach, just chilling out I think. His USA One Nil release will be called ONE-ALL. He hasn't decided on what songs will stay and which will go and what new songs will be added. I ask for a cdr of new tracks...I am dying to hear some new NF tracks.


---
December 20th
The alarm in my head goes off before the one by the bed, sigh,roll over exit and stumble to the main bathroom, leaving a trail of clothing along the way. The stairs are covered in millions of blinking mini Xmas lights, I feel like I am on some exotic cat walk not the morning stumble to the shower. The house is asleep, I should be, but the big Yeti plan is an early start and I agree. It's good though as the traffic isn't too bad, I have on some new driving sunnies that have that 'Dark Angel' look about them- so I dig them.

Food stops along the way, I am spoilt, B is the king of food.

The Sun breaks through the morning grey and it's a magnificent day, Beenami just turns on the magic- must be all that Rosemary growing (I said Rosemary not Rosemaree) apparently it's associated with magic- who told me that?

We head off on a hike, do the full circle, in and out of the forest, sit on the 100 year old bridge and look for fish (more food?). I picture Ben as a big bear- paw in the water grabbing fish- I start to laugh- I don't confess my thought..hey it's ok bears are good.

The calm of no phones, no work, no stress , no B.S makes for a great day. End up putting up the huge shade umbrella and snooze for a short time.

IGOR has decided that he really loves his hay bedding as well as all the food, at this rate we will have one huge goat....and no bedding.

Return home, car full of lavender and rosemary. GREEN DAY rule all day, we rock out.

Meanwhile the massive hand built DVD cabinet arrives, looks sensational, and Mark fills the thing, space for 3 more dvds...it is huge. terrifies us both just how many dvds there are. The new security system is installed, and we have trained Cosmo with his rocket gun!

To make my day complete my best friend in the whole universe gives me the Anne Heche book-CALL ME CRAZY which I have been attempting to buy, as well as HIMALAYA dvd (can we fit one more in?)....happy happy happy. Ann and all her kookiness will rule my xmas break.

Spend the evening packing toys into bags for the local charity and a lot of clothes, I'm sure this time of year just rains sadness down on some people so every effort must help somehow? The bag of Teddy bears is great, I say goodbye to all of them...and yes I should really grow up. Still toys and clothes doesn't seem like a lot, am thinking of staying in Melbourne next year for Xmas and maybe working at one of the charity Xmas day food centres. I will guilt all week , and in the end I probably will wimp out but I like the vibe behind it. Maybe just doing a few good Xmas deeds would be good. Hell I find it easier to be a bad boy- doing good is a huge effort *grin*.

So this is a short Famous for 16 Minutes update, just wanted to get it to Deb early as I'm sure she has a better things to do at Christmas [ed. note: yeah, I have two papers for grad school, a business meeting, a 3-yr projection on a new company I'll probably start soon, and I want to start catching the outside ferals to get them spayed and neutred. just your typical Christmas!].

Next update from 2002....stay safe and I hope your Xmas is an easy one this year.

All the very best...
Peter xoxo

p.s. our office is closed from December 22nd till December 31st, so no emails till after the 31st. Thanks.

P.S.- Hear from Campbell and the lovely Bic Runga in N.Z. Bic is playing a few small intimate gigs in N.Z. here are the dates for those who want to attend, I am dying to fly in for the shows. Need to see the girl do some new songs.

8 January, wonderbar, lyttleton (Christchurch)
9 January, sammy's jazz bar, Christchurch
10 January, theatre royal, Nelson
11 January, bar bodgea, Wellington
12 January, bar bodgea, Wellington

---
If there are any problems with this site, please contact webmaster@aswas.com.