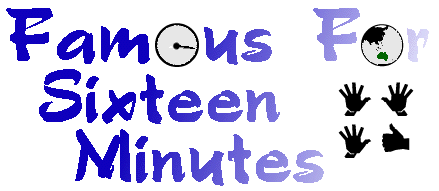 The Life and Times of Peter Green
Archive: 9 November - 25 November 2001
---
November 9th 2001
Big shopping day- Targe'...aka Target have a 15% off sale, head up to buy a very cool dinner set, $50, the same one is $170 at the import store- super bargain, I'm not questioning why it's so cheap. I pay and leave the store as quickly as possible. We browse the cd/dvd area, the CDs are just shite, I'm sure someone other then a boy/girl group released a cd this month- what a tragic load of crap music.

Track down a nice Pinot for the Judds, a small thank you for Phil oking the artwork for the back of Bang- the painting has incredible colours. Plus I like the "theme".

My hair is going wild , Robert Smith standing behind the Concorde when it departs- thats kind of what it's looking like. What to do short or long, have no idea. With everyone having boring old short hair I am tempted to let it grow.


---
November 10th 2001
Oh Election day and I just know the little shit John Howard will get in. I just hope Labor take the Ballarat seat. In the hands of the people, just seems like a lot of the oldies are voting Liberal- the boat people/ war fear couldn't of arrived at a better time for Howard.

Was a bit angry that the only Party that used recycled paper on it's How to Vote cards were The Greens. I think they'll do well, they seem to grow stronger each election- more power to them.

One way or the other horrible Peter Costello will win, if Howard fails he becomes the next Liberal leader, if Howard wins, he takes over the show when Howard departs half way through his term. Hmm maybe I should of just ran the sucker over last week.

It's now around 11.00 and John Howard is still PM. Wasn't a major win, but a win none the less. The Greens did exceptionally well, and yes Labor won Ballarat which is great. We've survived this long with him as PM what's another few years?


---
November 11th
Up nice and early for the Collectors Fair...have a good vibe about it, though the Fair itself is only half the size. Of course it rains as it ALWAYS rains at these Fairs. Some of the stallholders really are freaks. Its like half of them escaped from the Hi-Fidelity movie. There's always one stallholder who's bum crack is showing (:

Every single person complains about Howard being re-elected as PM. Heaps of the regulars and many new faces, real fun day. When it gets to 1.30 I go a bit stir crazy and a tad bored. I start thinking all the dudes wearing Kung Fu shirts are shoplifters.

By 3.30 we are out the door, the rain has stopped, feeling weary.


---
November 12th
The Bardot album is out today, their second album, shutting up a few critics who said they would only have one hit single and one album. 5 Gold singles later....the kids love it, we get 200 emails today alone.

Call Duges about the RUMBA shows, he's so switched on, just easy to work with, should be fun.

Get our charts in and the BAH DOTS are at #6 (that's NZ for Bardot), a real hit single again, always a good thing.

HUSSY is about to sellout, think we are down to the final 20, amazing. BANG! the second book is selling just as fast, kind of proud, I can picture all these weird little books sitting on shelves all around the world.

Someone asked me what inspired the size of the books, in a recent interview. Kind of three things:

1/The Steve parish diary with wildlife photos in it...exact same size, just easy to put in the back of my 501's.

2/The thought of Jim Morrison getting a run of his poetry books done, they were about the same size and he did the books himself...just something about someone putting energy into a small book, no big company, no corporate hype...

3/the original Noddy books which were small and hardcover...I just thought they were innocent...but we all know about Noddy and Big ears!!!!


---
November 13th
Catch up with Dugald at the office, RUMBA is approaching fast. They expect 40,000+ at each show.

Our old friend Melissa calls and that's nice, people wander though our life, talk about winding yellow brick roads!!!

See Vali and she is so proud of the two books...her eyes sparkle, told me she wants the photo of us for her studio.

Sign my pay over on my American Express card.

The courier arrives and picks up the giant Skyhook-stage propfinger from the 1975 EGO tour. Its going to be used in a display at Sydney's Powerhouse Museum.

Neils webcast attracts around 1000 people, I download some bad installer and it's corrupted and ends up being a pain, so I surrender and end up watching the Buffy DVD box set instead (sorry Neil).


---
November 14th
Paid our water rates, I hate paying for water...seems a rippoff.

My favorite two albums at the moment are EVENS cd- they are a Melbourne band- check them out...great album. Also the Green Day CD- "International Super Hits" is damn brilliant (yes Mark brilliant).

The lyrics from Green Days "basket case" song just swim round in my head... "sometimes I give myself the creeps, sometimes my mind plays tricks on me...". Love it! More power to Green Day I say.


---
November 15th
Visit IGOR at Beenami, Apollo is now officially a wild goat, only visiting when he wants.

Mark discovers a nest of baby birds, all calling out for food, and no he doesn't have to save them....they are incredibly noisy, we leave them alone.

Can almost pat Igor, getting very close, Igor has rather sexy goat lips... kinky! I go off walking deep into the old Forest. Always makes me feel sexy and primal- think it's those earthy smells. Every so often you stumble across a humanoid- I keep out of their way, they always feel cave mannish, and they are always up to something...I play the part of the watcher, wondering what suss crimes they are up to. Sometimes they are cutting down trees, and my blood still boils, a few hikers who seem to be the hunter & gathers of the species... and one in ten up to no good. Really dark stuff, where I just blend in and let them drive by. The watcher of the Forest is an interesting role and really it's very easy to become imperceptible- which I wonder to myself is how easy it would be, to explain, all those mystical sightings over the years- Unicorns, Yeti's (we know of one) and black panthers (not the 1969 militant kind) could be hiding in our forest!!!

So where was I? Beenami, Had another sensational day. The baby birds go- chirp chirp chirp!!!


---
November 16th
Tania and Jake call in and we give him his belated birthday gifts. Lego is always the perfect gift as well as some other fun stuff. The squeaking killer whale did drive us a tad crazy.

Into Colonial Stadium, throw away the street directory and use my instincts to get me to the Venue- arrive on time. Never been here before, it's a BIG Melbourne Venue and it has a mobile roof that can be closed if its raining.

Am focused, here to work and things are good.


---
November 17th
Rumba- Melbourne

Close to 40,000 young music lovers turn up at Rumba Melbourne. basically my main duties are to collect the artists from Arrival Point, escort them to their rooms, which I've changed from drab to luxurious, make sure they are settled, collect them at their "due" time, get them to the stage for performance, offstage and back to the room, send them to their next location- media, autograph area.

Sounds simple- it's not. Timing is everything and to a degree you are at the legacy of the act, they could arrive late, someone always goes to the toilet 5 seconds before you leave, someone always forgets their pass, so they can't get back through the security checks (at Rumba I am wearing three passes- Artist, Access all areas and Production), occasionally we hold an artist in their backstage room so the crowd can build- imagine being a young band, in fact even a well known band and the crowd in front of the stage is small, waiting 10 minutes for another act on another stage to finish, could mean an extra thousand people arriving...so when you delay the act, the schedule drops back, some artists have "in ears" so they have to go to stage early to get their sound ear pieces added, taped to their backs, the list goes on.

So imagine in Melbourne how happy Dugald and myself are that we keep our stage running tightly, and end up finishing the day 5 minutes ahead of schedule.

Hmmm weird highlights and oddities from Melbourne. Emma Bunton (yeap baby Spice- girl) offers to buy my lucky red satin bowling shirt off my back- in the corridor....a huge NO that one, doesn't she know it's my lucky shirt,

Invertigo win the tossers of the year award- if only they were as stadium cred. as they think they are (urgh), ZED from New Zealand- a great surprise- Andy Zed proof that music can be good and have an attitude...says how much he admires Liam Finn for being so musical + in the shadow of his Dad- ZED give the crowd a dose of guitar Pop and they respond...good to see a great young band that carries guitars under it's arms instead of a DAT tape!

I learnt that BLUE were a boy band and not a solo artists (OPPS- I am old), Ella from Killing Heidi adores Nelly Furtado...and swimmer Ian Thorpie is truely gifted in the area of media and has broad shoulders that I want amputated and added to mine. Nice to see you again Thorpie. Run into the Bardots at the check in area, they change band rooms and need towels and gaffer- of course I have both-they are of course my favorite girls so they will always get that extra bit of attention. Jackie O is sitting in the Green room area, looking like a washed out old scrag - all alone- and kind of tragic...think I caught a glimpse of her possible future?. Catch Bardot on the main stage, sit side stage and watch a few songs, how do you describe 40,000 people singing your latest single, like I said a real hit.

Scandal'Us are the final act on the Pepsi live stage and they are truely awful, feel sorry for them as they haven't progressed , no encore and even fans were saying how it was shitty. They seem totally unaware that they are only treading water and singing fast. They are also the four shortest people I have ever seen and I am a short arse myself.

It's around 8.00 my feet ache as the band room corridor goes on for miles, probably clocked up at least 50kms from walking. Think Creative management tell me they are really happy with my work so that's a good sign. My pay cheque arrives next day. The pay is good, after tax it's about $500 per day. Thanks Duges for sending this one my way. Home and soak in the tub.


---
November 18th
Work on our Neil Finn mail out, usually takes about 10 days to get everything done, Mark is putting in the hours on this one. Get a rush on orders for both HUSSY and BANG! today, always a buzz when they arrive at the post office box. The books are starting to arrive at some far out destinations like Chile and Russia. So little parts of me are scattered all over the place...now is the time to be scared!

Rosemaree saves my arse and we head off and get some copying done.


---
November 19th
Our home loan has dropped just strange, nearly everyone we know pays double in rent to what our loan is, seems like rents go up and home loans are going down.

Get in the charts and Play It Like That, debuts on the national chart at #16. I said to mark I thought it would be #15 so I was close. Top ten in some states. The single stays at #6 which is a very good sign.

Play EVEN's album (again), if you are reading this and want to try something new and good- it's worth investing in. I can see what Tim and Marie Finn see in them.

Next week, after the RUMBA work has slowed down, Mark and myself start on pre production for the WINGS OFF FLIES photo book. Exciting times, I hope it turns out like we want, which is basically a really nice coffee table book of photos we've taken of bands over the past 25 years.


---
November 20th
Bank my 1st RUMBA cheque, great that they paid everyone so quickly.

Wash Ben's car as it's under one of the trees outback and the birds have used it for target practice. Start on a mail-out for BIC RUNGA, her first single next year will be GET SOME SLEEP.

Drive to Armadale with Mark who shouts me dinner at the NYC deli. Feel kind of spoilt today.


---
November 21st
We get up early and drive to the airport to pick up one of our best friends- the amazing Yeti returns and he's looking slim and hot- ladies!!!!! Just as we sit down for a latte, out he strolls. Too healthy looking after such a long flight. Why don't we ever look that good from those long trips?

Play Green Day in the car and we all groove along.

Our furniture man is building this huge wall case for all the dvds, we've ran out of storage, so it seemed the only solution. Ready in 3 weeks, mark is so exact with measurements.

Read a report today that U2 have made up to 400 million pounds since their first release. When they finish this current tour, they look like making 200 million pounds for this year alone- "dear bono, all spare cash is welcomed" Gryphon. xoxo

Cook dinner for the boys.


---
November 22nd
Walking back from Babble and who is that woman smiling at us in Greville street Park. It's none other then Sharon Dawn Finn. Yes Shazza has sneaked into Melbourne and it's great- serious laughter from us all. We sit and chin wag and it's like they have never left Melbourne. She's over to catch up with the girls...oh yeah and us too.

Couldn't talk for long as I had an appointment with Edward at Giza. Keep changing my mind short hair, long hair. We watched BLOW the night before and Johnny Depp had great long hair- ok I am not the Deppster but I keep my hair long (but its trimmed) get some interesting burgundy in it, and Edward uses his straightening wand with strange results. Edward and Toija are the only people I trust with the challenge that is my hair. They make me look good, sadly it never lasts but a few good days of hair is not a bad thing.

Get home pack the bags for Sydney RUMBA band rooms. Buy Jelly babies, essential item for several days away.


---
November 23rd
Having food at Babble, and who walks by- Sharon AGAIN. So she coffee's and Michael mentions she is now officially one of the Babble regulars, she took our advice from the F/16 website and had coffee their the day before.

Did I say I love having her in town...I told her to leave Neil and move in with us. Yeah I'm sure it was a tempting offer!!!!!! (Not).

Head to the airport and the Qantas baggage machine has broken down, thankfully my carry bag is small so I head to the VIP lounge and grab my air-ticket from them, the other option is joining a line that heads out the door. No way Jose.

Taxi to Stadium Australia, yeah the Olympics place and my boss Dugald (I tell him he is my boss he likes the perverse side of that) gives me the layout. It's different today, band rooms on a second level and we have a backstage room behind the stage. The show is tomorrow but I do walk through and all my other keep it running smoothly activities. It's a total rabbit warren, but I work out all the elevator levels.

As the sun sets I head off with Duges and we throw back one too many JD's and cokes...a tad legless and the caffeine in the coke keeps me awake all night.


---
November 24th
Rumba-Sydney.

45,000 people.

Wake up at 7.00 and I smell rain before I see it. I've been noticing that I can do that now after hiking so much through Beenami's Forests, it's like some old primal instinct that's returned, about 5 minutes before I just know.

Anyway it's raining, the Olympic stadium has no roof , we raise our eyebrows, the show will go on. I get to use my wet weather jacket, it's got a good clip on area for my headset and microphone.

The bands are more complicated today, an extra act, people arriving at weird times, the weather goes from rain to very hot, and bottled water starts running out. I have a backup plan and I put it into effect to look after the artists and some of the crew.

A call comes over the headset that Bardot are at the autograph area with 2500+ kids and they have no water...I climb on my white horse and head off. Fight my way through the now swelling crowd of 30,000, walk up and give them their H20, get a huge cheer from the fans in the crowd (very sweet thanks) a hug and kiss from the girls- hey like I said my acts will always get the extra treatment. I bow and escape.

Share the elevator with Thorpie again, he's surrounded by people but stops and has a chat. In climbs Sally Bardot and some of the Scandal'Us people who I'm taking to the "compound". Somehow girlfriends comes into it and Sally bates me...I go red and she scores a point- so I return the serve (: It's good these days, the weird wall we had between us has dissolved and we get along really well, it's all good.

Now a highlight of the day is meeting Stiffler from American Pie and he's pretty genuine and a bit funny, what a dude...a bit piqued as I didn't have my camera. Now we want to meet Stiffler's Mum!!!!!!!!!!!!!!!!!!!!!!!!!!

TALI are running 40 minutes late, so thats the first disaster of the day, however we have some serious ramp skating going on which is next to the stage so it fills in time...it all works out well as we escort them direct, and I've got water in all my coat pockets for them. By the end of their set we are only 5 minutes behind....so I move the next act down to the backstage room (which is covered in PG tapestry's etc). ZED are having major AMP problems and Dugald shows why he is paid the big buck$ and tracks down a new one and does some repair work. Andy from Zed is a sweet kid, and kicks major butt, good band ZED, understand why they did so well in NZ. He tells me they just got a USA manager so really they could be the next Silverchair (those are my words). The kids respond, obviously a growing fan base.

I spend 20 minutes taking photos, for possible use in the photo book.

Help out in the Production office, it's a good team and we all seem to get along well. Check on Scandal'Us and move them through- Daniela grabs my arm on the way through the crowd, am security conscious and it's sweet, then again she is probably a better fighter then I am.

I am looking street cred. today- 3/4 Mambo black shorts, Docs and sox, my Kennedy Space center shirt which I'm told was on the news (well the rest of me too) so thanks for that my fave Nasa person (:, beanie, radio and multiple passes...rock and roll dude from outer space!!!!!!!!!!!!!!!

ScandalUs over my last act for the day, strip the band room, fix up my upstairs area and escort some bands to the media room, so you get the idea of some of what I do- well some people ask.

Head off in the evening back to the Hotel directly across the road. Oh I did see Tina Arena and she was dull as dishwater, the "its raining men" joke worked well whoever performed that (Geri pulled out), Aneiki were great, (Jennifer is a fox), Craig David was loved by everyone, Human Nature were headlining and a LOT of people left, also spotted some HUMAN NATURE SUCK signs, the only "anti" band sign all day, that I saw. Seemed to go well, and the kids had fun.

It's now 3.00 in the morning, Duges arrives "home" with thank you parcels from management which was just an added surprise. I like stuff like that, I break open the chocolate. No sleep (again). It's now 4.00 I have to be awake at 5.00 so I don't bother sleeping.


---
November 25th
5.00, in the shower, and out the door...oh god I forgot to put clothes on...no kidding. I feel like crap, just tired, and my bags seem to weigh more. Taxi takes me to the airport and the lovely Qantas woman puts me on the first flight of the day, Qantas are always good to me. Head to the Frequent Flyer and open the newspaper to a 3/4 page photo of our Bardot girl Sophie Monk looking damn fine, onstage at Rumba and kicking butt. Go Soph. Have a breakfast of peaches and raison toast.

The flight to Melbourne is boring, box food, game boy, and the Limo driver is waiting. Takes me to the 4WD and I get home just as Mark is making toast.

We had sad news last night that one of our best mates Rosemaree's Mum passed away, and our hearts go out to her, I hate it when the handful of people I really care about have sadness. So we catch up at brekky with her and I just want to hug her, lack of sleep heightens my sadness. Ben climbs from the Yeti love nest and comes down, so we take over Babble.

Spend the day with the boys, and even have some sort of nap in the afternoon. Feel spoilt as a buddy takes us to dinner and my tummy finally says thank you for remembering to feed me. Make a note in the diary that I catch up with Sharon tomorrow, she's coming to the house so we can have a real breakfast.

A month till Xmas, how incredible is that, and Neil's '7 Worlds Collide' Cd should be in stores tomorrow. (in some countries). A great Xmas gift idea but I know you would prefer either Hussy or Bang under your tree- and what a fine kitsch gift they would make for your friends who have everything.(grin)

Seeing how this update is late I'm not checking it for mistakes....

Have a good week.

Love life

PG

---
If there are any problems with this site, please contact webmaster@aswas.com.