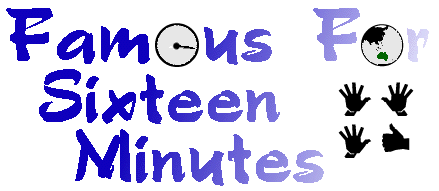 The Life and Times of Peter Green
Archive: 18 November - 1 December 2002
---
November 18th
The weather has turned in Melbourne, our trees are covered in leaves and I question if they could possibly grow any higher. We can now sit out on the balcony hidden from the outside world, watching people scurry past getting on with their lives. If we talk they look about like they have heard the word of God in their head...where are those voices coming from, sometimes they look up but rarely see us- its enjoyable.

The phone rings and it's Bardot Belinda, just catching up. She just wants to get out there and make some music, but it will have to wait till the new year, would be insane to release something new now,this time of year is a bit lost and everything gets buried under an avalanche of "Best Of" CD's.

Pearl Jam debut at #1, bumping U2 off the top spot, is this P.J.s fifth #1 album here? Gawd Australia really is their second home. Send their management a pile of press clippings etc in case they want it all for their files. They still have it, think it's three sold out shows in Melbourne when they play here next year.


---
November 19th
I have a chuckle over our state election, one of the local candidates is Abraham Lincoln..classic. Tony Lupton our local Labor member is in at Babble again today, he says its going well. Michael puts up his Poster, which lasts a day but hey all helps. I draw devil horns and blacked out teeth on Robert Doyle articles in the newspaper. I noticed someone else drew a penis on his head in the other paper...politics brings out such grown up behavior *grin*.

Spinach seeds are sprouting like crazy in the solar hutch, one snail decides to have a feast so I catapult him a few doors down..."airborne snail everyone catch!!!". It's looking pretty green out back, the Dalia flowers are growing as high as our trees, a few look ready to burst with colour.... and little baby tomatoes are popping out, I like picking my own crop!!!

Neil announces his USA and a Canada date or two, pretty much the same places and a few new ones, just economics of touring. I don't think most people have a clue what it costs to maintain a tour, big tours cost big bucks. The first TWT tour of the states that covered a lot of ground lost a lot of money, enough to buy a small condo...so you can't blame the guy with tightening the reigns financially. It's so easy to say "why doesn't he play blah and blah" when it's not your money...and add on the exchange factor of the $NZ would mean times any costs by three. Still it's good that he is going back so soon. The "One All" album keeps ticking over, thanks to Augie for sending me soundscan figures, always good to see.


---
November 20th
Michelle at Babble turns 32 so we take along some amazing orange roses. The smell fills Babble and people ask "what is that incredible smell" when they walk in the door. A potent aroma, think my breakfast smells of orange rose.

Head up to Beenami today with the lovely Miss Toija. A lot of the walk tracks at our place have small seedlings growing but unfortunately they will get crushed or chewed on by animals...so Toija volunteers to save them and put them in her huge nature garden. We hiked and hiked, all the way around to Goosie mans place, to the secret river and little "hanging rock"...it was a wet day so a few leeches...which we were both pretty nonchalant about, wet forest = the odd leech...that's life away from the city. Toija understood Beenami straight away and the forest, always nice when a friend relates totally. Was a really good day, too much clean fresh air just had us in some sort of natural high state, the smallest things made us laugh-weird that, had to be the air. Happy to report that the wombats haven't found their way into the compound, and all the black russian tomato plants are growing with no sign of wombat teeth marks.

Arrive home to find our NZ charts and the Split Enz HISTORY NEVER REPEATS cd has re entered the NZ charts at #27, and is heading towards 5x platinum in NZ. The Enz DVD should do well in NZ too. Marbecks tell me they have already had some good sales.


---
November 21st
A few mates called by for dinner tonight, the table was packed, when I am disgustingly rich I am going to have one of those long wooden tables that seat 50, we have ten people and the table is full.

Loads of healthy food, I carved out a full size watermelon and filled it with organic fruits from the Forest House, and tried a new recipe with some meat. Basically a combination of coating it in clover honey, several herbs and mustard seeds...the honey turns into a liquid and seeps into the meat and then it bakes around it...really nice. I prefer it cold though, no idea why, just seems to taste better. We go through a lot of champagne and loads of laughter, good to catch up. Toija and Bec are the last to leave and Mark does them in with some Yukon Jack. I end up driving a few guests home (ahem!). Nice night for those who can remember it. Happy Anniversary!


---
November 22nd
It has been 18 years today since the Enz last studio album "See ya Round" was released. I still remember working on this like it was yesterday. It's all gone by so quickly. It has been sold out for a good 6 months now, but Mushroom have re pressed another batch, so if you need the final Enz album you should be able to buy it online at HMV etc. A must have in your Enz collection. http://www.hmv.com.au

Didn't sleep at all last night, shouldn't of had that Bourbon and coke that Mark made for me....coca cola just keeps me awake.

Catch up with Jackie at Babble and we both end up having laughing fits, must be the lack of sleep or maybe a residue of forest air in my brain.... the conversation gets "R" rated and I think we terrify a few people.

Watch the people at The Beacon unpack their Dali exhibition. It's called The Dali Universe and is on for a month in Melbourne. So great to see so many pieces, it's a good one.

Have lunch with Di, Dave and Greg from the 'Hooks at AAV. I sneakily surprise them and it's all paid for. Was good, I was going to live on water today but hell one Vodka and tonic is ok....isn't it? It seems to go for hours and I arrive home and ponder the pile of work that hasn't been done. Bad Gryphon...work throughout the evening and get it done. Sleep well tonight, talk about catching up on some Zzzzz's.


---
November 23rd
Mark takes a few photos of me for the third book-GLAMOUR. One in my Mexican outfit for the Guacamole recipe. The moustache is so stupid....also a closeup hugging the big stone Gryphon. Handy using the digi as we can just erase the rejects. Send them to Spock to be added to the photo pile. For some reason GLAMOUR kept falling behind this year, mostly due to Wings Off Flies, it has the domino effect, one delay sends it down the line. So I am now attempting to have GLAMOUR out just before Xmas, which is fine. Deb has added it to the merchandise area of the website.



Search the internet for a logo that means "three". Am going to make a 'brand' out of metal so I can burn it into the japanese paper on the box...for the Hussy/Bang/Glamour box set...of course there is next to nothing that I want to use..the only decent logo was grabbed by the people who made the TV show "Charmed"...and I don't want my box logo to look like its a Charmed Power of Three package!!!! The box wont be available till next year so ages to think about it. At least "3" stands for mind,body,spirit. So Bang= Mind, Glamour=Body and Hussy=Spirit. NO!!! OK! It's also the traditional number of the deity too....box sets are cool.


---
November 24th
Jackie calls by and goes through my Celtic books looking for logos for someone's tattoo, we give up and head to Babble for coffee. After that it's off to Hand Works the craft shop so I can buy more of their blood red hand made paper for the boxes. It is so nice, if I was truely rich I would make wallpaper out of it!!!! She likes the box set idea.

Dan has kept a table for us at Babble, the line is out the door but we can just walk in, it's fast becoming the Studio 54 of coffee houses on Sundays. Thank the little Gods for Dan the man. Jackie is relentless and tortures the poor man. He's changed, in a good way, he reminds me of someone who now understands what life is about....and hey we always score a table.

Spend the afternoon sucking up all the sticky seed things from the tree outside, the hover is full..they are evil demon seeds...and drive us crazy as they stick to your feet. Nature makes weird bi products.

Deb emails me and the 3 Paul Hester items are going up for auction very soon. The money from these goes into the Frenz.com site account with Paul's blessing. The Crowded House collector fridge is a great fan item, plus the signed Tour intinerary...but I think the coolest item are Paul's stage shoes, he has done drawings all over them and they are the original Doc's that he wore from the very first tour...they have been on nearly every CH stage....anyway here is the link....both Paul and myself are supportive of this auction....so go for it. It's rare that stuff like this comes up.... More frenz.com items for sale on eBay! Check them out...


---
November 25th
This year I am going to try and send out a signed Xmas card to everyone on our list. Mark thinks I am totally insane, it's thousands upon thousands of people....but I did some drawings of a Rocket pocket Books Card and Spock made it reality.....so I thought what the hell. people have been so amazing around the Hussy/Bang/Glamour/WINGS books that it's a good thing to do and a way to say thanks.....plus there might be another small surprise included... so Stuart is onto it, our wonderful printer.....I think for Xmas people should send me a bottle of blister cream...what other crazy fool do you know who would sign that many cards!!!! *grin*.

Fave things:

DVD of the week- has to be the BUFFY the Vampire Slayer Season Five Box sets. Exceptional shows...including The Body. I think Season 5 is my favorite season of Buffy.

Item of the week-Louis Vuitton Luggage. The old style bags are so precious. Don't even want to know how much Vuitton costs... looks good though.

Fave colour- blood red (handmade paper)

Food of the week- beetroot leaves, carrot and apple juice...from that amazing Juice machine. It's more of a meal then a drink.

Book of the week- Just looked at WINGS OFF FLIES again and you know we are proud of this, it's bloody good even if I say so myself.

Person of the week- Dan the man at Babble...and Joyce (Buffys Mum!!).

"They are so wrong" line award- As you know SFX magazine is one of my fave mags but they have got it so incredibly wrong that Smallville will be the show to replace Buffy when it finishes. Maybe it's from higher up....after all SFX have a LOT of Buffy content/front covers.....and no show no covers....but guys get real..Smallville. It's ok but really. Time will prove us right on this one.....now Jayne will have my guts for garders on this comment (:..nah not really.


---
November 26th
Happy 33rd Birthday Toija.

She must of asked for rain to break the drought as it bucketed down today. We need rain here and the Gods were listening. I was snug inside with a window seat at Babble signing the endless amount of RPB Xmas cards watching pedestrians float by. This is my life folks.

The rain stops and I head into the city and grab some Skyhooks DVD's for a friend who needed a few copies. JB Hi Fi only had the one copy left and 3 Enz ones so someone is buying them. So funny to see people at the counter with Enz and 'Hooks DVds under their arms.I really wanted to say "hey good choice" but chickened out.

Alice sends me the new Jpeg image of Neil, I have the printers colour it for use in the Newsletter....a very Piha type shot. TVNZ give me a call, all good...and more revealed later on.

Speak to Marie Finn and they don't know if it's a boy or girl yet and I think they want to be surprised, I like that, the blue for boys pink for girls thing is just so dated, as long as your kid is healthy what else matters. She sounds great, and March is approaching fast...a play mate for Harper.


---
November 27th
An invite arrives for the Myers Xmas evening, I just think the department store will be too packed, too hard to do.

My friend Chris is in town and is in need of a swim so I catch up at the Sea Baths. I roll my eyes as every head turns to check him out, nothing changes but it is just strange. He tells me NYC is starting to get cool, which means cold will follow and then wind chill....guess it's nice to be home especially today where the sky is such an amazing blue. Did he sulk when I put on my 'Nature' underwear....I made a Calvin joke and copped a punch for it. We both agree the Nature line are really great, men's underwear has came a long way since bad tarzan print briefs! The salt water at the sea baths always gives me a new unique hair style...thankfully I now remember to bring some Fudge and leave the baths looking human....so hair, underpants all under control...you never know who's watching.


---
November 28th
Well Jackie was meant to go to the Northern Territory today, she somehow got locked out of her apartment, in the car park in her PJs and missed the flight.....hopeless or not meant to be. I notice our political friend is back at Babble, give Tony one of those good luck motions. Prahran is such a hard seat to win as it includes part of Toorak which is pretty blue rinse Liberal. You can feel a change is in the air though so I think he has a good chance.

Have settled into my swim routine, just two days a week, three if I am very good. I like driving down to the Sea Baths, gives me a chance to play some new music in the car.

I take the roughs of Paul Hesters solo CD with me and it truely is a fine album, you can always tell when something is good as you can't turn off a song till it's finished...so I sit in the car park and have a listen.


---
November 29th
We want to know who the f*ck dresses Holly Vallance- they must go home every night and have a chuckle. High heeled hooker shoes with rolled down leg warmers and some horrible outfit...there is a line that you can cross where cool becomes torrid...and Holly has bounded across it. Bad look award goes to her for sure.

The world is calling Bic Runga today, impossible to get through on her cell phone. I give up.

Summer is so close now, it's going to be a hot one here in Oz, we have a plan to drive the whole length around Australia- all way using Highway One. Will take a month at least but we are keeping clear of Summer. Not into driving while the tyres are melting. It's one of those things that we just have to do, the ultimate Aussie Road trip.....so I guess we'll wait for it to cool down before doing the big drive. When you think that Australia is the same size as America you get an idea what a major drive this will be. Cool though and something I have always wanted to do.


---
November 30th
Election day for Victoria, have a good feeling about this. You knew Labor would do well when the people on the Election Panel (ABC) called a Labor win within the first hour of votes being counted. The newspapers were right and all the Polls, it was a massive win- as large as you can get- the biggest win in Victoria's history. At the end of the night it left Labor on the brink of gaining control of the Upper House which is incredible. I was so happy for the "Greens" too, who scored a huge 9%+ of the vote...a good thing for the environment and will make the parties listen to environmental concerns. The Green vote was a major youth vote, which shows that young people can be heard. The best news was that our Babble coffee drinking local member Tony Lupton won the seat of Prahran. We knew he had a chance but he must be over the moon. The Liberals spent a fortune on Prahran as far as advertising etc...so it's pretty impressive...there will be a few tears shed in Toorak tonight. Good I say.

Now Labor have to live up to their promises, and I think with all the support from the Greens at this election the environment will be moved up a few notches on the list of importance. Good to see.


---
December 1st
Summer is here, I sleep in whilst the solar converter is going crazy. The energy box is converting so much power and the numbers are rolling back. So it's the time of year where our electricity bill is 2/3 cheaper from all the sunshine.

Head down the road and buy some grocery's and all the newspapers say the same headlines WIPEOUT-Bracks destroys Liberals. Melbourne has a good feel to it today, like something good is coming along...maybe a politician who listens (scary thought).

Have a good Summer/ Winter depending where you live.

Surfs up!

Peter

Remember there are some cool Hester/Crowded House items at the Frenz.com auction, a good thing to support. More frenz.com items for sale on eBay! Check them out...

---
If there are any problems with this site, please contact webmaster@aswas.com.