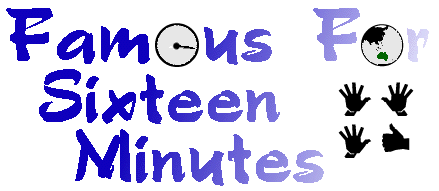 The Life and Times of Peter Green
Archive: 21 January - 3 February 2002
---
January 21st 2002
Welcome one and all, to another fine 2 weeks of life. Survived another two, even a week of ugly computer "stuff". Seems like everyone in Australia had major computer P.I.T.A (Pain In The Arse) computer problems this week.

Telstra computer geekman tells me my modem was about to break the 'land speed record'- oh cute humorous joke... see me laugh out loud...oh not me. He becomes my new bestest friend and won't get off the phone, he's only doing Telstra work till he finds a real job (I do suggest the Comedy Company seeing he is so chucka-laughable (yep made that word up)....and in the long run I still don't think my modem has been slowed down enough ..oh well, this wacky computer age we live in. I'm bored now. Death to computers.


---
January 22nd
Get our Bardot world schedule in, spending a fair whack of time in India and Sth Africa, some of it following the Popstars tv show, which is just starting in these countries.

I just want Neil Finn to announce his USA tour...foaming at the bit to go, I know there will be some horrid "budget" around the tour...but she will have her way NF! I will trust me....

We finish up on our rather spunky kitchen wall, all those Tunisan handmade ceramic tiles. Yes we ended up with Nth African tiles not Mexican- we shall just appreciate them, I will not blow up tiles shops in frustration. Still they look pretty good. The Indian tiles blending well.

What a task, all one on one stuff, but it's seriously 5x5, people ask who did it. We bow. If that stray meteor hit Melbourne I could guarantee this tile wall would be left standing...it's a symbol of mans strength, ok it's really a symbol of 5 containers of glue and 4 packets of grout. Sue Storms invisible force fields are not this strong. I think about quitting the music industry to be a Tunisan Tyler. I blink and think about all the hard work. We add some small sea urchin shells, and some subtle strokes of gold leaf. Very happy. I tell Sharon Finn that I have the bug, I could tile the whole house from roof to floor and all levels.....of course she encourages me no end.

Hang out with the Yeti and make some killer sandwiches for lunch.


---
January 23rd
As promised the super Guacamole recipe, fast easy and always a bowl licking experience.

2 avocado's. When you scoop out the avocado never use any of the brown (urgh). Mash it, use a fork.
1 green chili, or if you like it hot- a red chili pepper,cut nice and fine.
1/2 cup of red onion (not white), chopped fine.
Cut a small lemon in half and squeeze the juice (tablespoon)
1/2 teaspoon salt.
Some ground pepper.
I small tomato, chopped fine.

Mix it all together, and it's best to make 1 1/2 hours before use. Pop an olive on top (or if you like olives cut 2 up and add). Don't forget the corn chips.


---
January 24th
Speak to Nigel Griggs today, mostly about Enz imports and growing herbs and how many Echidnas are on our properties. Another of his cats is about to die from old age, sad, he loves those cats.

My single of the week is THE WHITE STRIPES with 'Fell in love with a girl'. The other two tracks on the cd- 'let's shake hands' and 'lafayette blues' are equally as wonderful.

The Detroit sound of brother and sister (Meg & Jack White) is truely wonderful. One of the reviews did mention though how quickly all three tracks zoom by, you get the impression you only heard one song. It's a great sound, it's fast and furious and I love this loud and on repeat. The White Stripes put on, what could be 2 gigs of the year at The Corner, even the critics were giving the thumbs up- for once some of the hype is real. More power to them, they could be my Green Day for 2002.


---
January 25th
Just made my Amex payment by a cats whisker, the Amex boy is great, cracking each other up- I can imagine some of the credit card people who phone them. URGH.

Stuart calls by with his ladder of love so we can start painting the front of the house, it's so high that regular ladders are no good. Lisa is about to give birth to her watermelon in a few weeks, I'm sure this hot weather would be no joy for pregnant woman everywhere.

An invite to Mark Rydens opening reception for CSUF-Grand Central Art Center-at Santa Ana arrives. Sadly no accompanying first class air ticket. It's for his new series of paintings "Bunnies & Bees". "Paintings created to illustrate DIVINE TRUTH in accordance with the secret principles of SCIENCE & SOUL". he seems to be using a lot more black in his paintings these days. Mark Rydens Black period!


---
January 26th
Happy Australia Day. Wave that flag Mum.

The Australian Day Music awards are on, the Bardot's perform- 2 songs, the public go off, Bardot hysteria. They come in at #2 for Australian act of the year, the always loveable Kylie is #1. As she should be, she sold a lot of cds. #2 voted for by the public, for the whole of Australia is pretty amazing, so I'm happy, their happy, we're all happy.

I had some Vegemite today, washed my Blundstones and cleaned the Holden, oh took the pet Kangaroo to the park too (his name is Bluey). So it was a regular old Australia day.


---
January 27th
Meet Rosemaree at Babble for breakfast, possibly the Boothoid was turning up but a no show, think she is still celebrating Australia day!!!????? Babble is packed, thankfully Michael has hidden our reserved table.

Scotty who use to be a Blue Elephant Boy, turned up with a bottle of ice cold champagne, wanted some advice on his upcoming solo career, so we rave for an hour.Nice guy and he isn't stupid so he might be ok. Tells us many fine stories about rent boys in the suburbs, mostly about how all these married men in the outer Melbourne suburbs have been paying for various transsexuals to call by when their wives are out...and...well you know. I was just amazed that the outer suburbs is a swinging hot bed or perverted sex. It's always the straight married church going men that are the biggest perverts *grin*.

Nathan the Enz- ex manager drops me an email, really nice to hear from Nathan, he was a good boss, and I'll always have fond memories of those Enz days.


---
January 28th
Long weekend, another holiday, don't you Australians ever work (:

Reg Mombassa calls, and I chat to Pete and Susan O'Doherty too, looks like we are all going to stay at the same Hotel in NZ for the Finns party. Which will be as much fun as the party. Hope Deb and Marky B can make it over too. Susan and myself are demanding, a hotel with a pool, good old Alice at the office locates one for us, we can even stumble home from the party. Have to start work on the costume with Rosemaree soon.

Do some rough art for WINGS OFF FLIES photo book, we put it back by 8 weeks while the printers had their Xmas month off.


---
January 29th
Looking for ward to Joss Whedons Sci Fi drama FIREFLY-thumbs up to 20th Century Fox for committing to the $$$$. Not sure how Joss will find time, he seems to have a lot of projects on the boil. Not too long till Buffy returns to Australian TV- finally!!!!

Hmmm think I will describe my desk to you, one of those random things- like a spot check at a Catholic Girls school!

The purple Imac is on the far left, a Rannor Daino spiral writing book (gift from a diary reader) is in front of it, the REAL diary on top of that. The mutated OMNI phone decoder next to the computer, so we know ALL numbers who call. A pile of art show,movie show invites, an empty can of S&W coffee, filled with derwent pencils and textas, picture of Vali Myers and Beenami against the wall, Hard Rock Cafe long shot glass from my sister which I use for art brushes. Gryphon coffee mug filled with fine pens, a hairy Bull card from Deborah and Marcus, the original Enz metal template for True Colours (its in bronze) I use it for a drink coaster, plantronics head set for the phone lines, picture of Eddie Vedder-siper close up fully eyelinered, a flying saucer rubber stamp and a I WANT TO BELIEVE postcard signed by Mulder. Picture of Skyhooks the first time they performed at Sydney's Bondi Lifesaver...blood red & gold cup and saucer with some virgin garden tea in it, BANG mouse pad, huge high rack of negatives and media photos, my lucky coin in a box that I found on the beach, That's kind of it, sounds cluttered but it's not- well not really. Have no idea why I am describing this.......


---
January 30th
We miss Betchadupa at Revolver today, was going to be interstate but end up being miles away up in the hills. had to finish more work at the Forest place. Annoying too as Liam called and left a message that our names were on the door. The Jagger tv special is on tonight and MG copies it...I thought it was going to be horrible but it was ok, very over the top but had some good moments, one of them NOT being Keef looking like some strange old man going fishing. Keef Keef Keef... we love ya but lose the glasses.

The first Twin Peaks season one is on dvd, we've watched all of them now. Am trying to figure out, if I was on Twin Peaks who would I be? I think I would be the Log Lady!


---
January 31st
Meeting with Spock, he's working on covers for WINGS OFF FLIES as well as GLAMOUR. FLIES will have to be the priority soon, some times we just get bogged down and side tracked.

Call Liam and he sounds good, Betchadupa's are getting a really strong reaction here in Australia, they are special guests for The Tea Party in a few days, at the Palais Theatre, the same Venue where his Dad played countless times.

Well we did achieve one thing, we now have another run of HUSSY books. So if you missed out the first time, we now have HUSSY (and BANG) available via the merchandise side of this website. So BOTH books are available for all you readers. Both books DO hold the secret of eternal life. Would I lie?


---
February 1st
What do you mean it's February, it can't be another fast year, am trying to squash as much as possible into each day but I still don't have enough time. Need to put the breaks on soon.

Start learning a few words of Russian for our little side trip from Venice later on in the year. Russia glorious Russia, will be great.

Did I tell you dear diary about the dreams, been having them a lot lately, that within the next two years a nuclear bomb explodes and it's target is England. It's horrible, they are so visual. I keep trying to see a date but everything is just flash and burn. It's one of those dream states where you jump awake and beads of sweat run down your forehead, feels very very real. So I'll be making less trips to London, you never know, dreams are kind of potent things.

The lighting ,thunder and massive amounts of rain hit Melbourne. I open the main balcony windows and cuddle under the cool crisp sheets. The lightning is outrageous, everywhere, super strobe ...flash flash flash. The storm continues most of the night...


---
February 2nd
Think it was the weather last night, need massive amounts of sleep today, wake up, eat shower, sleep, continual pattern, I surrender to it. The sky is grey and darkness comes early.

Speak to Greg and Bongo Skyhooks- they are playing with some other famous faves as GOOD ROCKIN' DADDYS, free show at the Fitzroy Gardens. Bongo calls just before to make we knew it was on. So head off with Tania, Rosemaree and Mark, take some wine and sit under the huge trees in the gardens. It was fun, had a bit of a dance, Mark was more interested in the two whippets chasing each other. Consider the weather a few hundred people turned up and it was fun.

We came home and watched ELECTION, yes that C___ Tracy Flick. (:


---
February 3rd
Happy Birthday Tania.

Overcast day and our Bardot girls are in town for a big free beach concert. Head on down to Elwood beach and Melissa from the record company is there with my passes (god bless ya Mel.). Bardot's new manager David is down here too, after a wobbly start we get along really well now, and the work side is good.

Help the girls with some last minute stage gear, a new designer dropped in some tops, and we made a few additions (chop chop), the main concern was whether the red dye was going to run from stage sweat. It's always a good time with the girls, just fun people. They give me heaps about Melbourne's good weather, was meant to be 36, it's actually 18!!! They take turns living in my stage wet weather coat.

I still turn away when they are stripping off, they still give me heaps and I don't know I just go red. Think there are between 5000-10000 fans here, the front few rows full of regular faces, Bardot kicks Arse signs, heaps of people in one off Bardot tops. The crowd just wants to have some fun. At one stage Sally jumps over the barricade and gets a close hand meet and greet from the fans, kind of funny as Sal is a short arse like me so she has to go the LONG way around the stage.

When it's all over its a quick meet and greet, I throw some signed frisbees out and nearly take a few fans heads off (sorry). We drive down the road to the beach, about 12 cars following us. The Melbourne papers wnat to do a photo shoot, Tiff wont take off my event wet weather coat, it's not that cold! I watch all the people walking along the beach go all starry, just weird, they generate some sort of Pop iconism that I rarely see these days. Boo stays in Melbourne and she can hardly talk (again). I really love how they know who heaps of the Melbourne fans are, by name, really good, not many groups do. They always talk about so and so in the audience. Mark breaks out in a sweat that Belinda may be only a wall away from him, he's now a nervous wreck again. Bardot make him nervous. Bardot in the same house terrify him(:

Say goodbye and they jump on the 6.00 flight back to Sydney town. I make it home just before it starts to rain. Ah Melbourne we don't have a Summer here.

Surfs up!

Peter

---
If there are any problems with this site, please contact webmaster@aswas.com.