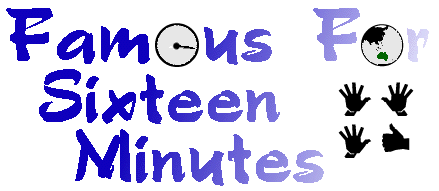 The Life and Times of Peter Green
Archive: 22 July - 4 August 2002
---
Paul Hester was the very special guest at the WINGS OFF FLIES (25 Years of rock photographs) book launch held at: Greville St Bookstore-145 Greville St, Prahran Vic. 3181 Australia on Thursday August 1st 2002. 7.30 PM.
---
July 22nd 2002
Good to see Bic Runga's second album 'Beautiful Collision' in the stores today, HMV tell me it's their third biggest selling album of the day, hope that trend continues.

See George the printer to get some Rocket Pocket Books Tshirts done for the upcoming book launch, catch him reading a copy of Bang! Is this a good thing *grin*.

Nicole arrives from the States today, back in her lovely Melbourne, hope she has a good time in Yeti'sville.

Wake up incredibly enthusiastic, one of those days where I try to get all the old work done in the office, tidy up some loose ends. Life is good.


---
July 23rd
Stuart calls by with the invites for the 'Wings launch' they look great, we start sending them out straight away. I'm happy if we fill Greville Books on the night, which is around 70. They usually get 40 or 50 people and Jurate tells me the record amount is 100.... so I'm going for 60. Anymore and Mark will be hiding out back.

Head off to Giza to visit Edward who is back from his 'cutting the heads of hair for the royal family's of Europe' tour. He had a good time... after all the short short short shouts, my hair is staying long long long.... a bit of a dye job- rustic red but with the new range of dyes where your hair isn't bleached....nice colours, I look like a living sunset walking down the street. Nothing more classic than PG bolting out of Giza with foil around my head and the black plastic coverall..heading to the public car park to move the 4wd. Always gets a few good looks...my plastic coverall really looks like Batman's cape.!

Go into Myers and pay off the last of Marks birthday present...it's a Saeco Magic deluxe, a rather funky coffee machine...track down an autofrother for it, so Cappuccino luxury is all ours. Sneak it inside ...hard to hide a huge multi functional coffee machine. I walk out with 2 big bags of coffee and tell him that it's $10,000 worth of cocaine hidden in coffee bags. They do look suss.....for a mere 2 seconds he does get excited about being a cast member of the 'Blow II' movie...but is even more impressed when he sees the coffee machine (hell caffeine is a drug too).

Head to Amigo's for the birthday swap around with Trudy and Robin, every year we take turns paying for the others in the group....Robin and my birthdays are close together, Trudi and Mark's the same.

Mark stresses we must be home in time for the last Buffy which was great. The last Angel was average. Buffy has clawed it's way back with the fans. A few more good solid shows will keep it the firm favorite.


---
July 24th
Bic plays Largo tonight, we get some of the Bic Club members in for free (thanks Campbell). Sounds like it was a great show.

Have our meeting with Jurate around the launch, we have already had 10 RSVP's in one day....impressive. Must be my Mum calling under fake names...

Midday meeting at AAV for the DVD...it's 2 steps forward one step back... so progress is slow. Coming together though on both of them, need to stay focused. I try to finalize everything but budgets get blown out and things change...go with the flow. Not a lot stresses me these days.


---
July 25th
The film crew are locked in for Skyhooks, Red Symons tells Mark he is off to Queensland to be a celebrity on Big Brother. Isn't this the same guy who wrote an article in the newspaper saying he would never do Big Brother? So weird he has this anti Skyhooks thing going down...bet he is the first to cash the cheques though. I read a piece in the paper today saying just how all the celebrity's on Big Brother are 'D' list at best, no real celebs want to go on that show...it's truely shite. The one good thing is that a charity will benefit- it is the only good thing. Would of been nice for Reds kids to have him on the DVD interview, but his call we just live with that. The one thing is that he really believed the interview would be cancelled because he wasn't attending...maybe Ego IS a dirty word after all.

Greg Mac calls by and he gets one of the WINGS books, he penned the intro on the dust cover and it was kind of him...glad he liked the book so much.

My favorite book at the moment is 'The Good Women of China' (Hidden Voices). I love Amy Tan's quote ' When I finished reading...I felt my soul had been altered'. It's a collection of the lives of several anonymous woman from deep in the heart of China, extreme stories good , bad, ugly, passionate... you can hear their voices. It started as a radio programmme in China where Xinran invited Woman to call up and talk about themselves. It's a great book.


---
July 26th
Happy 50th Birthday Bongo! Yeah 50 hell you look 35!

Up bright and early today for the big Skyhooks Video shoot. Going to happen here at home, the main lounge room is best with it's huge blood red curtains and the columns and the big chunky couch.

The crew arrive and start setting up, lights , camera action everywhere. Dave from Mushroom is on time and we have Christie Eliezer asking the questions. Christie is a mate from years back, he was the back bone of Juke magazine, so it's good to have him on board. One of the good things about Reds no show is that there is enough room on the couch for the other three 'Hooks.

Imants (Fred) turns up first with his new girlfriend, he came down from Queensland for the shoot, I joke that his new beard makes him look like Abraham Lincoln!!!

We have an idea about each of the three guys individually having a 15 second optional tag on for the video clip area....so each Hook mentions something about the filming etc of that clip. If it comes off it means fans can click that on as an additional bonus when viewing, or go direct to the clip. So we have the three 'Hooks watching clips upstairs in the main bedroom, Mark is running people up and down the stairs...keeping it rolling along. The cool thing about the interviews is that there is such a wealth of Skyhooks stuff that hasn't been talked about before. They do their 'clip' bits pretty well, I give Fred the "I am really well hung...' line for his bit in the megalomania clip and the film crew crack up when he says it. I spend my time in front of the camera more as a prompt just so they know which clip they are talking about etc...easy to edit me out that way. The camera is not my friend. (:

The main shoot goes well, all three Hooks on the couch and some good replies, Red cops some flack from Bongo and that really makes everyone laugh- not vicious stuff just funny, Bongo is in fine form. Fred is a riot and Greg is a good balance between the other two. Overall a good interview and we walk away going- wow we didn't know that.

Bongo gets a signed copy of 'Wings off flies' as one of his presents and he goes 'wow is this THE book..' digs it (Phew!)...I think we are getting the mighty thumbs up as far as Skyhooks and the photo book goes. We keep telling people they can get mail order info from the Rocket Pocket Books website: http://www.rocketpocketbooks.com

Anyway shoot over, and everyone seems happy. Dave gives us the well done signal and the 'Hooks head off. Bongo turns around when he leaves and comes back. I think he forgot something, instead he says' I just wanted to say that we are really proud of you guys..". Kinda makes me a bit teary. We love these guys, so cool that after all these years since the band split that they (especially Greg and Bongo) play such a good role in our lives. It's all a bit special.


---
July 27th
Happy Birthday Mark.

Yes the best mate is having another birthday and he's fighting it all the way. No idea why as he is one of the youngest people inside that I know... what's an extra wrinkle- just keep enjoying life.

Rebecca turns up with this really great cactus...which ends up living in the kitchen...it seems to fit with the Mexican style decor.

We planned just to cook dinner and then head off to Bongos mega 50th birthday party. Ben calls and says that Nicole and him are dropping in...so I decide all of a sudden to cook us dinner. Plus I reckon it's our turn, he made this really exceptional roast the day after he cancelled, and I tell you the Yeti in the kitchen is a good thing- always a damn fine feed... so yes he did get in our good books again...and yes I forgot to put that in the diary......how could we forget...probably all that lovin' from the oven!!!!!!! Big food love from Preston is a hard act to follow. I do try and whip up some spinach cannelloni and homemade soup. I give Rosemaree a quick call but she is having dinner with Tania so it's just us four.

Later on we head to the Botanical for Bongo's 50th. Still can not believe that he is 50, kinda weird. The place is packed and so many people we know. It makes our night complete when we run into Tony Williams, he was lead singer for Skyhooks after Shirl left, he tells us that he and his lovely wife are coming along to our book launch so that is great. Bob Spencer is also at the party and some of the Melbourne Hooks crew etc. Bongo is onstage for a part of the night, ends up doing 'Hey whats the matter' with Ross Wilson and Greg Macainsh in the band, it's a pretty bad version, well no rehearsal etc but it's all fun. I like the idea how all these people are friends of the band or Bob, good to be amongst it. Indianna, Bongos first child is now this stunning woman, where have the years gone, she use to be a little kid...makes me wonder if 50 is getting closer for us too. No never! We pack up our walking frames and head home (:


---
July 28th
Split Enz 'Mental Notes' debut album was released 27 years ago today. The damn thing still hasn't gone Gold in Australia. We keep hammering away.

Weird day, wake up a bit miserable today...think I'm just tired, been a long week. Greville Street Bookstore calls and it looks like I got my wish, 60 people have now RSVp'd so I'm happy. Yey.

Watching cable and Primal Screams 'Miss Lucifer' clip and song come on...I really really like this, gawd wonder how much their clip cost. Great production on the song too.


---
July 29th
Babble finally opens..yes MG you were right, they wern't closed for just the one day, it took over a month. If any people are in Melbourne and want a good place to eat (they are open for dinner now too) try babble- 4 Izett St, Prahran. Ph: 95106464 for dinner bookings. It looks great, if the Brady Bunch owned a ski chalet this is what it would look like- love the lights and the fire place.

Spend the day working on the Enz/ Hooks DVDs and several interviews for 'Wings off flies'. Get an email from our home town Newspaper The Mercury and they want to do an interview...I'm into it- someone suggests the title 'Wollongong Boys Make Good...' love it- would frame that one. Have to do it next week- totally committed this week.

Talk to Mark about this first run of 1000 hardcover copies of 'WINGS...'. We are seriously thinking of keeping it as a one off run, just so it becomes a really good collectors item. A lot depends on the distribution company later this year...but in the end it should be our decision. A good one for the fans too- think people will love it.

Jane sends me the latest copy of SFX, some good reading in this one...still not convinced of the anti Buffy pro Angel letters...then again they might be a few months old. Buffy is still the one on the cover *grin*. Hmm nice bonus surprise, a copy of LUST...looks like a fun read....with a dark side. Thanks J.D.


---
July 30th
Fave colour- rustic red

Fave person- birthday boy Mark Goulding.

Fave Book- Oh I am tempted to say 'Wings off flies'....but i'll go with 'The good women of china'.

Fashion objects- am finding multiple neck chains rather fetching...the black leather version of what women from Africa wear.

Drink- AquaQueen spring water

Creeps- people who hurt animals.

CD- Mark Goulding Compilation #3 and #7.

Expression- Who Lives....

Sex Objects- Anya (Buffy) , Mark says Michael Rosenbaum (Smallville), I say John Schneider 2002 version...not Dukes of Hazzard!!! (Smallville) oh and the female computer on Andromeda is hot too.


---
July 31st
Breakfast at babble. There are 18 lightglobes in each of the chandeliers at babble...thought you should know that......

Spend the afternoon making 180 Kofta balls for the Book launch. At least they are out of the way.

Have my meeting with Jurate who is going to do a full window display for us in the bookshop...you know how I really wanted 60 people at the launch (Greville Books holds 70 max.) well we are now up to 110!...and growing. Opps.

Get out the old Crowdies silver stage curtain to use behind Paul. Hessie is going to play 4 or so songs...should be good. One will be Goaltending, I like that track.

So we hear Rob Lowe has quit 'The West Wing', I think money must play a part. He gets around $75,000 an episode and Martin Sheen scores $300,000! He will be missed.


---
August 1st.
Wings off flies -book launch- Greville St Bookstore Prahran.

Battle stations. Spend the day running between the shop, home and stores. Dan Murphys is fairly close and they do a major deal on Chandon Vintage champagne and loads of other booze. I'm wheeling this massive cart stocked to the teeth and could I move it up off the road..no way ...thankfully one of the Rumba Festival guys was nearby recognized me and ran to help... thank the Rumba Gods for that one.

The back kitchen of Greville Books is packed, Jurate and staff are there to help. Dugald (bless him) turns up in the afternoon to help set up...makes me laugh as only Duges can do. He has a good heart, just gets in and does it, good to know we can depend on him. One less bit of stress. A bit hyper but not stressed. The front window is covered in 'Wings..' cover posters, so are the shelves and tables. Is this the only book they sell *grin*.

I haven't slept as I kept having my stupid thank you speech rattling around in my head. I cross off the final things on the check list and bolt home for a shower. The RSVPs are around 150...and we've stopped counting, though a friend will have my clicker near the door, just so we have an idea.

We arrive early to set up and already 20 people are inside....sometime from when we arrived time went out the window and suddenly the shop was packed...I am talking major cooking in my angora black punk top. My patent leather pants are (thankfully) lined with this cool fabric so I'm not melting like the witch of the west.

Jurate is great, keeps sending me people who want books signed...Mark has said he isn't signing....I let him do what he wants his launch too, his call. I know the girls with the big sad eyes will win out in the end and get stuff signed. At some stage it gets out of control and people can no longer get inside, the front of the store has close to 50 people wanting in. The champayne is flowing, I grab a bottle of Chandon Vintage for Greg Mac. and Ros from the Sydney newspapers. She has a photographer taking various shots. Hessie arrives to a round of applause which I thought was nice and I jump on the microphone for a quick intro.

can I say Paul Hester you are a damn good mate, every song we get this rave, ok sometimes at my expense and I love the PG in Helsinki Crowded House story...(dont ask).....I did get inspired to sign some books with 'Helsinki Rocks...!!!"...I love the new songs, 'Goaltending' gets a great reaction as does Paulos stage banter.

The one thing that everyone has said about the launch is that the people who attended were all really nice, wasn't one horrible person, people were having fun, hanging out.....can't remember having one full conversation though (sorry about that). There were Tony , Bongo and Greg from the Hooks, Hessie from the Crowdies, Katie Underwood (Bardot/ Undercover Angels Tv show) came along, 2 girls from Neighbours, and Vali Myers arrival brought the house down. She flashed her gold teeth and it meant a lot to us- she never attends launches. How damn special did we feel. Nearly all our mates and they were pretty proud too.

I confess all day I was terrified my damn speech...I hate like really hate giving speeches....so in the end I simply ripped it up and winged it. I probably forgot to thank some people, so if I did sorry...it seemed to go well, a few good stories...and in the middle we presented Greville Books an award for sales of Hussy and Bang! (hey our first award from RPB). At least I got a huge cheer and not bombarded with Kofta balls....and what about Bongo Starkies 'Man behind the man' line... I nearly gave him some back about being 50.....but I was being charitable (grin).

To sum up Rocket Pocket Books first launch, we broke the attendance record for the shop by 100 (around 220 people came along), we out sold all the other book launches by about 20+ books....but you know what, the main achievement was that we did it, I think everyone had a good time. As we neared the closer end of midnight, it suddenly started raining...the omen to finish up. A few diehards headed to the new Babble to party on. We headed home....a lone toast of some excess beer with just mark and myself. Thank you everyone for making this a night we will remember for many years.


---
August 2nd
Vali Myers birthday...already. Think she turns 73...have promised to catch up next week....thought it was classic that Mark was complaining about his age to a 73 year old at last nights event (:

We get numerous calls and emails...did anyone not have a good time.?

Ben and Nicole call by, the Yeti is on the receiving end of one of our more playful moods. We all end up at Amigos for some serious Margarittas... try to encourage a few people to head into the bar for a Sambucca or two but they are not playing.....glad they talked me out of it..been a few days with no real sleep so I think I need to catch up.


---
August 3rd
'Andromeda' debuts on Foxtel, I really like parts of it...Mutant X isn't as good as we thought...or maybe the characters need to develop a bit.

Pick up Tania's shots from the launch...oh well win some and lose some... she tried.

Call Neil in NZ, think he likes being home. Mainly chat about DVD stuff, he sounds good. Tell Sharon about the launch...she has a chuckle...wish the Finns lived in Melbourne still.


---
August 4th
We all assemble at Babble's main table for a Sunday Birthday breakfast for Marky- Becky, Tania, Nicole, Fran ,Rosemaree and us....kind of spontaneous but Mish has the table reserved for us. It's a good way to start the day, and we notice that nearly everyone walking by had the same hair colour as Becky and myself...kinda weird.

Greg from the Hooks calls by in the afternoon with a box of camera tapes of Skyhooks rehearsing at reds and in the studio, probably the last time they got together. Shirl's wife sent them down, so we are hoping there will e some good bits for the dvd.

Notice Bongo and Katie got a shot from the launch in the Bongo article in the Melbourne paper. Mentions the WINGs launch so thats kinda cool.

What full on week.....hope it slows down next week. Next Sunday we have decided to have a table at the Camberwell Record/CD Fair at Camberwell Civic Centre. It's on Sunday 11th. So come on down and say HI.

Peter
(who needs to catch up on his sleep.)

---
If there are any problems with this site, please contact webmaster@aswas.com.