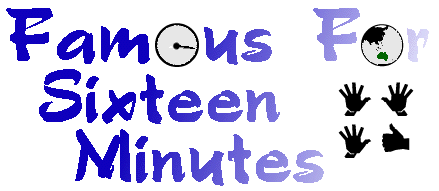 The Life and Times of Peter Green
Archive: 23 September - 6 October 2002
---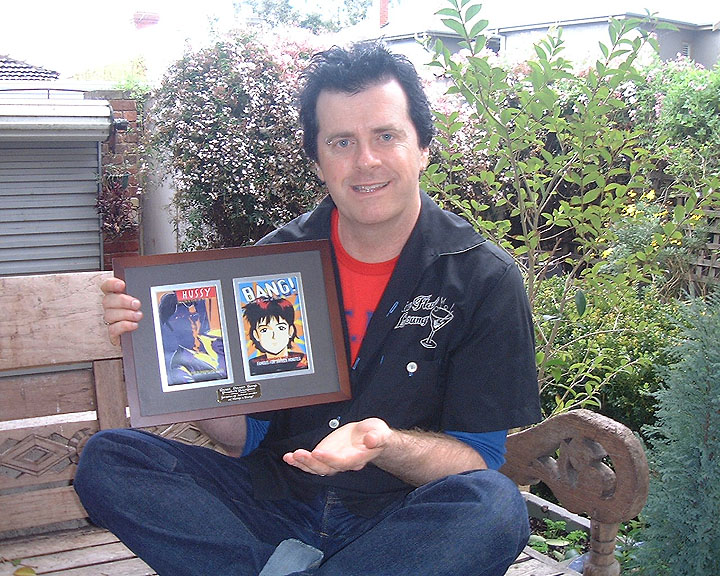 September 2002- PG receives sales award for both Hussy and BANG!
Thanks to all the supporters of the F/16 site and especially those people who have enjoyed the website enough to go and buy the books. Brilliant!

---
September 23rd 2002
We took the phones off the hook today, endless calls regarding Bic Runga's shows at the Cornish Arms, endless emails too. It's really weird, kind of like Melbourne has really discovered and fallen in love with the Bic gal, far more than any other state of Australia. All 4 shows sold out quickly, people can't get enough- hope that translates to album sales. Will be nice to catch up, hopefully get a chance to hang out.

After a week of pushing Neil's '7 Worlds' DVD it looks like it has paid off, the DVD re entered the DVD Top 40 at #19, it's in all the shops again, guess people are buying it in case it ends up deleted. A lot of people are thinking about DVD players now, as several companies like Phillips etc have issued statements saying they are going to stop making VCR. Video is dead!

Returning from the supermarket and you know what it's hot outside, can't remember when it was hot...the weather is turning. Sitting under a palm tree in the heat is none other then Vivienne...I wander up. She's waiting for her Yoga class to begin, this is good, Yoga is good. My hopes fade when she tells me the instructor is 76 years old and the class are all in their 70's and 80s. I think it's brilliant that they are active but I question why Vivienne is in a Yoga class with oldish people... maybe she is even older then we think- such a Sphinx! She makes me laugh- I consider running in for the class....but the prickly heat, those 70 year old stockings...urgh back to sit ups Mr Green!


---
September 24th
Grab some stamps for a mail out of Tim's Aussie dates, he seems to be playing a lot of 'day on the green' shows...an absence of Victoria and Qld dates. Weird.

A dry electrical storm hits Melbourne, parts of Victoria are turning to dust, we make an effort to be more focused with our water consumption. I consider getting a run off barrel out back for the gardens.

Email Robin for our tax, we are good boys, the tax man won't be fining us- I hear tax fines are about to jump up...is it $500 late fee per time. Yieks. Robin nods like one of those car corgi's and scribbles some notes...she just does it...makes me feel relaxed. Mark will always complain about this, he pays so little...we are lucky. The receipt pile has reached the roof now...we claim less then 1%. Urgh.

Tim sends me a few new "possible" song titles, then a panic email not to mention them as things may change around the titles for the Finn songs, all ok as we can wait, at least they are recording, that's all I need to know to keep me happy. More Finn songs, more Finn dates...2003 will be a good year. I think it's great that so many of our Enz boys have just gone ahead and released CD's- Nigel, Eddie, Tim, Neil, Hessie....O like people who have some faith in their music, to actually release it.


---
September 25th
Try calling Deb V. to go to Bic Runga with me as Marky was Mr Home-body, but the phone just rung out- guess she's away. So I head off to the Cornish Arms at Brunswick....I know there will be some people I know at the show. Bic gets the time mixed up and I miss the first few songs. Walk in and Angie is on the door, she's a regular face, loves the industry etc, makes me laugh but one of the Lang Street "Sisters" David is in attendance, his record shop is selling the Bic cds, by the end of the night he sells out totally. Good to see. I look over and Shannon is on lights, grabs me and I squash in behind the light box, a great spot for the show, nice and hidden so I think.

A few songs into the set and Bic stops the show, I wonder what's wrong as I've never seen her do that, she says "I really want to say a special hello to my friend Peter who I've just spotted up the back". I think she has keen eyes and then I see a small wall light giving my a halo...this r/r angel slips down the wall...nothing like 600 eyes watching you. Yeah I know a sweet thing to do, but you still feel like a bear in a cage at the Zoo. Gig is great, she is singing so well, and fantastic that it's a smoke free gig- this I LOVE. The crowd really want an encore and a few requests are called out.

Chat to some people and watch Bic signing away as she sits on the stage, the fans are really patient, kind of sweet. I give some girls a few Bic postcards so they can get signed. The crowd eventually fades away, and we sit and go through the Wings off flies book, she says she's so proud to be in this, and means it, no wonder we dig her. We talk about the shots, and she says the best thing is that it's a lot of "real" photos of her, not media shots....so you get to see the other Bic not the public Bic. her tummy growls so we head off for food. Everything is closed, we do some major driving and nothing is open...weird. Eventually head back to the city and we find a very funky food place, they have ovaltine milkshakes to die for. It's been awhile since we have just hung out- so this was extra special for me. She is one of my most favorite artists I've ever worked with, and I know why. head home after a quick zoom by the hotel. The night ends well as Mark is sitting up watching cable waiting- shit I'm a lucky person.


---
September 26th
The paper has a piece on DVD players, says that 30% of Aussies households now own one. I'll be glad when the Enz and Skyhooks DVD's are finally out (NOV 11th).

Head into AAV for another DVD meeting, just editing and sound stuff, watch some roughs. The Skyhooks menus are brilliant, and the clips etc look really nice and clean. I arrive early so go buy some flowers and cake for the house. The flowers are massive, huge lili's and the red bird of paradise that are only related to the Bird of paradise...meeting goes well, everyone seems happy.

Come home to find two parcels from the USA from Steve Carosetto and one from Bob Schenkenfelder, both sent me first day sheets of the Warhol US Postage stamp. I had this big silly smile...topped off a great day. I keep starring at Andy- he would of dug being on a postage stamp. Anyway thanks guys, so cool.


---
September 27th
Poker machines in Melbourne make .81c per second. $2.56 billion per year! So to add to the gambling tax pile I get 10 weeks worth of lotto.I've been keeping track, I'm still breaking even...the big one is just around the corner *grin*.

See a friend who does a lot of drawing for a living, he now has the rather interesting job of operating the checkout desk at the local sex shop! I love sex shops, but I'm really bad once I am inside, I just laugh, I can't help it, I don't think it's an immature thing- just the size and shapes and the various objects make me laugh. Some people are so weird over it all, but I always end up going close to wetting my pants. Like who would have use of a 120cm double ended huge penis.... jewel encrusted penis hardeners, oh it's all good. I did spot an item on the shelf for Xmas (no Rosemaree don't panic.. it's not for you)...it's a wind up toy of Santa Claus having sex!!!! hey it was cheap a mere $3, they only had one...I thought they would make good stocking stuffers! I keep seeing items and wonder to myself who would that be good for....but as soon as I think of my friends unwrapping them I just go all strange...never end up buying that special object. Well usually not. I notice that some people go weird when they walk through those swinging doors, they look down, anyway but at the huge selection. I chat to my friend for a short while but because I was prone to breaking out into hysteria , I thought I should depart, a laughing Gryphon is probably not good for the hot and horny trade!

Was doing my weekly search and noticed that a few pieces of Rosaleen Norton art have appeared on the net, forsale. A few bits but only 2 I am really interested in, one is gone, hate that, but I send an email off for another. It's in England so dealing in pounds means I will be totally skint. I always promised myself a Roie original. The one I am going for is "The Cat", and it's signed. Guess it will take a few days before I know but this could be it. None of them are her finest works, but to have a Norton in the collection is kind of mind blowing for me. I always had this weird kind of dream where my life was marked in stages, band or art etc...am not explaining it well here, I would just wake up and know that when I have a Roie that my life would be in a new phase. Sounds kinda wanky and esoteric and like I said it's more of a feeling and doesn't explain itself too well here.....so who knows if "The Cat" ends up in my possession...maybe anything is possible. Over the years so many people have told me I would never get a Rosaleen Norton....I've always known they were wrong.


---
September 28th
Working away in the home office and get a call from Miss Belinda. She is going to walk to our place from the hotel- I look outside and it's a glorious wet Melbourne day. So I call her back and tell her I'll pick her up for coffee. I have to go to the Jackman Gallery anyway and grab the 2 x O'Doherty artworks. She looks damn beautiful as ever, and we decide on Acland street for coffee- BIG MOUTH is closest so in we go. It's packed and people try not to gawk but they do, I have some weird rockstar vibe happening, I think I have a side of my wardrobe that screams and shrieks "wear me ...you may never sing but you could look like a band person if you just wear me...". It's one of those days, many many many months between shopping splurges...so we throw caution to the wind- go for broke (literally) and SHOP! All good shops though- Metropolis is a really cool book store (160 Acland)- find a new Warhol book- colour shots from the 2nd Factory, also this book called "Ornamentos Fantasticos" (Yeah Fantastic Ornaments). It contains thousands of copyright free design examples..... all perfect for the next book GLAMOUR. So I grab that. Boo comments about the amount of woman that keep coming up to me today- and she is right- that darn feramone!!! The Metropolis woman grabs me and gives me the Dover Archive catalog for free, will be useful.

head into Urban attitude next (152 Acland), it has these sloping storage racks, so the whole place has a slant, we both buy Mark a big bright blue watering can for his new garden....I find some feather angel wings for the "boy" (Cosmo)...I want to do some snaps of Cosmo with wings, they match his white fur....oh in the window of Metropolis is a copy of ONCE MORE WITH FEELING, it's a book about a couple who wanted to make the worlds BEST PORN movie- a natural present for Mark- Belinda agree's. Boo side tracks me into a womens clothing store- we find heaps of outfits that would suit Miss Tiffany- the shop is SEAGULLS (156 Acland), find this great bracelet for my sister for one of her Xmas presents.....we head down to SHO Giftware (162 Acland) and I find THE pair of sunglasses, I am the marcos of Sunnies... these are green tints just like I love with small UV protector side panels.. ok I am won on these, and for once they look good. ROC make them, they do good class A lenses on their products, against UV A,B, and C rays. 12 months warranty and that's good for the person who destroys sunglasses quicker then Nick Seymour can lose his!!! Final port of call is GROTTO (146 Acland), it's been here for years but I nearly missed it as their sign is no longer up... Belinda buys some rather cool bowls....I consider the 2 giant 10 metre stone archangels and then a small reality check takes place... I see these square stone blocks on sale that have holders for candles inside...perfect for the wall of the atrium. The lady at Grotto asks me what I will do with these, I talk to her about Atriums and she says "amazing" and grabs my number as a few houses she knows are in need of a good "atrium" working over.... I'm just the girl..opps boy! Wow a job that may pay off some of this shopping debt! It has been ages since I have done this, and it felt good. So I can go back to being sensible. Oh yeah we bought Belinda a clock for her new house!That doesn't mean we are engaged! *grin*.

Next stop the Jackman and the Gallery owners take us on a tour of the house side of the gallery (they live upstairs), my eye catches the work of a good local artists...will have to wait for his gallery opening, he seems to do one third great, two third I just don't care for, but that's ok...one third is good. The O'Doherty art pieces are really nice and are more for the collection. Greg Macainsh really likes Pete's plane paintings (he has one), he admires this new one when he calls by.

Drop Boo off at the hotel- we are all shopped out- thank god that is out of the system, Mark digs his new blue watering can, it holds more water, which is bad as we are conserving!!!! Good to do this major shop-aholic thing once or twice a year.


---
September 29th
Catch the You am I boys when they are loading in for the Greville Records car Park show, looks like they will get a good crowd too. Half way through the set the Prahran Police close down the show. You just know some old person complained about the noise or something. Still the songs that they played the crowd lapped up. DELIVERANCE really is a great album. Spend the day restocking the office with copies of BANG! The last few months have had a lot of orders come in and it's just about to over take HUSSY in the sales area. I'd better pull my finger out and keep working on GLAMOUR, it's not just a case of me being slack, a part is balancing out the $$ etc. We just paid off our printers for WINGS, like all good book companies it's a major juggling act.

"STRUMPET" the movie is on SBS tonight- nice and quirky. has to be the movie of the week.

Greg Macainsh from the 'Hooks calls by and we run a paper edit on the ABC Skyhooks Doco ONCE MORE WITHOUT VOCALS, just paper editing, these projects have had sooo much paper editing...but it's good to get it done. LIFE IN THE MODERN WORLD sounds fantastic, a very tough Skyhooks and Shirl singing some powerhouse vocals. Kicks ar$e majorly as a song. Gregs had serious input into the Skyhooks DVD, good when the band members are active and focused, Skyhooks is really his baby, and he's easy to deal with, plus some good quality control. The Skyhooks DVD is out November 11th the same time as the Split Enz DVD.

Work around the house today, plant some tomatoes in pots, but don't plant any pot! All the promises of a dope plant and not one person has lived up to their promise. Guess it's a marijuana free Summer for us. *grin*.


---
September 30th.
Babble is running hot today, everyone is in a fun state of mind, I give them a copy of WICKED BEATS CD, and it goes off (thanks Sarah). Funny to see the kitchen crew grooving while cooking. The Baroness breaks into song. All's well in the world.

Think we have finally found our guttering man, ZAC...not sure if I trust a person with three letter sin his name....we'll see.

Deb sends the rough of Hessies site and as soon as he says ok we'll sign off on it, looking good, Paul said he was about to send Deb some of the music from NUTS for the site...he's usually true to his word. We are still releasing it in November, I love projects like this. Sounds great, if people have the chance to get Paul Hesters CD , just take a leap of faith and get a copy...some really good songs.

Shannon gives us a buzz for dinner but we are side tracked...make a note to catch up next week when life is a bit less full on.


---
October 1st
The world population meter for today reads : 6,253,481,968. Now if they all just bought a copy of BANG! OR lived in Peace....

"True environmentalism is not an aesthetic movement. It is about sustainable development...."

Kenneth Davidson from The Age. Good article on Australia's fossil fuel policy. You know I tend to agree with him on a lot of points, and some "green" groups are even shitting me ....especially around the lack of effort with areas like wind power. It is important and despite them being gigantic hurly gurdy machines they should be built. What's the solution more coal and green house gas emissions. C'mon Australia get with the program.

Nigel Griggs gives us a call, he is back in Australia....think he enjoyed England...hated the weather etc. he thanks us for our efforts around the Enz DVD. Kinda nice to have an Enz member say thanks.

Am tempted to do a small rocket pocket book on Vali Myers early next year...thought "HIDDEN VALI" was a good working title.

Head into AAV for some fine editing, also check out the Skyhooks and Split Enz photo gallery areas for the DVD, both look good. Like the music around them too.

It's such a lovely day, walk around the corner and buy a towel and head to the bay. Thankfully am wearing some boxer shorts under my levi's so I strip to my boxers and go for a swim. The bay isn't too stinky, the water kind of warm....Di from AAV warns me of floating turds (nice one Di). Naturally my boxers become see through but hey no different to a wet elephant (Boom boom) I'm not too prudish. Wish I could swim every day like this. My shoulders taste of salt from the ocean....hope my new black hair didn't leave an oil slick.!!!


---
October 2nd
Catch up with Danielle at Babble and she tells me she had a dream about me, naturally I was having sex in the dream...it was with one of her wealthy clients, a Toorak socialite....she had to run off to Liquid before I could find out more details...like was I a rent boy, did she pay me and did I get frequent flyer points? for my efforts! I love dreams.

Check out the Qantas website and they had some really cheap airfares for Xmas, I couldn't believe the price so I phoned and checked and yet... bargain fare, so we booked on line, if I do Bic Rungas NZ tour I will get home DEC 22nd and the last thing I want to do is drive Melbourne to Sydney after a tour...so this is perfect.

Stuart calls by and claims all of the cardboard boxes that are in one of the guests rooms, Lisa and Stuart are moving soon , so they can use them, glad it's not us, moving is so full on. Good to reshape a new place but all those boxes and carrying and removalists etc. URGH.


---
October 3rd
Grab the camera and take some photos of Cosmo the bunny with his angel wings on...he hated the wings, I think he tried to eat one of them. That rabbit was so pissed...just gave me greasy looks all day.

Get an email from the UK that yes indeed the Rosaleen Norton piece of art that I am interested in , is available. Well there goes my pay on the deposit...hope the gutter man takes awhile with his quote, hell a Roie painting comes first...I still can't believe my good fortune. It's kind of left me feeling a bit crazy...in a good way.

Strangely enough I get an email from my friend Marilyn and I mention Rosaleen Norton to her, and she checks out Roie and gets a buzz from her stuff. Hauser tells me of some art for sale and I thought she meant in Australia, but it was the UK stuff....freaked me out a bit, all these years of looking and I thought surely not twice in one week.

So if all goes well THE CAT original art will be ours within the week. (It gets ok'd so we own it...hope having a Norton in the collection doesn't send me insane...I've been told when you buy a Roie original you get a lot more then just the art...!). Means I hang out for a few weeks till I get paid....but sometimes starvation is a good thing, he I could lose a bit more weight. Just great that its "The Cat" as well....seems fitting.

Found a rather well written article on Rosaleen on the www, Dr Marguerite Johnson penned this: http://wwwlib.newcastle.edu.au/services/library/collections/archives/int/rosaleennorton.html The final comment from Roie is still my favorite. "I came into the world bravely, I'll go out bravely". The Rosaleen's and Vali's of this world should be cherished...not just for their talent but for being unique.

Head off to see Becky tonight, she tells me all about her Territory safari, sounded great. We even got a present, like that topped off the day. We have a coffee and watch the Hoons go by on Chapel Street. A troop of bike riders go by with very BIG...helmets! Must of been a cold night. I walk home and the stars look really bright tonight, feel happy. It's a good thing.


---
October 4th
Wake up very early today, I had a late night, thought about relationships, being loved, art, the world....the price of avacado's... if Keanu is really gay, if you could have sex with the cyborg from Andromeda...you know that late night bed stuff....so little sleep. The phone rang just when I climbed out of the shower, I thought it might of been ZAC the gutter man, but it was my friend Amanda, one of my old school buddies...felt weird as I was having this conversation totally nude...so I begged her to call me back. Her sons did really well in the irish dancing contests, trophy winners- she is a proud Mum- was nice.

Feel very good, like something is pumping energy into me...go with it. I'll probably curl up by P.O. box 333 and have a nap!!! Sue runs out and gives me all our mail, I like Sue, she is a fun one from Prahran Post Office...she gives me heaps, I like that in a woman. (: A few bills, fan-mail, orders, memberships, 7 orders for BANG, 3 for Glamour and 2 for WINGS...big day for Rocket Pocket Books. I like the idea of when I am long gone that someone opens up a rusting trunk in an attic some where in downtown Detroit and finds the diary books. They'll go what a freak this guy is. I kind of like being a bit odd, everyone is odd in their own way...people should embrace their unique side a lot more... some people are just scared what everyone will think....when really the people pointing the finger are probably bigger freaks.

Thought it was funny last night giving Bec this big bag of stamps for the local church, I think they sell them and help various charity's etc, we give them a LOT. ...the funny side was that Archbishop Pell's head was on the chopping block today and I really don't like him- not just because of his homophobe crap, it's just a feeling- he creeps me out..you know he mightn't of molested the kid/s but there is a small part of me that has pleasure in watching yet another clergy squirm....sad in a way because a lot of people are really uncertain about what a church is these days...and as church numbers fall they should ask why. More like lack of trust to lack of faith.

I just like a religion that doesn't try scaring people into the arms of God, the Church that preaches love to all and a clergy that you can say- he or she is a good person and one that lets me sing REALLY LOUD! Hey we are all gods creatures...but the church is dominated by mans interpretation of what God wants....if you truely believe going to church makes you a good person you are an idiot- being a good person makes you a good person.

Catch up with Spock today and show him the "Fantastic Ornaments" book with the millions of art drawings....point out about 60 images I want to use in GLAMOUR. So book three of the F/16 Diary's is underway. Jackie is at Babble and was blown away by the book, I kept seeing people looking at it over my shoulder...cool images. The rain is pouring down outside and it's good, more water for Victoria.

I watch the news tonight and the head of our state Steve Bracks looks very polished, he looks rather good looking for a politician. The Liberal party leader- whats-his-name came on, all gloom and doom- he's not very good. Don't think he'll make Premier. Must be an election coming up with Bracks looking so polished. I think he'll be returned, he's not too bad for a politician. (:

Let Mark pick the DVD tonight, I like being at home, just nice and comfortable, don't know if I will ever do a big tour again. Some touring but no massive ones.

I buy a new light-globe at the supermarket. Damn GST.


---
October 5th
Let myself sleep in today, nothing major just a few hours....had a spooky bath experience last night that I won't even talk about here. Finally the hairs on my arms have settled.

Heard from Bill yesterday, Alex Lloyds manager, I miss those guys, seems like ages ago since we all worked for the House. He's doing well, with George and Alex, good people I like Bill and family.

Just reminding all Melbourne readers that the wonderful Paul Hester will be special guest with Dog Trumpet at The Cornish Arms (Brunswick) on October 10th. The D.T's are great,it's a late launch for their self titled CD. So if you haven't been out for awhile come on down, I like The Cornish Arms- we did our Bic Runga shows at that Venue. Come along and see Uncle Hessie in action.

Grey day outside, reminds me of England (Opps), wow- some main UK magazine voted Melbourne the #1 city to live in and visit. Can't remember which magazine but it's a good thing for the tourist trade. The only point that we lost was for unpredictable weather *grin*...Sydney lost major points for crime. I think Vancouver did really well too. Go Melbourne! We all knew that anyway....

Get a call in the afternoon from Ben Yeti, he's ploughing up the road with Midnight Oil, they start on the M-1 shows today...Brisbane? He sounds good in that road animal sort of way...know it well. We miss the big bloke, serious partying when he gets home for all of us. We need a good party!

The emergency Aero Bar in the office drawer was just too tempting...I'm sure I could smell it's toothsome odor through the desk....I am weak! It was an emergency, I need chocolate!!!!! Sounds like an excuse, I should just be honest and admit I like the taste!

So strange Foxtel are announcing that they are about to start showing FARSCAPE...in prime time viewing- strange to make a major deal out of it after a show has been axed. Oh well any extra Sci Fi on TV is always a welcome thing.


---
October 6th
Latest UFO photo that seems to be popping up in the media is one from Kent, sent in by a resident wanting to keep themselves hidden....it's a clear shot but reminds me more of a still from the X-Files DVD..guess they'll know if it's real when they test it. Did see some cool footage of a UFO bobbing along over a mountain range! Looked pretty unnatural...it looked funny...Unidentified Funny Object!

Head to Babble to catch up with Rebecca, I arrive early and do some work on GLAMOUR, it's packed but the Babble crowd have kept a table aside. Rebecca has her photos from the Territory- glorious sunsets in all shapes and sizes. They have a guitarist at Babble today, just playing some background music..I laugh when he starts on "Stairway to heaven" not sure why.

Spend the day at home just tidying up, domestic bliss, compost leaves, clean windows in the atrium...Cosmo see's the door open and makes a run for marks bedroom upstairs- that rabbit is obsessed with Marks room, always hanging around the closed door...talk about Hairball reincarnated- each day that passes Cosmo becomes more like a pussy cat.

Notice that Halloween is fast approaching (again), think it would be good to have a BBQ with a few people...there's a plan. Better get in early for our pumpkins.....they seemed to disappear quickly last year.

On a fun way to finish this weeks diary, made the social pages of the Sydney papers today...made me chuckle ...noted author...how funny is that!. "In the meantime, Belinda Chapple was recently spotted checking out her new Bleak City locale with her great pal, enigmatic music industy publicisit and noted author, Peter Green. They were seen moving at an incredibly slow pace down Ackland Street St Kilda. perhaps hoping to be discovered by the casting folk from The Secret Life of Us?" .....

Take care everyone
Peter

---
If there are any problems with this site, please contact webmaster@aswas.com.