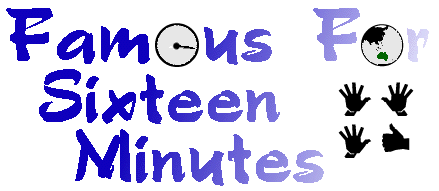 The Life and Times of Peter Green
Archive: 24 June - 7 July 2002
---
June 24th 2002
Happy Birthday Marky B.

I watched the possums cavorting in the front tree last night, they are so nimble, running along the power line like some circus wire walker.... to add the cute factor 2 little baby Possums climbed out of a big birds nest in the tree and hopped onto their mothers back. Have no idea how long I watched them for last night, was half asleep, probably hours...they amazed me.

Woke up feeling very groggy...one big blurry PG can't focus still sleepy, yawned all day....hopeless. Somehow we got all our work done.


---
June 25th
Tim Finn turned 50 today. Tried to track him down but he is away with his musical, somewhere in Palmerston Nth in N.Z. A flood of birthday emails came in for him so I filled up his IN mail box, it was around 500, spent the day forwarding them on- some were funny... 50 would be an interesting age, some guys handle it well, some don't at all.

Head to South Melbourne for the DVD meetings, get one of my fave shops to make this great chocolate cake, all fresh ingredients, thought Marky B should have a cake. Cost me both arms and a leg...and this is broke week $ wise...the joys of being paid monthly.

Ben calls whilst i'm in my meeting and dinner is cancelled...it happens, but the delicious cake will end up being ours as it won't last.

We get our rates in for using Tv footage, the ABC charges something like $53 PER second.....so obviously some things wont make it onto the dvds. I hate it when money dictates projects. Means a 30 minute doco would could us $127,000!!!!!!!


---
June 26th
You know that Kylie Minogue fever is out of control when Highpoint book Millie Minogue for 2 weeks. A Drag artist at Highpoint-cool. Kyles is up to her 6th Melbourne show. They just keep selling out.

Bongo Skyhook calls by and borrows a few photos for his party invite, He puts "for those who didn't think I'd make it...and those who wish I hadn't!". Makes me grin. Seems like we have known him all our lives now, one of my favorite people.

Visit Vali- who is back in Australia now, and the studio is closed, she's probably off having a coffee or freaking the locals out- I leave her a message.


---
June 27th
Bic Runga's GET SOME SLEEP jumps from #20 to #3 on the N.Z. charts. I've ordered all our copies through this great NZ online cd store called Marbecks. Plus overseas buyers get cds tax free. It's rare that we will plug an online CD store but Marbecks is great PLUS online sales go to help the NZ chart. Bic Runga's GET SOME SLEEP single has 2 non studio tracks- REALLY worth getting. They are also one of the few places to stock BETCHADUPA'S 'SupaDay" cd single.,..it too has 2 non album tracks- which I really like. So if you want some good music check them out.....help Bic Runga move from #3 to #1. http://www.marbecks.co.nz/

Gee another super company starts crumbing. It's no surprise that WorldCom is in trouble,when a company books routine running costs as capital expenditure it will eventually get caught out by misleading shareholders (& exaggerated profits)...Simple dishonesty a major thing on the sharemarket these days. I think it's just the tip of the iceberg, more companies will get busted I just know it.

Well today was the 'biggest hit" day for Neils Frenz.com site...since it started 4+ years ago. So it just keeps growing and more people come back. We try to add fresh News every day so that's probably a big part of it.

Wow Star Trek NEMESIS looks great! Still ages before it's out (Dec. 13th). A return to form....should do well.


---
June 28th
Stuart takes me over to see Spock and John Farnham wanders out of the studio and says "this book looks fuckin' great"....so thumbs up for WINGS OFF FLIES from King of Pop Johnny Farnham. Had to tell him there are no shots of him in there, he grinned. Ran off, and came back with his new camera to show me. Ok I have never been a big Farnham supporter but I have to admit he was ok, though he does swear a lot.!!! Anyway thanks Johnny Farnham and yep WINGS OFF FLIES is a fucking GREAT book!!!!! Even if we do say so our selves. It's ready in 2 weeks. 1000 pressed 30% pre-sold. Comes with the John Farnham seal of approval.

Wave at Kylie's big street posters for her show...hopefully we'll work for her from mid July.


---
June 29th
Neil has his bags packed, gives Milla a pat kisses Sharon and leaves for his USA/Canada Tour. I'm home for this one, tight budget, only one bus etc. It's actually ok, for the moment I'm really fine about being home...the shows would be good but I am digging it so much. Plus we are super busy, so I'd be horrified with the work build up on my return.


---
June 30th
Fran grabs me for breakfast, and we head to Babble. She spoils me and surprises me by paying for it- which makes my day. 'You always pay for people" she says, so that was really nice. Have a good time, really catch up a load of fun.

Run into Jackie and she reminds me that I have a 1.00 Tarot Card reading to do for her.....my first in ages. The readings were starting to leave me really tired.

Say goodbye to Miss Fran and get the reading room ready...not al spooky ready, just getting the right feeling....feels good. Even polish the Tarot card table. Jackie's reading is pretty easy, feel like I could do a few more when it's done. Another happy customer (:


---
July 1st
Tiffany Bardot is in town, staying with Katie. She's down here working on some demos with people. We are going to catch up on Wednesday...Mark is running around the house freaking out....

Today is one of those really shitty days, starts with a visit to the dentist and I like my dentist, I just don't like his drills....it's all over quickly but still it's a horrible way to start a Monday. My mouth feels very swollen and the babble boys give me hell when I try to order food....we have problems with both dvds, missing masters, just total disaster. The printers call me about our isbn bar code size and by this stage I don't want t know, the photo copier blows up....Cosmo kicks the living hell out of me....and there is no chocolate in the house to ease my pain. Today sucks. I will move onto a new day...I wish it was that easy on the day!!!!!!


---
July 2nd
First Neil gig of the USA tour and he is very happy with it. I can't believe Johnny Marr is playing and I am here in Australia......

Drive to the Dandenong Hills to visit Nigel Griggs-Enz Bassist. he needs to see some of the footage for the dvd, check photos and posters.....sign SYR cd covers and just catch up. His last remaining cat Voodoo just loves the fire, not even Nigels washing machine sounding VCR player can disturb Voodoo. Nigel shows us his solo cd- SLEEPER, and we have a massive 50 copies available for fans who are interested (email me-peter@frenz.com and mention the country where you live). He thinks he will sell 10, I think he will be surprised. (I was right we had 45 emails within the first 30 minutes of mentioning it).

It's nice up here and we see some lovely houses. If we sold the city house we could by a huge chalet up here with 20 acres and still have money spare.It's always tempting but we do love the Prahran area....and how would Babble survive.?


---
July 3rd
Katie and Tiff arrive- Tiffany with her own food- our kind of girl and Katie with 2 containers of soup that she has made. I feel like I have several other sisters visiting. Mark is normal, ok he does look freaked when Tiffany says he can sit on her knee!!!! It's a bloke thing. We are getting the reputation as super studs, the local council were pruning our big trees when the girls rock up and the guys tongues were kind of dropping out. *grin*.

They played some new music, so there is life after Bardot and obviously these two want that to be their careers. Katie tells me the good news that BEAUTIFUL is now GOLD, which is very impressive, her follow up will be called MAGIC. (We all like those one word titles- Hussy, Bang, Glamour etc) Anyway it's a nice afternoon....great to see them, and I'm really happy that 3 of the Bardot girls are in our lives, just coz it's them (Belinda is the other).

Two down Marky.....


---
July 4th
Breakfast at the Market cafe- what you say, has babble been nuked? No but renovations are well underway. So it's closed for a few days.

My afternoon meeting is with Ian from Raven, the company that is putting out Other Enz II. The list of songs is slowly coming together...possibly a new song from Hester, Eddie and NIgel too......

I miss Rosemaree, left my bag at home so I couldn't call and tell her that Babble was in pieces....sorry girl.

Head out onto the bay in the afternoon with Mark, check out the seals on their sun platform...the water is kinda cold but we were offered a free boat so we took the chance. I do have my Seaman award (don't be gross) but it's a long time since I sailed. (Was tempted to wear my sailor dance party outfit!!!). The wind in our faces, the water freezing us to death we braved the elements and won. Home to a hot cuppa. We head off to Amigos...get a wee bit plastered.....only a bit.


---
July 5th
WINGS OFF FLIES has been getting a few mentions in the media. Nothing I've done, so someone must be talking about it. We saw a rough draft today and I can't be happier, Deb sends me an email saying the merchandise area of F/16 site has had a lot of people ordering it....so there is a vibe and it's growing.

Interesting (and scary) article on Nuclear Waste in the latest edition of National geographic. I'll tell you what, if I read that article I would probably move out of America.....the waste is just massive. Depressing.

Mark buys THE LOST WORLD on DVD (Arthur Conan Doyles version). Thought i'd give it a quick review here.

THE LOST WORLD.
Running time:145 minutes. ABC/BBC DVD.
At the dawn of the 20th century an expedition departs to the Amazon to explore an isolated plateau. The land left in limbo where the dinosaur rules. Indians and cave monkey men fight to the death...a new order is created and man is put to the test. Peter Falk (Columbo) has a guest spot as a crazy priest who maroons them on the plateau.
The people who created 'walking with dinosaurs' doco worked on this so you know it will be good. I love Arthur Conan Dyles books, so I always worry when someone adapts them to the big screen...but this version is truely entertaining in the old fashioned way...and the BBC has spent it's money well. Great for the whole family. 7/10


---
July 6th
MMMMMM my bed is so snug today, I think about Neil and the gang in America...those bunk beds on the bus.....those great shows...those bunk beds on the bus....I snuggle deeper into my bed. Thank you. zzzzzzzz

The phones are running hot today, several more offers of major work, am thinking about it, not sure why we are so in demand at the moment, its all good as far as our little office goes.

Put some $ on Marks birthday present, it's a much needed item.....I should give him 50 guesses , he won't get it.

After the last few days of seeing scared Americans faces on CNN, I know what the biggest terrorist weapon is, it's simply FEAR. Maybe it's the weapon against all of us. I look into their eyes and I truely see it on some people. Apparently the celebrations for July 4th were down by 30% across the country. Is this what the world has become, we all live with FEAR now, casting some shadow over us...horrible.


---
July 7th
Wake up reasonably early..right in the middle of a dream. We decide to drive to Beenami to recharge. Nice day out side, Mark buys me lunch at this celebrity diner place in Wandin South (?), surrounded by Elvis and Marilyn. Mark says look behind you, and I turn and they have done a whole feature wall on Shirley from Skyhooks, so in the middle of all these overseas Icons is our own Shirl...was a really nice thing...such a small town too, he obviously touched a few peoples hearts.

Light the fire at Beenami, and we head off on a hike, so lush, looks like Arthur Conan Dyles feature could of been filmed here.....we se heaps of parrots. Poor old Igor, his pen empty, the gate blowing in the wind.... I say HI as I walk past his grave.

We drive to the antique suspension bridge near Noojee. It was originally built for the train and looks great, straddling the valley surrounded by massive ferns. Take a few photos and we climb across it.

Watch a deer in Cedar Rapids jump through an apartment window and trash someone's apartment...Bambi on the rampage. he is cute though...the deer is ok but totally destroyed the 2 apartments. It's natures revenge...watch out deer hunters...they're not going to take it anymore!

On that note....
surrender to nature.
Peter xoxox

---
If there are any problems with this site, please contact webmaster@aswas.com.