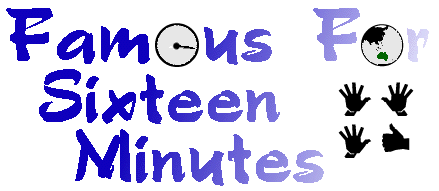 The Life and Times of Peter Green
Archive: 2 December - 15 December 2002
---
Happy Christmas Everyone!!!
Have a brilliant 2003. xoxo Peter
---
December 2nd 2002
Well another chapter in Australia's musical history is coming to a close- Peter Garrett has decided to leave Midnight Oil. Interesting that it's just after the Greens got so many votes in Victoria, I wonder if the environment etc will become one of the major work areas for him? You can bet they will do a half decent farewell tour, has to be on the cards for 2003.

Our Skyhooks DVD is still in the Aria charts, seems like a lot of Split Enz fans are buying the Enz one from non chart store...Woolworths must be making a killing *grin*. I think a lot of people will be getting these DVD's for Xmas...well hopefully. They are both good Australian releases and supporting DVD's like this and having them recoup just means we'll be able to do more and more releases.


---
December 3rd
Head to the CD store and order in a very large amount of the Enz-Dizrythmia CDs, they are all going off to be signed soon, and we needed a lot. The girl behind the counter goes.."how many" thinks I'm playing some weird practical joke...I pull out the cash and it's obviously real. "Yes sir we like that!!!".

Here are my favorites for the week.

Fave Album: Buffy the Vampire Slayer- ONCE MORE WITH FEELING. Released on Decca...great booklett that comes with it. Yey Buffster.

Fave Book: Shawn Levey's READY STEADY GO-Swinging London and the invention of cool. A fine collection of people feature in this: David bailey, Terence Stamp, Brian Epstein, Mary Quant, Videal Sassoon, Mich Jagger and Robert Fraser. It takes you through the London scene when London was actually hip!!!

Gangsters, comedians, actors, journalists, pop bands, film makers, art dealers and models. Great photos too, love the shot of a very stoned Terence Stamp.

Fave Movie of the week: The Lord of the Rings-The Two Towers. Leaves Harry Potter Two for dead. A must see.

Fave food: I just made these up so I have no idea if they have a name. Small rolled pieces of mince, they look like a pan roll (or a short fat cigar) the outside covered in ginger and pepper...cooked on the BBQ. They tasted ok. A drop of lemon juice when rolling them.

Fave Colour: Red (yep back to red).

Fave trick: Cosmo making Pyramids out of corn husks and toast...freaky rabbit. he gets a bunny brush for Xmas.

Fave clip and song: 'Do it with Madonna'- by the Androids. Its doing well, Top ten and Gold...love the Brittney, Madonna, Kylie impersonators in the clip...and the band play instruments. No way get outta here.


---
December 4th
Catch up with Spock today, one of our quick lets eat at Babble experiences, they gave me a few free coffees so I was a bit wired....talk about hyper drive.

Water all the plants on the balcony, it's getting hot. Estate agent from B&S came through today, said we could get close to One Million dollars for the house, I will say that again with my pinky by my mouth and bald wig on- "One million dollars". F*CK! Lets sell and go buy a castle in the Andes (if there were any castles in the Andes). The market is still running out of control. I don't understand where people are getting all this money from. None of my friends (well apart from the odd Finn) have a spare million. Messes with my head a bit....a millionaire on paper...but a pauper with my bank accounts.

Buy Rebecca The Cult DVD for Xmas, she fell for my story and now has no idea she is getting it. Have to create a few illusions around presents, won't even say what Rosemaree thinks she's getting!!!!!! Think they'll all like their prezzies. lets just say Rosemarees takes AAA batteries...she thinks.


---
December 5th
Just under 3 weeks till Xmas...and I have most of our Xmas stuff out of the way, one or two more wanders into shops and it's done. Haven't used a single credit card- very impressive.

Michael gives us an invite to the launch of Lord of the Rings...officially no one has seen it yet, should be good for opening night so we'll go, it's at a weird cinema though....wonder why. Thanks Mikey.

Mark buys me breakfast for most of the week, I can enjoy this, I like being broke this week...which is a strange comment but a side of me just likes to sit back and let people save me. Then I guilt and spoil the moment. Typical Taurus.


---
December 6th
Alec Neil's manager tells me that I have to remove the odd password off our website for the advance internet tickets, one of the radio stations has their knickers in a knot, guess they want some sort of unique, get their email addresses, type promotion happening. Fair enough I guess they are promoting the shows on Neils USA tour. Not that they will need promoting, it looks like being another sellout tour. It's an economical one , so super budget, but it could end up in the black (scary thought).....

Give the ol' hair a bit of a touch up dye job, like this new short dark look for Summer...I still worry that an oil slick will follow me down the length of the pool.


---
December 7th
Our Earth Sanctuary friends release 21 eastern Quoll's at Little River Earth Sanctuary near Geelong. The Quolls were last seen in Victoria in 1950 so it's a great thing to do. We invested in Earth Sanctuary shares awhile back now, the first environmental company on the stock market. So it's nice to see that the breeding programme is working and peoples money is going back into projects like this. Plus Quolls are cool...if I die I would like to come back to earth as an eastern Quoll- love those spots.

Finish up the abstract painting today, a few people have seen it and like it, so hopefully Rosemaree will enjoy it as one of her presents...pain to wrap but I have all this recycled Xmas paper so it looks like a giant paper patchwork quilt.


---
December 8th
Pick up so pastels, pencils and charcoals for one of Mark's presents. Thought it could be a good thing for him to do some drawings while we drive the full length of Australia in a few months. Just the act of drawing, doesn't have to be brilliant, it's a nice calm thing. The charcoal sticks are great, I think I am preferring charcoal to paint...good that you can smudge it when you want to as well....

Am checking the 4WD in, in February for it's Satellite Global Tracking System to be installed...I want one that folds out of the dash... just in case we get lost in the Northern Territory.

Have to go to the "talking presidents" website and have a look at the talking George Bush doll. Would love one of those for Xmas but they are never available in Australia- think they would be funny....George could sit next to our talking Beavis and Butthead dolls....the 2002 version of the three stooges!!! It's all I want Santa...really. Bet they sell heaps.

Jackie woke us up today, well kind of, I had this feeling that someone had arrived and climbed out of bed, looked down at the street and there was Jackie...weird. Put Mark in a cow of a mood as I think he was right by the door bell when it went off.... ended up having coffee at Babble, I tried on some of her new accessories for guys. The shops are going crazy for it.


---
December 9th
Happy Birthday Nick Seymour. Turns 44... same age as Neil now. The Crowded House DVD debuted at #18 on the Australian Aria charts, which is good for a budget release. It wills ell over Christmas.

Pack my bags....a surprise for everyone, off to New Zealand for the Holmes show. Have kept the lid on it as the TVNZ people want me as some surprise, I felt a bit lame as it's only me and suggested Judd or several others would be far more of a real surprise....but they had the vibe and paid for my air ticket...and Judd doesn't want to go, and Nigel has no passport. Hell it's a chance to see my mates and see the Enz perform. I'll go.

Know nothing about the show , never watched Holmes, to be honest not too fussed, as long as the band play well.

Judd's management have been saying that he isn't interested in the Enz , so I guess that has knocked it on the head...didn't even want to do a pre record and they were happy to send a film crew for him to do it. It's not really a problem, but good that everyone offered. I think it's too much water under the bridge anyway. It's funny as it's the same people time and time again on the internet who are obsessed with him, less then ten, and over the last twelve months I have only had 2 emails asking about Judd. Considering most days we 700+ emails....that's not many. So I don't know how popular it would be if the Mental Notes lineup got back together. I love the songs from that period and Beginning of the Enz is one of the Enz CDs that I seem to be playing a lot more these days- even more then Mental Notes. Be interesting to see if people were coming for the lineup or simply for the Enz good name....I'd say the second....as those first two Enz albums are now the lowest selling. Sad because they are brilliant. Oh well...some people will never know what they are missing...and really the Judd/Finn lineup have little chance of ever playing.


---
December 10th
One of those nights, no sleep, NZ floating around in my thoughts.

The Limo man is the regular, gets me to the airport in such a short time. Air NZ upgrade me to business class and I am very thankful , two seats so I can hog the space. Leaves on time too.

Arrive Auckland airport and the Xray machine goes through a huge bag of Neil's presents and CDS...that have been in the office for awhile. They have a huge chuckle when they see it's fan mail and gifts....ask about Mr Finn. Customs are fun.

My driver is out the front with a sign up...I keep looking for Mr Creep but they (sadly) spelt it right this time. Arrive at Parnell, just around the corner from the house..and find a welcome parcel from TVNZ. Go for a quick walk to Catch a Fish and buy a hamburger and scurry back to my room. Just don't want to be sprung...by the Finns.

Driver arrives on time and takes me to the Kohimarama Yacht Club which is a stones throw from the Mission bay house where it all started for the Enz. Has it really been thirty years? It's a lovely location overlooking the water..and cameras are everywhere, on the beach, on the balconies.... Susan the producer grabs me and hides me away.....Toria and Kylie arrive representing the fans and they are regulars. Like 'em both. They were at the Wynyard Tavern all those years ago, both very passionate. They also are my partners in crime and spend an hour hiding me from Neil who is walking about everywhere and then Tim..... Marie springs me but she can keep a secret. Marie Finn looks brilliant, something about pregnant woman, that glow and she has it.... and where does all that energy come from....zooming about... carrying that baby bundle. So cool to see Marie and Sharon dancing when the Enz are playing.

We watch the start of the show on monitors in the VIP area. Some other Frenz have gotten in and that's good. newspaper man takes some photos, I do a "glad to be here" smile...Paul Holmes is a rather odd presenter, not into that style but the Holmes people were good enough to put this together. It's so easy for people to bag something, easy to spend your life being negative, but I'm happy that this went out...at least someone made an effort to celebrate the 30 years. Came home to 900+ emails and only 3 complaints, 2 of them against host Holmes....so I guess most of the fans are happy....and good on TVNZ for doing this. Gave a lot of people who have never witnessed the Enz a chance to enjoy it.

Susan tells me I am up next, give the camera on the beach some weird royal wave as they film me heading up the outside stairs....have no idea what I am meant to say....so bluff is it. Talk mostly B.S. but love the look on the boys faces and Tim, god bless him just says the coolest stuff...felt a tad proud and you know that's ok. We have all worked hard beyond the call of duty so I will go red and be courteous. Holmes does have a habit of asking a question and not letting one finish... was trying to thank the people watch on the Net but gave up..... still its worth it to see the band play. ...and play they did. Out of all those Enz shows, the band were great as soon as the cameras went....isn't that always the way. Tonight made it into my Top ten shows. The Chunn brothers, Noel, Robert Gillies, the Finns, Crowth who was sensational on drums...Eddie being Eddie and having a ball (how's the head Ed! HIC). Loved it...Tim's voice is really in fine form.

Two moments that made me smile, in the break Neil playing guitar and singing a song obviously directed at Sharon, the eye contact, damn romantic... and he says that was for Sharon or it could of been for Peter Green....hell Neil I'll take romance from anyone *grin*....all this time they are just so strong, as a couple..it's great. Next break Tim picking young Harper , standing next to Marie and watching the band play....with Harper sitting on his shoulders-it was like Hey Son this is my band....Harper was amazed by everything on the night...just watching Crowth and Crombie banging away on drums etc, he's into it...Harper has musician written all over him. (damn Tim and those marker pens).!

Fun moment Neil and Liam both bolting in front of a camera and pulling a face in the middle of an interview...the camera man was thrown... such bad boys- more of that I say! Bring it on- anarchy.

All the faces and family were there, Jude Finn,Dylan from Mushroom, Raewyn, Willy, Ian Magan, the kids, Alice from the office, Elroy and Liams totally gorgeous girlfriend, just people we have known, a good gathering of the tribes....and they must of spent a fortune on alcohol....I was far too sensible....and ended up being the driver. Took the Finns home and just finished off a magic night on the couch chatting... and once again it all made sense why I work for these people. They are just good people and I like my job...I like these friends, and I dig the family....I think the honesty around it all too is good. Moments of being with someone in a room talking tends to show their true colours (no pun intended)....

I was talking to a friend the other day about knowing people, and how some fans think they know someone because they get a few emails, and totally take everything on face value. If the artist said the Earth was flat some fans would believe it. Every coin has two sides and so does every story but areas like email etc allow people to say whatever they want and the gullible just gobble it up. Sometimes I feel like saying, "you have no idea" but bite my tongue because all it will do is piss the fan off...and end up on the Forum.

So when you get to know a person and they come up trumps it's even a better experience.....heading home down the streets of Parnell I did feel like a very fortunate person.

Thanks for the Tofu burger!


---
December 11th
Link up with a rather cool Taxi drive called Olive, who ends up being my driver for the day. Lovely soul and a great laugh. So the big part of today is spent getting the final lot of signatures on the Enz Dizrythmia covers.

Head around to Robert Gillies House, Robert is flying out to the USA today, more movie stuff....but I am lucky, Noel is staying at the house, so they both sign away merrily. Then onto Neil's for the last autograph, the Finns came up ok, having some breakfast on the back area that overlooks that incredible gully...no hangover in sight. The gully is full of banana trees all lush and green...I could live in the gully...like a wild hermit. Alice is in so I hang with her as she is a good friend and we have a good working relationship. Such an asset to the team....I take over the office.

She drops me at the bakery to grab some food and a few of the Betchadupa boys are in line, they say 'please' and 'thank you' to the counter girl, good manners...very un-rock and roll....I grin at that. Head around back to the car park and Liam is in his car, have a chat. He tells me that Betchadupa are rehearsing, in the Finn studio today....so I might hear a few stray sounds creeping out the window. Cool! They are also going to play in the USA in 2003...and a few other areas....so getting a bit worldly. I bought my cousins a Betchadupa album each, they'll dig it.

Sitting in the office and who comes walking down the drive but the younger Mr Chunn, he is strumming that ukelele from last nights show...is it grafted to his hand? You know it was a fun time for them when they keep playing their instruments to the wee hours.

Betchadupa's are kicking a ball..and I want to scream play play... but too late Olive arrives and wisks me away to the airport. Run into the main house and say goodbye to the Finns. I catch Neil at the table looking at WINGS OFF FLIES and he said he can't stop looking at it...I assume he is talking about the book!!! *grin*. That's good...such a huge part of Enz/Crowdies/Finn history in photo form....PHEW he likes it. (With photos you just never know how people feel about them). Sharon grabs me before I leave and shows me the chandelier room. She has been making all these incredible chandeliers and they are selling at a super fast rate...it's the quality- all of them crafted by hand from Austrian and Czech crystals and jewels. I am in awe. I wonder if I grab one could I make it to Olives taxi for a speedy escape.?

Such a quick trip, fun. Olive gets me to the airport and gives me the private contact number, so I have a driver for life (:

Air NZ have a seat problem with business class, mechanical failure on a few so I am in cattle class, it's ok NZ-Oz is usually an easy flight. This one seemed to go on forever and I left my Anne Rice book in my main bag.

Customs Australia give me some minor grief over the large amount of Eddie Rayner CDs I have with me (maybe it is a federal offence to have Eddie Rayner cds!!!)....but they say its ok and let me in, no extra taxes.

Good to be home....Mark and Cosmo ask who I am, they didn't miss me at all.! Peter who?


---
December 12th
Victoria now has the lowest unemployment rate in Australia- 5.7% not bad. The Australian economy seems to be ok despite the drought and Iraq slashing the wheat exports...because of our alliance with Mr Bushy tail.(Ol' George).

Spend the day running about and the afternoon attempting to answer all the emails. We have had some massive run on club memberships, a record number.. and a record amount of emails.....so my life is out the window.

A few Enz fans on the forum didn't enjoy the Holmes show, or possibly Holmes himself, which is fine, learnt a long time ago you can't keep them all happy. Plus forums are a place for comments and some of them were correct. Still just the volume of emails means 99% enjoyed it so that's ok. I was just a spectator so it doesn't worry me either way.


---
December 13th
Greg from the 'Hooks calls in and we have a much welcome Xmas present for him. That huge Bill Wyman book on the Stones..big chunky one....he devours it, we give him good books. Greg's birthday is close to Xmas so he gets a good present to cover both days....always a book...he has La Chappleland too. Can't go wrong with a good book.

Head off with Mark for a solid shopping day....I shop lift a marker by mistake...ok I did forget and I didn't go back..I needed it to mark off presents. God will punish me....but I had no urge to hop back in a line of 30 people and say I accidentally stole this could I pay...just add it to the $500 I just spent....hell now I am guilting.
Who said "Shoplifters of the world unite..." ?!
Quote: "There is a little bit of Winona in all of us" PG.

Make a major mistake and head into Ishka for presents.....I get heaps but most are for me...such a bad boy. Iska does my cheque book in, every time. Find a copy of The Rolling Stones "Metamorphosis" for Mark...has a different version of "Memo from Turner" on it...one of my all time fave songs...its from Performance (the movie) (Turner is the character in Performance).

We are amazed at how many pregnant woman and people with baby strollers are about, every pregnant woman in Australia is at this shopping mall today. We keep saying "thats not ours"...they think we are freaks.

See Stuart in the afternoon who arrives with some bottles of Xmas red wine. Wine is always a welcome gift here.


---
December 14th
Wake up insanely early and head to the markets...the sun is just coming up. The ravers are just going home....hey man wanna buy some Eeeeeeeee. I take four of them out with my bull bar...I hate it when I spend the day scarping blood and gizzards off the bar...better things to do.

The Xmas trees at the market are from the Xmas tree farm so all grown for several years, for Xmas ....so its not too bad. I am planting the usual tree at Beenami as well, so one in one out...some sort of balance. The tree just fits in the car, who needs a pine thing hanging from the mirror when you can have a huge pine tree covering you in sap!

I creep (Mr Creep) inside...and spend an hour getting it right....Ho Ho Ho what a fine tree...its blinking, all red decorations and drum roll- Xmas has arrived! The angel is on top looking more like Britney in a see through night dress.

A few people decide to call by for Xmas, and by the end of the night the number grows. I invest in a huge box of bubble blowers. Little bottles with bubble pipers...and they cost a massive $5. The back yard is full of bubbles all surreal, one big one lands in Rebecca's drink but before we can tell her its downed.! Mark and Bec take over the BBQ, the BBQ given to us by the Yeti is given a good working over. He must of known as he calls us from Sydney and is back in a few days to hang out. Fran saves the day with a bottle of tomato sauce, no sauce no BBQ house rules. Rosemaree gets her present and it's not from the sex shop like we led her to believe, we are bad. It's a water fountain, one of those ones with waterfalls and orb on op that turns.. her rissoles are a major BBQ hit.

Toija and Marco arrive, Toija makes this pumpkin salad and I'm into it...need that recipe. Tania is early, Jake arrives later....of course Tania is given the Kylie book...she'll be snuggling up with Kylie as we speak.

Massive amounts of presents from Mark, talk about spoilt, the Bowie DVD is great,and my Ready Steady Go book so cool and all the other stuff. The Gryphon is spoilt...and it's still ten days to go!

One of my presents for Mark was "surviving in the outback" book. As many of you know in a few months we are going to drive around the whole length of Australia. Neil said I could take whatever time off, take a year he says...a month will be fine (: Anyway the survival book might be good for those desert crossings and Mark wrestling with crocodiles.

The night rolled on, was a lot of fun, come 2.00 in the morning and the last visitor left.....they all packed some stuff away so the cleaning up was easy. Climb the huge staircase, which always seems bigger on long nights.... curl up in bed while thoughts of sugar plumbs filled my head.


---
December 15
Sleep in a bit, thank god for dishwashers. Hot day outside, a stinking hot Summers day, the house is lovely and cool, so it's a relief to type this fortnights diary update.

Decide that the Aids Trust Of Australia will be one of our Xmas charities, have also found one sad story in the paper and hopefully have helped to make one persons life happier..that's my secret charity thing that I did..only you guys know but not saying exactly what....so one more and I've done my three good deeds....if everyone does three things this Xmas to help the world would be amazing. Rebecca is helping at a Xmas food kitchen which she should be proud of, I just thought hell that's so great. She'll probably get so much back from doing that...and a Santa sack of Good karma me-thinks.

Anyway that's it for now, hope all the readers have a brilliant Christmas. Next diary entry around New Years Eve...another year just around the corner I'm trying to catch up with 2003.

Stay happy.,,have a great Christmas.

Peter

---
If there are any problems with this site, please contact webmaster@aswas.com.