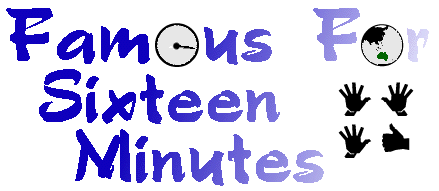 The Life and Times of Peter Green
Archive: 4 February - 18 February 2002
---

Gorgeous Guru Neil Finn & Sister of (no) Mercy Peter Green
Finns 20th wedding anniversary bash Feb.2002.
Photo:Green archives-Thanks to Laura JC


---
February 4th 2002
At the time of writing, we've just flown into Australia, after several days of zero sleep, so apologies up front for the errors in this fortnights diary..need to catch up on some Zzzz's.

Album of the week is the White Stripes "White blood cells" , go to see it in the charts here too. Love the sound and the songwriting.

Our Chilli plants are going crazy, must of found a lucky sun area, they keep growing and growing, I like how you can just walk out into your back yard and pick one off the plant.


---
February 5th
Laura calls buy and grabs her air ticket off me for New Zealand. We all try figuring out what the Finns are going to wear, I start a major rumor that they are going as Adam and Eve and are going to greet people at the gate naked!

Melbourne researchers have found strong evidence that heavy marijuana smoking causes depression, especially involving young woman. Pot has long been associated with various mental illness. This latest survey makes a lot of sense, it relates far more to "solid" smokers.

Find the right white material for Rosemaree to start work on the NUN party costume. My grape vine tells me that there is going to be one flying Nun already so I'll go for a different style!


---
February 6th
So why isn't Mike Brady (Robert Reed) on licensed Brady Bunch merchandise? In 1989 he refused to sign a deal with Viacom (Paramount) to let the corporation use his 1970s image on Brady products. Soon after he died and the lack of agreement means his image can't be used ...is this divorce?!

Book of the week: Not Just a Suburban Boy by Edwina Preston. It's about Howard Arkley the Australian artists, and relates to the time they lived above Dan Murphys Cellar building on Chapel Street at Prahran. It sums up the period so well, you get the impression that Arkley was just bursting at the seams with ideas and it's a wonderful time capsule of the Prahran area too. A nice read.


---
February 7th
Absolutely Fabulous returns to Australian tv tonight. It was good, could of been horrible , but had some fun moments. Patsy...she is the best.


---
February 8th
Get an email from Mark Lizotte, he's now in the studio working on the next Diesel album, going to send me some studio images soon. he sounds like he is enjoying it, don't think Neil (Finn) will be involved with this one.

Spend most of the day paying bills, I won't even ask how I managed to get 40 bills this week...forty like that is insane. Surely that means a bill free few weeks will follow.


---
February 9th
Spend the day cleaning the house.

Rosemaree drops in with the Nuns outfit, it's simple but great...I end up adding the Hedwig sunglasses, great to hide behind....have the Nun walk down pat...I glide.


---
February 10th
The return of Popstars on our tv screens and really it was pretty pathetic. I just don't like Jacqui O, for someone who says she doesn't court fame she does a damn good job doing just that. Overall it sucked, couldn't see one potential person who jumped out and said I've got the star factor. The show will do well, not much else on at the moment and viewers love to see the really bad singers. Watched some of the Irish Popstars show the other day and it sucked big time, heaps of boys crying, a tarot card reader brought in to read on the potential hopefuls...get real.

Mark finds a new friend at Beenami today, a long Blue Tongue Lizard. We find a lot of corn crop growing in the middle of no where...very X-files. On one of our walks we also find a track to this amazing creek. The banks covered in ferns and magic toadstools. It looked like the Fairie kingdom, was very hard to return to reality...as we walked through the rain forest a fine misty rain fell...the best man.


---
February 11th
The cd of the unreleased Split Enz tracks arrives from Nigel, he tells me that the song SORRY ARSE is now called Big Foot. One of the 7 tracks is not on this cd, it has some interesting moments but it wont ever see the light of day.

No news on Bardot, everyone is just getting ready for the next release LOVE WILL FIND A WAY, really good clip and it hit #1 on the Hot 30 tonight. The fans are incredibly supportive.


---
February 12th
Scan our life away, working on WINGS OFF FLIES, it's a huge project this photo book, picking the correct snaps, very easy to drift back in time to when the photos were taken. Like most stuff around books the release date was put back, I'm just getting on with putting the thing together. The main bulk will cover the main bands we have worked for, some good shots.


---
February 13th
Deb V. turns up with a present out of the blue, incredibly sweet. She designs and makes these incredible mirrors, exceptional, you see them and just approach them and look at all the effort that's gone into them. Ben has this incredible Egyptian one. What a talent. Always nice to see her, usually ends up with both of us laughing till we have tears.

Have a ghostly hairball experience that upsets me far too much....


---
February 14th
Happy Valentines Day.
It's a corny day, but still nice.

The door swings open and these boxes of chocolates just climb on into my bed! Sugar daddy bring it home...
I have a sweet tooth....

Really nice, as time goes on I realize just how amazing my relationship is, no one comes even close to us. More arrows please cupid!

To make it a nicer day, it looks like Labour is set to take power in South Australia after the recent state election. For the first time in Australian history every state and territory has a Labour government, the conservative Liberals are out.

Howard cops the heat for lying about refugee's throwing kids overboard during the election. His dirty little fear campaign coming home to roost. He'll just pretend innocence and some scapegoat will take the fall.

Speak to the Yeti, he puts new strings on the shiny Nun glitter guitar (thanks RB). It's even in tune...now if I could just play a note!

We give RB a SUNNYDALE HIGH SCHOOL tshirt, I have one too, yes grown men wearing Buffy merchandise. Sad bastards arn't we.


---
February 15th
We are not heading to NZ till this evening, so I get heaps of work done today. Laura arrives at 4.15 and we head off. She's one of our old mates, worked at the Enz office for awhile too.

As we leave home a lightening storm hits Melbourne. To cut a long story short, just before we board our plane is hit by lightening and various instruments have to be replaced. So instead of departing at 7.00 we leave well after midnight, every one off the plane.

Live in the brand new freaky flyer lounge and it's good, loads of fresh fruit, chicken pieces and a huge tv. Laura and myself just laughed each time the flight got put back, what could we do, get stressed, far better laughing.

Meant instead of getting into Auckland at 12.30 we arrived at the hotel at 6.30. The sun was just coming up....ok we'd stop laughing by now.


---
February 16th
Happy 20th wedding anniversary Sharon and Neil.

Head to the pool today to try and feel human again....didn't quite work.

Reg Mombassa and wife Martina call in for some pre-party drinks in our room. Reg is in a braided military outfit, Martina a flapper , red wig... soon Peter O'Doherty and the lovely Susan arrive- Marilyn and Richard the lionheart. By this stage I am in my Nuns outfit (much to the delight of the room service girls), Laura as a glittery Columbia from the Rocky Horror Show.

We head off to the Finns mansion....and Neil and Sharon are at the gate greeting everyone...naked. Adam and Eve...amazing...and yes I am lying. Sharon has on her wedding dress, and the Melbourne girlfriends are all flower girls, Neil is the Guru with a lovely fake moustache. Made me laugh.

The Party

it was done so well, the mansion all lit up, greenery covered in millions of pixie lights and the palmtrees ina glorious shades of red and purple lighting. Two massive starfish shaped domes on the lawn, one for food and drinks, one for the music. They look like some futuristic landing crafy, huge paneled windows with oddly dressed life forms inside. Flowers are climbing over everything, friendly wood nymps and flappers plying us with drink and food....a giant video screen showing the wedding all those years ago. 250 friends and family, so many major efforts with costumes- I hate people who turn up to a fancy dress party in something pissy, at this one the costumes were it...

Tim and Marie as John and Yoko (ok alight haired John!),Eddie Rayner as classic Hippy look, Lucy Lawless wonderfully pregnant, Sam Neil super Enz fan looking like the president, Laura tapping across the dance floor, Jenny Morris in top hat and tails, Liam Finn in Neils original blue chequered wedding suit-I'm sure he'll be next!!!, Elroy having me in hysteris as a shorter Ali-G, Noel Crombie ...in a Crombie "creation", Alice from our office in a stunning spannish outfit, Robert Gillies full drag, add to that the invisible man, Romans, Deb V in this eye catching dress from the playstation launch, Bill Cullen and Hugh Hefner and Edrei the mostly lovely playboy bunny- half way through the night they reversed roles and Bill became the bunny!!!!The Piha biyearly womans group as Sharons bridesmaids, Dave Gent from the Exponenets as a hunky Gi Joe, Crowther as the flying Nun, two people in matching recycled dresses made from cups, Richard Finn as celebrity Dad, Geraldine the cutest punk boy I know, Helen Eccles what a sexy school girl...Lucy as Barbara I dream of Jeanie, exhausting the list goes on and on....you get the idea, some fine effort.

Highlights- just the general warmth of the night, good to catch up with people, Tim's speech , Neil and Sharons wedding dance, the cakes!!!, dancing to every song.

The bands were extra special, a reformed Split Enz, Nigel Griggs was missing so Dave Gent filled in on bass. Started with Amy, 3 different attempts....the Enz lineup varied- Neil, Tim, Eddie, Noel, Mike Chunn, Crowther, Robert Gillies ....Robert so dragged up that Tim didn't know it was him and tried removing him from the stage!!!

I Got You, I see red, a fantastic version of Bowies Gean Jeanie, Shark Attack, I see red, The Beatles Saw her standing there, Dirty Creature and more.

The Finns -Weather with you, Message to my Girl, Beatles -Revolution, SOS (yes Abba) and I Love you Dawn, which had everyone teary eyed.....

Not the girl you think you are (requested by Sam Neil) and Throw your arms around me.

Jenny Morris up for Tears, Dave Dobbyn straight from the airport, and he looked and sounded great.....

Many others......don't think any of the neighbours complained but hell, you'd be stupid enough to complain about this free live show (:

My Nuns shoes just killing me I sat on the big stone steps and chilled out, so glad we flew in, totally love these guys, and Dobbyn was right, it's such a brutal industry and for Sharon and Neil to be together this long and so strong, says a lot.

So at 4.30 as this Nun and tap dancing girl head off before the sun rises, we raise a toast for another twenty years. Those who couldn't make it, you missed a great party.

As a Nun so many people confessed that night, it was all rather odd......but hey your secrets are safe with me.........


---
February 17th
Can't remember sleeping, feeling worn out. We drive into Auckland city and walk down Queen street, the first person we bump into is Noel Crombie, how funny is that, Auckland really is a small town, you can never go anywhere without seeing someone.

Head to Cina for some food, get some photos done.

Home to the Hotel and find a note from Reg, the Finns have invited us for afternoon tea. So a handful of mates head up to the house, breadsticks and cheese in hand. Just a relaxing after noon, laughing and it reminds me just how special it all is. Lucky too, I know it changes and we lose a few friends, but for the moment it's nice. Kind of private stuff so I'll keep some of me for me.....

It's late again, we opt for room service, and an early night. Watch Waking Ned Devine on cable and Laura and myself have some laughing attacks...we are so tired....


---
February 18th
Alarm goes off at 3.45, Deb V calls us at 4.00 and we are heading out the drive by 4.15 goodbye Auckland. Buy Marky some duty free and we invade the freaky flyer lounge, Rayson Toast and juice...

Bury myself under blankets and pillows on the flight, in my own tent...kind of half sleep. Customs are nice, Limo on time and we patiently drive through Melbourne's peak hour work traffic. How do people do this shit daily, cars everywhere, people blowing horns, horrid.

Eat, sleep, have Turkish for dinner....need a real nights sleep. Feel like my body is still in NZ. My feet, the Nun shoes wern't bad, but 4 hours of dancing, even Christ couldn't resurrect these feet!

So there you have it, a quick New Zealand trip....to Sharon and Neil, you guys did well, huge effort and we love you both.

Live life!
Peter

p.s.-falling asleep on the computer so I'm not going to check this....Zzzzzz

---
If there are any problems with this site, please contact webmaster@aswas.com.