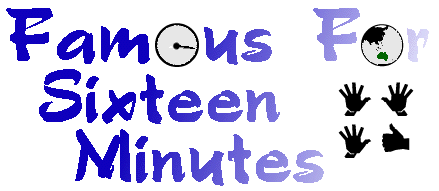 The Life and Times of Peter Green
Archive: 4 November - 17 November 2002
---
November 4th 2002
Pearl Jam announce their Aussie tour, which is great, but to make it even more exciting, Johnny Marr and his band will be special guests. This is brilliant, should be great. The Pearl Jam single went Gold today, have now lost track over how copies we have given away, we bought a few because they were such a cheap price $4.95- what a bargain.Think everyone will get a PJ single for Xmas this year!!!

Sophie Monk debut's at #5 with her first solo single, no surprise there she worked the stores, or should I say Warners did, weeks two and three will tell the truth though. I've had emails all week from old Bardot fans (is there such a think as an OLD Bardot fan..most are young), anyway they say they are not supporting her....Australia's love affair with Killing Heidi is over to, they didn't debut in the Top 10 with their album...#12.Time is against them.

All three phones lines are out today, some not so clever Telstra man managed to chop all the wires on this side of the street. It's like Telstra are in a rush to bring the service up to standard, I noticed them re wiring on Chapel street yesterday....still the country areas are really poor service wise and I bet that won't improve. I hope they don't sell the remaining % it's not a good thing.


---
November 5th 2002
Neil played the Vanity Fair show at the Wiltern tonight in L.A. Sounds like it was a good show except for the sound being a bit average. While he's on stage I'm out the back filling the compost bin with leaves.

The Melbourne Cup is on today, THE horse race and Australia shuts down. We head to TUSK on Chapel for lunch, they must of made a fortune today as it was packed. While walking back I find this huge peace of a marijuana plant just sitting on the side walk...first of all I thought it was plastic. I think it must of blown of someone's dope plant garden up above the shops on Chapel street. I put it in my journal like it was a flattened flower.


---
November 6th
The final figures are in for the M-One festival, it lost nearly $5 million dollars- a bit of a disaster. Wonder if everyone got paid.?

DVD of the week is RABBIT PROOF FENCE. It's based on a true story, and is a wonderful movie. Three aboriginal kids are removed from their parents and taken to a white mans idea of what is good for them. Mr Neville is in charge of the whole of WA's aboriginal programme, he has absolute power to simply pluck Koori kids away from their families and he does. The thing that he can not beat is the passion that burns in these kids, and they simply run away from their captivity and walk home...several thousand miles, through the desert....they use the rabbit proof fence as their compass....a massive fence barriers to keep rabbits on one side and crops on the other.....little did the kids know when they set off that there are 3 rabbit proof fences... luck is on their side, the kindness of many and the cunning to escape the tracker who is after them. You also get a chance to see 2 of the original kids, that the story is about, old woman now but you look into their eyes and something is still burning bright. A great story and the Australian landscape is like no other. Available on DVD. Rental only, available for purchase next month.


---
November 7th
Mark leaves the house today with a load of mail to post and a gaggle of school girls are standing out the front. They have picked our house to draw for their art projects. I tell Mark to offer them a beer! (:

So good to see Holly Vallance, Shakaya and the Selwyns all dropping in the charts. Nirvana are #1, Pearl Jam will follow and U2 should hit top spot too. Great to see.


---
Eddie V. is in HIT magazine, talking about P.J. He gives Liam a huge rap which is good to see. Betchadupa are only two thousand copies short of going Gold in N.Z. it's a really cool album, and well worth a listen.If you are reading this you should be able to get a copy on line from Marbecks.

Finish another interview , this time on the upcoming third F/16 book "Glamour". It's on the Rocket Pocket Books website (Interview area). head to: http://www.rocketpocketbooks.com/ Thanks to Kate for getting it on the site so nice and fast, much appreciated.


---
November 8th
Parcel arrives from Nic in the USA, she mails our Bunnies & Bee's books,by Mark Ryden. Mark includes some extra postcards for me, one of the meat ones would be brilliant framed, such quality work. The Yeti has become a Ryden junkie, so he should dig his B&B birthday present.

Another artist I like in the Ryden fashion is Todd Schorr. Art fans should check out his website at: http://www.toddschorr.com Has some cool stuff on the site.

Buy the latest issue of Juxtapoz today, it is my favorite art magazine.I get lost in the adverts. I also buy the latest issue of Earth Garden, it's a sustainable living and planet care type magazine, comes out quarterly. All good stuff from natural paints to spring organic garden advice and next issue -how to make your own Pizza Oven (Ahem Ben I know you are reading this *grin*... a copy is on it's way to you).


---
November 9th
The Oils play their second show at The Forum tonight and Neil Finn is back at Largo in L.A. Interesting warm up act for Neil, someone called Liam Finn one of the few times that he has played solo without the Betchadupa boys- from all reports he did really well. I can always tell as we had a LOT of emails from USA fans asking about where to buy Betchadupa's album. I just tell people to head to Marbecks (NZ online website) as they have it for a good price.

Now that the text for "Glamour" is complete I have to finalise the photos for inside and some cover art ideas. Slowly moving along.Really wnat it done in time for Christmas. I like the idea of copies of Glamour, Bang & Hussy appearing in people's Christmas stockings, and hell they would easily fit... the perfect size.


---
November 10th
Up bright and early and we head off to the Collectors Fair. Loads of new faces today, which was good, had a lot of people asking about both the Skyhooks and Split Enz DVD's so people are getting a bit excited. I put out a huge pile of Skyhooks free stickers by the door and they were all gobbled up. Is Free is good!

The Fair seems to be getting smaller, I look around us and most of the time we have people either looking at stuff or talking to us, so many other tables have no one. Maybe it's because we offer some good bargains and it's good to have a chat to the people who make such an effort. Thanks to those of you who turned up, hope you found some bargains.


---
November 11th
Here is my favorite's list for the month.

Fave Book: The new Anne Rice "Blackwood Farm". It's part of the vampire chronicles with a bit of the Mayfair witches thrown in for good measure. It's good, still has some fine moments.

Fave CD: Without a doubt Pearl Jam's 'Riot Act'- it could well be their best album ...ever. I can tell Ed has been listening to Midnight Oil. The way he sings on 'Wanted to get right' sounds very similar to Peter Garrett. 'I am mine' deserved to be the hit that it was here. 'I am mine' is really worth getting for 'Down' , which should of been on this album.

Fave accessory : boys with beads (neck and wrists), girls with calvins and doc's.

Fave colour: Farina (sandy colour).

Creep of the month: Darian Ho-animal killer/fashion designer....and models who wear fur.

DVD of the fortnight- V-The Series & V Final Battle. The Alien baby made us laugh.

* * *

Start my swimming at St Kilda Sea Baths. Decide to swim every second day and the Sea Baths are great. Expensive but great. At least the cost keeps 90% of the people away so I get to have my own lane. Talk about salty, more salt then the dead sea. I do a few laps, head to the huge heated spa pool, float and meditate, go in for another few laps. Head to the steam room, cave in after 5 minutes. have a wash down, go for a few more laps. After that I go to the beach for a massive 5-10 minutes, sometimes I will swim out to the buoy but usually just like relaxing on the golden sands. Get back to the car and head to the office. It takes an hour out of my day but well worth it. My skin looks really healthy, have extra energy and my stomach is getting nice and flat. Not bad for an old bastard! Wonder how long I can keep swimming before I get bored.? Still some effort is better then nothing I guess.


---
November 12th
Send a letter into The Sun Newspaper, supporting Steve Bracks anti logging stand. It's more of a compromise but worth supporting. It really is time to stop logging old growth forests and I think Bracks might just have the balls to stop it if not slow it down. Most politicians wouldn't have the guts to even go down that track- the Liberal leader for Victoria- Doyle is so all talk and no action, he's so transparent you'd be an idiot not to see that. Puffs out his chest but doesn't actually do anything. The election is November 30th so hopefully the environment will play a major part in the votes. I think the Greens will do well.

Work on an idea for Rocket Pocket Books release around a limited edition box set of the 3 Diary books with some extra bonus's, am trying to find a good symbol that means "three' want to get a metal brand made of the symbol and burn it onto the box cover. If we get the project off the ground we will only do 100 boxes with some extra bits and pieces included to make it a collectors pack. We'll see....Mark Ryden's releases just make me more passionate about doing limited edition releases.

I draw some symbols in the "real" diary while waiting for Mark at Babble. Jackie joins me and says "oh I like that one". She designs jewellery so I wonder if it will appear on a pendent! (:


---
November 13th
The weather has cooled down a bit so we jump in the car and head to Beenami. Call into Bunnings on the way and buy some huge hanging baskets for the front balcony's of our house. They look great, big mixes of flowers and hanging plants. I grab a bag of seedling potting mix as I've cleaned the solar hutch and decide it's time to plant more seeds. I am into the idea of picking my own vegies this summer.

It's been a month or so since we have had the time to escape to this magic forest house, and the grass has certainly grown...we get out the mower and Mark gives the front section a trim. I carry all the grass cuttings down to the "hellmouth". It's this huge hole that the original makers dug out all the earth for the natural mud bricks. Over the years a huge canopy has grown over it so it really is invisible. All our compost and grass clippings etc go into it....it is probably the size of a small cottage, considering the earth from the hole made a small cottage!!!! So that's no surprise. Today I ventured further "in" with my wheelbarrow of clippings and I spotted this massive network of tunnels, probably made by wombats and not the worm demons of Sunny Dale. So weird they looked man made and so perfectly round. Spooked me a bit and I didn't want to hang around...

Decide to use Igors old pen as a protected area to plant my tomatoes and bell peppers and other vegies and fruits. This year I have put in some Russian tomatoes- the black ones. They look like shiny passion fruits and people just stare at them on their plate. So I hope they grow, be a good delicacy for salads.

Work is done so we head off for our hike. Mark goes and visits the geese on the flood bank property, we go sit in this area which has two massive tree's which would have to be a hundred years old each....but they are surrounded by all these spindly trees with skinny trunks that you can walk under...so if you sit on a log you can see through the bush. Small tree ferns are everywhere, it's like a convention area for the under world.

On the hike back I decide to explore the forest and climb up this steep incline. Efforts are rewarded as we find a massive amount of granite boulders that make up a small "hanging rock" area...the top of one a massive flat ledge where you could pitch 4 tents at least. We sit and the admire the view that stretches out over the valley. Mark and myself decide we are going to carry one of our benches up here and leave it for future adventures and comfort. I love this place and it rips my heart out that only 2 km's away the forest are being felled and raped by the loggers. It makes me admire all the people who stand up and say it's wrong- a lot of us think it, but how many of us actually do something about it? A silent vow to do more.

Mark grabs a huge tree lizard (aka: rabbit proof fence scene) as it scampers up a tree and he removes an old rusty nail from it's foot. It only freaks out a bit and doesn't attack despite it being my height from head to tail. Like all animals it looks Mark in the eyes and has fallen for his animal magnetism *grin*. We feed it some dried fruit and watch it run up the tree quicker then a manager after his debts.

Arrive home tired by happy. Beenami always has that affect on us.


---
November 14th
Well Neil is now back in New Zealand, probably hitting the surf at Piha, it's a brilliant time of year and the ocean is calling all of us. Tim is finishing up the last of his shows in Australia, he emailed me that someone threw a bottle at one gig, just some drunk, been awhile since someone took a shot at a Finn, I hate that shit. Hope the audience turfed him out.

Spend part of the afternoon trying to find my spare Effigy CD for Deb V. and of course it's gone, thing I gave it to Jj for a present. Sorry Deb.

Watch "Attack of the Clones" on DVD and this was so much better then the previous Star Wars- JaJa Binks has been reduced to a minor nothing role, thank god he was awful....Skywalker is a bit of a bad actor though, apart from that it is an improvement...the love story is rather lame.

Latest National geographic magazine has a major story on "weapons of mass destruction" and when you read it, you probably won't feel very secure. The only good news is that Australia, New Zealand and South America appear to be the only countries free of nuclear, biological and chemical weapons. In America the fallout from a nevada test site many years ago will be responsible for 17,000 cancer deaths in the USA. In Dolon Kazakhstan 80% of the 1.5 million people in the region,(where nuclear tests were a regular occurrence)have weakened immune systems, birth defects continually and cancer. At present there is the capability to wipe out all life on earth thirty five times over....all life....that's rather mind blowing just from the weapons of mass destruction that we already have. Depressing.


---
November 15th
Waiting at Babble and having a coffee with Michael, one of the owners and we are chatting about the stupid idea by Liberal leader Doyle allowing drivers even more chances to get away with speeding. He just doesn't get it, Speed does kill and the new speed restrictions and more fines do save lives.

Babble is almost empty, and a guy comes up and introduces himself, I've seen him here before, he is our local member for the Labor party. The guy we are voting for. He heard our conversation and just wanted to comment and introduce himself. He wasn't in that pushy politician kiss your baby and cheesey smile, he seemed ok. Now if this was the Blue Elephant Miss Candee would have him on the bar "doing a number' with him!!! Good to see a political person out amongst the people.

I check lotto and hey presto another $10.50. Covers my breakfast. Always $10, I really would prefer ten million but I give thanks to all the little Gods. Better then a kick in the butt.

Head into the city, home by midday and then off for a swim. I seem to be able to do an extra lap or two each time, for me that's good, I'm a pretty bad swimmer. Mark asks me if the Steam room is meant to be like it was in Queer as Folk the Tv show.....aghhhlike NO. Usually it's just me...and I last about 5 minutes. No ribald sex with males, females or sea urchins just steam sweat and more steam.

A wilderness society Kangaroo did try to pick me up when I was sunbaking, I don't know if it was a guy or a girl and I kept thinking how hot it must be in that furry suit on the golden sands of St Kilda. I know I am a total pervert but having wild sex with a Koala bear wilderness volunteer isn't exactly on my list of "must do's"...even for me it would be a bit extreme.

The evening I clean up the solar hutch again, it holds about 120 seeds and is truely a modern marvel...all natural and works well. I plant heaps of spinach seeds, corn, peppers, and other fun vegies....even allowing for a few dying I will probably have far too many so I may have to give my friends some....more people should grow their own vegies-they taste fantastic.

I'm getting this new juicer machine next week, it's THE juicer, the God of juicers, the Kylie of juicers.... so I want to be able to walk out back and grab something fresh and juice it..a simple man with simple tastes.....(: Toija got me onto putting beetroot leaves in to the juice, full of iron.


---
November 16th
What did I do today, 3 hours on the internet replying to emails, most about Neil's USA tour. Put in some sunflower seeds in the garden, picked grass for Cosmo, chatted to Rosemaree, Rebecca, read SFX over lunch, Jayne gave the upcoming Buffy episodes a big thumbs up...a return to form...go Buffster, emailed NF about a few ideas, hassled Nick to pull his finger out and sign the CH photos that have been sitting on his table for ages,,,,,,,read some more of Blackwood Farm, made some fattening deserts, had a BBQ- sausages and tofu, tried on a new pair of Calvins that arrived- very cool almost like bike pants (oh la la), watch Mark read with his tongue poking out- he was concentrating hard..think it was the "weapons of mass destruction" article, watered the plants on the balcony, did the washing up, washed the bed covers and sheets from Beenami, packed up the wooden box that Rosaleen Norton art arrived in, freaked because home loan is due on Monday and I almost forgot, gave a collector at the door $2.55 in change, posed in my new Calvins and noticed that the swimming is giving me a flat tummy, said Hi to Hairball as I walked by her rose bed...sent off 3 Bic Runga kits, had some bad evil chocolate and didn't feel remotely guilty, sent Bracks an email saying he is doing well by cutting down on logging (Politicians like to hear they are doing well)...watch Andromeda and Mutant X....and then X Files. Told Tania I'd see her for breakfast, but I have to be home by midday as I have to link up with Enz man Nigel Griggs, have a bath.


---
November 17th
Well tomorrow the Split Enz DVD should start appearing in the shops around Australia. A few days later New Zealand. here are some recommended online stores for fans who want a copy of this DVD. It's simply titled "Split Enz" and runs for 3 hours (it is Pal format). Mushroom have only pressed 8000 units for Australia/NZ so I wonder how long it will stay as part of the catalogue.

http://www.ezydvd.com.au/
http://www.hmv.com.au/
http:www.whammo.com.au
http://www.atlanticdvd.com.au/

Tania and Rosemaree call by and we head down to Babble. Dan looks after us and we get a table rather quickly, Mark is right it's always packed to the rafters on Sunday. Dan is the man...he looks after all of us.

head to Blockbuster as we have a FREE rental card on DVD's, runs out in December so I grab a title. Tania buys Monsters Inc on DVD for $20. Bargain. Uncle Bucks have a seed sale on...I end up buying some celery seeds. Rosemaree is the Queen of Uncle Bucks, they have promised to make a shrine of her in the window.

Tania checks out the Kylie 'La La La' book at our place, and she says that Kylie is looking more like a Porn star, we agree and it's not a bad thing. I like the porn star look, but only for a short time not for the length of ones life.

That's it for now....just on 5 weeks till Christmas boy that has came up fast. I've started shopping but need to seriously get into it....just don't want to be doing this at the last minute. Am adding 3 good deeds to my Christmas list, no idea just what yet but I'll know when the time is right. Surely doing three really exceptional things isn't too hard to do...is it?

I'm into scouring the newspapers for one of them and finding one person in trouble and making it right but secretly....that's the cool way to do it.

Anyway surfs up....

Peter

---
If there are any problems with this site, please contact webmaster@aswas.com.