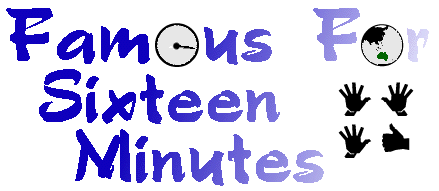 The Life and Times of Peter Green
Archive: 5 August - 24 August 2002
---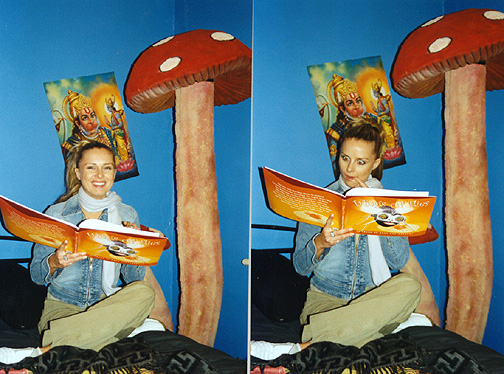 Miss Belinda Chapple rather mystified by her photos in the 'Wings Off Flies' (25 years of rock photography) book. Peter and Marks House August 2002.
(Photo can not be used without permission).
---
August 5th 2002
Start the day with an early interview with our hometown paper the Illawarra Mercury- a girl called Michelle who just moved to the 'Gong from Canberra, I think it goes ok, joke about the 'local boys make good' headline... we'll see.

Can't believe it's been 40 years since Marilyn Monroe died, the mystery still grows...I still don't believe her death was remotely connected to the Kennedy's, I go for the depression and pills...though the housekeeper was suss.

At 2.00 head into AAV to have a meeting with Dianne, check some art work around the Enz DVD- Noel Crombie is on board and Noel just does his thing. The main menu is looking good, I keep reminding myself that both these bands- Split Enz and Skyhooks were formed in the early seventies so a lot of the source material has been lost, so really on both projects we use what we have, anything is better then video.

The overlaying of the sound onto clips is a harder job then they think... but i'm not the one doing it, so I think we'll get a call a week down the track saying- wow this is hard... still Midnight Oil did it with most of their videos...so we should...simply because it will sound good. Feel like we have made some head way today.

Get home and miss Siobhen from the Stonnington leader, we have been playing phone tag all week, the local paper want to interview us over WINGS OFF FLIES....but we keep missing each other.


---
August 6th
Call Michael Gudinski to check on some 'Hooks footage from the Festival Hall reunion tour, he's away for a few days so I miss him. Paul Costello tells me though that the Sunbury cds (74 & 75) are now coming out in Australia October 7th- 2 Skyhook songs with the pre Shirl lineup (Steve Hill on vocals).

Spend the afternoon moving the huge tree fern from next door- they don't want it and it replaces our dead one, looks good but it's a heavy thing... they are so primitive looking, up near our forest house we have ten million of them growing, the locals almost declare them a weed, I love the way the huge fronds uncurl...

Watching TV and we get a call from Ben and our friend Shannon, both are in the area and call by. What a brilliant night....why is that street light so bright...ahmmm it's the sun. I love nights where you get to know your friends. Good call Mr Yeti. Ben has now paid me large sums of money NOT to be mentioned in future issues of the diary (: Damned if you do...damned if you don't.... *grin*.


---
August 7th
Well the day is kind of blurred into yesterday..and parts of it into tomorrow....no sleep till Brooklyn!!!

Shannon time for lunch....time to arise from the Yeti's blue crypt room. What a fun night- needed to let it all go....Cosmo was almost patted to death..he will never be the same again....love of the little bunny was major. Like all rabbits you could pat them till their hair is brushed off.

Photographer turns up...gee I look really healthy today. He has me lie down on the floor above the WINGS...cover...I somehow fall asleep during the photo shoot...talk about doing an Ozzie Osborne. At least I wasn't shaking. The dining room floor was just so nice and comfortable....sleep by no means comes to soon...... Wake up with him snapping away over me....gee do I feel silly.

Couriers arrive all day, no not the drug type, just regular sweaty ol' men with boxes of archive material being returned.

Have a chat to Hessie, he has Ross Hannaford, a legend guitarist from 70s mega band daddy Cool- playing on his solo CD -Hairy Nuts. (Yes the title remains). On three songs methinks.

A rush on copies of BANG! today, Hussy is selling again, I think WINGS OFF FLIES has kicked off some last minute sales of the F/16 books. Deb still has some available via the merchandise area of this website. I mailed a copy of BANG! to Fiji today, they are ending up everywhere.


---
August 8th
Sad day for Trudi, our thoughts are with you- send some flowers. Don't like seeing good friends being sad. Flowers are always nice.

Dave from Mushroom drops in and we watch a lot of the Skyhooks Videos that I have been paper editing. The ONCE MORE WITHOUT VOCALS (Skyhooks-Inside story) has a major edit on it...just had to as the ABC charge such a disgusting amount of money- they've pretty much lost my public support now. Greedy bastards.

Finally get rid of a massive pile of 2" master tapes so the spare room has another piece of carpet uncovered. It's handy for stock, the good part of owning a four bedroom house is that you can keep parts nice and sparse and use spare rooms for stock etc.

Speak to Siobhen, interview in a few days, she's been off with the flu. perfect for me.


---
August 9th
We head into the city today...the main reason, to get our Pioneer DVR 7000 recordable DVD machine. Wore something scruffy, I love going up to the counter is ripped jeans and calvin clad arse hanging out and buy the most expensive thing that they have.....'looks can be deceiving' major supporter of that...always tempted to pull out the stopwatch to see how long it takes for floor staff to go from 'oh he can never afford it to yes sir kiss your butt sir' mode. Usually 15 seconds. First 5 seconds shock, next 5 seconds questions on their mind if you have stolen this gold Amex card, final 5 seconds oh be nice as it means I've made my sales target for the week and the big boss won't go freakazoid. Reg the floor guy at Myers was nice, and knew what he was talking about.

We call in and see Vali briefly, give her some of her favorite Gin for her birthday...73 and still dancing. Chat to another couple who have just returned from Mexico and have always wanted to go to Cusco. Vali's working on a new piece of art, has a giant squid in it...fabulous. Catch up with our elevator girl, her lift is full of pictures of friends pets..we promise we will give her a photo of Hairball and Cosmo for the lift pet collage.

Mark has a fixation with Katie Bardot's Mum...it's like Stifflers Mum from American Pie...Mark just calls her 'Katie's Mum". I dunno I think Belinda Bardot's Mum is rather sexy. Gee look what we have become. The Mums are probably closer to our age!


---
August 10th
Kylie's first Melbourne show goes off- hometown girl...usual Kylie people but with new glitter outfits- her audience always loves to dress up. Every gay bar on Commercial Rd will be empty tonight (:

Jump on line for a chat with Greg Skyhook- he's doing the ABC-Long way to the Top-chat tonight, been been mentioning it to Skyhook fans all week, so out of all the chat hosts he should be popular. Go on as 'Prahran Plumbers' from the 'Plumber from Prahran' line of the Kooyong Dollar song (The Skyhooks Collection CD). he answers our question. A few fans are asking about the Hooks DVD, think he enjoyed it.


---
August 11th
Camberwell Collectors Fair

If we are in town we tend to do this Fair, a nice way to meet some of the fans and offer a few bargains...and clean up the office.

Wake up at 7.30...one of those abrupt jump up in bed type starts, kind of like Buffy arising from the dead....or someone sticking a pin in the Peter Green Voodoo doll (Belinda!!!!!!!). Have some vegemite on toast- my record fair stable morning breakfast. It's very grey outside....still a lot of regulars make an effort. We always try and give fans something for free or a discount...after all they make the effort to come along. Strangely enough we sold heaps of copies of BANG! no idea why...who am I to question this. Head off at 3.30...it's a full day...always a tiring one.


---
August 12th
Get a phone call from Belinda...such a funny message, wonderfully wacky, made me laugh. She's in Melbourne town soon I tell her she should just stay at our place, better then a hotel and she's very little trouble *grin*. She's into it, plus we are such well mannered boys!!!

My interview with Siobhen is good, quite a long one and no idea what absolute PG rubbish came out of my mouth. Still she had fun too, confided in me that when she lived at home she was a huge Kylie-Neighbours fan, and was trying to talk her Mum into letting her change her name to Charlene! Siobhen last name is Duck so that would make her Charlene Duck...all I could do was laugh...so did she.

Guess this will appear in next weeks paper....always worry that I might come across as a bit of a wanker.....


---
August 13th
Spend most of the day in at AAV , DVD stuff. Today is our art work meeting for the 'Hooks DVD. Art guy is really nice and great ideas...think he understands what I am talking about and writes stuff down...Greg is also at the meeting, I want him to pursue the sound area...it's more important for someone from the band to do this. I can see the light at the end of the tunnel now.

Walk around Sth Melbourne trying to buy some good cloth table napkins, find a shop and buy everything they have and a huge container of tealamp candles. Nicole heads back to America tomorrow so I thought a meal for her would be nice, Mr Yeti , Fran, MG and myself....have one seat left so I call Rosemaree, and she wants to bring her mammoth paste meal. Just some people who know Nicole.

I don't tell anyone that Belinda is calling by, just didn't think of it, so at dinner the bell rings, and in walks Boo with only one bag for luggage (what only ONE bag...so un-Bardot!). Just so happy to see Miss Boo, I turn around and Rosemaree has the best look on her face, jaw dropping, she tells me she thought it was Alison. It was a brilliant look and a moment that I will always remember, made me grin- onya Rosemaree...at least you are a good sport about it.

Boo being skinny squashes in fine...we stretch the homemade soup, but there is a mountain of other food. I've made a huge tablecloth of the American flag...yieks that's probably a crime...didn't cut it up... was more a way to say goodbye to Nick and no one set fire to it or anything so I guess that's ok. Nice night, Fran's Apple Pie and my Crumble are all gobbled up. A nice farewell to Nicole.


---
August 14th
The floods in Prague look really bad, the old bridge looks like it could crumble down, makes me feel sad as I truely love Prague. Other parts of Europe are flooding too. They are trying to sand bag in Germany, but the water seems to be beating them. Mother nature is so full on.

Head to Babble with Boo, and she likes the Brady Bunch Ski Lodge look. Just walking from our house to breakfast had people turning their heads...and Boo is probably not the most obvious Bardot girl...must be weird living in a fish tank.

I decide to play house husband and have dinner ready at the end of the day, a fun role, into it for a few days. Squashes into the spare room, and has no problem having a giant 6foot Mushroom from the dance party towering over her while she sleeps.


---
August 15th
Jurate tells me that Ariel in Sydney is a good shop for a Sydney distributor for WINGS and maybe a launch. It's on Oxford Street so I think I know the shop.

Mark spends the day starting on the mammoth project of converting our video archives over to recordable DVD. It will take 6 months at least but a worthwhile project.

Becky calls and we have to catch up soon, off to the house auctions soon- how exciting for her, hope it happens. Nothing like your own home.

Paul Hester calls and the other Peter has put together a video of the WINGS launch, complete with my speech, celebs, Hester playing and other fun moments, nice of him.

Say goodbye to Belinda, she leaves us this cute present of a chocolate Yowie each and a box of that lovely Ceylon Almond tea (cute). Took a few quick snaps of Boo reading WINGS and they should be at the top of this page...love that crazed look photo- made us laugh, she's a sport.

Album of the week- Motor Ace- (Shoot This). I keep saying it will go to #1. Sounds in parts like Oasis at their best if they ever did a really good album again....anyway my monies on Motor Ace.

Book of the week- Practical Magic in the Northern Tradition by Nigel Pennick. Try and get the 1989 Aquarian Press edition for all you Wicca's.

DVD- Stargate Volume 12. Some people don't get Stargate, their loss I guess. The latest offering in Australia are Episodes 17-20 (Season 3) 4 very fine episodes. 'Shades of Grey' is one of my favorites and Richard Dean Anderson is exceptional in that one. Great script and it looks like it was going to be a two parter. So for Sci Fi buffs, this is a great dvd to get. The other 3 episodes are really good too- A Hundred days, New Ground and Maternal Instinct. Very cool.

Fashion Tip- the return of red. Anything red works... especially in Winter.

Song of the week- No idea who sings this, found it in our CD section. Just really like it- 'Pick you up' by ?????

People of the week- anyone who donates blankets to the Melbourne Lost Dogs home- they really are short on blankets, so give them a call and drop a blanket or two in and help keep the dogs warm. We are and hopefully so are some of our friends. Talk is cheap, action is the only way, and hell you'll feel really good helping these poor mutts out.

Strange thing that I did this week. I cooked fish one night for dinner. The last time I had fish was in 1976....I was all fished out, our family had soooo much fish. So did I enjoy it recently- not really.


---
August 16th
Head to Mushroom and get our final edit numbers on the Skyhooks interview stuff and studio material...Dave gives me a cool ASH in Japan DVD. Am so glad our edit is nearly ready, it's so hard to go through 14 tapes and not go slightly nutty. I didn't even get a parking ticket.

Mark keeps finding really long bits of girls hair around the house...we both miss being house husbands for the day.

Thought it was nice in Sanity magazine how Bic Runga gave Sharon Finn a major 'Thumbs Up' in her recent interview. I agree 100%.

Vacuum the whole house today , what an effort. Was working late and Cosmo came hopping from downstairs and climbed on my lap and gave my arm a huge bunny kiss. What a cute wabbit!!!!

Warners emailed and wanted to know if we were doing any work around Sophie Monk- I'll tell you here and now dear diary, Sophie was the only Bardot girl who didn't call us up and thank us for two years of work....and yep it did piss me off. I know her good side but you know when you think you are close to someone and in the end they make zilch effort.....so as far as any support on her solo career, not from us I'm afraid. Plus I think her management is really crap, they have no idea about understanding or appreciating the fan side of things....big no from us. Tiff, Belinda and Katie we'll always help....


---
August 17th
Katie is at the Prince of Wales and we are away for the day...was trying to get back on time but I don't think it will happen. She should do well, loved the photo of her and all the drag queens in WHO weekly. Those queens love Miss Underwood. Got to see her new clip for MAGIC which is out now, should be a strong follow up to the Top ten Gold BEAUTIFUL.

I really meant to ask if Neil would consider releasing the 2 new tracks on One All and maybe 2 live tracks as an EP in Australia/NZ...just for the fans and not really for any chart gain etc.....have to remember to mention this when next we speak. Wonder if EMI would be into it?

Finally a huge thank you to Jayne D. who mailed me a copy of LUST by Geoff Ryman, it could well make my book of the week next time, I start reading it tomorrow...love those one word titles! LUST seems to fit really well with HUSSY etc etc Mark still wants me to call one of the F/16 books STIFFY.


---
August 18th
Hear from Deb and both of us seem to be working very long hours, so this diary will be a bit late...so to balance it all out this one will be a special extended edition.! (Are you lucky or what).? OK maybe not.

Rosemaree calls and shouts me breakfast at the new look Babble, I love that always makes you feel special.

It sounds wanky but I spend the afternoon dusting the gold records in the office, they are great but incredible dust collectors. We don't have that many but it's a huge effort as they are fiddly.

Two cats are sitting out back, we seem to be the yard where cats hang out these days...they curl up out back in the sun, they hang around Hairballs rose and grave like they are paying tribute to the Queen of cats...hell maybe they are, in our eyes they are....who knows what cats see with their eyes.


---
August 19th
Cathy emails me that old school friend Amanda has popped up on one of those 'find your school friends' sites...wasn't that interested, not sure if it's a past is past thing or simply worry that people seem to always compete on things like that, a bit like school reunions...which do zilch for me as well. Gee I sound crusty today...I just prefer now to then, I'm a 'onwards and upwards fan' ....find something new to do, life is too short etc.

Saying that I open the Stonnington Leader to find my own face looking at me...Mark tells me there is a second shot and a 2 part article. It's a week later and I still read it...weird. I was about to quote from it here but it still feels odd so I'm not going too. I don't mind doing things like interviews around the books, but it feels just too odd to read it- plus I'm sure I'm always misquoted and come across as a tosser....shit I can't even read my own online diary (hence the millions of mistakes). Why is that?


---
August 20th
Happy Birthday Rosemaree. We have boxed up your hot date and he is on his way! (No it's not Marky).

I emailed Mark Lizotte last night and told him, and management that I am finishing up with them on September 1st...just had enough, you are only as good as the information etc that is given to you....time to move on. Really want to work his new single but we don't have the tools to do so... depressing, and weird as we could do so much to help make this song work.

At 6.00 Mark looks at me and we both are ravenous..so we head to Mexican early. We are meeting a few others for Rosemarees birthday, but my stomach wants food now....have to eat or go all hypeo. They have 1/2 litre Midori Margarita's such value...did I black out? Think it was fun...walk Bec to the corner and we head home...the glow from Babble at Night grabs us and Michelle gives us the love couch in the corner...and gee wizz Darren, Dave, Jackie and all the others are here, so we extend the cocktail hour. Babble at night is so lovely, a warm glow...will be nice when their big open fire is going.

Finally make it home, and can't sleep. Several Saturnian slave girls come and visit and it is a wild night. Passion is the fashion....sweaty bodies and gee the return of real handcuffs....


---
August 21st
Feel a bit seedy today, exercise in the morning, evil sit ups. Where major sunglasses...have a husky voice. Head over to visit uncle Hester and he is looking after lovely Olive. His kids are just so cute. Rosie the dog is like a walking wall and rams into me for attention.

Work on my battle plan for 'The Return of Paul Hester'...ideas floating about and he's nearly finished his solo cd. I love these songs, I think I'll be playing Paul's album all year... so cool. he hands me this great video that peter Grace put together..it's so neat, almost like the Wings off flies EPK (electronic Press kit)...all footage from the WINGS launch, Paul playing, Hessie on his couch talking about both of us and the book, really warm and a great thing to have...thanks Paul, thanks Pete. I like Peter Grace, he is a Peter G. like me.

The results from The Sun newspaper phone in poll are in. Is Robert Doyle (new leader of the Victorian Liberals) a good choice as a leader? Classic, 2nd day on the job and he blows it. Nearly 85% say NO!!!! hell I thought Napthine was bad..Doyle is just a big bully...he just isn't the great white hope that they want him to be...ah politics when will they learn. You'd think some of the 6000 phone voters would of said Yes just for novelty value.


---
August 22nd
Cary the huge charity bag of clothes down to the charity shop. I left them for the other charity outside as the bag says and they never picked it up, so I decide to drop it into the other shop. Some good clothes, some things never worn...a good thing to do. We all have too many clothes. I'm chopping my wardrobe back even more.

Get an email from Bic and she is away visiting her family, she tours Australia in a month or so, can't wait to see a complete Bic show. Hope it turns the single around a bit.


---
August 23rd
Nigel Griggs flies out today, for a whole month. have a last minute chat, hope he has fun.

It's our other Jen (NSW Jen) birthday today- be good to see those guys soon, we use to go to so many shows together in the early days, nice that we have all stayed in contact.

'Lord Nord' arrives...it's some of the Enz music created around the time of the Millennium concert, it could end up as a hidden extra on the upcoming Split Enz DVD. Looks like both the Skyhooks and the Split Enz dvd's will be released here October 28th. Mark tells me he really likes the menus on both DVD's- high praise from the kind of DVD's.

We head off to play some hockey today, I just worry that our mouthguards are good enough, happy to be bruised battered, but no smashed teeth...or a puck in the balls...my two main fears...how tough are we, how much do we ache. need to get Mark into hockey training at our local park...faster faster. Our new tough macho bruised battered hockey image. May get my hockey hair cut soon!


---
August 24th
Mark has tonsilitis ...it happens every few years, so he is being spoilt this weekend. I've been getting the latest mailout together, posting the last copies of Wings off flies. They are starting to arrive at houses overseas, today we had heaps of glowing emails- think the quality etc surprised people, very happy....I like that.

Neil faxes in a note, he's in the studio working away, that recent USA/Canada tour made him a happy man- such a vibe, I know he wants to head back.

Hear from big Ben, dinner off, work work work, easy to reschedule, we all do it. I think he thinks I'll be evil PG, gawd do I scare people that much- i've been the very understanding PG especially of late. I'm a lover not a fighter...and yes shoot me know for even writing such crap. (BANG!).

Stuart tells me he really liked Vivienne..and didn't she try to kill me with a knife!!!! I say no a telephone and really confuse him. Stuart got a friend to do some new artwork for me, and it's looking good, one of his work regulars is away, happy with it.

Susan and Pete (O'Dohertry) are coming to town for a duo art show at the Jackman gallery on September 4th. If anyone wishes to attend email me... Mark knows I will be tempted. Maybe if I break all my fingers at hockey I can't sign the credit card slip? or a puck in the eyes so I can't see the art?

Restless night, kinda weird as I felt like my head was zooming about the house , kind of checking on all the rooms. Trippy eh. No drugs nothing... boringly enough I do very few, hell I only drink one coffee a day! Anyway thankfully I woke up and my head was in the right place....strange.

Watch Mutant X tonight and I do enjoy it...hope the scripts get a bit stronger. Jayne sends the latest copy of SFX and it's one of their best issues. Good to see BUFFY win best show....kept saying that Buffy fans are flocking back to the show......I think it's good for a show to flip off the trendy viewers...and then make a comeback with the real (cool) viewers..... The Spike article is so funny, he's such a rockstar...he truely is a bigger rockstar then any rockstars I know...brilliant!

Well that's it.....(phew)....have a passionate week readers.

Love from Mr Hockey hair (covered in bruises).

Gryphon

P.s.- White Collar Blue (Aussie cop show) rocks......Stingers (shite Aussie cop show)is total crap! Someone axe this boring piece of rubbish.

---
If there are any problems with this site, please contact webmaster@aswas.com.