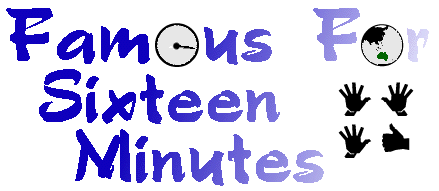 The Life and Times of Peter Green
Archive: 19 June - 23 June 2002
---
June 9th 2002
Sunday breakfast with Rosemaree...always a nice way to start Sunday. The Babble crowd on Sunday's are different to the weekly regulars, it's like a lot of them have been let out of their work cages...they get terribly excited when a latte' arrives...we like to watch!!!

The Babble extensions are going well except for the odd break in- The Baroness informs us of the latest upcoming Babble addition- a huge open fire place, which will be good on Melbourne's misty cold days.


---
June 10th
Get a call from Jen and Merl (the Sydney ones) -Merl gets me into Anita Blake Mysteries by Laurell Hamilton....Anita is a Vampyre Slayer... but she has dark hair.! We'll see.....

Watch both Spiderman and Lord of the Rings on DVD. Yeah both arn't out on DVD for awhile...so don't ask. Can't believe that stupid USA website telling them to change the title of the second 'Rings" movie because of the Sept 11th stuff....it's the title of the 2nd book penned about 50 years ago leave it as it is....has nothing to do with it. The more you try and hide realities the more you get them to return and haunt people. Removing things like the Twin Towers from movies etc, just tends to highlight the sadness all over again...closure and grieving will never end...and that's sad.

Queens Birthday holiday today....so many Queens down on commercial rd.... one is a finer version of her majesty...a bit of a tuck and no one would be the wiser.......brings a new meaning to the queens family jewels!


---
June 11th
In a good mood today, work is really fun, and we may get the green light on our new act soon. Would make for a pretty perfect year. We head out to celebrate.

Call into the Children's hospital and drop off some Bardot fan packs for the kids, find a shop that has decent price colouring pencils so I buy a stack of these too, it's a good thing, imagine being stuck in a hospital ward for months at a time, when they should be running in parks or terrorizing their parents. Good deed for the day.

Chat to both Noel and Nigel about the Enz dvd...all of the guys agree on what clips should go on this...what Split Enz all agreeing. Yieks!!!


---
June 12th
New Zealand charts are in, Tim Finn moves up a few notches to #27 with 'Feeding the Gods'....still think they should be doing more media and a small public showcase to sustain it...but I guess it has to have a life of it's own.

Have the urge to head to Mt Kosciosko and the snow...just a road trip, always nice to have a small adventure...so I book a Hotel for a few days. Will leave in a week.

Neil is going to add a second New York City show at Irving Plaza, internet pre sales have been very healthy. It's on July 22nd. A few shows on this tour have sold out already, still only taking one tour bus, think I'll happily stay here and work. Am enjoying being at home for the moment and busy times are ahead.


---
June 13th
Red Symons from Skyhooks turns the ripe old age of 53 today. He's been doing the tv adverts for Myers & Grace Bros....and he's so 'nice' in them, I prefer his vicious persona- more fun.

Separate the 2" master tapes and bits and pieces for Mushroom. Mostly want to get the video clip area sorted out for the DVD's. Hopefully Noel Crombie will link with Mushroom art for the graphics....that's if they get their house auction out of the way...all that lead up stuff to auctions is horrible. Never want to go through it again. Home invasion. Poor Crombie's.


---
June 14th
Have a meeting today around the DVD's...still targeting Xmas for the Enz and 'Hooks dvds. Will be interesting to see what happens with the footage as a lot of the master footage from TV shows is lost forever. If all goes well, I guess the possible two Crowded House DVD's will follow.

DVD of the week for us is LANTANA. This is not out in Australia for a few months, only as a rental (or Ex-Rental *grin*). It is available via the USA and is really worth having in your DVD fine movie collection.

'LANTANA'.
It won 7 AFI awards (Best Film, best actor, best actress etc etc).
Runs for 115 minutes...and wonderfully Australian.
'It's like 'Mulholland Drive' a few good twists but you can understand this one '!(Quote-Mark Goulding).
It's a web of deceit, sex and a shoe in a Lantaqna bush. Some good twists and you start asking if the obvious is so obvious and which married man is Peter Phelps having sex with...is it Geoffrey Rush....or is Barbara Hershey scared she is the ultimate undercover fag hag....the detective Leon Zat (what a fine oddball name is Zat!!!) is played by Anthony LaPaglia is great in his role.....but not a very good dancer. Kerry Armstrong (Prisoner/Sea Change) is exceptional as always..a true actress that grows each year... one of the best in the world....plus to hear Kerry say 'get fucked' is kind of humorous in that Aussie swearing woman sort of way.

I've always loved the Lantana flower...it's such a tough pretty thing....and the movie could be described as that too...great to watch on an overcast Sunday. It truely deserves all the praises it receives. 5 stars*****


---
June 15th
Wash clothes, takes all day....have no idea how one man can have so many pairs of Calvins. Thanks Chris for the extra pairs, can't have too many! Except on washing day. Yeah you look hunky on the box cover...and you know it.

Rocket Pocket Books has had a few hundred visitors, I think the GLAMOUR interview will go up some time in July. Spock is working on the cover for the third Famous for 16 minutes book- we both think 'Rolling Stones-Some Girls' album...art work wise.

I find a 1941 copy of Womans World magazine which has some nice "Glamouresque' adverts etc that could appear in the book...from ladies Golf Bootettes to the ongoing story 'devil in my heart'....the forties were a great time for Glamour, so it might be nice to jump back 60 years and borrow a few images. Probably August 1st for the third diary book....WINGS is taking up all our time for the moment. It goes to the binders soon. Have told Stuart we need high quality glossy paper...so the band shots should look pretty good. Here is the RPB website address: http://www.rocketpocketbooks.com


---
June 16th
Drive to the beach with Mark and we have some lunch on the sand. Only a few people walking some dogs...so it's nice to sit and watch the boats go by. By late afternoon a fine low layer of sea mist has blown in off the bay... it looks a bit spooky, and very English. Earthquakes in Tasmania...and I find out I owe the tax department a massive $32.00. I shrug.

Trying to slow my life down a bit, it kind of jumps gear a few times. Spend the afternoon on the phone to my friend Chris who since being 'home' is finding it very hard to go back to NYC to live. All it took was one decent walk in an Australian forest.!!!


---
June 17th
We are keeping an eye on Kylie...staying on top of it in case we get the go ahead. Her Melbourne and Sydney concert tickets went on sale today...the first show Sold Out in Melbourne in 20 minutes, by the end of the day she had Sold Out 4 here and 3 in Sydney. Think she is up to show #6 in Melbourne, a record for Melbourne Park...she kicks butt.

Bic's GET SOME SLEEP should be out today, a lot of signed copies will arrive from NZ in a week or so, it deserves to be big. July release for Australian fans. We like the Runga girl, dying for some full BIC shows...seems like ages. She told me she really digs Kylie...

Katie's BEAUTIFUL single moves up another notch, just outside the Top Ten at #11...I figure if it stays in the top 20 for 4 more weeks she should score a Gold record...she has the voice....gee all these women surrounding us- Bic, Kylie, Katie....what stud muffins we both are.!!!! (we wish).


---
June 18th
Spock shows us the final dustcover for WINGS OFF FLIES...he had to make a fakie GLAMOUR cover as the F/16 covers are on the dust jacket too... looks great-the Wolf did a good job....Stuart has locked in some really high quality binding people and we have one of those great hardcloth/card stitched covers....exciting for us. A little bit of our history with people we have worked for. Deciding if we will keep it at 1000 only...like thats it forever....would make it a good collectors item. No freebee's...which will cause a few 'oh's' but that's life.

Spend the afternoon packing bags, getting snow clothes packed, and GPS devices...a few days on our roadtrip will be nice.


---
June 19th
Happy Birthday Alison. Give her a quick call...it's the big 40th. I think people should only freak out when they are 50. Usually freaks men out, they stop drinking, try to remove that beer gut and get much younger girlfriends, a real common thing amongst Aussie men...can think of a few who easily fall into that midlife crisis. It's only a number...weird.

Leave the house at 9.00, Mark navigates and finds a really good route to Mt Kosciosko. It's in NSW, so another state away. It's a really nice drive...wide open plains, gum trees....as we are driving up a hill we spot a hairy-nosed wombat grazing right by the side of the road. After a day of 'spot the road kill' we know this fellow will soon become one...so we turn the car around and head back. Manage to park and scoot across the road. Mark stops traffic and I approach the wombat slowly...ushering him off the roadside....the ungrateful beasty growls at me like a dog. I have to admit I thought he was going to take a chunk out of my leg..small amount of fear welling up inside me...fear is the mind killer, I let it pass over me.....knowing this wombat will sense it. I talk softly to this malcontent marsupial and he growls louder...I take a quick camera snap...and the camera whirl sets him off...thankfully into the scrub. Those short little legs moving at lightening speed.....but he is safe. The same can't be said about the odd wallaby and other wombats...quite a few hit by cars. A regular meat market on display...

Arrive to our luxury accomodation at Cooma, after several dares Mark enters the G-string contest at Cooma's Australian Hotel- it's a seventies night, can't believe he took the dare and won- $200 prize money and a bottle of some bad champayne. The snow bunnies cheer him on....they want him bad (pant pant) *grin*. Not sure what G-strings and a Seventies night have in common...go figure.

It hits zero outside when the sun goes down...Cooma's Pizza shops and video stores come alive....we escape to the Hotel...Mark leaving many a broken hearted snow bunny in his wake!! Don't sleep too well....too hyper.

Just as I drift off I remember that today we have been at our home for 4 years....that's gone fast.


---
June 20th
Somewhere between Thredbo and Charlotte Pass...

The ski's on the snow cat were tilting at a 45o angle, the suspension still in tact but both vehicles were wedged into the sunken potholes on the track To make it worse the wind had picked up and at a raging 100kph you don't appreciate the snow covered trees or the beauty of the great white. Mark had the topographic map out- (he is the ultimate navigator) and we were trying to read it, at the same time stopping it from blowing away. If worse came to worse we had our funky GPS- bright red and glow in the dark dial...very star trek. I used it anyway...just cos I could.

Charlottes Pass was well and truely closed, the snow now half way up the trees. Do you realize how much heavier a snow cat is when your arms are tired, and you have that nice Sir Edmond Hillary look of icicles on your face!. We joked that our accommodation tonight would be a snow cave, if the weather worsened. The ANARE field manual told us the best snow cave to make (phew)...but Mark wanted to know where to plug the dvd player in...kidding. 30 minutes later and we were on our way again, the wind had slowed but only just, we took it slow....and as we approached a bend a family of ducks sheltering in the trees said hello. Of course Mark stopped and fed them, I'm thinking well there goes our snow cave dinner.....hmm maybe duck could be nice.......one of them bit him. Ungrateful wombats and ducks....

Then suddenly it was like God pushed the stop button on his snow maker...a beam of sun broke through and there she was- Mt Kosciuszko (the original spelling I think)...covered in white jewels of snow. Not majestic like the Swiss Alps..really just a small peak compared to other places , but a beauty in her own right. We celebrated with a chocolate bar...imagine what it would be like to climb Mt Everest!!!!

We decide our warm beds are more tempting....plus Mark was still wearing his G-string from the Seventies party....and icicles were forming on his...oh you don't want to know.....we head back before the weather turns again... By the time I'm back in Cooma my ankles ache, it's been a long day....all we can think about is mans best friend...PIZZA!


---
June 21st
Wake up fairly early and we head off home. The drive seems longer, but the government are making major road repairs...so I am patient...our taxes being put to good use.

A red Kangaroo decides to run next to our car...I go faster, I know if I'd slowed down he would of taken the chance and jumped in front..he was a grand animal, if the window was open I could of gave him a pat.

We round the corner and a massive eagle is feeding on some road kill...looks us in the eye and walks back to let us pass- NO FEAR. All this nature, we get excited.

Call into Lakes Entrance (Hi Simon) and have a quick bite to eat in an empty picnic area by the harbour. Such a nice town. Get home on time, and Cosmo is very excited to see..well Mark....yes he's the animal favorite (except for ducks)....all bunnys-Cosmo, snow Bunny dancing girls....

A few messages on our machine, Vali is home from Italy, so I guess she's hanging in the studio, will catch up with the Gypsy queen next week.


---
June 22nd
Oh good to see Phil Judd is bored again, the usual crap on the Forum. Boring really. Too much spare time on their hands...wasn't he a musician or something? Rosemaree told me that today 'The Eighties 'were featured on some video show & they played 'Counting the Beat',they said Bones was in Midnight Oil...and 'does anyone know whatever happened to Phil Judd?'.....

Cosmo bunny spends most of the day inside following us around...little white ball of fluff....we only went away for a few days....not a life time. Start work on GLAMOUR, go back to scratch, gotta do that sometime, it's fairly easy as it's just combining F/16 stuff with the original diary's.... decide that there will be a bit of time off between GLAMOUR and TRIP (book 4)....plus we are being really fussy with the distributor's deals...in the end the public will benefit with better prices....so we are taking our time.

Amazing Grace drops by, she found a dead Tabby Cat by her gate....her little Scottish terrier is all rugged up for Winter, I notice her hair is the same fluffy grey as her pooch. That happens to old ladies, they start resembling their animals....pity if you owned a giraffe.

Football drunks all around Prahran, drunken Englishmen with beer belly's falling off trams....looks like some sort of weird comedy being filmed.... a bit sad... they act like knob heads.


---
June 23rd
A cat got into the atrium last night and Cosmo was running around like a crazy bunny....Mark thankfully heard it..so we are cat proofing the security area....

Work on some track ideas for Other Enz II for Raven, really their call, but be good to get an unreleased Tim demo on the CD and some other cool stuff... it's next year for release.

I find an old Neil Finn access pass from one of the UK tours in my tour coat...have to send it to Jayne at SFX magazine....as the promoters for the show were SFX....weird that the promoters have the same name...silly souvenir for her.

I guess by the time this is up the Famous for 16 Minutes site will of had it's 160,000 visitor...wild! Will try and send Deb some new photos soon for the photo area, Mark dancing in his G-String onstage at the Australian Hotel may NOT be one of them!

Enjoy life.
Peter

---
If there are any problems with this site, please contact webmaster@aswas.com.