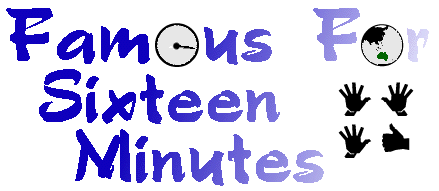 The Life and Times of Peter Green
Archive: 9 September - 22 September 2002
---
September 9th 2002
Wow our first book award, probably our only book award, but cool none the less. Looks strange seeing it sitting amongst the Gold records at the office..little Hussy and Bang face peeping out amongst the Finns and the Enz and Crowdies boys. We get the award the same day that the newspapers announce that book sales fell in Australia over the last 12 months by 19%. Publishers margins dropped from 7.8% to 4.6%, a lot of people say the horrid GST has played a big part in this. I know Greville Books is still doing well, mostly due to some wise book choices and good customer service by Jurate. Rocket Pocket Books- well it's our first year and we are such freaks in the book world that we don't count...we just sell more books then most people.

Head into the city to returns Vali's video of the upcoming doco 'Painted Lady' (ABC tv). The studio is closed, so I use my private key to let me in and drop it off. Had some Ginger for her as well, as we both enjoy it's fiery taste. I can almost feel her presence when I open the door.

Spend most of the day living on the computer, and most of it work related. The phones are very quiet which I'm into, just gives me time to focus and catch up on projects. Work to the wee hours of the morning, seem to have an abundance of energy today...decide I might as well get as much done as possible before I fade and collapse into a heap.


---
September 10th
Tv stations keep pushing those September 11 images into everyone's home, the only thing I am interested in watching is the '9/11' doco by the 2 french brothers and that's mostly due to how it's filmed and where....some people are just fascinated (obsessed) with Sept 11th...I'm turning off from it... and I bet the ratings show that heaps of other people will too.

Pick up the third Star Trek Next generation DVD set from CC Music, season #3. We still think the special boxes look like something Avon cosmetics should be carried in! It's a good season, #3, the return of Dr Beverly Crusher (Dr Nut Crusher as she is known around the office) with her lovely Poodle haired look. So soft!

Hear from Eddie Rayner who is busy signing copies of his 'Play it Straight" CD for us, we are helping Ed sell a few and we managed to dig up a few copies of his HORSE solo CD. All helps. Am surprised at how many orders have come in so far. Go Ed, there's no stopping him now!!!!!! (-: The return of the stallion!


---
September 11th
Wow a year down the track. It has somehow made the world more crazy, a lot less trusting and America really paranoid- then again I don't live in the U.S. so it's easy to say that I guess. Still think Bush wants WAR so much... just don't trust that guy...hell he's a politician trust isn't part of the agenda I guess. Still all those images just make me sad. A lot of people obviously turned off as the 9/11 doco is the only one that really rates.

Deb V calls and manage to grab a coffee at Babble, she scores some brilliant Acland street cakes , which will probably put the several kilo's I've lost straight back on...oh fu*k it.....oink. They are good. Sounds like all her work for the Livid Festival is coming together, she seems confident and as always damn gorgeous and it should end up being a really good Festival this year. Mozza still hasn't cancelled yet so I guess the old Queen really is coming to Australia. He's playing The Forum too, so I am going to go to that one....all those classic songs.

Campbell emails me that Bic now has 4 shows in Melbourne at the Cornish Arms and to keep doing what I'm doing as it obviously is working. Think 3 have totally sold out. So why isn't BEAUTIFUL COLLISION massive here... I love that album.


---
September 12th
Yey final payment on WINGS OFF FLIES is mailed off, so we don't owe anyone anything for that now, 150 or so more books to sell before we break even, such an expensive project, but you know, it's kinda cool. I like that we seem to be able to keep putting together quality things like the book and make them available. Opening the box for the first time is always a bit scary as you just never know if the quality will be up to standard...or mistakes etc. We've only spotted 2 so far...so that's good. Had a lot of nice emails around the book, loads from overseas, saying they love it and peoples friends have been ordering it after seeing it. I like that. Even Marks brother in N.Z. is after a copy!


---
September 13th
In the city today and I have made this huge effort to look for Died Pretty's last CD single MY GENERATION LANDSLIDE. Died Pretty are this Aussie band that have been around for ages, and I like their energy, thought it would be good to buy this CD, seeing it is their last. It was also single of the week in one of the street papers. The thing I found out is the lack of support as far as stores stocking this- HMV ,Sanity and even you JB HIFI, you truely are lame....not one of these places had a copy- and it wasn't because they had sold out-that was obvious. I asked someone at Sanity and they said 'Oh arn't they that German band". I wanted to hit this dumb girl over the head with a brick...to make it worse she was reading BEAT magazine and in front of her was an article on them!!! Sanity really needs more people like Wendy Haynes our friend at JB, Wendy is aware of so many Aussie acts, ok the Finns rule but if I asked her about Died Pretty she would know....Sanity seem to employ morons who have no idea about music- current or old...if they didn't have a computer to look up the release they would be lost....anyway of course Sanity couldn't help (no surprise there). The only place that had stock was Missing Link Records- it's been in Melbourne for decades and is situated at 262 Flinders Lane. They had 2 copies of MY GENERATION LANDSLIDE so I grabbed one. I was also tempted and bought CBGB's- and the birth of U.S. Punk. It's a release on the Ocho label (Union Square music label). Love this CD, mainly because it has THE 13TH FLOOR ELEVATORS performing SLIP INSIDE THIS HOUSE. Most people have never heard of The 13th Floor Elevators so here is a bit on them from the booklet.

"The bands name is reputed to have been inspired by the fact that American buildings of the time rarely had a 13th floor, and the 13th letter of the alphabet, "M" stood for Marijuana. They figured that if you wanted to reach the 13th floor (and a new level of consciousness) that you needed to check out their music and smoke grass. Hippies? Probably, but the 13th Floor Elevators were obsessed with drugs and it lead to numerous busts, imprisonment and a constant police presence at their shows.......".

The CD track; SLIP INSIDE THIS HOUSE gives a blurred insight into the mind of the band and should sound familiar to owners of Primal Screams dance opus SCREAMADELICA.

So many cool songs on this CD and most live a CBGBs- The Velvet Underground with Nico, The Sonics, New York Dolls, Iggy and the stooges, Television, Wayne County, Blondie, Johnny Thunders etc etc also it has Richard Hell and the Voidoids. I was really into Richards BLANK GENERATION song when Punk first started in Australia, in fact the whole album I really liked...so happy that Dick is on this CBGB's cd.

Not sure if many of the readers have been to CBGBS, I've been a few times, I remember one of the earlier times heading to this place with Mark, up to our ankles in garbage on the streets, smack and crack whores everywhere, broken TV sets on the side walk and all the usual joys of The Bowery in NYC. CBGB's was as run down as the Bowery itself, at the time it was surrounded by Skid Row type housing, there was a community, but it always had a dark underbelly....we didn't hang too long, got a bit trashed but not enough to let our guard down. When CBGB's first opened, William Burrows lived almost next door in his little "bunker", Hilly Krystal was the person who really made CBGB's what it is, and encouraged all those cool New York acts..The Ramones and Blondie and Television. He was the king of self expression and all of the people on this CD owe him one way or the other. Anyway music lesson over...it was a great find, and probably a reward for going out of the way to track down Died Pretty's last CD...that's what I would like to think. RIP DIED PRETTY.


---
September 14th
Fave single of the week- MY GENERATION LANDSLIDE (well worth the hunting).

Fave character from Queer as Folk (USA)- Emmett. Love when he tried to "go straight" fantastically funny.I thought it started off a bit lame but QAF just improves with each show.

Interesting book of the week- "Why do people hate America". (Sardar/Davies- Icon Books).The writers explore the global impact of America's Foreign Policy, cultural and corporate power, and the USA perception of itself. I guess it shows both sides of the American dream and the American nightmare. An interesting read and shows both sides of the political coin... don't be put off by the title, it's a pretty honest read.

Fave Food- Coconut icecream from Licks on Chapel Street Prahran.

Fave Look-San Francisco '84 Tshirt under a Route 66 shirt..and Girls in cotton summer dresses. (must have flower prints)

Fave album- "The Psychedelic Sounds Of..." (The 13th Floor Elevators)

Fave accessory- Anything that goes around the neck (my mouth! My teeth!Opps) Idiot of the week- NZ Politician Winston Peters....or Peter Costello's Ego.


---
September 15th
Leader of the NZ First Party- Winston Peters proving he is a total tosser with his 'half of the refugee's" admitted into NZ are carrying HIV" comment, he also refers to HIV as a "third world" disease...about as ignorant as you can get. Some facts Mr peters- only 28 out of the 2230 (isn't that 1.25% NOT half) were HIV positive. I hope Lianne Dalziel (NZ immigration minister) gives him a kick in the balls for this scare mongering (if Winston has any).

Give the car a wash, fill up buckets as I know parts of Victoria is close to drought, didn't want to use the car wash as I'm sure that uses more then my few buckets. May get a small run off tank for garden water out back..


---
September 16th
We thought the Yeti was off on the road today but it's Wednesday, more Midnight Oil- don't those guys get sick of touring. They do so much of it- good to see though, they probably employ quite a few of our friends.

Well our fridge died, it's about 17 years old, wish it could waited till pay day, isn't that always the case, the main thing breaks down on the day you are poorest.?

We get a new funky metal Fisher & Paykel, brilliant stainless steel door... and yeah we know what a fingerprint collection will end up on this...still nice fridge...good when they are close to a work of art. Australian kitchens are looking pretty swank these days.

Hessie calls by, just to check out some cover art for his wonderful NUTS CD. Loves it all, as do we. he is fun today.

Head to the Post Office to buy a chunk of CD boxes for the upcoming CD mail out, was leaving and Johnny was in line, kinda weird said hello, was all a bit strange....


---
September 17th
We had a fun surprise at breakfast today- Miss Belinda Chapple sneaked up and grabbed me from behind, she's in town, staying with her new boyfriend, we sat and chatted for awhile...looks like she might be moving down here to live which is cool. She's looking pretty special, and tells me that Tiffany Bardot is also in town, so we pencil in a date where (hopefully) all 3 Bardot's can get together for breaky at Babble. Been so long.

Call into AAV with a new batch of Enz transparency's to be scanned, Tim didn't like one of the shots on the menu board, which is good as far as the band being happy, prefer him to say this now , before we lock the project away...hopefully one or two of these shots will be ok. I like that early Enz shot of the band in their B&W cossies in front of the giant moon, think that's the go.

Back home in time for the arrival of the new fridge- we get a bonus pack of freezer bags- how special are we! (not). Now what to do with the old monolith. Recycle recycle.

An old school buddy Amanda calls, she was part of the school gang, hmm mostly woman-funny about that! Nice to hear from her, she tracked down Cathy and then Cathy sent her my way, it's actually ok. At first I thought, why am I doing this, I like the future far more than the past, especially school days stuff, which overall meant very little to me. A handful of people I have really fond memories of, but only a handful, things like school reunions I just find to be incredibly tragic, just one big contest of 'this is what I have done with my life' (urgh).... apparently one happened a few years ago & Amanda told me that nearly all the people were living in the same suburbs, and were almost exactly the same except fatter and less hair. Like why would you bother- I figure if you haven't stayed in contact with people, most of the time there is a reason....anyway Mark and myself have no urge to play the Romy and Michelle role and go back. So yes to the school gang, and no to the rest, and it's fun to see how they have changed on the outside...guess all of us have...gee my hair has gone naturally black! All the way back...not a trip I want to go on...I want to go forward.

Jake swallows a marble....good one Jake, that will cause a clang in the toilet bowl!


---
September 18th
Oh by the way Mark IS Romy! (So he says...)

We may have some special Rocket Pocket Book desk organisers later on, thought it was a nice idea, scribbling down a design or two...I like that we can have the odd special unique 'gift'. Have to have a meeting with our printers and see if they can screen on the logo's. Forget our books, all the fun stuff around the book company is far more interesting. We get a lot of people asking about the Rocket Pocket Books Tshirts, Jurate wears hers to work as does Miss Trudi. Have to put some up on the RPB website.

Qantas share Prospectus arrives, with our pro-rata entitlement...am going to go for the basic amount of extra shares, as the $4.20 mark is still a tad above the current share price ($4.15)...not much but I think the offer should of been around $4.00 per share as the offer....still the price will rise.It still has a pretty decent fleet (187 aircraft that covers 142 destinations in 32 countries)....last year 27 million people used Qantas plus a decent safety record...I do like the flying Kangaroo...now if the food area was improved a bit I'd be totally content to fly them all our life.

Mark is threatening to cut the back out of our giant cupboard that holds the TV, DVD's etc etc, it would be easier to do full house renovations! He is a man obsessed and will have to de stress him today if he can't get all these extra plugs back into the system...oh stress attack coming, I can feel it....as he says "it's all too much, I'm not prepared"...which I'm glad as I can sense a heart attack coming on!!!!!


---
September 19th
FARSCAPE gets cancelled, production on series 4 would up in Sydney last week. I've never liked the show, but other Sci fi fans enjoy it. USA Sci Fi network dropped it, Australia has gotten rid of it, the English are the only people who really are obsessed and I blame Jane at SFX magazine totally for this (and yes I am kidding Jane)..I keep saying FARSCAPE IS average , Buffy forever but SFX are fighting it! Seriously though, sad when any Sci Fi show gets the axe as it weakens the market and studios go a bit weird about investing in Sci Fi. I'm still watching Andromeda and it has some good moments, not great though. Enterprise is back on in Australia, Trip seems to be doing more semi nude scenes and the Vulcan is getting close to being the hottest babe in Sci Fi land. (Plus she kicks arse).

Thought it was a good thing for Greens leader, Senator Bob Brown to verbally protest (and get dragged away by security) after he approached Chinese leader Li Peng and calling out 'Free Tibet". After all it was Li Peng who was personally responsible for the directive to send the tanks into Tinanmen Square (1989) which ended up killing hundreds of activists for democracy. Sometimes Bob Brown makes the right moves- every so often actions speak louder then words.

Was also impressed that John Howard told the liberal party to lay off attacking the Labour party in response to the possible Iraq war, as Howard said everyone should be entitled to their opinion on such a serious matter. Even though I still don't like Howard's White Australia style politics, he proved this time he is capable of a decent response...there is hope.

Let everyone know that our old drinking buddy Cecelia gave birth to a baby girl- Andrea on 29th August...my sisters birthday too, we buy her the funkiest booties I've ever seen- tiger skin style...hand made quality. Anyway congrats Cecelia and David. Welcome to the world young Andrea.


---
September 20th
Peter Costello (Treasurer and contender for the PM's crown) sounds like he has a major bruised Ego, after liberal colleagues push for John Howard to stay on.

Good to see our Bic Runga girl, with a full page article in The Age EG today, nice photo too, this will probably help sell out her 4th show at The Cornish Arms on September 25th (Melbourne).

Manage to grab the last bottle of Active+ Honey from the Supermarket. This Australian company medihoney have been making this available for awhile now and it's very popular. I like their Manuka & Jellybush brand. It's a therapeutic honey for dietary use. It's a antibacterial honey derived from plants in Aust/NZ. Most Manuka/Jellybush honey is not active, it must be active for it to work best. It's great to prevent mouth and throat infections. Works incredibly well, like all good natural things. Far better then something created in a lab.

Bec heads to the Northern Territory for a holiday, hopefully her Mum and her won't get kidnapped and tied to a tree!!! Seems to happen a lot up their.


---
September 21st
The weekend already. I attack the bathrooms with old toothbrush in hand, the showers and bath are getting a major work over. Spring clean is under way.

Mark decides to shower outside when the top of the hose comes off and thoroughly soaks him *grin* Marks new 'wet look' girls! He is in high stress mode today, at least he isn't crying yet.....

Was going to go to the gallery and pick up this latest batch of art but decided to wait till our Amex cards are paid. Even art purchases gives us flight points.

Had an idea for Rocket Pocket Books- with the Finns in the studio working on songs for the 2nd Finn Bros CD, I thought we might be able to have a small Bang sized book all about the mailing of the cd, photos, text, handwritten lyrics etc, same size as Hussy/Bang/Glamour and available from us or on the road....need to speak to Tim and Neil about this. many years ago Tim released a similar size book around Big canoe and it was really cool. So that could be an idea for not too far down the track.

Watch Arnold in the 'The 6th Day' a bit average, too much like a poor mans Total Recall...and a few other Arny movies, a parody of Arnold?


---
September 22nd
Didn't sleep too well, a few Footy yobbo's going by last night, read for awhile, more Anita Blake, and drifted on and off. Up early and work on this Diary update. Rosemaree calls and we have a babble breaky, her massive nose pimple looks far more like a nose piercing today. (:

Buy some flowers at the supermarket and some bleach to finish the showers, use it sparingly as I worry about what goes down the drains these days.

Give my Mum a call, we keep playing phone tag all week, bet she's in the garden, hopefully it's as nice up North as it is down here in Melbourne town. Sanity magazine have the release date for both the Skyhooks DVD and the Split Enz DVD as November 11th, I think they will be a week later but hey as long as it's before Christmas I am happy. What a lonnnnng project.

In a few weeks time I will need to get a few more work offers in, I think, might talk to Neil, Paul and Nick about starting on the Crowded House DVD/S soon. They should be easier then the Enz one.

That's it from this neck of the woods. I'm sitting here looking at the book award for Hussy and Bang, and I should finish this by thanking all of the readers who supported both these projects by buying a copy, and Deb too for her efforts around this website. Both books are down to the last few copies and yes they are available via the website (go to the merchandise area at the bottom)...or email me peter@frenz.com if you need prices or want to buy direct.... while we have a few hardcover copies available.

Stay safe but don't let life pass you buy..it's too precious.

Peter

---
If there are any problems with this site, please contact webmaster@aswas.com.