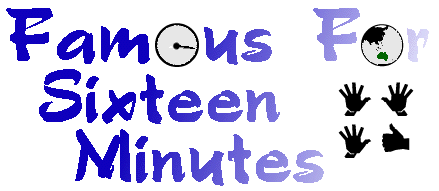 The Life and Times of Peter Green
Archive: 10 March - 22 March 2003
---
March 10th
Public holiday, I never know what to do on public holidays, always walk about a bit lost.

I hear that the biggest selling item on the streets of Baghdad is not water or duct tape..it's canaries. A canary is the cheapest chemical weapon detector...I think chickens are too- the US marines have a lot of chickens with them for that reason.

Queen Victoria Market in Melbourne has just had 1300 solar panels added to it's 2000 square metre roof. It creates enough electricity to power 63 homes and 60% of the market power for the year. The Bracks government put in a chunk of the $$$. There should be more projects like this.

Get a pile of invites for the Simone Maynard exhibition at the Jackman gallery, a bit lazy lose the vibe and don't go...so many more art shows coming up, so I'll make up for it.


---
March 11th
Bic Runga's "Something Good" went to Australian radio today, not sure when it's in the stores here, it did well in NZ, top 5 hit and helped push the album to 4 times platinum in New Zealand.

DVD is sure getting popular. 3100 DVD players were sold in Australia in the first year of DVD being released here. Last year 750,000 were sold..of course that includes DVD players with Playstation etc etc Nearly everyone we know has one. Our Split Enz and Skyhooks DVD are around 60% of the way to obtaining a Gold DVD award. Overseas fans wanting the Split Enz DVD should check out an Australian on line store like www.hmv.com.au Remember it's in PAL format (so yep UK F/16 readers can play it).

Head off with Jen and Ben for some Turkish..I had food already but will always partake in some Turkish desert. They had the ultimate Pizza Oven, it probably doubles as an air raid shelter- we were impressed.The Yeti had his sliderule out taking down Pizza Oven specs.

Have Lou Reeds TRANSFORMER CD playing in the car- brilliant CD. It always makes my ten desert island discs.

Mark owes me $50 as I said I could get to the Yeti's house in under 30 minutes. 24 minutes later home in time for Buffy the vampire Slayer. Green lights all the way. You owe me MG.


---
March 12th
Well GLAMOUR arrived today, the 3rd book in the F/16 series. It's probably going to be the last diary book for awhile- need to have a break from them, mainly because they are such full on projects to do. That first moment opening up the boxes and flicking through, is always a bit scary...but it came together (again) so 3 out of 3. We looked at the figures for Hussy and Bang! last week and they have sold the exact same amount of copies- not one more or one less. Typically freaky of us. So GLAMOUR is the third release- we now have a trilogy- move over Star Wars!


---
March 13th
Belinda Bardot has some breakfast with us at Babble, Jackie and the Elf and MG too, we take over the big long table. Miss Boo is looking good, working hard on more songs for her solo debut later on this year.

Jurate at Greville Street Book store (145 Greville street Prahran) has all three F/16 books in the window. So if any Melbourne fans want to save on postage you can get a copy via Greville Street Book store. It's a great shop has some very cool books available- there is a Ramones book in the window that I think will be my next expenditure....looks like a good read. It is a strange feeling when you walk by and your books are "looking" at you.


---
March 14th
Michael Jackson loses another court case and has to pay $9 million. Karma???

We decide to take a table at the Camberwell Collectors/CD Fair which is on March 23rd (Sunday). Same location as always- Camberwell Civic Centre (340 Camberwell Rd, Camberwell). Melways Ref. 59 J1. Doors open at 10.00 am. Going to give the office a good clean out so who knows what bargains will be found. So Melbourne people drop on by, we are located in the foyer at the Fair. We only do this Fair a couple of time a year.

Hear from Tim Finn, Marie expects to have the baby any day now, guess we'll know if I am right, I keep saying it's a girl. be nice to have a girl to break the continuous procession of boys. (:


---
March 15th
We decided today that I am Evan...scary! I even wear the same boxers. (Secret Life of Us reference).


---
March 16th
Have breakfast with Tania and Rosemaree at Babble- they get their copies of GLAMOUR seeing how both managed to get on the back cover in their alter ego's.

Tania has bought a DVD player, so that's another friend who has one. Her first purchase was our Skyhooks RIGHT THERE ON MY DVD release.

Babble is packed, always fresh new faces on Sunday. Spencer McLaren is in the corner, I just kept quiet as I'm sure T&R didn't know who he was.So does he have a boyfriend? Funny if that's so- a Gay actor, playing a Gay actor playing a straight actor....makes sense if you watch the show.

Apparently Neil is busy writing, guess it's songs for Finn Bros. There was talk of a Finn Bros show at Tabac (Neil & Sharon's Auckland Bar) but the possibility of Marie having this baby very soon has probably put that back...no more details at this stage. Kind of glad as I'd like to get to that show.


---
March 17th
Things are hotting up around Iraq. Saddam won't surrender before attempting to cause as much trouble as possible, Bush just wants his scalp so much, where his father failed he will go the extra yard. Meanwhile the Iraq people will probably where the brunt of this bullshit War.

No sleep tonight, get up at 4.30 and flick between CNN, Fox and Australian news channels. No sleep till Brooklyn!!!!

Grab some food in the afternoon as a few friends are dropping by who we haven't had a chance to catch up with. RB and Marky B (not related to the "B" family) and Ben & Jen and us. We're all hungry so decide to light up the BBQ. Yeti and MG have BBQ control...I sit back and let them cook. It's one of those nice nights, good table talk, good people.

Very wired, so we end up not sleeping...for a few days!!! Melbourne looks very surreal in that time period...I wait for a hamburger at my local milk bar and their kitchen wall tiles I seem to be fascinated with. Good home made hamburgers though.

Work, watch DVDs and keep the cable on..you can smell War approaching... it is just over the hill located somewhere behind the picture tube..not far away.

Tim drops me a line- Marie gave birth to a little girl-8 pounds 4 oz. They called her Elliot Maisy Finn. St Patricks Day...Mary Finn must of had a hand in that manouver. What a day to be born with War raging all around..."I was born in a crossfire hurricane...".


---
March 18th
Well the infamous FiFi didn't show for our dinner date. Had several other things I could be doing- so yeah a bit pissed off. Hopefully everythings ok will always give her the benefit of the doubt.

Not sure if some of you readers buy pre washed plastic packs of salad leaves- rocket, radicchio,lollo rosso etc...but don't. The process used to keep the greens crispy (modified atmosphere packaging) destroys a lot of the vitamin C content and other nutrients. Plus extra plastic- who needs it. Fresh is best.

Must of been the day to forget, Hester was suppose to call by too. he's close to finishing this huge batch of songs, wants us to pick a couple to remove from his upcoming CD....that's always a hard choice. At least it's coming together. Go Paulo...now remember to drop in.


---
March 19th
Wake up and I thought it was Armageddon ..the sky was pitch black and the sun was strange, very blurry and deep blood red. It would rain for 5 minutes at a time and very solid drops and every so often hail stones. CNN reports that wild sandstorms are rolling across the deserts in Iraq, the worst for nearly a hundred years. I'm sure a few oracles would be shouting out, the end is near. It's stinky hot outside..I live in my old footy shorts today. After all these years these black shorts still fit fine, at least my waistline hasn't grown all that much, not bad for an old bastard.

At lunch time America is on "orange" alert, project "liberty shield" is underway...hope it's not connected with Liberty Fries (what sort of dickhead thinks things like this up?). Australia is on very very high alert. At least the Americans pick a good colour panic pattern...we Aussies just add more "very's" to the alert. I'd worry if we were on a very very very very high alert!

French protestors against the War destroy a McDonalds. It had to happen, with the "no to French products" by the USA, I wonder how many more Macca's will go under. It's like Bush says you can vote, all nice and democratic at things like the UN but you'd better vote with us. Talk about dictators. I don't like that "bully on the block" stuff- no matter what country it is.

I hope the Australia, UK and USA force have some tact when they start moving through Iraq. If they are their to truly help the people and oust this evil bastard, they should be aware of their actions. Example- if you secure a town- don't hoist up your flag- that's a sign of an invasion. I know the US military in particular will be tempted to do this..I hope they understand what that means...I'm sure they are all briefed on such things. lets hope it's a short War, most people don't know that 40% of the citizens of Iraq are children, that's a lot of kids, nearly double the percentage of other countries. Kids are the future, the artists, the next generation of brilliance. War is never fair on kids, and it's one of the main reason why I hate this direct approach. Also the cost- $50 billion at it's cheapest, that's 50 BILLION. You think how many people starving that it could help. The biggest chunk of that $50 billion is not the weapons (surprisingly) it's getting all that gear and people to the location.


---
March 20th
Hear from Miss Belinda and drive to Acland Street to catch up with some food. Just as I park I flick over to Triple J , by accident... the first report comes in that we are bombing Iraq. It's on.

All I could hear were explosions while the contact was reporting in, made my skin crawl.

I parked the car and people were stopping on the street, everyone looked shell shocked, just shaking their heads saying "this is awful". If nothing else it proved how many people are against this.

At least these strikes were pinpoint hits, targeting where Saddam was... and causing little physical damage to the people or Iraq. If they kill him this way, and throw "shock and awe" campaign out the window it is worth it... but I seriously don't think we are that lucky or sensible. Like most people just want this over and done with, as less casualties as possible and our soldiers home safe.

The protests are getting rather full on, 1000 people arrested at San Francisco, Melbourne has another 15,000 people show up (good on you Fran for your efforts), same for Sydney etc...

Sitting in a coffee bar with Belinda , watching people, everyone looks sad today. On the way out the people at the coffee house say "You two are on TV arn't you". I love that- your "two"...the girl goes "I know who you are but is that the girl from Bardot". I am too scared to ask who she thinks I am.....I should say I am Evan and confuse her....

Belinda tells me that Melbourne is different to Sydney, in Sydney they come straight up to you and get an autograph...in Melbourne they hide and follow you *grin*.

We both head over the Greg from the 'Hooks place, a quick visit as he's studying law. Call into Paul Hesters too but he's not home.

Back home and we watch the events unfold...everyone asking the same question, did these direct strikes kill Saddam. Hope so. Cook some dinner and the lounge room fills up with people watching cable news. Belinda's boyfriend Ed drops in, direct from a flight from Sydney, he's ok. We are a bit like big mean brothers- check out all the boyfriends *grin*.

Can't sleep again, awake at 4.00 watch more news, oddly enough the Australian cable news channels were best.


---
March 21st
Babble is a cafe of excited and confused Ants today..mouths chomping away, people scuttling about...all out of control.

My friend Squid sends me this link for a diary written by a young Iraq guy. Just a regular guy like all of us. Some ignorant people assume that everyone in Iraq is the "enemy" so diaries like his add a human face to it all. Thanks Squiddly...hope you wern't arrested at San Francisco.

http://dear_raed.blogspot.com/

Work for some of the afternoon, a few calls, have to go sit in on a TV show next week, all a bit hush hush. The things we do.

Make home made pizza's for dinner...haven't the vibe to cook.

Watch CNN and notice that the Iraq sea port has now been secured...and what do they do, hoist up an American flag. Even the CNN journalist comments by doing that it makes it look like an invasion. Actions like that will only cause problems. Iraq is not your country America, help the people, and get rid of that disgusting dictator and kill the evil Saddam Special Security Organisation but it's wrong to raise your flag.


---
March 22nd
Well Baghdad had the hell blown out of it, 1000 cruise missiles plus all the bombs from those B52's that left the UK. All I can think of is that population of 40% kids. American and English soldiers killed, no Australians yet but the SAS is deep in the heart of Iraq. I think about these soldiers families- they'll never see them again, a person now removed from your life, both sad and strange. Lets hope the casualties are small on both sides.

All this War and NSW has a state election this weekend. Today they go to the Polls in NSW, I hope Bob Carr is returned, I just like his policy on denying bail to repeat offenders...I guess I don't live in NSW (or Iraq?) so it's really up to the people.

Grey day in Melbourne, Fee Fee finally calls, and that's great, will catch up on Monday. Fun to relive all those Split Enz office days.

We have the Camberwell Collectors Fair (Camberwell Civic Centre) tomorrow- Sunday 23rd. Hope we see heaps of people...should be fun. Doors open at 10.oo.

Please stay safe, it's strange times, and everyone must be true to their beliefs. Lets hope the world returns to some level of sanity soon, with as few casualties as possible and can someone please deport the person who thought of the idea of "liberty fries" (GRIN).

Peace!

Peter

---
If there are any problems with this site, please contact webmaster@aswas.com.