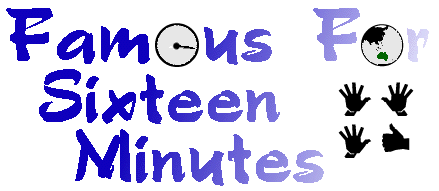 The Life and Times of Peter Green
Archive: * - * 2003
---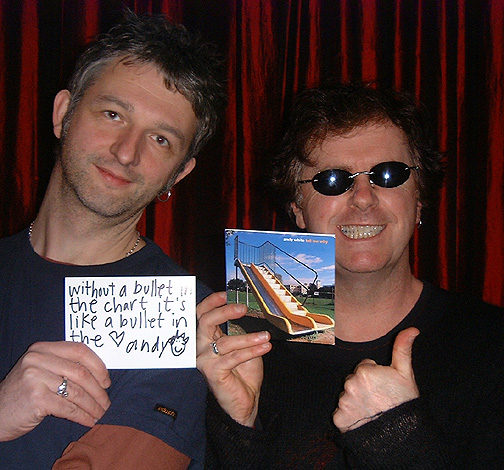 "WITHOUT A BULLET IN THE CHART, IT'S A BULLET IN MY HEART" 26/8/03
(Andy White/Peter Green) NEW EP/CD- 'TELL ME WHY' -Out Dec. 1st (Aust).
---
August 11th
Greetings everyone and welcome to another Diary update. What a strange 2 weeks, ever felt you are on a roller-coaster that's running out of control, best thing is to sometimes sit back and just enjoy the ride.

It starts off with the funding being pulled from the Rugby World Cup show. It was agreed on by Split Enz that they would reform and play a big free show in Sydney, Venue was a bit uncertain, steps of the Opera House (sounded familiar), a giant stage barge in the Harbour and yours truly with his own speed boat to do backstage! 'Finns in the Harbour', can see the headlines now.

The thing is the Enz still have a vibe so hopefully after all the Finn Bros stuff gets done, the Enz can be re visited and an Aussie show or three could happen.....it's disappointing but just part of what happens with 'reunions' and budgets etc. Glad we spent the month saying 'this is not 100% despite what you may read in the papers'.... just have this fear of fans booking air tickets and jumping the gun. Hopefully the later date or dates will happen.

Give Crombie a call regarding some other Enz related stuff and talk a bit about the interview for the small Enz book I am putting together. So it was a Split Enz sort of day.


---
August 12th
Last ever Buffy on tonight. Too weird, what are we going to do, who else will kick butt on Tuesday nights. With so much crap on TV it's always a bit sad when something that is well written and fun departs the airwaves. hell the Slayer Axe from the final few episodes just sold for $15,000 US so there is a market!!!! Mark get back to carving those stakes!!!! Just seems like channel 7 has messed up the programming again, the show has really gone, can not believe they keep shit like Alias on the air.

Pansy Divisions new CD- TOTAL ENTERTAINMENT was released in the USA today, guess they are on tour promoting it. Taking the piss out of people and having some fun.

Go for a walk near the train tracks and fill a whole bag with fresh green grass for Cosmo, c'mon what rabbit gets hand picked grass.... spoilt ball of fluff. He hopped over when I started putting the grass out and gave me a rabbit kiss on the hand ... totally suckered me! I think he looks a little bit older (because he is) but for his age he's a good looking boy and cleans himself endlessly, not sure why it's not like he has another female or male rabbit to go on a date with .....


---
August 13th
Catch up with Spock at Babble, who has our artwork for I LIKE IT RARE II, so funny, love that cover. If you go to the merchandise area of this website, Deb has put up a 'coming soon' Image of the cover. Hopefully after the Frenz club does it Pre order we will have a handful left for the merchandise area. Anyway good cover Spocko.

Rosemaree rushed in with some last minute work stuff for us and saves the day, you will be rewarded girl, if not by God by us. Thanks.

Parcel from Andy White arrives and it contains the upcoming TELL ME WHY (EP). It is my favourite song from his new album. Pretty sure the EP will be our single of the month. Should be out in Australia around December 1st and I think Oz is the only place you can get this very exclusive limited edition from. Tracks are:
1/ Tell me Why
2/ Twelfth of July
3/ Let it Be
4/ Canadian Greyhound

He tells me a clip is on his website so head to: http://www.andywhite.com/sound.html. The Frenz Club will have some signed copies available around early December. It's about time Andy had a hit here, if not just a chance for more people to hear his great songs and TELL ME WHY is the one.


---
August 14th
Kate calls about this possible 'day in the life' mini doco on the ol' Gryphon. We like Kate so I am happy to suffer a camera in my face, set up a meeting with her and Lauren. I just have to remember , whatever I say could be around for decades....opps! Now I'm worried.

WINGS OF FLIES is the book that the fans are buying this month. I think it's that last minute run for stock. A few people ordered two- probably presents I think. I like this book, it's like saying a fond farewell to a good friend when we mail them out... in some ways a small photographic history of us and the people we work/worked with.

Paul Hester is heading to the Palais to do Blondie Un-plugged for the MusicMax people. he says some pretty weird things to the interviewer, I'm thinking his grey cells have gone. he said last time he was onstage at the Palais Theatre, it was with Split Enz and Neil got zapped that night. The only problem Paulo is that you wern't IN Split Enz at that stage, but you were in Crowded House when they played their many years later. Odd. he also said he'd been speaking to Neil about a Crowdies DVD but Neil says he hasn't heard from Paul...weird, maybe he was just having some fun, if not who did he speak to and why were they pretending to be Neil *GRIN*. He's good doing the 'Sessions' show, very Paul and a natural at it.


---
August 15th
Pay the bills, pay the bills and pay the bills. It's that time again. Hmm Ex Enz manager Nathan Brenners birthday today, hip hip hooray for Teddy! Have a Bingy Bingy Bingy Birthday Mr Brenner.

Use my gift certificate from my Sister and buy some Olive Grey cords at Rivers in the city. Yep Olive Grey a rather odd colour combination but they look good. Rivers have some great hiking sox, they are yellow and red..hmm maybe a bit bright, but you'd never get lost, you could signal a plane with these they are so bright.!!! The River girl is really sweet and gets me the right size pants, Size 32, not a bad waist for an ol' bastard! (:


---
August 16th
Give the office a major clean up for the Collectors Fair. It's on this weekend. One of the few we will do, location has changed so this will be interesting. It's nice to be able to put some faces to the names and see all the regulars, really good people. I see fans and people who turn up for other bands and they are always grumpy, our lot seem to be happy and despite Mark and myself looking like we haven't slept for 90 years we still make the effort.

have a cat nap in the afternoon as I know it's an early start tomorrow.

Wrap some books up for Augie in the USA who has been really helpful around our Split Enz stuff. Now we just have to get some postage to mail everything. Worked out we have spent close to $14,000 on postage over the last month. At that rate we could have our own Jet and hand deliver...I keep asking NF to buy his own plane. I'd make a good steward(ess)....depending on how my mood is! Coffee tea or ME! (WINK).


---
August 17th
Oh I love that early morning sunlight creeping through my Vampyre curtains... sizzle burn....climb out of bed and we head to Box Hill Town Hall....it's further then the old location at Camberwell but we see more interesting sights, a few people going home from Rave parties obviously very much in love with the world...all that dancing in the middle of the road (!!!).

Thankfully we are inside the Foyer and some people are outside (BRRRRR) it is very cold, they are freezing. Many people arrive early, Harry spoils us with a Bowie multi CD box...as we both said 'So good he sings Bewlay Brothers' and I really like this version of 'I'm afraid of Americans'. If he would of performed 'Quicksand' it would be perfect. Talked to a few Bowie fans and I think everyone agreed the Theatre Broadcast thing is totally Naff C'mon Bowie get t Australia for a live show...that's what we are all hanging out for!!!

I watch some Grunge fans arrive and they are such miserable twats, gawd life isn't all bad, get over it and I can't see the point of someone wearing a flanny shirt around their waste shivering to death in the cold- put the shirt on, it's a pretty outdated lame fashion statement....DOH

There were fans in full Kiss makeup and it was fun to watch their hair blowing in the wind, especially the gene Simmons ones, I kept thinking Marge Simpson with a dye job.

Went for a walk for food and it was a bit scary. Watched a few people scoring, two fights and a dog going to the toilet in front of an office door.

Came back and met Jordie and family, his bro raided the comic area and scored some decent comics, I was tempted to look for early fantastic Fours but was good and sat and watched the clock tick away. Home by 4.00.


---
August 18th
Forget that the home loan was due today, no idea how I could forget, just did, weird I am usually so exact, so 2 minutes before the bank closed I bolted in the door....looking frazzled. I'm sure they charged me an extra $20 for my stupidity...idiot. Brain of a duck.

JB Hi Fi don't have the first Stargate DVD set, the only one we needed so we eat at Amigo's instead. Ymmm Mexican, been awhile. Their blender breaks so Midori Margaritas are not available (sob) diet coke for this boy. head home and order Stargate DVd Box off the net dvdezy, really good bargains, and $10 cheaper then JB Hi Fi (free delivery)...which means it's probably $40 cheaper then HMV. The DVD box set arrives within 2 days, we are impressed.

Hear from Andy and we have a meeting tomorrow. We are still playing TELL ME WHY ep, love it. Look at our schedule and it's worth making space to get the job done.


---
August 19th
So our meeting went well, Andy listens, we listen and we all have some fun ideas. My main goal is for more people to hear the songs on Andy's upcoming album 'Boy 40'. Having the EP chart would be good and give him his first Aria charting song. Enough people we know like his stuff so hopefully it will be some muscle, plus with so much really horrible music floating about TELL ME WHY is a little gem and should sparkle if given a chance. he says he is sending us a video of the new clips...we go Video, Video now come on we don't do Video...we are such DVD snobs, old ladies play videos, Video hasn't even reached the heights of Retro Cool (and hopefully never will). So Andy it's some DVDrs for you my ol' son. Leave it with us. lets not even go near CD Rom.

We spot Steve at Babble, who knows Fran, he likes Babble too and goes there on the weekends, quite a few people go to Babble these days. Must be that big warm fireplace and the Brady Bunch Ski Lodge decor.


---
August 20th
Hmm is it time for a Favourites List.

Fave Album: David Bowie- Hammersmith Apollo 2002 (thanks Harry)

Fave CD Single- After all my hype it has to be TELL ME WHY by Andy White. (Due out December 1st in Oz).

Fave novelty single- Pauline Hanson singing the theme from Prisoner. Maybe that's what her son should of released instead of that other stupid fundraiser single. Please Explain!!!!

Fave Food-DROSTE-Orange Pastille Chocolates from Holland....and Ben Shapiros Lasagne and Jens twirly pastry things.

Fave Saying- 'You big panty liner'. (it sounded better the first time).

Fave item of clothing- Rivers yellow and red hiking socks, and leather belts are making a come back. Hats are gone again, but ear muffs are cool.

Fave present for good friends- Pink Leopard Vibrator.

Fave Book- The National Enquirer-Thirty Years of Unforgettable Images.

Fave DVD- Osbornes series One (with all swearing in tact) and The Lord of the Rings (The Two Towers). Someone please send this to George Lucas so he can make a good Star Wars movie.
Disc Two of Lord of the Rings (Two Towers) has heaps of extras- Production of the Epic, 'The long & the short of it' mini film, the Places and People of middle Earth, behind the scenes preview and of course who could forget 'Gollums song'. Will be massive.

Fave 'separated at birth-twins'. has to be Nigel Griggs & Gollum..they look a tad similar (in a nice middle Earth way).

Creep of the Month- has to be Shane Warne the pig of a cricket player...and his stupid wife for putting up with him.


---
August 21st
GoldMember drops in for breakfast which is always a pleasure and she spoils us. (Thanks) we go out shopping for a present for a friend and end up at the beat Sex shop..... of course like most people in sex shops we just giggle and a few objects even confound me!!! We ask Dutch Deb as she is Dutch and the Dutch know everything about sex shops(!).

Yey Qantas shares move up by 20c, we rejoice. Considering what a bumpy ride (no pun) the airline industry has had , Qantas has survived intact. I'm sure more jobs will go but it should continue on in a positive way.

Some of us head to the Black Olive for dinner and a birthday celebration for Rosemaree, the table is full, well one seat empty , and Bec is flu-ish so she is a no show. Really great night, nice and relaxed and fun.

Of course Pauline Hansons's 3 year prison sentence for fraud is a hot topic of conversation. A part of me thinks it is too much, but this racist Xenophobe was pushing for tougher sentencing...hey do the crime do the time, if nothing else One Nation's twisted logic makes politics , well kind of fun. She's trying for Martyrism but I don't think it will happen.


---
August 22nd
Catch up with Jj for coffee and we watch the Greville street parade wander on by, flashing it's trash and being oh so groovy. The coffee house refuses to let us pay, always a good sign!

Spend the day working, drop Tim Finn a line, as he is doing some stuff around the Finn Bros II Cd for our next mail-out in September. They did sixteen songs in Upper New York and head off to London in October to mix them. Go Finns!

Have a chat with Mal Green of Split Enz fame, need to do our interview with him soon for the Enz book that is coming out on Rocket Pocket Books. Nice to interview some of the less obvious people.


---
August 23rd
and my stomach is so full! Ben Yeti and the delightful Miss Jen and Miss Kitty (aka George) put on a feast of kings for us. So much food, ten million sit ups later and I am in pain...but a good pain, a nice pain, a pain that you get after that Xmas dinner....pain is good...bring on desert! Every so often it's good to pig out (OINK). BLISS. Jen I want that pinwheel pastry recipe- very cool.

Happy birthday to our other Jen, well one of the many Jens, Gosford Jen, hope it was a fun day and Miss Merelyn will probably make sure it was special. Party on girl and ignore my Farscape baiting *grin*


---
August 24th
Spend part of the day working on the Enz book, really complicated and a lot harder then I thought. So and steady, and loads to do.

Try lighting our central heating again but it is so damn windy, and the 120+ gale winds are blowing the whole length of the coast. Sydney has had hundreds of trees uprooted, and huge pieces of metal blowing down the street. My massive trees at our house are fine, but I can imagine how many gum-trees have toppled over at Beenami. Firewood for a few years.

Hopefully by the time we write the next F/16 update the weather will be more Spring like, I want to start painting, start working on the house and the Forest house, and not have the fires roaring away (romantic as a big open fire can be).

Apart from the Finn stuff, we have Bic Runga writing new songs for her fourth album, we also have several months of promotional activities around our friend Andy White. I do believe in what he does and remember to check out TELL ME WHY, his EP in December. It's out via the Vitamin label in Australia and we will have signed copies via us for all you collectors. Just great songs, and the world has a short supply of great songs at the moment.

That's all from Oz....

be good, and stay individual!

Peter

P.s. do I have to check the grammar and spelling and the million mistakes, c'mon guys let me off just this once (or twice)...warts and all....!

---
If there are any problems with this site, please contact webmaster@aswas.com.