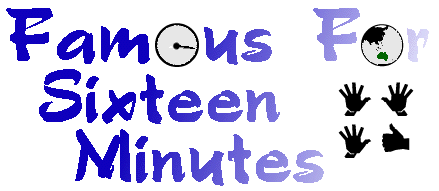 The Life and Times of Peter Green
Archive: 13 January - 26 January 2003
---
January 13th
Am suppose to be on holidays but took some time getting the office into a tighter operating machine. It's a good time to get all those little things done, annoying things, things that should of been done ages ago, things I keep putting off because they are silly useless things...that do not matter. But they must because I spent several hours fixing them today. The office looks the same, it feels the same and will probably operate just the same. Did I waste 3 hours. Probably. Oh well.

Local Australian postage went up from 45c to 50c today. Prahran post office ran out of 5c stamps, I was lucky, a regular F/16 supporter Di sent me a load of 5c stamps. People are kind. I should of sold them back to Australia Post for 10c.

Aussie Post are a bit weird- not only did they lose one of pour parcels, but they also lost the "missing parcel form" that I put in. I asked them if they had a form form a "missing form"....it confused them. Mission complete.

I like girls with strange eyes.
I like really cold drinks.
I like people who can't say the word Schnitzel.


---
January 14th
I suggested to Mish to get the locks on Vali's studio changed, and the few of us who have keys should return them asap, she thought it was a good idea. Some people were in front of the studio and started asking me questions, I pretty much ignored most of it, people make it sound like she is dead already she is hanging in there. I felt really uncomfortable.

We walked to Rebecca's, Marky and I, so nice outside all that's missing is Hawaiian music. Good to stretch the legs, humans should walk more instead of driving everywhere- such a lazy race of people. it's close to midnight when we come home and Jackie scares the hell out of us- she pulls up in her car and jumps out- we almost attack her...crazy mad girl. She has been making her new range of accessories. She's like us, works well at night.

Wow our electricity was so cheap for the quarter, works out to be a massive $65.00- that is nothing, the solar panels produced the other three quarters.


---
January 15th
Just reminding everyone that the special ROCKET POCKET BOOKS- "FUNNY MONEY" expires on February 1st. We are accepting all orders that are mailed on that date. So yes people can use the "Funny money" to get a discount on Hussy, Bang, Glamour and Wings off Flies. Glad so many of you have taken up the offer and gotten a bargain. Thanks for your nice emails and letters. So yep still time...but remember it must be mailed Feb 1st.

250,000 Hindu monks and various pilgrims have arrived at Sagar Island to immense themselves in the waters of the Ganges. They look fantastic-so colourful.

Happy Birthday Miss Belinda. 21 again I see. She gets a special present and a bag full of magic wishes. Hope to see you in Melbourne soon.

Pick up our Mark Seymour tickets. He has his acting debut in "Spumante Romantica" at Chapel off Chapel next week as part of the Midsumma festival. Seymour who was lead singer for Hunters & Collectors and yes brother of Crowded Houses Nick Seymour, has been enrolled in drama classes at Victorian College of the Arts over the last 12 months. So this is his acting debut. We like Mark S. got to support him, happy to buy tickets. Haven't seen him for awhile, he called into our house one day with Maz from BCO. So am intrigued to see what he's like as an actor.

Finish the night watching the "classic albums" series. It's Lou Reed's TRANSFORMER, one of my all time fave CD's. Mark remembers this special is on and I am so glad he does, it's a great special. So inspired by it I run out and buy the DVD of the show. Really worth the money. The footage is great and Lou, so brilliant, plus the Warhol factory footage is classic. Will have to tell Vali that her friend Holly (Woodlawn) was on the special. Vali lived at the Chelsea Hotel and use to hang with Holly when Holly was at the Factory. Lou penned the line about Holly in "walk on the wild side" good to see that she is still with us...unlike poor old Candee darling. Anyway this was a very inspiring 'classic album" show...made my month- thanks MG.


---
January 16th
Up bright and early. Urgh.

I was going to surprise Mark with some tickets for the Stones, decided not to put in my work request for the Stones Aussie tour, thought it would be good to see the show from out front instead of the band room, and even happy to buy some tickets. So I get up early and head to the ticketmaster. There was one sad guy on a deckchair who had been sitting their since 5.00, so my 7.30 appearance means there are two of us.

It all goes well, and I end up with tickets 7 rows from the front, section one- that is really close. Apart from band room where its yourself the Stones and the promoter (of and Jerry always Jerry *grin*) this is the closest we have been to seeing them from the front- it will surely be a wrinkle festival. Cool! 7 rows is massive. Thanks to all the little Gods. You are a spoilt Stones boy MG.

Due to my early rising from my crypt I have been feeling a bit tired all day. Live on various juices from Kylie the juice machine. I keep discovering new sensations- I am a nectar person.

Totally goof it thinking today is Nicole's birthday and it's next month, proving for once and for all I am totally useless around birthdays. I warn everyone if you are my friend do not expect me to remember your birthday.! Then again if you are my friend you know already I am hopeless around birthdays....


---
January 17th
Give the bank $ for my home loan...see I am a normal person, I owe the bank money. Still my pissy $800 per month is nothing. The people next door have a similar house and they pay $650-$700 per week rent...ouch!

One birthday I did remember is Luna Park. It turns 90 today- of course everyone says it is typical that I remember the birthday of a fun park.....!

Have been way to good so go book shopping at Hares and Hyena's. It's my other fave book shop apart from Greville Street Books. Quite a few bargains to be had, so I bought:

"The multi orgasmic man" book. It's kind of a Taoist approach to male orgasm....weird as I keep spotting the word 'perineum' in articles etc and yes I do know where it's located *grin*...yeah and the "million dollar point" too and yes most men don't! Ignorance in this case is NOT bliss!

What else...

The Mexicana Graphic Book. It's a release by Taschen- my all time fave book company. I've mentioned their books on the F/16 site a bit... but people should check out their website at: www.taschen.com The Mexicana book is Xcellant!

I also scored a copy of "They call me Mad Dog", for our good friend Peggy, it's our nickname for her so I thought she'd like it. The subtitle says "a story for lonely bitter people" and that does not relate to her......it's a funny book..such a freaky layout.

and finally...the latest copy of DNA magazine. Mainly because it has an interview with Matthew Rush, he's a Porn Star and I like his interviews (truely), very few porn stars are remotely interesting but Rush is good... except his legs are so pumped (be nice) that they are wider then my waist! ..plus it came with a free AG swimwear catalogue and I need some new swimmers and AG are cool. They even make me look good!!

So hmm what a strange boy I am- Taoist orgasm book, Mexicana, Arty Lesbo book and interviews with Porn Stars. Christ what a pervert! I should of simply became a priest in the Catholic church (ahem)...oh sorry I don't molest.....next. (off the soap box).


---
January 18th
I shouldn't of read that Porn Interview- God is punishing me. I am sick, think it could be food poisoning as I have been pretty ugly all night. Spend most of the day in bed. Ben's fantastic present comes in handy and Mark beams cable direct into my bedroom (thank you Skipper, thank you Gilligan). So I took some of Peggys melatonin and watched cable and slept and visited the bathroom...I have a nice bathroom I seem to notice the B&W tiles more when I am ill.

My bad day is nothing compared to the people of Canberra, 400+ houses destroyed in bushfires, another 600 damaged. It looks like a bomb has gone off. Make a note to get to Beenami soon and start clearing the property a bit.....

Full moon tonight, my body starts to heal around midnight.


---
January 19th
Wake up feeling fine, I am never sick for long. Bounce out of bed. head to Babble with Rosemaree and Jackie.

Sounds like the bushfires are taking over major parts of Victoria, the stupid Federal government are so cheap, they should be buying several of those expensive water dropping choppers not renting them from America. lets face it, it's Australia we will always have bushfires.

Lots of girls coming up to me lately, especially at Blockbuster. One girl calls me "cutie"- I felt used, abused and nothing but a sex object".! COOL!

Watch "Some of all fears" and we liked it. It got some average reviews but it's ok. It just makes me worry about the war machine that is about to unleash itself on Iraq...not a nice feeling. Then again if Iraq isn't going to play ball what do they expect. The US plans for the war is based on several days of direct attacks with 300-400 guided missiles each day, which is massive. Imagine being amongst all that, it's a massive strike. They are apparently going to use their high energy microwave pulse as well- funny if it knocked out all the worlds electric's and not just Iraqs- sounds more like a Sci Fi series. Dark Angel anyone.

The latest survey's in Australia are saying something like 75-80% of people don't want our troops going without the nod from the U.N. It just has that feeling that this is going to happen no matter what.


---
January 20th
Wake up to the smell of smoke, at first I thought some of our solar panels had shorted out. Then I looked out side and the sun was red, and you couldn't see Melbourne central. Smoke everywhere, people coughing on the street. I gave some old timer waiting for the bank my water bottle as I thought he was going to die. The fires in Victoria's Alpine region are starting to go crazy, this time of year they usually go North to South. NSW, Victoria and Tassie.

Nicole Kidman gets her Best Actress Golden Globe. Did someone say Tom who!?

Review: UFO-DVD Box Set-Season One.
When I was a kid I remember this show. It was made in 1968 and of course Australia got it a few years later. It was so great to see a Sci Fi show and not have them puppets (aka:Thunderbirds). Jerry Anderson had successfuly used puppets on his previous series but this one was going to be live action- real people and the only strings attached were on the UFO's and space vehicles. This UK release is a really nice package job- 4 DVDs and a great set of postcards!!!

The Aliens are invading in spinning silver spacecraft and the only thing stopping them is S.H.A.D.O. (Supreme Headquarters Alien Defence Organisation). Ed Bishop is commander Straker- he has this rather funky short trimmed white haircut and thankfully the mustard coloured jumpsuit was swapped for a blue jumpsuit after a few episodes. The cars are futuristic (well 1968's idea of the future), there is Moonbase where the woman who run it have shiny purple hair and groovy(man)...there are Moonbase Interceptors and SID a massive satelite computer that spots UFOs at long range. A new character called Paul Foster joins the series from episode 4. He adds hunk value to the series and is a bit of a ladies man....where's a nice scarlet 2 piece suit!!!

It's one small step for man..as jerry Anderson moves from Thunderbirds and Captain Scarlet puppets (opps sorry "supermarionation") to live action Sci Fi but overall it's succeeds, and in a lot of areas far better then other UK shows like Doctor Who (even though the Doctor has a far more massive fan base...and UFO is left to cultdom).

We loved UFO and are eagerly buying series two on DVD. Plus I really need to check out www.fanderson.org.uk and buy a S.H.A.D.O T-shirt as it is one of the best logo's around. www.ufo.dvd.com for more information.


---
January 21st
Dinner at the Black Olive tonight, the owner gives us our usual table. Yum chicken satay...he mixes a good vodka and tonic and lemon.

We are going to the opening night of "Spumante Romantica" at Chapel off Chapel gallery, the production is part of the Midsumma Festival. The lead role is Mark Seymour, brother of Crowdies Nick Seymour, previously lead singer for Hunters & Collectors. Mark has been enrolled in drama classes at the Victorian College of the Arts, and this is his first public performance.

"Spumante Romantica" is subtle, kindly and a bit dark. Mark plays a gay man who contracts a disease and he has gone blind...it moves through his decline and eventually death. Director for the project is Clare Watson and she wanted a middle age actor for the role. (Mark is 46). It's a small cast- the three performers and memories of Venice... a huge part of the play centres around flashbacks...and the odd ticking clock that could be symbolic (as well as part of the clock shop)...Marks characters life ticking away.

The production is in the smaller stage area, about 20 of us are here for opening night, no sign of brother Nick, maybe he's away down at Kilkunda surfing. Rebecca arrives just as it starts so her timing is even better then Marks (: Seymour does well and his first stage kiss is with a man (*grin*- that will freak some of the H&C fans out!), but yeah he can act, in this role anyway. It looks like it's something he enjoys and not just "another band person saying they are an actor". He took on the part with both passion and sensibility and it was good to see. I think the Seymour's Mum was in the front row, looking very proud. Not sure if "Spumante Romantica" will be performed elsewhere but if it is, check it out, well worth the effort.


---
January 22nd
"The return of rock" article in today's Age. The article talks of the resurgence of rock music at a club level. More and more people are avoiding dance clubs and heading to the rock clubs in Melbourne. We like that.

I figure a lot of people are back at work so the St Kilda Sea Baths must be less packed, so I head down for a swim. It's not too bad and I use my sea pass so I only pay for the parking- that feels good.

Speak to Hessie who commences work on his solo CD in February, he sounds a bit down so I think getting his teeth into a project like this will be good. I love the stuff he has recorded so far, really good lyrics and production. I just want it to work for him.

Hear that Betchadupa are special guests as well as Johnny Marr on the Pearl Jam Australian tour, it's such a mates tour. The Betchadupa boys will be stoked...just great. A fun night.

Fires are still burning, Canberra looks burn't out, the drought plays such a big part, I'm sure there will be heaps of finger pointing. If they had 1000 fire trucks I don't think they could of prevented this one. The CFA volunteers are amazing, anyone who slags them off deserves to be shot.

Discover some cool products at, of all places, Priceline. The first is Aroma Spa-they make this good aromatherapy essential oil mix. It's one of those triple oil layered bottles, and you shake it and mix the oils together. Great for vibrating turbo foot baths. The "Daintree" people also make a nauropathic skincare range..the foot cream is great after a major hike. It has a high content organic vegetable oil mix & additional witch hazel and fruiting Cassia combination...for more info on their products check out www.thenaturalsource.com Everyone spoils their face and hands but really pour feet do all that work, supporting the body, kicking butt etc so we should look after our feet.


---
January 23rd
Our Enz and Skyhooks DVD's are half way to a Gold DVD award in Australia. Some good reviews. Mark tells me he spotted a review in some DVD magazine that has Peter Green: Director in the details area. I feel like its a feature film rather then a DVD. Do I get my own directors chair? OK maybe not. Anyway I'm happy that the fans are enjoying both.

Neil leaves for the USA tour today, we think if all goes well this one will end up in the black, touring costs so much. It's a skeleton crew so I'm here in Oz , which is fine, in the heat while the USA freezes it's balls off.

The Age points this little snippet out about John Edwards "Crossing Over" end show credits. "A curious disclaimer appears briefly during the Crossing Over credits, blink and you will miss it. Producers inform us that the show is for "entertainment purposes ONLY" and that it is not meant as "advice, instruction or FACTUAL statement in any way or whatsoever". Interesting disclaimer. (ahem)!

Quote for the day "God is a honey pot". (don't ask).


---
January 24th
urgh hot hot hot. Have an early breakfast at Babble and I am off by myself to "Beenami" to clear some of the grass and combustable tree bits and pieces. The fire fronts around Victoria are now as long as 300kms and we are heading towards a very hot weekend.

All three of us have been talking about tidying up the property before the fire season and so far it's really just talk. The Canberra fires and the ones now burning in Victoria have gotten me off my arse and up to the Forest House. On the way I see a male Peacock come walking out of the Forest by the road, with a massive plume of feathers. Another car stops and the woman driver is blown away..she can't stop saying "look at that, look at that..." like she has spotted a Tasmania Tiger. OK it was pretty neat.

It's a hot day but I suffer it just to get some of this done. The tractor is still broken so it's the lawnmower, a big hat and loads of water. Totally fried and only have a third of it done....the temperature hits 40°. I sit under a tree and consider selling the property, I do love it up here, and really it would take nothing to maintain it, at the end of the day talk is cheap so I will do what I have to do. I go to empty a wheelbarrow full of grass into the "pit" and disturb a kangaroo having a nap, she scares me when she bounds out of the bush more then I scared her...skinny man, big hat screaming...not a blokey sorta thing to do *grin*.

I leave the solar water bag out so at least I have a solar shower, all the big yellow flowers are appearing again so the back of the car is filled up, something for the city house. I can't remember driving home, maybe I had slight sun stroke but I have some peace of mind that a bit of Beenami is cleared...make a note to return soon for another effort.

Mark cooks dinner...what a day I am a bit frazzled. It's nice to come home to food. What a good friend. YUM.


---
January 25th
Urgh hot again, more fires, Even our cool house is heating up a bit, you know that it is hot when downstairs at home starts feeling warm. It hits 42°. Heard some good songs on Triple J..the Stereophonics performing Sinead's "Nothing compares to you" -cool version. Also some Aussie band with "Highway One" which I have to buy as soon as I find out who it is...whoever it is is playing at Big Day Out...will have to find out-cool song.

I waste today, fritter it away with naps, staying cool. I read some of the book I got for Peggy (The call me mad Dog) it's quite good- funny lesbian book...made me laugh.

Sleep downstairs, and can't wait for the cool change to hit tomorrow afternoon.


---
January 26th
Phone Rosemaree and check that she is alive, as I'm sure her flat would be sweltering. She is so we head to Babble. It's one of the girls last days, she's off to WA for acting and performance....her sister Rosie is staying.

Michael and Dan are on, I look at what I am wearing and I question my dress sense- Greenpeace Hawaiian (No more Bombs) shirt, small black shorts, Nike socks and Green glasses...hmm someone says they like my shirt (that's a start). Jackie arrives and she is giving me this brilliant necklace accessory so I am over the moon...it's perfect to wear on TV or some event. Might wear it to the Melbourne Theatre Company's 50th Year exhibition. An invite just arrived- the opening is Feb 7th...a bit dressy.

It's Australia Day tomorrow, a lot of the celebrations have been postponed because of the fires, I always think that Australia day is more about the passion in our veins ,rather then the waving of the flag, guess everyone approaches it differently. Bushfires and droughts will never break the Australian spirit, what a great place to live-some people don't get it, and some people probably never will...we love it. When we are touring or overseas, all it takes is the smell of one gum leaf to make me homesick.

So have a great Australia Day all you Aussies....and who the fu*k says "G'day!"!!!!! No one I know. (:

Peter

P.s.-Spock is back in a few days to put the finishing touched to GLAMOUR. The printers are now back from their Xmas break. I just want to get this 3rd Diary book out...it seems to take forever.

---
If there are any problems with this site, please contact webmaster@aswas.com.