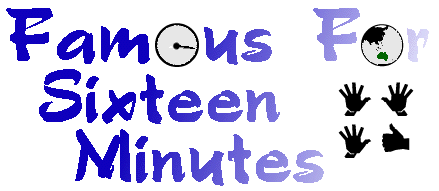 The Life and Times of Peter Green
Archive: 15 December - 31 December 2003
---
'HAPPY NEW YEAR'... READERS EVERYWHERE!
December 15th
Get some Julian Clary tickets for his show at the Concert Hall in March, just after we get back from Egypt. Good seats too, 2nd row. A certain young woman is eager to see Mr Jelly again!!! Will be fun.

I know it's a bit lame but decide to give my Sister some Egyptian Pounds for her Christmas present, that way she can buy whatever she wants on this trip. Money always seems so cold but it's me being practical for once. Have to order it in, hopefully haven't left it too late.

Dutch Deb calls by with a copy of Lesley Gillilan's KITSCH DELUXE book. Love this book and went close to getting it a few weeks ago. Dave Youngs shot of Ed Smith and Rita Personett looking out the back of their shiny silver caravan is brilliant. Ed & Rita bought the Shady Dell caravan park (near Bisbee- Arizona's Mule Mountains...not to be confused with BrisVegas Jen!!!) in 1995 and have an assortment of these metallic beauties all decked out in authentic retro ambience!!! The RITA D caravan made to resemble a mini gin palace on a ship is one of my favourites..I think it's the faux leopard skin chairs. Truly great.


---
December 16th
Mostly worked all day, loads to do and the list was a mile long, so just jumped in boots and all and slaved away for all our bands. Answered all the emails in the system and the desk is down to a small neat pile. Feels good to get so much stuff out of the way. Determined to get all the RARE 2 CDs mailed before Christmas and today two more bags of parcels went out to happy homes.

Call in and see young Genevieve a few houses down, her eyes were huge when she received her 'Cat in the Hat' life size doll and book. The last one in the store...hell I considered it for myself...'tis the season to give...


---
December 17th
I think it's 100 years today since that first plane took off... just think I've flown on 700 (?) flights and all arrived safely. Safer than driving. bring back the Spruse Goose! (I'm sure I spelt that wrong).

The much hyped "Saddam effect" on the U.S. stock market caused barely a ripple, it didn't really happen, people expected a sharp rise when U.S. markets opened, however the dow jones actually lost ground and the U.S. market didn't rally at all.

Am so glad he is captured just so he will be brought to some sort of justice because he is an evil fu*k, but it is incredibly naive to think this will stop any further killings of coalition troops. Normally you'd say turn the country straight back over to the Iraq people, but there is a feeling that in a short period the Iraq council members would be found assassinated (I always forget that assassinate has 4 'S"s!!!) Scary times ahead. These people deserve better.


---
December 18th
Head off to Beenami today, a day off a day to recharge, Mark wants to film some footage for a DVDr we are making for my Mum for Christmas, hell any excuse will do to head to the forest house.

As we get closer it starts to rain.... the weather man lied. Who would of thought. The air is so clean up here, just breath it all in. Have to cut the grass soon, going to be a huge effort...finger crossed that old St Nick fixes the tractor....or at least lets his reindeer graze on the tall grasses! Such an amazing property and it should be looked after, so putting some energy in. It won't be the Gryphon behind the mower this time (ahem!)

The Kookaburra's are having a fit, laughing like crazy people in the tree's and enjoying the misty rain.

The little white daisy's are popping up everywhere and blue birds are sitting on the apple trees. It looks like a Natures Window Postcard!

We disturb some wallaby that has been sleeping in front of the doorway, nothing like a small 'gift' of Wallaby poo for Christmas! The traffic sucks coming home, Mark goes into the hifi supermarket and finds some bargains, I get impatient in the car as I watch the traffic build up, bite my tongue, is this the new me? The tongue-less St Peter!


---
December 19th
Sent the Finns an orchard in this metallic pot for the new office, really wanted a huge bushy plant for their office but for some reason huge bushy plants are hard to find in Auckland...so an exotic orchard it was for Christmas. Hell Neil has so many blank writing books from me he'll never write THAT MANY songs.

Mark does a bit of filming around the house and office, I'm wearing my Russian cap with the clip down ear covers and I play the part of tour guide, can't believe my sister hasn't seen my house yet.

Catch up with ol' Wolfy at Babble, he's working on some artwork for me, looking good. We swap some wine, which is nice.

Sign the last of the copies of 'Glamour' for mail orders for Christmas, walk them to the mail box just to make sure that they are on their way to peoples homes on time for Christmas day.


---
December 20th
Nice to hear from Peggy in the USA, wow she even tracked down some Yukon Jack..life is good. Safe flight from BP! Take care of that Yukon or you are not staying (kidding).

Andy White's 'White Christmas' show tonight at the Elsternwick Hotel in Melbourne. Mark is going to be filming, after reconstructing the tripod all day we are ready to go.

The Elsternwick has poker machines ...and the Egyptian machine is one of the few I will play. Andy and Christine White oggle my handfuls of gold coins when I return, yes a win, a small win but hey $50 is $50 and it keeps MG in JD and myself in water all night. The new cameras works a treat, except we beg Andy no more red or pink lights at the upcoming Corner Hotel BOY 40 CD launch. One of the best Andy shows I have seen, and my favourite song of the night has to be 'Body Builder' truly brilliant...the band played exceptionally well too. I didn't win the 'meat tray' raffle but my hard earned poker machine money went to the kids with cancer via the meat raffle so everyone wins ..I guess.

Too wired to sleep so we stay up most of the night.

The new security camera on the roof is working really well... the little red flashing light amazes me!!!!

Russell Crowe becomes a Dad, I wonder if having a baby will settle him down a bit. Charles Spencer Crowe...regal!


---
December 21st
Was going to work on tax stuff for Robin but we didn't hear from her so I guess it's all put back till after Christmas... it seems to never end... paper work and more paper work.

I like my *new* JET CD (thanks Jen) it sounds even better then the first one (kidding) so good to have this album back in the car CD player. It continues to hang around on the charts and the Jet boys hit Platinum with it this week and with EMI's TV campaign over Christmas it is sure to keep selling. Go Jet! Mark spots a really great USA review for the JET album. 5 stars.

Order in 10 Andy White 'TELL ME WHY' EPs from JB at Prahran, the staff always give you a strange look... 'ahmm you want ten copies..'? YEP just in case one breaks....standard reply- they don't get it.


---
December 22nd
The boss calls from N.Z. and leaves a message, he was funny, asked when to expect the next Famous for 16 Minutes diary book, told me he enjoyed the last one (Glamour)...talked a bit of the limited structure around Split Enz... somehow we keep the beast together...the odd wheel drops off now and then but Split Enz still keeps on running. They really liked the orchard, still wish it was a lush office plant! We chat how slack it is that Crowded House haven't received a life time achievement award at the ARIA awards... have to work on that.

Drop in and visit with Greg Skyhook this afternoon, he's had a weird week, hopefully it will all workout, offer some advice as 'it' is an area that I am aware of, he appreciated it. Just as I was leaving he pulls out this amazing Christmas present, very touching. It's nice when the boys in the band remember....so cool.

Mark's extra Christmas bonus arrives from the USA, a chunk of DVDS... what else would he receive readers...have to say the selection was a bit limited, which is great because it means we don't have to get that many.


---
December 23rd
Wow Christmas is on top of us....hmm that sounds rather sexual... I buy a copy of the Big Issue from the Chapel Street seller and give her some extra dollars, hey she has a cute Santa cap on and matching green teeth (opps) am out to do three good deeds today even if they are monetary ones... next one I really DO help an old lady across the street, she was almost derailed when her walking frame got stuck in the tram tracks...so I stopped the traffic and helped her... can not believe some arse-wipe screamed at me..and yeah she should of went to the crossing, but she was stick thin and probably had no idea she was even on the road....poor old bugger, so two deeds done. The final one was a donation to Community Aid Abroad (Oxfam people)...it ended up being good timing too with the horrid earthquake in Iran...Oxfam will be in the midst of it so every dollar will help. All three are a bit lame arse but it is the thought I guess....

What no Mouse Christmas Card from Laura this year...there has always been a mouse card tradition has been broken. Shame shame no mouse in the house Laura...it's ok, you don't love us any more....(sob) we expect a mouse postcard from the Blue Mountains while you are on holidays.

Pick up some Egyptian Pounds from Travellex, all nice and smelly like most Egyptian money, and thanks Georgina for wavering the commission and yep I am spoilt. Giving half of these to Sis for Christmas inside this Egyptian Christmas card... less for her to save.... it's very hard to get small Egyptian notes, which are the best for tips etc...I think it's done that way, if people remove smaller notes out of the system silly tourists have to tip with larger notes. How cunning.

Back home and there is a knock on the door and it's Andy White and son Seb with some Christmas presents from the White family, another great kid, such good manners...I get Bolero tea and Mark receives Arctic Fire Tea in these cool holders... will be great cold this summer. We spend far too long trying to work out 'that smell' in Marks tea....interesting.


---
December 24th
Up early and run down the road for some last minute work things, our office/email is closed till January 10th for Christmas/New Year break but still some day to day stuff to do.

Glad I checked the mail box, incredible presents from CJ and Meredith and a huge bag of Christmas cards, the mantle piece is straining under the weight!!!!!!!

Head to the airport and the Limo service can't wash our car anymore because of the Victorian water restrictions, I don't mind doing it but they did a superb job and always a treat to see it sitting in the undercover area all shiny and clean.

Open a Village People Christmas card from Belinda Bardot and that just cracks us up it is soooooo Miss Boo! Must of looked strange in the Freaky Flyer lounge laughing all by myself while Mark was grabbing the free breakfast.

Quick flight, grab the Qantas International duty free as the new Qantas bed sleeper seats are featured on the back.... just so Sis can see what they look like, apparently they are the longest bed 'seats' in the world. Can't wait..the B.A. ones are pretty comfy.

Arrive and Hertz have messed up our hire car booking and a few others, thankfully our Gold Card status means they are extra kind and manage to locate one more car...which is a God send. (those good deeds DO pay off!).

It's very hot up North, am hating the heat Mum hates it and she lives here.

Christmas Eve at Pops place, and it was ok, usual relatives but people were talking more and the end of night sing along was incredibly passionate with everyone cutting loose...the first time in 2 decades..some relatives wanted an encore performance!!!! It did blow me away.....they can still surprise me.

Back at Mums stay up and watch Christmas vacation with Chevy Chase...


---
December 25th
Christmas Morning, I wake early, well didn't really sleep with the heat, and keep hassling Mum to open all the presents. Sis arrives so the Christmas paper goes flying....and yes yes yes my new Air Walks my feet give a sigh of relief...so comfy. Each year I give Marks Mum and my Mum some wacky Christmas gift (with some nice ones) and this year they get a whistling Garden Gnome ... my Mum pulls out another box and in it..yep another whistling Gnome..but it has a different coloured hat...so she has a tribe of these...at least she will know when someone is approaching...beats the toilet brush with little yellow ducks floating in the handle....maybe not.

Lunch is at Pops, the heat is rising, someone gives the uncle a fish bowl with fake fish in it that move about..when the room is empty I 'borrow' them wash them and add them into Mums Trifle Deserts.... of course we all turn blame on family friend Mick...I am so innocent I never get blamed *grin*.....good to see that I still get away with murder.

Thankfully Mum gets a new fan so I volunteer to assemble it...straight away.... relief...

Drive the family to the Crematorium where all the relatives are buried, the rose bushes are massive and the scent almost overpowers us (once again the heat) I never know what I think when I visit, Pop, Nana and Dad etc... mostly do this for Mum, I just embrace my good memories it seems to keep them in my head and in my heart more then a monument or headstone....I keep chanting my mantra "I will not be tempted to steal the roses...I will not be tempted to steal the roses"......

Sit with Sis and work out some Egypt stuff, we are contemplating getting the overnight train from Luxor to Cairo...the tracks run along the edge of the Nile and run through towns like Sohag and Asyut...am also trying to find a safe way to get to Siwa. Siwa has this amazing Oasis and it's about 30 kms from the Libya border. The coolest thing is the mud brick fortress of Shali sits just behind Siwa...and it dates back to the 13th century (pretty sure my memory is correct on that)...the western desert has kept the town isolated and very few people have visited Shali... anyway we'll see. Rebekah's book on Egypt has been brilliant and it's really up to date... so a few things are worked out. We even located a map of the wonderful Khan al-Khalili bazaar in Cairo with a break down of the various areas for each item (Gold & Silver, Coppersmiths, etc and those all important Belly Dancing Outfits!!!). Been awhile since I have been to Egypt should be interesting. I'm taking this really nice travel diary that Jayne gave me, it's the perfect size...love it.

This year Mum made her best Christmas Pudding, I know I know I always say that each year but it was, and the whole pudding went...oink! No not just me everyone scoffed it.

Once more too hot to sleep, read and well read.... heading off early in the morning, it's a quick visit. Gone through two books.


---
December 26th
Up at 5.30, Mum cooks breakfast which always gets me through the day. I left the bedroom window open so first light tickled my eyelids...I'm sure I just fell asleep 5 minutes ago.

Collect Mark from his mothers place at 7.00 and we chat all the way to Sydney. The day flows well, drive, airport,frequent flyer lounge,coffee, juice, fly, limo, 4wd, home, feed Cosmo. No hiccups and that rabbit is so happy to see us, did several laps around the atrium. The house is so wonderfully cool, unpack presents and a few clothes... did I mention we LOVE Melbourne!!!


---
December 27th
Erric Bernat Fontlladosa, the inventor of Chupa Chups (yes the lolly on a stick) died today age 80. The floral logo for the Chupa Chup was designed by Salvador Dali in 1958 ...4 billion Chupa Chups are now made per year ...and Rebekah should move to Mexico as they have a chilli flavoured Chupa Chup...there are another 53 flavours.

I allow myself the fine art of sleeping in. I can feel my body recharging so I just let it be and sleep as long as I want. Nap on and off all day, do some work, nap, make homemade spaghetti. Mark says it's the best.


---
December 28th
Happy Birthday Benny Boy...31(!) it's all over now... no longer a young buck.

We lock in tomorrow for a get together with our favourite couple, as we stand no hope against the Lord of the Rings!!!! *grin*. By the time you read this the Yeti would of contributed many dollars to Lord of the Rings financial success! (:


---
December 29th
My mobile bill was a mere $20.05 this month- cheap or what. Our electricity bill was down 13%, probably due to the solar cells and all this sun. Now if yours truly could bring his Amex cards down to even half it would be ace.

Have breakfast with Ben and Jen at the Market Cafe. Go for a bit of a walk, but it's starting to get hot outside....like I have said before I'm expecting a very hot Summer this year...and it's shaping up to be just that. We visit the shoe shop.

Yeti likes his presents and we love ours...as always. Such a nice day, good when we four just chill out- no tours or rushing about, as 'normal' as we will ever get!!!!!

Decide to bring new Years Eve a bit forward and we party on till 6.00 in the morning.... no sleep till Brooklyn! There goes our present.


---
December 30th
Suffering a tad today but worth it as it was a fun night, evening, morning etc.... I remember to call Greg Skyhook as it's his birthday too, he's out, wonder if he is Tom-catting around town ..all this heat makes us frisky in Melbourne. Get a really nice calendar book from Carye Bye perfect size for our desk.

Australian rescue teams are starting to arrive in Iran. Ignore breakfast and we make a donation instead. Was so easy to do. Felt better then food.

Red Cross- 1800811700 (I think that's the number)
Oxfam-1800034034
The Oxfam website might have more information: www.oxfamtrading.org.au

Horrible so many people killed...people who say it's natures way are talking such shit.

Notice that John Edwards returns to Australia in February to remove more suckers of their money ... some people need John Edwards in their lives I guess, usually it means something major is missing...pretty sad really.

Have a chat with Merelyn, so happy that she is older then me.... makes my year...in fact every year! (:


---
December 31st
Wow the end of 2003.... I didn't like this year, the Iraq stuff really pissed me off ('what! never' scream the readers) and Bush I just wish that pretzel was an inch bigger..... still evil Saddam was caught but not much changed, it has to get better in 2004.....

Music- thank christ for Jet and even Delta for keeping John Farnham from being number one and the Finn Brothers nearly completing their new CD... The White Stripes and Betchadupa are on the right track with their MOVE OVER EP.

We are loving 'The West Wing' on DVD, Seasons One & Two (don't think Season Two is out in the States yet on DVD... just Australia)....well written... Buffy has gone but never forgotten and Sarah Michelle won't appear on Angel till 2005...

Lord of the Rings... quality and made in New Zealand, and up to $300 million already in takings for the third one....still a way to go to knock of Titanic but who gives a shit, it's great.

I'm not sure how I will look back on 2003... seemed to float a lot, very few tours (on purpose) we did our around Australia drive which was excellent, still a bit of our own backyard to see. So many people live in Australia but make no effort to actually explore, stuck in their little houses just dying, going to work and really not appreciating what is so close... it is the best place on Earth, for that I count my blessings each little road trip or hiking over that next hill. I think that will be my New Years resolution tonight to climb 'more hills' ... not just the mountainous kind...

I'm sure some of you have had incredible and harsh years, for those who had a bad year, it will get better, and probably bad and then good and then bad but the big wheel usually stops on 'good' so keep the faith and love life... there are millions of people worse off.

That's it from little ol' me on my computer from down town Prahran, Melbourne Australia..... Happy New Year!

Love and bring on the Peace in 2004.

Peter

p.s. huge tongie pash to Deborah Levitt for her tireless efforts- have a great year gal! [ed. note: thanks, PG! You're the best!!!]

---
If there are any problems with this site, please contact webmaster@aswas.com.