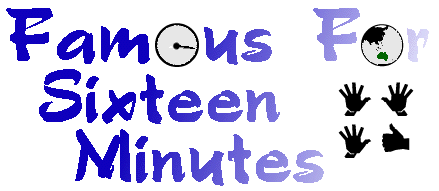 The Life and Times of Peter Green
Archive: 15 November - 30 November 2003
---
November 15th
Well the Bracks Government water saving messages seem to be helping, storage reservoirs are close to 58% a good sign. Some decent rain helps too. As time goes on water will be worth it's weight in gold.

Neil Finn was on Music Max tonight, it's a rare performance, only been shown the once on cable, so good to see it again. Meanwhile the Finns have the album being mastered in New York, so far all 15 songs are getting the treatment, still hasn't been decided if all will stay or it will be cut back to twelve.

I think Merelyn is close to taking an axe to her DVD player! I've decided that I will get my Mum a player as part of her Xmas present and send her a DVDr per month just footage from trips and messages and stuff...she'll enjoy it. Speaking of Christmas, have been good buying presents, making an effort on things that people would like....I like it being a present with some thought behind it.


---
November 16th
Up early we decide to do the Box Hill CD fair. It's came around fast, a few new faces and a few regulars, tend to chat all day, it's very civilized. Felt a bit sorry for this Farscape Sci Fi fan who came up, he had on these big pants and his butt was hanging out, his ' partition ' as a good friend called it. Started telling me all the Farscape stuff he had etc, I was good let him ramble on, didn't have the heart to say what I thought of the acting so bit my tongue. Sent him into the Sci Fi area....then there was the guy obsessed with Mariah Carey and Celine Dion was his second favourite.... I was tempted to grab the plank of wood used as a door stop and put him out of his musical misery!!!! Nice seeing the regulars though. One guy drove from Ballarat for his friend who was in Qld and called him to ask him what things he wanted! Big effort. The one thing we ran out of was copies of the F/16 book GLAMOUR...totally sold out on the day.


---
November 17th
Pay my GST related Tax today. Tax department owes me money of course they are very slow to send any back my way.

Give Noel Crombie a call and lock in a date for our Mushroom records meeting. Got to get the True Colours CD moving along.

Delta is still #1 on the chart keeping Farnham off the top spot for another week, I'm sure all these artists will be battling in the charts all the way up to Christmas....Kylie's album is out next week, I'm still not convinced she has the power to bump Delta off the top spot, though the newspapers seem to think Kylie will do it.

The good news is that Bic Runga is at #17 on the Japanese charts with 'Get some Sleep', jumped up from #31....pray for another 7 spots. It means the few Japanese dates she is doing will be sellouts and just having her in the country will help sell the album. She's incredibly vibed, it's like a new territory and to an artist that's always exciting when you have some success in a new country.

So many people have been sending in stamps for the church charity appeal, gave Rebekah 3 huge bags worth this week. Just a good thing to support, so thank you and yes we are accepting all stamps, new, used, ...


---
November 18th
Happy Birthday Jen!

I think she had to use that cattle prod to get the Yeti out of bed this morning, huge effort on his part as he has been touring (and still is) so every so often during the day he'd nod off. We have a serious of good shots, yeti asleep with the Bison, Yeti asleep surrounded by children at the Safari vehicle drop off point, Yeti asleep next to the Yeti cage.......

Really good for the four of us to escape the city for a day, and we know how much Miss Jen and Marky Mark love their wildlife. Destination is Werribee's Open Plain Zoo.

It's such a short drive from Melbourne, 30 minutes. Jen's birthday present from us, is a huge picnic basket, with some rather funky Tuscany plates and blue glass (glasses)...crammed full of food, even a shot of Glayva for us.

In the morning I sneaked down to the Post Office and bought 4 disposable cameras with pre paid developing... and wrapped them for us. Such a good idea, ok we looked like bad tourists with these baby cameras, but it meant we didn't have to carry big SLRs etc...and you can take silly photos every 5 seconds.

Mr Yeti spoilt us and Paid for our fee... and I have now learnt how to accept it Benny, I didn't put up much of a fight did I? God bless ya!

As we walked in the gate a mother duck and the tiniest of babies went walking past, they probably only hatched a week ago... I am talking cute and boy could those ducklings run! A heard of Zebra's appeared on the horizon... it was Out of Africa Part II... We were in Meer Cat heaven, such a funny creature, and they are always in family groups.

The Goddess is looking down on us and we get what is best described as a VIP safari tour, pretty much just us in the safari truck as we drive through the 100 acres of Park...with Norm the driver. The Giraffes and the Baby Rhino are the winners, coming right up to the truck. Giraffes are amazing up close, so freaky.... and they say God was having fun when he made the Platypus I think he was being perverse making the Giraffe! *GRIN*. We get shown the upcoming Lion area... a massive section of the park that will open in early 2004. No Elephants, we should of asked why. Loads more animals and we all felt a bit like David Attenborough ..... I'm sure Jen had a Meer cat on her shoulder at one stage. The baby Rhino was super cute and his Mum was incredibly protective.

The skies were that rich Australia Blue, and the Sun was heating up the park, even the leopard was lying in the shade. Of course Mark had to have a closer look and somehow managed to get right up to the fence...the leopard sensed him instantly and started licking it's lips.... guess who's coming to dinner.!

It's a great park, really nice day and a fun way to celebrate Jen's 21st birthday. One to remember.


---
November 19th
Hmm one interesting fact from the U.S./Afghanistan war is the massive increase of opium. In 2000 the Taliban banned opium production , so the 2001 crop was only 185 tonnes. Since the U.S. invasion the crop has jumped to 3600 tonnes, the second largest in Afghanistans history and now is the major source of the worlds heroin. Good one Mr Bush.

Maybe there is a musical God category.

Good to see that Holly Vallances second album 'State of mind' debuts at #57 in Australia and #60 in the U.K. How do you spell FLOP. Now if more crap music like this would have the same fate on the charts, it could be good times ahead.

Guy Sebastian wins Australian Idol, enjoy your six months of fame, recoup or fade away.... that's pretty much the deal.....hmm notice the first single will be sold for $2..... how could it fail to be monstrous.

Have a chat to the editor Mary from BEAT magazine, known her since she was 14... was a big Enz fan. She's done well with the magazine, the first issue had Neil Finn on the cover, all those years back. She's been supportive of the recent Andy White project....hopefully a good Ep review of Andy this week.

Police raid Michael Jacksons Neverland Ranch, amid new allegations that he has molested another 12 year old boy. It's Gavin Arvizo...he was the kid in the 'living with Michael Jackson' doco.

Lets hope Jackson wasn't tipped off this time, last time the staff had half a day to clear out photos, video footage, they even removed the mattress from Jacksons bed, so when they raided the place the first time it was pretty clean. At least they were aware of the secret room accessed through Jacksons wardrobe....most people come out of the closet...Michael goes in *grin*.

Can the people in charge get it right this time, the kids were treated so poorly the first time around, no wonder so many of them didn't want to testify. With the laws changed after the Jordie Chandler pay off ($22 million wasn't it) this time Jackson might be accountable.

More people will come forward, and Brett Barnes from Australia is one of the main people who should....Brett is 21 now and apart from what Jordie Chandler went through.....Brett has a similar history with Jackson, in fact as far as the sex went, more full on. Another Australian Wade Robson probably wouldn't testify and in fairness to Jackson there has never been any 'proof' of sex with Wade...and Wade has always denied that...so either another payoff and loyalty to Jackson or simply nothing happened. But Brett Barnes knows the truth and even without Gavin Arvizo surviving (he's pretty sick with Cancer) past victims like Brett Barnes could tell the truth.

The thing is with most of these boys, they happily accepted Jacksons advances, however they are kids, 12 years old, younger...and that is so wrong it's not funny. Jackson's mid forties, and we all make jokes about Jackson, His Eternal Whacko Jacko-ness but (and despite his upbringing) he is a Pedophile and justice should and hopefully this time, will be served...he is an adult, they are/were children.

Jermaine Jackson is a total dickhead and if he really cared about his brother he'd try to stop hyping this as a 'race issue' and see what it really is. Lets face it, without Michael (and with the exception of Janet) Michael is the main currency for the Jackson family ... so naturally they don't want the good times to stop rolling in.

The press of course will love this, and the old line 'all publicity is good publicity' will probably move more copies of Jacksons latest Best Of. He does need the money, at the rate of his diminishing cash flow, and countless loans on loans, several looming court cases... the only real asset he has is the final 50% of the Beatles catalogue....in the long run I bet the final 50% will be bought off by Sony. Accountants figure that Jacksons debt is ballooning out of control, something like 220 million.... the Beatles catalogue is worth around $300 million... so it may be sold out in a few years to fill the massive hole of debt. I'm just happy paying off my Amex card today, imagine owing $220 million U.S....and a trip to jail with no 'get out of jail free' card!!! Guess we will all know on January 9th... but I bet they get an extension and push it back.....


---
November 20th
11.00 meeting at Mushroom. Dean, Deb Ladd, Noel and myself, working out some ideas for the Enz True Colours Re issue. Eddies finished with the sound re mastering, so artwork and a few other ideas. Hopefully a March release.....

Collect the awards for Skyhooks Million albums sold awards...for the band members. Very retro looking awards Mushroom!

Dean gives me the new Kylie album and Best Of CD. Mark will be happy. One track on Kylie's CD- 'Sweet Music' I really like, a lot of the others sound very much the same, not sure how well this release will do... it's going to need some serious promotion. The upcoming live TV special will help but I'm not convinced it is strong enough to debut at #1. A rare thing for Kylie.

Working non stop on Andy White media, have been for weeks, today my neck is so sore, living on the computer and already close to 100 hours of Net time used. Tell Andy and Christine they owe me a high quality bottle of neck rub ointment for Christmas. *grin*. It is a labour of love, BOY 40 a fine album.


---
November 21st
Wow have a run on diary books today, all three- Hussy, Bang and Glamour major sales, send them out the same day, little books winging their way around the world. So glad I decided on hardcover for them, just protects them. People seem to want the trilogy... some nice emails too-thanks.

Well Jackson is out on $4 million bail, not surprising, but he has to hand in his passport, so he can't flee to France like he did last time...for a few years. Hmm nice mug shot, sorry it's not funny but the shot cracks us up, he is looking like the female ape on Tim Burtons Planet of the Apes. What the fuck has he done to his face.

Fran calls by for breakfast, so good to see her, the house seems like a huge effort.... but it beats renting so good luck to them, I'm sure she will be relieved when they have a floor to walk on! The joys of renovation.

Mark has found this amazing house for us, so far out of our league $$$$ wise but it is amazing 22 acres, stables etc... means selling our main city place and other stuff...who knows..... blowing my mind.

*****Well 23 years Hairball Snr..... and in the words of Miss Candee, it just keeps on getting better.....thanks for everything, love you heaps and now back to our regular station..... *******

Hmmm was that a transmission break .....where did that come from, oh the diary is so cryptic and wacky isn't it readers.


---
November 22nd
The lovely Rachel Griffiths gave birth to a baby boy today- Banjo Patrick (Taylor), just 24 hours after she presented The Best Actress award at the AFI awards. Australian women are so strong, present an award, do the shopping, put the cows out, have a baby, scale a mountain...I am woman hear me roar!

3 more U.S. soldiers die in Iraq, 185 soldiers have been killed since Washington declared an end to the War on May 1st...getting close to one life per day...and that's one life too many.

Watch a documentary on the Tasmanian Tiger today... we found it rather funny that it was called Ben! (So it's just not yetis called Ben eh).... 2 weeks before it's death they found out that Ben the Tiger was actually Bernice..yep it had been a girl all along.


---
November 23rd
In 1963 on this date the first episode of Dr Who aired...came on after a news report that JFK had been killed..... wasn't that the same time they were also making the Pilot for Gilligans Island?

The slashing of the throats of American Soldiers from the 101st airborne by a mob of Iraq teenagers shows just how brutal things are in Iraq. I can not believe that General Kimmitt says the attacks were disturbing but were of no overall military significance. Since when has 'military significance' been the only scale that we weigh the cost of human life.... if someone slashed the throat of his wife or child I'm sure he would find no consolation in such words, as I'm sure the families of these soldiers didn't. Yes it's a job that chose but have some compassion.

Buy some bunches of Celosia, those velvet blood red vampire flowers...they last for ages, have to grow some myself...amazing plant.

The lovely Rebekah calls by and it's good to see her, spoils us with an orange chocolate (yum). Sit down and plan some of her next overseas adventure, I should really get my travel agent license.


---
November 24th
Hmm well Kylie can not break Delta's strange hold on the #1 spot, her 'Body language' album debuts at #2...sales are a bit soft though, Delta stays ahead by a mere 3000 units. Jackson comes in at #8 with his album.... wonder if it will fall next week.

Remind Andy White that he is being interviewed on air by my friend Mez... the wonderful JOY Fm who have been playing TELL ME WHY. God the song sounds great on radio, such a summer feel. Andy was good, and Mez has obviously been researching, good questions. She's so supportive of Oz music. (and the odd Irish man).

Drop the Andy White contest prizes into BEAT magazine for our giveaways.... going to try and keep something in BEAT each week on Andy White. Over the moon as we have managed to get the video on RAGE this Friday/Sat. First time for Andy as far as video play goes... so from a PR point of view I'm very happy.

KYLIE LIVE concert on TV, good to see that she is a bit chunky these days, a bit of stomach , maybe she is becoming a bit of a role model by not being stick thin. The show only rated average with viewers and didn't win it's timeslot but I'm sure it will help push the album.


---
November 25th
Thanks to Robi our gutterman turned up and has pencilled in a day, so finally after countless attempts it looks like a repair man that will actually do the job.....mind blowing- thanks Robin, looking after me as always.

There is a God Part 2 (category).

Tennessee- a bullet fired in the air at a Ku Klux Klan ceremony came back down and wounded a member in the head and exited at the bottom of his skull. hey no brain so what's the problem. White supremacist trash!!!

Work on Andy media stuff for 4 hours solid today, get some calls and emails from people (most regional) who have heard the song on radio, so it's having some life of it's own. Keep calling Triple J, but it's really their call... won't give up though....a few friends have requested it on the Triple J website request area, all helps. People power.


---
November 26th
Auditions for Popstars 4 start next month in Melbourne. No more please....

Happy birthday Toija. Call in and see her and Marco, such a good couple, we like those guys.

Spend an hour or so getting some Xmas shopping done, needed a break from endless media.... find some great presents. The car is full.

Ever wondered what the fine white powder on Blueberrys is....it's called 'Bloom' and is a natural protective coating. I was reading a report on Blueberrys and how they contain a natural antioxidant that assists in cancer prevention. Which is great as I have been having them with Honey Buzz yogurt.

Neil Finn has been very quiet, where as Tim has been emailing every day.... so he's side tracked with something, or simply having a break...before another full on year.


---
November 27th
Kate tells me that Annie Crummer is playing the part of Killer Queen in We Will Rock you.... she looks great. Expect a new look Rocket Pocket Books site, which must mean that miss Kate is bored with all these holidays *grin*..... should be good- thanks.

Can't believe that Andys new manager Lea almost burn't down her bathroom, of course we'll blame Andy, all these long hours, it's catching up exhaustion is setting in....she's now got this lovely smoky cough ....which adds a new dimension to 'that" laugh *grin*.

Our friend in NZ , Richard runs the alternative Bic Runga site, it's a good one, thought I'd mention it here so all the Bic fans can check it out, obviously a labour of love. Fine effort Richard.
http://www.bicrunga.net.nz/

heard on the grapevine that a second Bowie Melbourne show will happen, finally the bulk of the tickets for the first show have gone, it took what seems like forever. Bec will be happy, two Bowie shows, the 2nd Melbourne gig is on February 27th.

Found some faxes in our files from Capitol not wanting Crowded House to be called that.... they suggested..Neil Finn & Tearaway (so terribly bad) thankfully the guys stuck to their guns.

Run into the fruiter on Chapel Street, decide I don't really want to know these people.... saw saw saw.... timberrrrrr!


---
November 28th
Meeting in the afternoon at the office, with Lea and Andy White. Work out some rough plans around the Boy 40 album promotion. Have to keep my work time tight on the final week, as I'm sure I will be knee deep in Finn Brothers promotion....hopefully my timing is perfect.... 2004 looks set to be a busy year.

My sugar levels dropped a bit today, so kind of lethargic , and thinking of eating makes me feel sick...it will pass, always does, just a few days .... lea saves the day by buying some lemonade for me.... now I'm speeding through the meeting.

First Christmas Card of the year arrives, it's from Gina White! So it gets the first spot on the mantle-piece.

Head off to Cornish Arms with Dutch Deb, I thought I knew where I was going and Deb compounds the situation with her map reading skills.... Goldmember remind me never to go hiking with you *grin*...was fun getting lost...and hey we arrived with 10 minutes to spare....(phew) call in a park just around the corner...had to drag Deb out of the 4WD as she was fascinated by the electric side windows!!!!! Now I know what to get her for Christmas electric side view mirrors!

It's thankfully not sardine packed, so sticky and hot outside am almost relieved, Trudi arrives just after us and another Deb we know is on the lights. I never tire seeing Andy play, he's so real, his songs, guitar and some good stories. Give me more Andy Whites, and Finns and Morrisseys in the music industry (hmm Morrisey is currently recording a new CD with Jerry Finn producing..I think he worked with The Living End)....

'12th of July' from the EP sounded really rich, and my old favourite 'Jacqui'... but a warm healthy reaction to 'Tell Me Why'.... the band are fun....but they do need to smile more *grin*.

Fun set guys. Monique Brumby is in front and I laugh that she packs her Mushroom Publishing back to capacity like I do with mine.... we all get such use out of those bags..best thing Mushroom Publishing ever did!

Head up to the band room to see everyone, my lemonade has spun me out a bit so I'm a tad freaky....Andy & Christine remember my plea for a major neck rub...so I am presented with some Beeswax Body Butter!!! Smells great and the colour coded box matches the CD cover!!! Fun.

Say goodbye and head downstairs to see a few Monique songs, drive Deb back to her exotic apartment at St Kilda....and its getting late but St Kilda is packed, there must be 100,000 people on the streets, all the cafes are full only at the St Kilda Festival have I seen more people....amazing.


---
November 29th
Feeling average still, have a light day... nothing too exhausting... consider cleaning the bath and remind myself that I really do feel sick and that's a good darn excuse *GRIN*... add cleaning the bath to cleaning the stairs as my pet hates!

Lea arrives back from the Queenscliff festival, arms full of mangoes and chocolates, my kind of house guest!


---
November 30th
Wake up very early, the whole household is up, so I could us bacon and eggs and fresh orange juice. Call Rosemaree as we are going to head to Chadstone for some Xmas shopping. Chadstone is the biggest shopping centre in the southern hemisphere ..... and it takes a microsecond for us to get lost. lea heads off for serious shoe buying....move over Marcos! We head straight to Ishka, still one of my favourite shops.... buy Mark a giraffe toy that wobbles and bends.... some cool Xmas presents and the staff let me loose in the shop.....3 bags later we leave.... a few names off the list. I only but one present for myself... a long sleeved red Che Gueveara shirt, double sided and arm printed design...just what every revolutionary is wearing this summer.

I can tell it's Christmas, sleepy, excited, broke *grin*.... all good things..well not the broke bit, but our friends will have some nice presents. I like taking the time to get them things that they will like.

We buy 20 packets of Wishing Tree Gift cards for the presents, Kmart stores stock these card packs and 10% of the wholesale price of the cards provides funds for the Kmart Wishing Tree program.

Rosemaree excited us by buying a DVD player...yes finally and she was far too excited.....the man behind the counter had to slap her....I bet MG will score a home cooked meal for it's installation.

That's all for now, tomorrow is the first day of Summer but more importantly Dec 1st IS WORLD AIDS DAY...so buy a ribbon, this evil disease is still running riot, especially in areas like Africa....and if all countries spent less on War that kills people , we could spend more destroying Aids which kills just as many.

Guess December 1st means I should wish everyone a Happy Christmas as it's coming up fast ,so not long before young children are sitting on the old guys lap (no I'm not talking Michael Jackson, I meant Santa...you guys!!!!)

All the best

Peter

---
If there are any problems with this site, please contact webmaster@aswas.com.