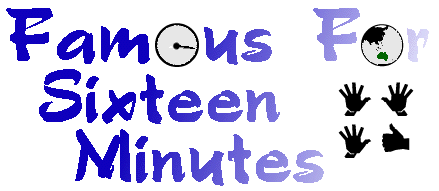 The Life and Times of Peter Green
Archive: 16 June - 29 June 2003
---
June 16th
Mail a CDr to Deb with a few new Hester tracks and a Skyhooks unreleased song for both websites [ed. note: sorry, didn't get to it yet... it's on the to do list]. Paul's site is slow and steady, really waiting on artwork for his solo CD- he is currently mixing so artwork has to be next.

The Skyhooks track is a song called "Funky & Gay" and it's never been released. The 'Hooks website (http://www.aswas.com/skyhooks) is coming up to it's sixth year of operation. I've noticed since Shirley's death that it's one of the few resource areas available,& fans keep coming back...so to add an unreleased song around the time of the websites birthday is a good thing (thanks Deb). Will be glad when we have copies of Paul's solo CD in our hands, it's taken him awhile but it's coming together.


---
June 17th
Looks like Bowie is touring here in October, email a few Bowie lovers that I know, should be good. A bit disgusted that his tickets are $200 though. For that you'd expect a date with Bowie...and he pays for dinner!

Speaking of dinner, really lovely meal at Jen, Ben and RB's, left us all wanting more..and we want that secret recipe! You know when your stomach says "Oh yeah that was great". All to do with the tomato seeds being removed and year old Parmesan I believe *grin*. Was great, and good desert Jen. Happy tummy! Encore performance please.

Oh annoying Fox Auction we came second again for Xanders Buffy PJ's from the all singing, all musical Buffy episode.....the main auction item we want is coming up, I have a plan, and it is to outwit the one Buffy USA fan who has been buying up every Sarah Michelle Gellar item.....well this time we will win! (Famous last words).


---
June 18th
Our Bic Runga is finishing up the last of her shows at Sydney's " The Basement" and soon heads to Melbourne. Will be good to see her perform again. With the record company would get behind "Beautiful Collision" a bit more in this country.

Home Loan due today, noticed our interest rates have dropped again, less money too the bank, it's a good thing. I freak out at what our next door neighbours pay, their rent on a similar house to ours is nearly $800 per week, our place is much better, that's sooo much per month. Good to know if our world ever truly crumbled we could get $800 per week on Rent. We could live on that, always tempting to build that house on the remote beach at Magnetic Island and just collect rent money from Melbourne..but nah.....

Had a lot of people coming to Australia for holidays who were impressed with parts of our trip. A lot now want to go to Magnetic Island.... you can explore the Island on the WWW, head to: www.magnetic-island.com.au Happy to help.

Sitting at Babble in the morning and share a bottle of wine with The Baroness. It's official, Babble has now changed hands, and we have a bit of a teary eyed chat. The Baroness was the main person who started Babble all those years back, when we all used to squash into the small skinny shop, before it had it's Brady Bunch Ski Lodge make over...happy times and good coffee. Anyway they got an outstanding price and that's great. It will probably change a bit, as places like that always do when new owners take over....but I'm sure the regulars will fight the change because it's in our nature *grin*.

Mark gets the last Hotel invoice in from the trip so he scores his final batch of Qantas flight points, almost enough for our business class trip to London in 2004....FREE is good. Specially at $8000 a ticket (Yieks).


---
June 19th
Well it was a fine day for Rocket Pocket Books today- had all these orders come in, had to spend the afternoon signing and packing, it's like a big rush on all titles- kind of threw me as it has been a few books every day..but today ...Varoom... lots of books in the mail. New places where books have never been sent, a few places in Africa. Weird in a good way. Wish I could write in the language of some of the countries...but I am hopeless, even my French is pathetic.....I could probably write HI..."open the window" or "how much is the bread".... but it's not really a good dedication in the front of a book is it! *Grin*

Wow we have been at this house for 5 years today, still love it, no severe cases of itchy feet just yet so we are happy to stay here and not wander.

Shared some boiled eggs with Jacquie at breakfast today...we then decorated the empty eggs shells and tried selling them at our table as "Egg Art"..... was hoping the new owners would buy them but no luck. Gotta try. The strangers get stranger...

Have a chat to Grant, the old Crowdies manager today, was very helpful around the "Farewell to the World" stuff....I do miss him and his management.


---
June 20th
A bead of sweat did trickle down my face....in the last 5 seconds of FOX's Auction, but it all went according to plan, I was horrified that the Imac was going to crap out....but we are now the very proud owners of one of Buffy's outfits from the TV Series. Yep Sarah Michelle's sweat and DNA is mingled in with the outfit. A great thing for our costume collection and as far as I know the only "worn by Buffy" item to make it to Australia. It was worn a few times, but mostly in Episode 19, Season 6 where the giant Buzz Saws try to cut the Slayer down to size.... it's the full outfit and the top is really pretty- if I was a XXS skinny girl I would easily wear it! The burgundy leather coat just screams out "Buffy", it's so her. I'm sure after the Auction at least one American Fan was cursing me...but really they got everything else, and the show is so CULT in Australia that something should come here that can be shown at Sci Fi conventions etc.

Over the next few hours we started getting emails from Buffy fans all over the world saying it is a very cool thing to have, close to 200 emails and took all day to reply. The funny thing is that at least 85% of them said the same thing "Are you going to smell the outfit".....so freaky....obviously Buffy fans all want a good sniff!!! Take a number.

Well Harry Potters book is now more popular then the Bible as far as sales go. Biggest print run in history. They'd better be careful, remember what happened when Beatle John said they were bigger then Jesus......some of those Christians can be a feisty lot....Harry Potter Bonfires.....

One Harry Potter book in every English home....we at RPB are doing our media release for GLAMOUR with "One F/16 Diary Book in every country!" (GRIN).


---
June 21st
Saturday and what did I do today? Answered a few more Buffy fan emails, called my Mum, had a roast for dinner, filled the compost bin with leaves, decided that one day I want to do a cover of The Beatles "Rocky Raccoon" from The White Album as I love that song.....maybe Hester will help me in his studio....all I need to do is sing an average version, I've seen what modern technology can do in the studio *GRIN*........oh all scary...... I could put together a super group for one song surely.....maybe not. The world isn't ready.

Watch a CD come crashing through the mail drop at our house, it's Lynchpin-hand picked words CD from Gold member and a nice note. Made me smile (yes again)...thanks Deborah.


---
June 22nd
Think July 26th will be a fun night at The Elsternwick Hotel- as Andy White will be performing...and it's FREE. A lot of us are going down to the show for a serious drinking night- it's Marky Marks birthday (27th) at 12.01 so that's pretty close.....so if you live in Melbourne come to the show, make the effort or are you going to stay at home and grow old. *Grin*. July 26th write it down.

Catch up with Rosemaree and we venture into a packed Babble, it all seems a bit tense today, or it could just be a weekend rush. We grab the last table and good timing as the traffic builds up with Sunday Prahran People (SPP) looking for food and a good cuppa coffee. I don't take the G4 to Babble on the weekend only week days, and I am still getting around 20 minutes extra of work done per day. So it adds up...

Head down to the Prince of Wales for Soundcheck. Give Bic a cuddle, and pick her up, I swear that girl is so light, I closed the balcony door in case a draft blew her away. Love the coat...looks healthy, after so many shows in a row in Sydney.

We have Ben back on Monitors and Rob Miles out front and yes John Walsh from Neil's crew on guitars, so it's a family gathering. All familiar face so I can be a dick and no one will care.

Think I spotted Kenji outside, I looked over the balcony but no sign, it mightn't of been him, I thought if he came all the way from Japan I could sneak him in but alas he has spirited off, if it was him.

Four songs at soundcheck- "Something God", "Beautiful Collision", "Get some sleep" and Bowie's "Wild is the wind", a few odd sounds from the old keyboards, probably the usual loose plug but hey I'm no tech.... we may just need to shoot the thing.

Around 4.30 Grant Thomas calls by, he is in town as one of his acts is support, it all feels very familiar. He tells me his house is (again) on the front cover of some architect magazine...he has done well.

Decide to walk Bic back from The Prince to the Hotel, as on occasion St Kilda can be a bit brutal, and hell she may well blow away.....I am always amazed at how many people recognize her, not sure if they know WHO she is but something grabs their attention, I don't even know if Bic knows....I start imagining more and more eyes peeping and peering...puts me off. She's off to Paris for awhile, I tell her it's a new adventure and just have fun, so I hope it's good for her. She's leaving at a good time, the album is #1 again, having spent 44 weeks on the NZ chart. It's sure to do a year on the chart, not many people can do that. Oddly enough "Beautiful Collision" now becomes the second biggest NZ local album, the #1 album is also hers..with "Drive"...

I just wish Australian radio would pull it's finger out and play more songs but that would probably be a bit too daring for them. Radio sucks.


---
June 23rd
Tania turns up and we head off to The Prince of Wales. She takes her own car as she thinks I will end up chatting to 3/4 of the crowd...yeah would I do that...ok she is probably right. Pick Rebekah up and we both fail to get $ out of the ATM as the system is down...so a massive $20 between us.... Find a park in the Princes Car Park and watch some of The Secret Life Of Us being filmed on a rooftop of a building...looks like a nightclub scene.

Head inside, and Angie is door girl , she usually does our Bic shows. Shows me the list so I know who's here. A lot of mates have come along tonight, Andy White and his gorgeous wife,as well as Monique Brumby who's "Signal Hill" CD I have almost worn out(!) is in the crowd,Greg Macainsh from Skyhooks, Marcus and Deb, Dutch Deb and friend, Stuart & Lisa, oh just more and more, all coming along to see Bic...and to catch up.

Last night was apparently a really average show, so tonight will be good (Eh Yeti?). Thankfully the Bar lets me set up some Bar Tab (Yey Amex) so Sabucca shots are in order....it makes me sway more to "Sway" let me tell you. That pesty keyboard plug plays up, but overall its an OK show, a good healthy crowd and a very solid call for an encore.

Yep chat to everyone afterwards and zoomed off with the Boothoid in tow. Had a really nice night.....can't sleep so we watch "White Collar Blue" (TV show) on DVDR.... till the wee hours. A late one...


---
June 24th
Hear from Jeremy in NZ who is coming over to Melbourne for some interviews with a few Enz people. He's been working on this Enz radio special for what seems like forever hopefully these interviews are the final thing & the public get to hear it soon, should be good.

He asked I wanted to do an interview but I think on this special it should be just the guys, plus I'm hopefully escaping to work on the "Letters to my Frenz" Split Enz book. Need all our stories for that (:

It's Marky B.'s birthday, so leave some weird message, was not gonna sing....though I considered a birthday version of Rocky Raccoon". (No I didn't).

Put a bit of the Nigel Griggs interview on the digest, get some good feedback from fans....it's a good interview, will be good in the Enz book. Suddenly all these people are pre-ordering it, there is a vibe. I am playing "the Beginning of the Enz" a lot lately, always puts me in the best mood- oh those wacky Enz boys. Love that early stuff.

Have also been enjoying "Dolmades"- no it's not another seventies acid rock band, it's those lovely Greek rolled vine leaves full of rice and other good things. Every so often we put up a recipe on the F/16 site, so here is one for Dolmades, perfect as an nibbly item at a good dinner party.

You will need:
fresh vine leaves (if using those preserved ones soak over night in cold water & give them a good rinse)
olive oil -2teaspoons
Chop an onion -fine.
Cooked rice, about 1/2 a cup.
Mince lamb-250g
Pick some fresh parsley-3 stalks
Same for mint and chives if possible (dry is ok but fresh rocks)
2 springs onions
lemon juice-4 tablespoons
2 tablespoons sugar
ground pepper and salt
Yoghurt

*Boil water and blanch vine leaves (they go lighter) for 1 1/2 minutes..it basically softens them.
*Heat the olive oil in frying pan & fry the onion until it is soft & then add lamb until brown. Give it a stir, and season with Salt & Pepper.
*Stir cooked rice, spring onions, herbs and half the lemon juice into the lamb mix. Knead all of this with your hands (wash them first!!!) until it's well mixed.
*Put a vine leaf of a cutting board with the veiny side facing up. Put 1 tablespoon of lamb mixture on the leaf and fold the stem end over the meat. Fold the sides inwards towards the centre and then fold over so it's all wrapped up. Make as many of these as you can using up all the filling & leaves. I usually do an extra leaf or 2 in case of disaster.
*Any remaining leaves can go inside a decent sized saucepan and place the rolled leaves in one packed in parcel (of little parcels). Stir a mix of the remaining lemon juice and sugar into 2/3 cup of water. Pour this over the leaves in the pot.
*Put lid on Pan and cook over VERY LOW heat for around 2 hours. If it looks like it is boiling dry just add a little water. Serve warm, even cold is fine. Put Yoghurt next to them in case people want to "add" some extra flavour. Serves 4 at least, but they are tasty & people do pig out on them.
Go for it!!! Dolmades heaven!

Have a visit from the Yeti and cook the boys dinner, it's good when we all eat together, all the day to day distractions seem to go away. Good friends man, that's what it's all about.

Loads of filming going on around Prahran, a Sportsgirl commercial on Greville street, another large gathering of camera crews in the Prahran car park. I am ready for my close up Mr Speilberg.! Left side please.

Some people take a huge leap in life, but many small steps can cover the same distance. That thought came to me over my porridge at Babble. My Porridge was as deep as my thinking this morning.! Write that one down.


---
June 25th
Wake up to "Beautiful Collision" sitting at the number one spot on the N.Z. charts again. It will soon be one year on those charts, impressive.

It's Tim Finn's birthday today, 51. The year has really rolled on by, I think birthdays probably mean a lot more to him now, having a family around, a good feeling. He tells me that Elliot is growing at a fast rate, hope I get back to N.Z. to see her before she starts dating!!!!

Start going through photos for the Enz book, that's always a fun part of a book, some classic shots, am after photos that haven't been used to death, it should be a good selection. Working out some of the layout, and as far as the band segment will probably be in 3 chapters- seventies, eighties, nineties....

Speaking of the Enz, was digging around in our archive pile and found a beaten up box with Split Endz (yep spelt that way) DEMO's on it, loads of mould but on the box only. Has Late last Night and Sweet Dreams on it, be interesting to see if they are REALLY different. Have to convert them over next week....usual problem of spare time.


---
June 26th
Britney Spears admits that she has dabbled in drugs...thing go better with Coke Britney (or did she do Pepsi?)...but she prefers Coke (?!) so we hear. She's in that experimentation stage, blue eye shadow will be next!!!

Evan "don't call me that" Samuel Johnson from Secret Life Of Us in a Pub brawl at Hepburn Springs. The guy he was fighting kept calling him by his tv character name- Evan. I'm sure Sarah Michelle is going to kick Marks arse when he meets her when he calls her Buffy!!!! Than again some Buffy punishment might well be a good thing! Bring it on....

Hmm Mary Anne Pineapple Head has been having weird dreams about me (again....?) vinyl flying machines and stealing the bed covers...you know what that means *grin*. She did pass on the website for the metallic Glamish Canadian band- Robin Black & the Intergalactic Rock Stars (cool name guys). Thanks MAP I will love 'em. Wham Bam Thank You Mary Ann! Have ordered their DVD.

http://www.robinblackrocks.com/

Cosmo bunny was getting way too excited last night, on the phone to Nigel Griggs and Noel Crombie for ages and the bunny (of love) just kept running in circles and jumping on me, kissing my feet and totally losing it.... he ran so much he finally fell to the ground, full stretched and had a rabbit nap! You strange fluffy creature....what is in those sprouts?

Mark has some spare NZ flight points, and he won't use them with Air N.Z. so he's letting me use them to get to N.Z. Am heading over for a few interviews for the book, to go through some paper work for "Farewell to the World" and collect this huge 500,000 Sales award that Mushroom NZ gave me ...which was really a surprise (thanks Dylan)....I'm sure the Finn's organized that. Anyway hopefully a few days in N.Z., business class for 3.5 hours...still it's free. Am going to ask the Finns if I can stay at their place, just above the office. Will be weird as the family will be in the USA by that stage.....a chance to meet the new guy in the office too...and an excuse to buy some duty free. NZ here I come (I think).


---
June 27th
Hate it when I go over on internet time, how have I done 110 hours this month....damn Buffy auctions. We have had a lot of emails too this month, double the regular amount so that would of done it. Think I'll do a Faves list....as not a lot happened today.

Album of the Month- Bowie's "Aladdin Sane"-30th Anniversary Edition (Must have bonus disc)....Beginning of the Enz.

Fave Movie- "Lost in La Mancha"- the director of 12 Monkeys and Brazil did this one. Now showing at Nova cinemas in Oz.

Fave Food- Dolmades.

Fave Person- Has to be Nigel Griggs this month, made me laugh, so full of Enz knowledge, loves the environment and dislikes John Howard.

DVD of the Month- (Star Trek) Deep Space Nine Box Set.

Fave Clothing Item- (Fake) fur lined biker jacket.

Fave Expression- "Easy Tiger" (copyright Mr Yeti)

Fave Idea for the future- A Noel Crombie Pez Head dispenser....

Jacquie tells me she spotted Belinda Bardot at Prahran, she must be in town, maybe she thinks we are still away in the desert...better call the girl. After all she looks a bit like Buffy so our plan is to make her wear that Buffy outfit and chase us around the various levels of the house with a wooden stake in hand......of course she will do this...ok maybe not.

Deb is away on holidays, so not sure when the latest diary goes up, she deserves a break, works far too hard, just suffering all my "stuff" would need a serious holiday. Hope it was fun (: [ed. note: yes very nice, thanks, but I'm so backed up with work!]


---
June 28th
Sleep well, some rain last night and the Gryphon sleeps very soundly when the rains come. Today is home-made Sausage Roll day, so I run into Marks room, jump on the bed and annoy him so much he has to get up.... these sausage rolls of Marks are the best....

The office calls and need a photo of Neil with his Maton guitar, think it's for the guitar company, will have to go through our shots. Maybe if someone has a cool jpeg they can email me.....(please don't send it yet as I'm sure there will be 10 zillion jpegs that will take me years to download).

Grey old day outside, rain is on the way. Have a few things packed in case I head off to Beenami to write. Helps with discipline , too cold to go hiking, the phone isn't ringing, just the big roaring fire.....and lots of cup of teas. Knowing my luck it will be snowing up their and the 4WD will come off the road and some strange woman will break my legs with a hammer and keep me prisoner...saying Hussy is her favorite book....hmmm smells of "Misery"...!

Watch "Countdown to Invasion" on cable .... had Ted from "Queer as Folk" in it, playing a Geek (nice glasses Ted). A bit average.

Think it's a tad pathetic that America is getting excited over weapons parts buried in Iraq TWELVE years ago...that's not really a smoking gun guys, more like a smoking cigar (opps Cigar wrong President). Not long till the U.S. military plant some evidence to justify all of this....and still another U.S. soldier dies... every day, someone's brother, someone's father...bet none of them have the surname Bush. Is it is starting to feel like Iraq is going terribly wrong (again)....???


---
June 29th
Ros lets me know that there is a piece on me in the Sydney papers, always good when some little odd bit appears- thanks Gal! Makes me laugh.

Well no snow at Beenami, but the weather man on channel 9 say it's one of the coldest areas in Victoria. Have a feeling that nearby Mt Baw Baw had snow last night, some decent rain too which we really need.

So weird up at the Forest House as it is super green, after all that driving through Australia and seeing countless dry creek beds, and drought ravaged plains, it is mind blowing seeing how lush this place is.

Have to spend more time away from the city, as the city is very over-rated in a lot of ways, so calm up in these hills by the rain forest.

That's it from this neck of the woods..... and thanks to all the readers who grabbed copies of "Glamour" lately kind of threw me a bit- thanks.

Peter

---
If there are any problems with this site, please contact webmaster@aswas.com.