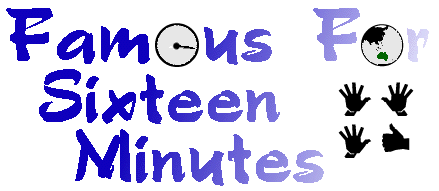 The Life and Times of Peter Green
Archive: 19 May - 1 June 2003
---
May 19th
Rosemaree and gang in face paint and camo's breaking us out of Woomera, an interesting thought. Why did we ever head into the illegal desert area....

Half of Australia conquered but the car needs a full service after the corrupted fuel. So a month down the track and we are on our way back to Melbourne. Looks like the second half of the Oz road trip will have to wait till November. What a brilliant time we have had, makes us appreciate Australia and I'll always remember those Shane Gehlert desert landscapes. vOn the way back across to Melbourne we call into Crystal Brook looking for food and fuel. A really pretty town that has an amazing calm about it. It's hidden away off the main road, the buildings are superb and it is one of the nicest little towns in Australia.

Oddly enough "just up the road" is Snow town....who's notoriety came about with the Snow town murders. Bodies in large containers of acid, hidden in a deserted bank vault. The town itself was empty, we didn't see a single person, not even at the pub. The old bank is on main street and stands out because the front doors are now sealed with huge silver metal doors. It looks more like a tomb, and I'm sure heaps of morbid "visitors" turn off the road for a peak...hell we did. It's hard being subtle on an empty street.

The one thing we never heard on the news was how close the Police station was, only a few doors down. So while these ghastly events were taking place, the Police were only a stones throw away. I just couldn't take a picture of the building, so I snapped a shot of the Snow Town mural which showed Snow Town in happier times....but we all know that it will be remembered for one thing.

Accommodation tonight is at Murray Bridge....clocked up 957 kms today, so in need of sleep. Adelaide messed our heads as we just couldn't get out of the city, it was like ground hog day going around and around...stressful for us both and the 4wd wasn't happy. Thankfully the night manger at the BP service station (Anzac Highway-Glandore Adelaide) got us out of the loop and on our way.

If this was Twin Peaks, Agent Cooper would of appreciated the Murray Bridge Motor Inn. The manager, a very kind lady gave us a brilliant room, very comfy beds and after today's epic drive it feels good just to stretch out. No Moose heads on the wall but an interesting decor. Mark falls into a deep sleep, despite the comfy beds and stuffed Dingo by my bed...I have a restless night...the rain floods down outside. I still building an Ark.


---
May 20th
The world feels like it's had a really good wash....that crisp clean smell outside, could be those Pine tree's.

Mark navigates us to the Pet Hotel and we pick up young Cosmo the bunny. He is excited and jumps out of the cage into my arms. Fat little bugger, obviously gone to a few "all you can eat" rabbit smorgasbord's...looks happy and healthy. He keeps trying to tell us he is happy to see us...he tries to talk but rabbits only make strange little noises...but we get the picture. We arrive home, and are spending the next few weeks on holidays still... just don't want anyone getting an idea because we are home that we are still not on vacation....we are! So in stealth mode. Chilling out...we are not hear....we are hiding, enjoying our break...invisible....etc etc

Meanwhile in the USA the last episode of Buffy the Vampire Slayer is on. I've gone out of my way to avoid reading and seeing anything about the last show. A lot of friends have said they'd send us a dvdr of the last show, but I've been good- will watch it here...only a few shows to go in Australia before the last episode....patience. Hard to do when it's the Buffster.


---
May 21st
Happy Birthday Sharon Finn.

I always get the days mixed up- pretty sure it's today...so for a few days Sharon is older then Neil....have a good one Dawny!

Am reading a Marilyn Manson interview at the Market Cafe and I really really enjoy his interviews. "That's the way I operate now. I won't be silenced or censored if I create something. My imagination is not going to be imprisoned by any one". Haven't heard the latest album... but I like MM's attitude..a good read.

Strange being back in Melbourne town, a few regulars stopped me on the street and told me I looked very tanned...I think I look normal, till I stand near a mirror with one of the Babble boys and he looks white compared to me. That desert sun, even with 90+ sun-block you get some tan. Melbourne's cold does chill me a bit, a month away and part of my body has enjoyed the warmth.

Loads of emails from fans who enjoyed the Finns TABAC shows, the Finn Bros will start recording their album in July, working out producers as we speak. I'm glad it went well. Someone told me that NF mentioned he reads all the diary books..made me laugh...very kind of him. I notice Yurate still has a few copies of GLAMOUR in the front window of Greville Street Book store. There is a good book on Stoners too...Pot in Australia, well worth a read.


---
May 22nd
Clean up the leaves today...the compost bin is overflowing. The house is smelling like us again, when you are away for awhile your home loses it's "flavour". People who travel a lot know what I mean...you come back and it's smells different...like the air has been filling up the space but no one has been breathing it in and exhaling.... hopefully the solar panels have been making a lot of green energy. Fingers crossed for a $zero power bill.

We hide from the planet and watch the latest Buffy DVD set... Mark hides a present in with my mailbag ...the Ed Wood DVD. Johnny Depp is brilliant...and I love Ed Wood Movie.....Tim Burton is involved and of course that means a guest spot by the wonderful Lisa Marie (not the Presley one). Bela Lugosi is played by Martin Landau...his best role ever...he won Best Supporting Actor Oscar for that role in 1994. They also got the Best Makeup Oscar the same year...totally understand why some people don't get this movie...we love it. Poor old Bela Lugosi though- at least he was buried in his cape...which shows a coolness ....for some reason the USA release of Ed Wood was pulled, but Australia went ahead and released it.


---
May 23rd
Scan up a lot of photos taken from the recent Road trip and send them to Deb for the images area of this website. It's a major job so Deb will get them up when she has a moment. It's been a few years since I've put up some new photos, sorry about that but hopefully some these will be up soon. (Thanks Deb). [ed. note: sorry for the delays!]

Hear on the grapevine that someone bought Babble while we were away, guess it's all hush hush till the deal has been done. Michelle leaves in a few weeks for Manchester so Babble just won't be the same...all things change.

We've been enjoying the coffee at the Market Cafe...they have the best coffee in Melbourne.


---
May 24th
Notice that Blondie are playing the wonderful Palais Theatre in St Kilda in August. When I was young(er)...Blondie were one of my favourite bands, especially the first few albums. Their debut album was first released in Australia on some very small label- I think it was "Private Stock" or some label like that...this was before "In the flesh" became massive here, giving Blondie their first #1 single (anywhere in the world). Strangely enough my rather groovy mother bought the album months before I was into it... and eventually surrendered it to me so I could discover the more "punker" side of Deborah Harry and the band!

I was at school and Blondie were coming to our town, I was writing a fanzine at the time (extremely Punk thing) think it was called 10,000 Voltz (you always used a "Z" instead of an "S"...no idea why..maybe "Z"'s look more Punk) and the local promoter who I use to hassle every time a band we liked came to town offered me a chance to interview Deborah Harry. Blondie were #1 at the time, Deborah was pretty cute and anyone who could sing "rip her to shreds" with such passion deserved a whole page in VOLTZ. So for weeks I was rather excited, told very few people at school because school was pretty rank-except for a handful of people their musical tastes were so middle of the road- I really did want to puke (still more Punk of me). So imagine how bummed off I was when parts of the tour were cancelled including our local show!!!

Saying all that Mark and myself have seen Deborah harry play a great solo show at The Roxy in L.A. The only problem was that the Venues power kept failing, something to do with a section of Sunset Boulevard that was damaged so the set was interrupted every few songs. Deborah Harry didn't throw a tantrum, the crowd encouraged her...heaps of gay boys in leather coats with airbrushed drawings of D.H. on the back....rock girls encouraging one of the Queens of rock.....good gig from what I remember.

So Blondie at The Palais August 13th...have to go to that one.

Whilst I was thinking about "10,000 Voltz" days I had a few small flashbacks to several other Fanzines that we either put together or I wrote articles for, just for fun. "Wipe the sweat" was one and "Backstage" another. "Sweat" did really well and for about 6 months or so it was the biggest fanzine in Melbourne. Record stores like Missing Link use to stock it and every few days I'd have to get more made as they sold out. I think the first edition had Nick Cave in it, a gig review and some backstage observations...and some pictures I'd taken...as well as our Boys Next Door "Cave" shots from the Bondi Lifesaver (the ones that appeared in WINGS OFF FLIES photo book), also The Curse were in that Issue. Some of the Curse boys visited our house, have no idea why, and a loud party eventuated.... very loud, in the end I somehow agreed to manage them....and wisely said I wanted a "trial period" of a week. Wise because they were truly insane, total maniacs and you know I kind of liked that....we played a show at The Ballroom...and the manager of the place grabbed me screaming "are you the manager are you the manager"...The Ballroom was the art, punk, new romantic place to play.....and The Curse were headlining....the place was packed and I couldn't see what the problem was...the Venue should of been happy. I find out the problem is that "my" band had sneaked in 95% of the crowd threw fire doors etc and no one paid. Opps! They also did a demo session at a studio, the record company freaked out, the console was covered in blood, and heroin really was a few peoples main man....oh it was way too hard. I waved bye bye changed the locks and thankfully escaped without a rubber hose around my arm...just. That whole period was fun, and I think we were rather broke, but it never seemed that way at the time...life was for living, the music was everything it was our drug, and we tried the whole assortment of styles, no gig was too far away, these days we wonder how we walked so far, even in a car some Venues seem a long way. Maybe we are lazy, maybe some of the fire has burn't out, or maybe the musical fare that's on offer just isn't in agreement with our musical taste buds.

One final thought on Blondie too...a few people I know have either worked or been friends with Deborah Harry. Frenz.com Deb worked with Deborah on one of her tours, and artist Vali Myers was friends of theirs for many many years. Small world....


---
May 25th
We decide to head to Hunters Cafe at Armadale and it has lost it's vibe too. Plus they don't take American Express anymore..and the guy in charge just kept on pushing various food nights- was really annoying. Sometimes I just want to sit and read the paper and watch the world go by...without someone continually interrupting telling me that "Friday nights is Parmigana Special Night"......next!

Interesting to see that the USA now thinks that the reason for going to War with Iraq..those pesky "weapons of mass destruction" might of all been destroyed before the War started.......wasn't that what the weapons inspectors have 1/ said was happening 2/ the world wanted....

The next bit of spin will be ....but we removed the evil dictator line.... and yep that's true but c'mon guys lets be honest Bush's "remove weapons of mass destruction" was meant to be THE main objective ...talk about using fear to get what you want ....move over the Catholic Church....! Stick a fork in them and turn them over their done!.....any excuse...and still one USA soldiers dies in Iraq every day and god knows how many innocent Iraq citizens. The War may of moved from the main pages of the paper but people keep on dying.


---
May 26th
Happy Birthday Robin Mac.

Hope you enjoy the Mobil man of your dreams..told you we'd find him for you *grin*.

I check out the Aria chart, our Skyhooks DVD is just outside the Top 20 DVd chart...but the Hooks CD is #20 on the Aria Australian Artists chart. I notice that after only 2 weeks our Ex Bardot Girl Sophie Monk's album has dropped out of the Top 50. Yep we did the right thing by not working with her. In truth it's simply because I don't like her management, just people we never want to work with. two weeks on the chart is not a good sign.

However great news for Bic Runga with BEAUTIFUL COLLISION. The album hits the #1 spot again on the N.Z. album chart, after 44 weeks . It will tick over to 5 platinum in N.Z. too. I just wish Sony/Columbia in Australia would show some more support and 1/ release a second single 2/ flex some muscle and get in and promote the album more. Bic has several shows at The Basement in Sydney (June 16/17/18/19/20) and Prince of Wales (June 23/24/25)...also if any UK diary people are reading this...check Bic out at the Union Chapel on July 10th...if you have never seen her play live- make the effort, a good night is guaranteed.

Eddie Izzard tickets on sale today, wanted to go but budget budget budget... how good am I. !


---
May 27th
The Boss's birthday (nah not Springsteen..MY Boss) Mr Neil Finn. Turns 45, think they are away, probably at the beach having a sleep in. Send him a dvdr surprise...from many birthdays ago.

Finish reading the Poppy Brite book that Merelyn & Jen gave me... "X" is a good easy read..and I was waiting on some extreme horror but none...a happy ending (phew that's rare in a Poppy Brite book).

get in our sales figures for the Skyhooks and Split Enz DVD...in true fashion the people who give out DVD sales awards have just put up the sales quantity to get a Gold DVD award..we were so close, only a thousand units to go, and suddenly BOINGGGG we need to sell a further 2500..don't you hate that. Oh well at least sales are ticking over. A slight chance of a USA release for the Enz DVD but it's far from confirmed so I'm not talking about it till it's written in stone.

Hear from Tim Finn and life at home sounds really good, the new baby Elliot is keeping them on their toes, the family sounds really happy.


---
May 28th
Show some support and order a whole stack of Bic Runga "Listening for the weather" CD singles. We could get them for free but I think it's good for people to support the artists they like.

Been playing a vast selection of music this week- Bauhaus to Slade to Lou Reds "New York" album...always in the kitchen.

Jackie takes us down to check out her shop on Greville street. Think she'll be open in a few months. I volunteer for work duty, if she needs a hand sandblasting or for whatever....at least she has our ladder...so the starting pistol has been fired....she has some good ideas. I climb inside the big glass front window display box and watch Greville street shoppers walk by...so this is what a mannequin se's for his/her life..interesting.


---
May 29th
A short strong man, with wooden Buffy stakes tries to take over a Qantas flight...he is over powered by the flight crew and passengers. No one fucks with an Australian airline. Felt sorry for the flight crew, the poor guy who got repeatedly stabbed in the head deserves a medal- he was so brave- everyone was. Where are all the air marshal's that were meant to be on flights....what are there..six of them or something!?

Watch "In the realm of the hackers" on the ABC tonight. Goes right back to the early days of the internet, some great reenactments ....loved those old Pulsar modems...was kinda cool doco.... thought it was funny that so many of the famous early Hackers- Electron , Phoenix etc all came from Melbourne. One person commented that Melbourne's weather keeps so many people inside that it's the perfect environment for Hackers *grin*. They were the guys who hacked into Nasa, Citibank..and the odd satellite launch.....being Midnight Oil fans and having the tag of OILZ on one of those early "worms" gave the game away a bit....plus the use of the word Wankers was very Australian on the screen comments....was good. Suelette Dreyfus who penned the book "Underground" had a lot to do with it......her book is available for download (and purchase) at:
www.underground-book.com


---
May 30th
Some people just didn't get NEMESIS the last Star Trek movie....and were happy to crow about the writing on the wall for the Trek franchise. Even my beloved SFX magazine seem a tad obsessed with slagging it off every chance they can..which is weird considering they jumped on the band wagon and had Nemesis on the front cover of one of their issues. Meanwhile SFX are promoting ALIAS which is truly trite....(sorry guys).

Proving their might be some life in the old girl yet..the NEMESIS DVD was released in the USA this week...and 1.25 million units later it seems to be a hit on DVD. Maybe sci fi geeks are going to the movies less and hiding away in bunkers watching DVDS ...that's a pretty healthy first week... could just save the Trek world from the ultimate threat..no not the Borg but poor returns!

Another reason we're back is for a funeral. One of our best mates- Robin's Mum passed away, and Mums are such precious things- just glad we are here. Robins Mum thought nothing of letting us crash at her house when we really needed somewhere to stay...and I'll always think of her kindness. Plus she made the best cup of tea I've ever had...a nice memory.

When you lose a parent it's so hard but if they were in a pain you know that in some small way it's a blessing, no one should suffer, especially the good people in the world.

Death and funerals I am not a fan of, and some go on and on and on with the ritual and the words that so many missed... the chance to say things while the person was earth bound. Today's funeral was nice, dignified and a send off to a friend, of obviously so many. If I am going... I want something like this... something real. I did find my weakness today, and that is the sadness of my friends. I hate seeing my friends cry, it cuts me to the quick ...it's the one thing that upsets me more then anything else.

But it was a good send off and that night as I sat on the balcony, I swear I spotted an extra star in the sky...and I sip on my cuppa thinking, I've had better cups of tea at Williamstown all those years back.


---
May 31st
Fave Food- Haloumi Cheese- It's a Cypress style cheese. You should always rinse the Haloumi to dilute the brine. Slice it into 1cm think buts and season with cracked pepper. Cook on a hot frying pan with virgin olive oil. When cheese goes golden brown , sprinkle with lemon juice and serve on a crusty bread...sometimes I add a few small spinach leaves. With Winter just around the corner it's a nice snack for those Winter days.

Manage to get in some more copies of HUSSY & BANG. In April a few of you readers asked if we could get some more, so yes and they can be ordered via the merchandise area of this website. We also have copies of GLAMOUR and Wings off flies available, so all 4 books are now in stock again. I'm tempted after this run to put Hussy & Bang our of circulation so the little diary books become more unique. I'm into the Mark Ryden school of very limited runs on things..where people ask "where can you get it" and the answer is "you can't..sold out". For the moment though, all 3 F/16 diary books are available, numbered and signed. Go for it.


---
June 1st
First day of Winter and you can feel it in the air. Snowing on the Alps and I know this year we will have snow at Beenami...just feels right. The big trees outside have nearly lost all their leaves again...and our compost bins can agree with that statement. Cosmo spends more and more time inside, even though he is a Himalayian Dwarf bunny he loves to snuggle in my bedroom. He is happy we are home and hops over and kisses my hand when I'm on the phone, this rabbit is full of love....we should go away more often!!!! (:

Wake up early and give Rosemaree a call for some breakfast. Back to Babble and we get a table by the door, good timing as the weekend Babble people start shuffling in. All the regulars escape....there is a difference between the real regulars and the weekend people...even what people wear...so funny that I have learnt to spot the difference...means we have been eating here too long.

Open a huge box that arrived from Karen in the USA. These really nice tshirts from the Police & Emergency Medical Services. They have the city of New York Fire Department logo on them. The trauma centres are incredible, I think Karen works at the one in Boston and they really take care of everyone from homeless to people with gunshot wounds...it can be so easy only to see the dark side and think the world gets more evil each year- but there are so many people making a difference.... think I should finish this diary asking that all of us be a tad more understanding to our fellow human beings.... one good deed just done for the hell of it can really make your whole week a lot better. Enjoy life.

Pg

---
If there are any problems with this site, please contact webmaster@aswas.com.