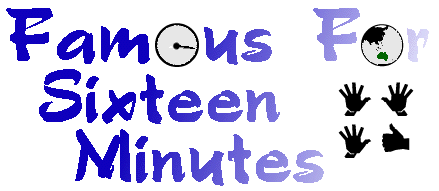 The Life and Times of Peter Green
Archive: 1 January - 12 January 2003
---
January 1st 2003
The first day of another year. It always starts off real vibey, even if you are not making new years resolutions, you make a few in your head- and a week layer the list drops to half, as the other half is out the window.

My first task for the new year is some serious washing up, with the drought on in parts of Australia I've stopped using the dishwasher, not that I have ever used it all that much, big dinner parties and huge celebrations are the exceptions. When the empty glasses get to 50 or 60 I will happily load the machine.

Next it's down to the train tracks to cut a full bag of crispy grass for Cosmo. With John Howards "report any suspect- but have a good time doing it" TV Campaign I decide to take my I.D. After all I am carrying an empty plastic bag and a pair of day-glo scissors and have an eye brow ring- hell to Mr and Mrs average I could be the suss's person they have ever seen!!!!

Yes Mr ASIO man I am really cutting grass for our white fluffy bunny.! Woomera detention centre here I come- that's if there is anything left of it after the inmates have burnt part of it down.

A few friends phone to see if I am ok, my sugar levels took a nose dive after new years eve not a nice way to count in the new year.

My new years resolution is not to make one.


---
January 2nd
Nick Seymour gives me a call- he's in town, and we plan to catch up. He was outside Paul's gate and Paul has gone awol, so who knows if they will catch up. Hopefully by now. Have to talk to both Nick and Paul about the possible full length Crowdies DVD...get some ideas thrown in the ring and make sure they are into it.

Our ol' mate Peggy arrives back in Australia for Christmas, away from America. She arrives with chocolates and knows us far too well! Good to see the Mad Dog (Morgan)! We all have such nice names for each other!!!

A lot of photos coming in of Iraq woman with automatic weapons. Meanwhile England gets a bit scared of RICIN poisoning. They expect terrorists to rub it on doorknobs and spray Tony Blair. Wasn't RICIN originally originally created in America!!! I think the fear is not finding RICIN but the RICIN they haven't found, it's so easy to conceal. Gee the world is a nice place. Hmm this is a bit dark- move onto a new day....


---
January 3rd
Head off for some shopping with Jen- the wonderful Preston Markets and then we hit Northlands. So many food venders stopped us and asked where Ben was, all 3400 food venders know him, he has sampled all food stuffs...now Yeti c'mon they wouldn't lie to us!!! *grin*.

Had a good time and get a bit excited as Mitchell's Adventure Land has everything we need for our journey around Australia. Some cool stuff, Jen slapped me to stop me from drooling- what is it with us blokes and outback shops! (in a non-sexist way I mean). So many cool things.....you'll see us as we drive around OZ. We will be the four wheel drive followed by the huge tour truck full of our gear!

Nice day and topped off by obtaining my copy of Kurt Cobain -Journals. With my Xmas Gift certificates it cost me a massive $9!

Sneak into Yetis bathroom and leave the limited edition framed Nana Doubtfire postage stamp! he will be scared/amused/ amazed (tick all three) when he opens up the cupboard. Far more a collector items then the Lego Yoda! Fun day.

Come home to a lot of after Christmas orders for "Wings off flies', it's the biggest rush in ages, go through a whole box and all mailed same day.

They weigh a lot when I carry them down to the mail box...talk about working out with weights.


---
January 4th
Woodchipping has now ended in the Wombat State Forest- so the Bracks Government has kept one of it's promises. The Wombat had something like 50,000 cubic metres of woodchipping taken previously. The Forest will now be around 90% logging free. It's a good start.

Peggy packs Nic's belated Xmas present of Milo (yummo Aussie drink) into her bag and will be mailing it. After it's packed I find out that Peggy is heading back to Sydney first so Nic if you are reading this , it will probably end up being an Easter present!!!!

Speaking of reading, we heard from our old mate Allie, but guess who stupidly lost the email. Have no idea where it went, so Allie email me again and I promise not to lose this one. Computers and PG not a good thing.


---
January 5th
The Rocket Pocket Books "Funny Money" Christmas Promotions (discount) is proving to be very popular. We are just reminding those who got the "funny money" discount coupons that they have till February 1st 2003 to mail off and save some $. We've had some nice emails from people like students, or readers with small incomes who are happy to save some money- so it was a good thing to do. Thanks to all those F/16 readers who have emailed.

Drop Peggy off at her hire car company. Walking past Club X and spotted an obscene coffee cup in the window..just had to have it- so in I walk, straight into Porn Heaven...all I want is the cup. At least this sex shop didn't smell gross. The lady behind the counter watched me laugh at the huge rubber penis in the display counter...it is BIG.
"It's an exact copy of John Holmes" she tells me proudly.".!
"Ouch that would hurt" I reply...."I'll stick with my current size"!!
She laughs and gives me my coffee cup.

Passers by stare nervously at me as I exit the shop...I bet they are all wondering what I have in my parcel (no not the John Holmes pants parcel the brown paper bag I am carrying). I consider chasing a few people down the street shouting "look what I bought at the sex shop" but I think they might faint. Hmm I should of exited in a rubber Batman suit!!!

Hmm Porn shops are the new cool for 2003! (maybe).


---
January 6th
Heading into the city and see one of the Hudson boys on the train. He has a new band SNOWBLIND, and they have been playing in Singapore. His old band played at our new years eve party- good musicians all of them. The baby Hudson is now in the lineup- hope they do well.

Grab some watermelon juice from the Juice Station, it's near the Alley Cat where I have coffee with Vali. I tried the studio again today and still no sign of her. Have a weird feeling.

The weird feeling is confirmed, Bec calls me and tells me that it was on the TV news that Vali is in hospital and she has terminal cancer. I thought about it and the few close friends to Vali don't have my private number. Just after Rebecca calls me , Vali's best friend Mish (Misau) calls and lets me know, Vali gave her my number.

I hate this, this is Vali, I can imagine her getting sick, I can't imagine or even understand a world without her. Out of everyone, and I mean everyone she is the most passionate person I have ever met. I don't think there has been a person who has left her studio that hasn't been slightly changed forever and grabbed life by the horns. I have to remind myself that she is in her seventies, something I've never thought of before.

As Vali has told me, if something like this happens we all have to respect her final days and pretty much not see her. Anyone else I would question this, Vali , never - to know why she wants this is to understand her and to respect her. So really unless some miracle does occur we probably won't see her, and it's nothing to do with being close or any of that, it's her way.

I'm left with the most amazing memories, the best stories shared over cups of coffee on Degraves street or at the Alley Cat. She's like the last bit of magic...and like an old lightglobe she might blink out at any time.

Mish tells me that some of the madness has started with people, who "have to see her" despite Vali saying No- they invade the hospital corridors and it's for their own selfish needs- no respect for her last wishes, hope Vali throws a full bedpan at them.

Mark comes into the room to check if I'm ok, I'm sitting on the bed reading some letters that she sent me from Positano Italy, and her art book present for my birthday, signed to "her wild boy from the Foxy one".

I fall asleep knowing that pretty soon the world will be worse off when this passionate spirit departs.


---
January 7th
Our Skyhooks DVD gets a 3 star review in good ol' TV Week. I hope the Enz one will be in it next week.

Do boring stuff like pay the Gas bill, and credit cards and daily non exciting stuff. I make an effort just after lunch to sit down and run through the final text corrections for GLAMOUR- so when the printers are back it will be one of the first jobs on their schedule.

I see a small tigerlilly plant at the markets, and decide to buy it for Vali, I'm keeping the idea in my head that she is a stubborn ol' bugger and her body will fight this shitty disease, so every day, every hour is a plus, as selfish as that sounds.

Head into the studio and leave the plant , I also just wanted to check to make sure the studio is fine. The security people lock me in the building but I find a way out.

Home in time to watch a movie with Mark. For once he isn't on the Titanium Mac. considering computers were something that Mark never enjoyed his skills for movie editing and all that goes with it are moving along at a fast rate. These days he's using the G4 more then I am- he's pretty exceptional at it.


---
January 8th
Yeti checks in, and a few others- they know the last few days have had me a bit sad. Hell I'm so rarely sad, I pull my finger out and focus a bit.

Get a year pass for the St Kilda Sea Baths and spend do some extra laps today. I spend a decent amount of time in the steam room too, and then back to the pool for more laps. I had to move lanes today, I was in the slow lane swimming faster then the guy in the fast lane...go figure. It's that wacky ol' Gryphon who has to do things differently....so I upgraded to the super fast lane...move over Thorpie I'm coming through.

Heard from Neil and he has decided to do a second NYC show on the tour, we had a lot of people asking etc, and originally he said NO but now it's a Yes. Deb asked me and originally I said NO so sorry Deb.

Homemade Ravioli tonight, use all our homegrown tomatoes and basil etc in the sauce, give Rosemaree a quick call and see if she wants to come over and eat- she does- we eat. She takes some of hers home, I have made a lot, the Ferra Rocche containers are perfect for designer dinner boxes- these would be massive in Japan..I should market them...the Ravioli seems to sit flat in the plastic box. What a work of art. I could easily get $10 per box!

I run into "Amazing Grace" on the street, I think she is picking up stray hypodermic's in the alley way. She's about 80 and she just does her thing. Tells me she had to put down her cat Mr Jinx this week- he was 22. That's old for a cat, but she has a new baby from the lost cats home, his name is Stanley and he is a kitten. Stanley is a good name for a cat!

order some DVDs online, some box sets, one is UFO first season, I used to watch that show when I was a kid...glad it's on DVD.


---
January 9th
Our timing is good we always get to see Jackie at Babble each morning. She is their when I arrive, sits with me till Marky turns up. Jackie found the book for Sharon Finn for Xmas, its what I was looking for , and making so many accessories she would know what is a good book on the subject. She's fun, I call her "wife" sometimes, she calls Mark and I "husband 1" and "husband 2" , we all call Michael "Toy Boy 3"- welcome to Babble!

They should consider "Babble...the musical". I can picture the baroness in some huge wig singing Opera.....the kitchen staff doing some "Chorus Line" number...a few of the staff are dancers and singers....it could work. What do you think?! *Grin*. Next idea.....

Decide to use one of my sisters Xmas presents today. The Igloo Ice-Cream maker. I made up a recipe based on a few other recipe's, it's for coconut icecream. You can probably make this without an icecream maker...you would have to mix it for awhile though. I used:
2 egg whites
1/2 cup castor sugar
150ml cream
100ml milk
pinch salt
I squeezed a few drops out of the lemon
Some coconut flavouring
*If possible some real grated coconut.
It all went in the machine for 40 minutes. Sometimes it can be a bit soft so just put it in your freezer. The same tasting icecream was $13 for a home pack, this cost about $2 (depending if your kitchen has a few ingredients).

Mish called me from the hospital and Vali has our plant by the bed, and loved the note, all good. Today she though we were going to lose her but Vali Myers is a fighter and she's still here and giving it a good fight. I'm in a good head space around this, guess we are all a bit selfish when death is close, part of what makes us human.


---
January 10th
DVD of the fortnight has to be "BEND IT LIKE BECKHAM".

It has to be the feel good movie of the month. This film by Gurinder Chadha is so vibrant you should watch it wearing shades. So refreshing to see something like this and it asks the question "what's a girl to do!".

Football Mad Jess is an 18 year old girl who can play footy better then any of the guys she knows, her indian family don't approve, but she has her heart set on playing for a womans footie team. Her new friend, the totally gorgeous Jules is also football crazy. Velvet Goldmines Rhys Meyers (master of the serious pout and drop dead cheek bones) is Joe the coach. An Indian wedding, family and football...and Beckham posters galore... truely fun, truely a great movie if feeling a tad blue this is the cure. This DVD kicks a goal and all 108 minutes is money well spent. Released on ICON entertainment in Australia.

The temperature has dropped a bit here, not that low though, especially when I see that it's been minus 50° in Siberia. Hopefully some rain this weekend to help stop the 50 or so bushfires that now burn across Victoria. I've been checking and Beenami is fine, have to go up to the Forest soon to finish clearing the grounds. Big effort, just me and the lawn mower again.

Have a dance with Michelle at Babble this morning, she has her hair in cute pig tails, just too tempting... I now let the babble staff decide on what sort of coffee I drink in the morning...as long as no one spits in it (urgh).

Spend the afternoon emailing people, letting them know that Neil's second New York City concert goes on sale tomorrow. We had a lot of requests for this show, so it should sell out fast.


---
January 11th
Up far too early for a Saturday, want to catch the Post Office before ten million people turn up. Thankfully Prahran P.O. has a back entrance that most people don't know about, so I'm first in line. As I leave the line now goes out the door.

Had some spare ingredients left so I make banana and coconut icecream. All low cal. ingredients tastes pretty fine.

Watch the making of "Nemesis" the new Star Trek movie, won't know if I like it till I see the whole thing, but it doesn't look as bad as the critics say. I usually just decide if I like it, who cares what a reviewer thinks, means nothing to me, still it didn't do too well in the States and if a lot of Star Trek fans don't like a Star Trek movie that's not a good sign- I tend to pay more attention to fans then the reviewers.

Bec calls by and tells me she loved "Hedwig and the Angry Inch" DVD, had a lot of emails over the year from people digging this movie. It's a cult classic.


---
January 12th
Have a quick coffee at Babble with Jackie. Give her a paper layout for major Arcana tarot card spread, should help with her readings. We play good cop bad cop when she flirts with Dan the Man, she is a wicked girl. *grin*.

We are spoilt today Trudi is cooking a Mexican lunch for us, it was a good idea to give her the Mexican cookbook. Mark meanwhile fixes Robins DVD player, so she can now watch the 2000 hours of Elvis DVD footage she has collected. Robin nephew Jake is at lunch too and really well behaved, we spend the day playing with dinosaurs- he's so young but knows all their names and what they eat etc. Kids are too smart these days. Hey good lunch Trudi...even if you refused to wear the full traditional costume!

Hot day, Cosmo hates it so will be spending the afternoon inside the cool house. I rush to get this diary update done on time...at the time of writing still no call about our friend Vali so she's fighting the cancer all the way, and did we expect anything less from this fighter.

Stay safe

Peter

---
If there are any problems with this site, please contact webmaster@aswas.com.