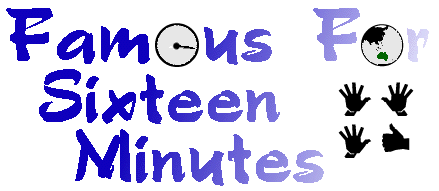 The Life and Times of Peter Green
Archive: * - * 2003
---
September 22nd
A nice phone call today from the lovely Bic Runga, somewhere in Paris. She says the U.K. shows went well, loads of Aussie's in the audience, I was expecting loads of kiwi's but she says a lot of Australians. maybe the Aussies were just being very vocal! Never not Australians...guilty as charged m' lord.

I'm just touched that she thought enough to call. her final show at THE GARAGE in London tonight, but there is talk of another show or two in the not too distant future....not saying where till it's locked in.

Interview Enz man Noel Crombie for the Enz book today, another Interview done, always feels good. Noel was great, it came up really well, was focusing mostly on the costume area as that hasn't been discussed much. It was only meant to be 2 or 3 pages and looks like being a lot more. I am so lame, I just can't edit interviews, I like them long and detailed and loaded with waffle....its seems the more you edit the more you remove the personality from it. Not sure if that makes sense.

Chart day today, Katie Underwood debuts at #33 nationally with DANGER, Top 20 in Victoria. That's quite decent all things considered. Really happy for our previous album of the month GET BORN by Melbourne band JET. It came in at #3....incredible, such a fine CD, lets hope people buy this fine album a bit more support for local talent would be nice. Kind of a cross between early ACDC/Stones and Black Crows..LOVE IT! Can we pick a hit or what.


---
September 23rd
Holden Roadside VIP was such a good service when we did the drive around Australia, so I've signed on for a further three years, all paid up so I can drive assured knowing if I ever have a breakdown (car wise..not sure if it covers my state of mind..if I have a mental breakdown!) they will be there to help.

Dinner tonight at the Black Olive with B and Jen and Marky G, bring on the mixed grill! For some reason the Vodka at Black Olive always looks more attractive (HIC).

Bummed out, but only a bit, a Dr from Western Australia buys my wonderful Magnetic Island Queenslander (House) and he doesn't even check it out, straight off the Internet, didn't even walk in the door. Scary, just like he has ordered a book from Amazon....wonder if he used Paypal to pay for it! (: Like always I leave it up to fate to find another house and to give me those Lotto numbers. Fate is kind to the Brave and lets face it, I'm the bravest person you guys know of!!!!!!!!!!!!

Speak to Eddie Rayner about an idea for the Nambassa Festival tapes, could be an interesting thing, if it happens........


---
September 24th
The latest U.N. drug report (global survey) released in Rome today shows Australia as the #1 country for Ecstasy consumption. That has made a few people go WOW. Seems a shipment of E gets busted every day by customs.

Congratulations to War veteran Don Buchanan (aged 81) who won a discrimination claim after he was denied membership to the RSL after he refused to swear the Oath of Allegiance to the Queen. What a wise old man the Queen means jack shit to Australians and thankfully even the old ones are starting to realize that. A change is coming....(and I don't mean my 2 day old socks).

Fave Movie of the Week- GAUDI AFTERNOON. It was made in 2001 and features Judy David and Juliette Lewis. Filmed in Barcelona. hey does anyone know who sings the song SWAY in the movie (and I don't mean Bic's Sway!).

Dickhead of the week- Paul Holmes is leading the pack and yes I do think someone who calls Kofi Annan a 'darkie' is a racist as well as totally ignorant. Haven't we all moved on from bullshit like this. Pathetic.

Fave Person-Detroit High School Boy for winning the right to wear his 'George W. Bush-International Terrorist' T-shirt to school. Go get 'em Bretton, maybe he should run for Governor of California. lets face the field looks pretty crappy so far, can Arnold become more tragic.

Fave Food- Jen's Magic Pin Wheels. Recipe will be included in this update, give them a go, they will change your life!!!!!! (Thanks Girl).

Fave CD- JET's debut GET BORN is still the CD of the month, the more we play it, the more we love it. A must for your CD collection.

Fave Fashion Accessory- Seventies style sunglasses with green tinted lens.

Fave TV show- The Dark Side of the Moon- if you have a chance to see this, it is really great.... how part of the moon landing footage was fake (or was it?) wait till you see who is on the show.... really well done. Not saying any more as it will blow it. More shows like this please.


---
September 25th
Sad news that George Plimpton dies in New York. he was one of Vali Myers closest friends, he penned the intro to her book and always turned up at the art shows. In fact it was George who bought some of Vali's very early pieces and helped her survive. He started the Paris Review all those years ago, and was present when Kennedy was shot. A man who loved life and approached it differently but with great passion. One of the good guys has departed.

Fun news from New Zealand, my spies tell me that both Eddie Rayner of Split Enz and our friend Paul Ellis from Sony went for their screen tests today for NZ IDOL. I can imagine what trouble those two will get up to together.

Hmm a lot of people are looking forward to David Kays report on Iraq, and you John "more time more time' HoWARd will dismiss it no matter what it says. Can we have a new P.M. please!!!!


---
September 26th
Was looking at a remote controlled Darlek today in the Sci Fi collector shop and the owner tells me that Russell T. Davies (yes the Queer as Folk writer) is penning the NEW Dr Who series for the BBC. I can see it now the Dr getting boned by Cyberman and the Darleks screeching 'Ejaculate Ejaculate'. The Tardis has it's own steam room and S&M room and the Dr has to wear leather chaps! OK maybe not. Seriously though, Davies is brilliant, so it should be in safe hands, providing they get the right person to play the Dr.

Wow- fantastic, Amina Lawal won her appeal in Katsina (Nigeria). This single mother was to face death by stoning for adultery. It looks like the hundreds of thousands of us who signed the Amnesty petitions might of made a difference, you hope so. That is good news.


---
September 27th
The Grand Final is on in Melbourne, Mark is rolling his eyes. Thankfully Brisbane WON, so that would shut up that dickhead Eddie McGuire, and the streets of Melbourne are pretty quiet. Three years in a row Brissy! 80,000 people turned up, which is close to capacity while the new stands are being made for the Commonwealth Games.

I head to the Post Office and get thousands of dollars worth of postage stamps for our mail out, 'you want how man...'! Freaked 'em a bit. We fill up 8 roadside mail boxes with envelopes....pity the poor postal guy who clears the boxes.


---
September 28th
Give Paul Ellis in NZ a call, been awhile since we chatted, he sounds good. Hope he makes it as a judge on NZ Idol, will be great, should be funny.

Head into the Designers Forum at the Victorian Arts Centre. Call into the State Library first and give them our various Rocket Pocket Books. They sent us a letter requesting one of each, the guy at the desk goes 'oh good we had people asking about this one..' Scary.

The Designers Forum is held in the Fairfax Studio Foyer, Noel from Split Enz and the guy who made Kylie Minogues devil girl stage out fit. Noel was brilliant, not so sure about the guy who made Kylies thing, he seemed to flog his crappy old shop more then anything. Quite a few familiar faces, great that so many people made an effort. The exhibition is pretty cool, the Enz display also has this mini computer that allows you to see some of the other costumes and Noels original drawings.

I come home and spend the afternoon signing and boxing more 'Wings off flies' books. Is there anyone who doesn't have this yet, we can only mail a certain amount per day as they weigh a lot, guess it is a coffee table style book....nearly caught up with orders so that is good. I like the idea that we are keeping this book as a one off run, so indeed it will be a real collector item.


---
September 29th
Do a bit of driving today, the car went for a wash at the recycled water car wash...and it's such a fun ride, I look forward to this car wash each time, as you have no idea what is happening outside of the wash....wonderfully isolated and the lasers at the end are so Disco Inferno you just want to boogie. (everybody) 'at the car wash......' (sing along).

Grab the latest Music Industry Guide, as we start doing the promotions for Andy White's TELL ME WHY -EP soon, apparently it's starting to get some airplay in England.

Notice on the charts today that Bowie's new CD dropped from #13 to #38, that's a huge slide, Jj and Bec haven't bought it yet, so even the big Bowie fans haven't got the vibe....I'm still hanging out that one day he will make a brilliant album....(I heard that Mark!).


---
September 30th
OK Jen's amazing Pin Wheel Recipe.....and thank you Miss Yeti for letting us use this....the world just has to know. Nobel Peace Prize nomination we think.

You need:
sheets of puff pastry. (fat free Pastry is great)
tomato paste
pesto
salami or ham or bacon or all three
sundried tomatoes
olives
fried onion
parmesan cheese
tasty grated cheese
fresh basil leaves
any any other tasty goodies you have in your fridge!!

From one sheet of Pastry you get around 9 Pin Wheels.

Place Pastry on a flat surface. They are basically square shape. Start at the bottom (closest to you) and cover with tomato paste and pesto. (I mix some salt & pepper and a little bit of parsley into the paste). The Basil Pesto is great....so try that if you can get it. So basically the whole square is covered.....except for the top- leave that clear...just one inch plain.

Then add small rows of toppings all over the paste. I usually start with salami...some cheese, cut up sundried tomatoes, the fried onion(with a tad of fried garlic in it). etc etc...all the way up to the one inch clear bit. Nearer to the top I thin out the mix...as it makes it easier for rolling. Sprinkle the whole thing with parmesan cheese.

Next, roll up tight, starting at the bottom, and when you reach the top just stick that down with some water. It ends up being a very long rolled sausage shape.

Now cut into 1 inch slices and place on an oven tray, flat so you can see the pin wheel shape. (you can use baking paper if you don't have non stick pans). Cook in a moderate oven (180-200) for about 10-15 minutes. We usually turn the tray around so they cook evenly. As soon as they turn golden brown they are ready.

The above seems like a lot but once you make one or two rolls it's actually very quick and becomes easy. Play around with the contents. These Pin Wheels are just great, especially for snacks and parties. Eat On!


---
October 1st
I notice that one of our favorite Australian artists- Shane Gehlert has his third show at Delsham Gallerys (1185 High St, Armadale) on October 28th. As a painter he goes from strength to strength and I notice that there is a sneak preview of some of the new works on the Out Back Art website. The thing that appeals to me is the individuality of the pieces, with a unique Australian spin.... something about the outback and metal....and lets face it creatures like Kangaroo's are pretty freaky.....I'll be first in line the day he paints a metaloid Platypus!!! If I lived overseas and spotted these pieces I'd buy one simply because people always stop and say 'that's different'. I guess with the exchange rate etc he probably does sell a few to overseas buyers. Anyway check out his art at: http://www.outbackart.com.au/

The first of the month is always our stock check day for Rocket Pocket Books, and WINGS and GLAMOUR have both been massive sellers last month, massive for our cottage industry style book company. So thank you to all those people who bought copies, hope you enjoy them.

Heard from Andy White who's world promotion for Tell Me Why is going well, the BBC in the UK have started playing it, and Andy caught up with Tim and Neil Finn at actor Sam Neill's U.K. house to party. The Finns had a bit of a play (as they do), and Andy jumped up with Tim to perform one of ALT's tunes, the marvelous 'Penelope Tree'. he said it was a fun night for everyone. The Finns are home in a few days, waving goodbye to Tony Visconti and Mario McNaulty.


---
October 2nd
A rushed breakfast at the Market Cafe, and in the car to head to Beenami. Call into the Holden dealer at Ringwood, and speak to Ross who is attempting to get the correct security codes for the car radio/cd so we can once more play some CD'S...a car without music is a sad thing. While he is faxing off for that information, we head up to Beenami. As we approach the hills the rain starts, the mountains covered in mist that would do Lord of the Rings justice, and there seem to be a few dead road kill wombats today (urgh poor buggers).

Beenami looks like some floral show with a sea of daffodils bursting forth, and odd little purple triffidy orchards and other blossoms ...nice time of year. The fire is roaring and we install some new security devices, motion detectors and some security cameras. All subtle but it makes the place safer while we are away.

I go for a walk in our forest, with this light mist falling, spot loads of Echidna signs, you can tell where these spiky freaky critters have been, they love ants nests. I think the Wallaby's have came down to feed, big Kanga Poo's as well....must be a love in while we are not here, animals everywhere.

Ross calls on the private line and he has the security numbers, and for the first time in months...they WORK! So a live Blondie CD goes in for the drive home. I unload the car, full of daffodils, flowering Rosemary, hanging baskets for the balcony and other good house stuff. I picked some of the basil-mint, thought it would be great for Jen's Pin Wheels (it is!).

Sleep well tonight, must be all that fresh mountain air.


---
October 3rd
Have to slap Rosemaree as she is hysterical about the Gay (opps) Bay City Rollers Touring Australia, we're scared she's going to wear THAT Tartan skirt. If the BCRs go missing you know that you can find them tied up in the Xavier wine cellar!!!

Cool Holly Vallance lost her court case to her ex manager , she can't sing for shit anyway, is this karma or what.

Speaking of karma...were we? Ajahn Brahm, will be speaking on 'What the Buddha Taught' at Dallas Brooks Hall- Victoria Pde, east Melbourne...Sunday 2nd November. Free Admittance, all welcome. Ajahn Brahm has been a Buddhist Monk for nearly three decades and is a pretty cool mediation teacher... also a Cambridge graduate!!! Should be good.

Hmm now North Korea has all that weapons grade Plutonium, that's who we should be scared of, it really is a worry.

Mail off a card and a few $ to my Mum, I sign it to Doris.... this Doris and Boris joke is going too far.... for some reason we both crack up when we use our secret squirrel names.


---
October 4th
Up early and we plant the ten million Marigolds that we brought back from Beenami, some cooking in the kitchen, some washing, all domesticated out.

Head for Rebekahs to lend a hand moving, big day for her. Take her some of those much talked about Pin Wheels, thought the helpers could have a quick snack. Easy compared to our moves, and the weather is perfect. That's what friends are for, good to lend a hand, plus Bec has helped us heaps.

It is the most incredible Spring day here, I feel like I have awoken from some long slumber, have a huge stretch outside and spend the afternoon in the garden, and the evening answering emails.

Watch 'Dark side of the moon' and it is pretty mind blowing, three quarters of the way into it and various clues pop up that it isn't quite what it seems, it's just the assortment of people involved are such major politicians and people like Stanley Kubriks wife etc it all seemed very real, mark fell for it more then I did ...c'mon MG you did. He loves it when Americans lie...so perverse.


---
October 5th
We add some extra security to our house, including barbed wire (yieks) which is a bitch to put up. We had this one weak spot but even the cat next door can't get in now, Mark and myself both look like we have had major stigma attacks from handling the wire!!!

Interrupt my Mum who is watching the Sydney football grand final, you never interrupt our families viewings!!! Sorry Doris.

Have a really nice email from Shane Gehlert, asking if I would do the opening speech for his Third Melbourne Art Show, really honored, hopefully I am here, even if I am not, it's still very cool to be asked.

Busy week coming up, more book interviews, Rare II goes into the CD plant on Friday, and loads of other stuff. Hope life is good for everyone, have had some incredible emails lately, so many good people in the world, it can be heartening in times of trouble.

Peace!

Peter

---
If there are any problems with this site, please contact webmaster@aswas.com.