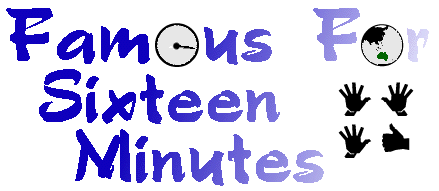 The Life and Times of Peter Green
Archive: 24 February - 9 March 2003
---
February 24th
Totally blow it by buying another copy of The Who's "Live at Royal Albert Hall" it was so cheap at JB Hi Fi ... I knew that cover looked familiar. What a dumb stick! have it already.

Spotted two people at the counter buying the Split Enz "History never repeats" Best Of CD, but really got excited when one of them was carrying the Split Enz DVD, you just want to jump up and down and call out- "I worked on that, I worked on that, that's my baby"...but I didn't I just Cheshire cat grinned, as I do best. If people are buying it I guess it should show up on the Australian DVD charts- that would be good.

Had to fight off friends who wanted some of Deb's "9 of cups jewelry". Glad so many people are interested in it. Toe rings are the best, they have to be the new cool about town. While the weather is good, too much rain and mud in Winter for Toe Rings. Anyway for that unique gift: www.9ofCups.com This is a non paid free plug, just cos we like Toe Rings (and you too Deb).

After 750 woman at Byron Bay stripped and spelt out "NO WAR" with their bodies, 250 men did the same on the weekend spelling out "Peace Man". Me thinks there will be more nudie War protests on the way. It could also mean that woman are far more relaxed about their bodies...or their are 3 times as many woman at Byron bay to men!!! (:

Three of us stripped and went outside but all we could spell was "IT". I'm cute and short so I was the top bar on the "T"!! If we had 7 more nude volunteers we could make a "S" and a "H" oh never mind....


---
February 25th
Suddenly BANG! is selling again, just that one book, 6 more copies and it over takes HUSSY. My book man Anders emails me that the binding company has the books and is binding away, after that 2 days for gluing and drying and we get them delivered. Hopefully by the time you are reading this GLAMOUR is in the mail. So if you have HUSSY and BANG! you can't miss out on the third book (and final for quite awhile) GLAMOUR. All good things happen in three's and I do believe that. Maybe that's why our post office box is 333. All those three's, looks like a flock of seagulls if you turn them on their side. No idea why I know that.

So I must of upset some Pro-War people, the diary site gets 14 LESS people per week. Considering I actually thought I'd only ever GET 14 people per week I am not too worried! *Super Smile*. Or maybe 14 people are soldiers and gone off to War, or 14 people got married and their spouses find me a sexual threat, or Neil Finn is paying people not to read "Famous for 16 Minutes"....oh it's too hard, everyone double click so at least my Ego will remain intact that I am still loved by a few people (except George Bush, John Howard, Bob Hope, that weird fan in Sydney, the stalker politician and a few others)!

Go for a walk to Rebecca's and ignite rumors again that we are having a passionate affair. Instead of sex on her trapeze we watch the Michael Jackson Doco....Info commercial whatever it was....talk about missing the point. Poor old MJ (that's Jackson not Jagger) the more he tries to be innocent the more Suss he looks. I am going to dress up as a 14 year old boy and pirouette around Neverland's in my Calvins. ! I just want to see if Whacko will find me attarctive.

Greg Skyhook tells me that he has to be interviewed with Red Symons about songwriting...for the ABC's doco "Love is in the air" (and such love between Greg and Red..ahem OPPS sorry). One will hope they focus on the few good Red songs- Smut, Forging Ahead and not the shite like The Big Time and those other abysmal pieces of crap that Symons wrote and recorded.. If nothing else it could be fun having Red being interviewed. Not sure when the new show airs...Greg Macainsh is such a brilliant songwriter.


---
February 26th
My Faves for the week.

CD of the week: A TRIBUTE TO THE RAMONES : "We're a happy family". Heaps of cool people covering Ramones tracks. I really like U2's version of the Ramones song (despite what you say Yeti! *grin*)....The Offspring come the closest to sounding like the Ramones. Gabba Gabba Hey! Its great mate! Vedder, Green Day, Kiss ,Garbage are on it too.

DVD of the week: Secret Life of Us- Series Two. Give us more.

Surprise DVD of the week- Austin Powers- Gold Member. OK second time round it's ok, not really bad. But it's ok. Still the weakest of the three but I didn't dislike it as much as I thought I did the first time I watched it.

Fashion Item- 9 of cups-Toe Rings. Was going to be this leather neck chain that Jackie has designed for me but it's not finished yet. So Toe Rings for this week.

Book of the week- I've just stopped reading. I need some light reading that conveniently fits in the back of my pocket on the train to the city. The only book that would fit was GLAMOUR. So despite this looking like a real vile free plug (and it IS believe me) GLAMOUR is the book of the week.

Food: Glazed fruit tarts. (didn't someone call me a glazed fruit tart once?! Probably).

Evil person. Saddam = Bush. I think BOTH should destroy their weapons of mass destruction. Something perverse about the person who has the most weapons of Mass destruction telling someone else to destroy theirs...... My mother was right- "A bomb in the hand is worth two with George Bush" (no idea what that means!). Sounds like a cheesey No War placard. Actually I really think Saddam should die, Bush is just a Zealot. I'm in his head he truly believes that he is doing the right thing by America, but is War what America really wants...? So Saddam wins evil fu*ker of the year.


---
February 27th
My old friend Fee calls and is back in Melbourne for a few days. She worked with us at the Split Enz office and use to gross us out with Falaphal Fart at lunch time- we were such a classy office. Be nice to catch up for dinner. She has about 90 children now and lives in Spain. I wonder if she still dresses up in weird clothes every lunch time.

Dr Pepper (aka Dave Pepperell) lends me a video of some GTK (early 70's music tv show) footage and the Dave Warner WA tour footage (early Eighties). Was stoked, at the end; our friend Deb. V was lighting person...was kinda proud to see her name up, of course I told her and she cringed on the phone. All of us do that, I thought it was brilliant. Made a mental note that I will not cringe at my past. We all should embrace our past. Dave Pepper interview is great, he has such long hair and obviously a bit out of it- he worked for Juke magazine all those years and I bought his book "Raphael Alias" (Outback Press 1976). I was at school and had read many of David's writings in music magazines like Juke and Daily Planet. As David said RAPHAIL ALIAS is a book full of Rhapsodic Ravings and Meandering Musings. In some ways his book inspired me to release the F/16 books. David told me that he was finishing up at KILL CITY (Crime Book shop) and he wants to spend a year concentrating on writing. Which is inspiring, and such a leap of faith. As writer/Poet Jenny Brown once said "...Pepperell has peculiar and chaotic talents, the best of which the world has yet to experience...". I agree- write on David P.!

An Enz White Cloud 45 single comes up on ebay. I put in some one off bid, wasn't high enough, in the end I think I'll just ask a band member for a copy. We need very little for the archives so might as well go direct to the source...why get ripped off on crappy ol' ebay.

Pick out an early eighties Rolling Stones baseball top to wear to the show in a few nights time. It needs a few days to air out the smell, been locked away too long this baby. Phew.

Open the mail box today and 2 out of three orders are for BANG! It continues to sell, I keep thinking how strange that people are discovering this little book now. But I'm not arguing, it's just odd. Maybe friends are buying copies for their old age, in the hope that one day I become infamous and they will sell them when I die , after a wild night of sex with my swedish 17 year old model girlfriend on our yacht in the Carribean (Gilligan and Skipper can run the boat do we have to call it Minnow II??)...I want to be an Onasis! Where were we...gee better stop writing for awhile my train of thought is truly out the window today. Special apologies to all 17 year old Swedes reading this. (both sexes)...talk about losing focus.


---
February 28th
Friday, pay the staff, I'm such a good boss. Maybe all the staff should check out the website twice just so their boss stays happy (:

Robin is busy with our Tax, thank god for her, finally a Tax person that we like. She doesn't even flinch when I say the words "I want to pay". Despite having a bag of receipts that would mean never paying for 50 more years, I think it's ok to pay some tax- roads to build, paranoia kits to be sent out to every household...the money has to come from somewhere.

The platinum award arrives from Bic Runga and manager Campbell. So fantastic, and it's made out to me, little old Peter Green and it's for DRIVE. Bic's debut CD. I don't think the awards have been done for "Beautiful Collision". Has an absolutely brilliant pic. of Bic on the side of the platinum albums...and she is pretty darn sexy. The Runga is a spunk, well I think so. Marky likes her big hair look...we are big hair blokes- bring back that look from the sixties we think. Anyway really nice Bic and Campbell and Sony- thanks guys.

"Something Good" the 2nd single for Australia goes to Aussie radio on March 11th. Usually store release is a few weeks later. The diary will have some new Bic Aussie dates (for May) probably in next fortnights update.

I'm sure there are a few more bills I can pay today- get the rates out of the road, the phone at Beenami, Foxtel cable.....cmon bring on the bills. No nobility in poverty.


---
March 1st
It's March already- no way! Does anyone else feel like this year is zooming by at warp factor 9. Scotty turn off the engines and come to a dead stop. I want a slow year, I hope this isn't an old age thing.?

Well speaking of old age, the Rolling Stones play Rod Laver Arena tonight and we are off to the gig. After such a brilliant show by Pearl Jam at the same Venue I wonder if the Stones could even come close to matching it. Last tour I thought they were going through the motions just a bit. It's sold out, like all the other shows, I wonder how much money they will make. They grossed $150 million on the recent USA tour.

Mark rolls a joint, see it's affected my short term memory already as I can't remember the last time I had a spliff. OK it was many many many months ago....gotta have a bit of weed when you see the Stones. Keith won't let you in other wise. He actually stops you at the door and makes sure you have a joint with you...*grin*.

On the way to the Venue I notice the grey clouds rolling across Melbourne's skyline...rain is on the way. We get near Rod Laver Arena and the usual car park is full with footy bogans cars, so that's fu*ked. Some guy with a sign says to try the MCG. We take a few wrong turns and find this hidden car park- holds a dozen cars and has eleven empty spots. Great and it's free. We walk through the park- smoke our spliff and get the vibe. We are so vibed... and then it rains and extinguishes some of the passion for the worlds greatest rock and roll band...as well as extinguishes the rest of the joint. Gimmeee Shelter literally, it's raining cats and dogs... but we have a strategy and managed to hike under a few bridges, take elevators down to basements and escape most of the rain...total shelter.

We are escorted to our seats. Section One G7 and G8. We are talking soooo close that I brought an iron to remove Jaggers wrinkles. IT's great and a cat walk divides up the floor area. We are only metres away from the stage. "Jet" are on and the sound is pumped up to the heavens...our best mate Ben is doing their sound and it's good- and loud. Jet are a bit like Black Crows meets the White Stripes...I like them. Big Chunky Bass player in full denim...it's a look. Crowd are ok, no one boo's. After Jet the crew are onstage and the Yeti pops out and moves gear and looks for us. He waves and the audience waves back...they like the Yeti. All 14,000 of them. Plus us! The lights dim, the Stones are almost on time...cmon it's true, I swear. Keef walks out and both Mark and myself almost pee our pants- we are far closer then we thought...it's like Keith Richards in our lounge room. For a brief moment my lips quiver and I thought I was going to cry. We are both up and on our feet, stripped down to my retro Stones Tshirt...arms up and Keith gives us a grin and a wink- ok I can go home now. In my sad old Stones dreaming I think he goes "hey isn't that PG that looked after us in the band room"..... when really he was thinking "wow look at those 2 weird guys getting their rocks off".... who gives a shit it was brilliant. One minute later and the whole Venue is on it's feet dancing. After three songs I am marvelling at this miracle- the Rolling Stones are a BAND again. I mean they are tight, they sound incredible and yeah with all that gear I'd sound incredible...but there is something else....that element that unites both the players and the music and the audience. For a few weeks Pearl Jam received my title as Best Band in the World- well the Rolling Stones somehow stole it back. It wasn't subtle- it was an assault- almost perfect selection of songs, a chunk from my fave Stones album EXILE ON MAINSTREET was icing on the cake. The media always have their little jabs, after all Jagger turns 60 soon, but tonight just proves that even at age sixty a group can be brilliant. It was a total surprise- we love this band but really we never thought we'd ever see a show as brilliant as ones we witnessed before (Astrodome in Texas or The Colliseum in L.A.) but Melbourne Rod Laver Arena was THE best show....ever.

Highlights- appearing on one of the few crowd shots on the massive giant video screens...I'm nudging Mark going "we're on the screen we're on the SCREEN, YOU"RE on the screen".... and I swear MG moved, it was as close to dancing as we get... Satisfaction was the encore, giant wind machines spat massive amounts of red paper rose petals out over us on the floor, for days I would find these in my clothes...I glued one in my paper diary book- what a fan thing to do! We exited quickly, somehow getting into the backstage passage ways- could of been my tourish Stones shirt and came out into the back of the tour trucks......we should of sneaked on board and hidden...ok with a drive to Brisbane with no food, water or toilet squashed by 10 zillion tonnes of stage gear...forget it, those days are gone...then again we never thought they'd kick arse like this. The Rolling Stones are the greatest band in the world.....sorry Ed V.they stole the crown.


---
March 2nd
Sydney Mardi Gra was on last night. Was the first time it hasn't been televised for a decade. Big crowd but the terrorist sh*t kept the numbers down a bit...don't think it rained. Rev. Fred Nile would be spewing.

We didn't sleep last night, full of adrenalin from the gig, always a good sign. The newspapers are full of raves about the Stones show.

Tania and Rosemaree call by for breakfast and my feet still ache from dancing...I wear this cool limited edition R.S. tour top and people keep commenting on it. Nice embroided logo. People keep trying to buy it off me. Work for most of the day, just stuff around the house, am in such a good mood, I have the vibe.

Ben and Jen come by after Mark takes control of the phones and says lets go eat. We all let MG tell us what to do. ("Yes master").

The Black Olive is the obvious choice and we do like it their. Phone ahead and they hold our regular table, up the back by the couch...just in case we want a nap. We four are good friends, you know when you find a few people that you know will be your friends forever , all getting wrinkly and old together....it's so good. Feel far too happy, must be the Vodka. What a great night, it's the counter balance for all the other crap that will soon be going down. (War). Walking home and I try to tempt them into the bar area of Babble...Michelle is back from her huge holiday away. I tell Yeti she has a serious glow like she is pregnant. I can tell, I picked Sharon Finn within 30 minutes of her finding out. ...hmm it could be the Vodka.

Sleep well sweet Prince (it IS the Vodka). I'm frazzled.


---
March 3rd
Huge excitement, our Split Enz DVD makes the Australian DVD chart... this is very exciting as it means sales are growing and growing. The reviews keep rolling in and all really good. The Best Of...Enz CD sits at #12 again for another week on the Australasian artists chart. Good to see the Enz back in the charts...CD and DVd-who would of thought?!

I keep thinking about our old Enz manager Nathan Brenner how he would get so excited when we climbed the charts, I'm sure his vibe just pushed each release higher and higher.....till this day I get a buzz from seeing our various acts on the charts. You'd think I'd be over it by now.

I spend a short time going through our sales royalty's and work out that during every day in Australia sixty people buy a Split Enz CD. In New Zealand it's only 14 people per day, but the population is smaller, so I guess that makes sense.


---
March 4th
Russia says it will use it's Veto in the UN Security Council to block an early War against Iraq-I know Mr Bush will go ahead no matter what the UN says, lets be real about this.

Bush says "After defeating enemies, we did not leave behind occupying armies, we left behind constitutions and parliaments". I always thought they left behind American Foreign policy!!!!! Most Europeans look at Bush as a Zealot dominated by ideologues. Europe is not England, is not America is not Australia...is not Iraq.

Meanwhile around Australia thousands of students take part in "Wag against War" rallies. 7000 protested in Melbourne. It's their future, was good to see. Give me a student any day that questions authority and stands up for his and her future, to those who are "yes sheep". Should be up to the kids and parents not the schools-public or private. Apparently kids are protesting all around the planet. The department of Youth- bring it on!

Only 77 days till Buffy finishes, oh well they might as well drop the bomb! A world without Buffy, cmon that's a sad place. *grin*. Be good to see sexy ol' Faith back in her black PVC's!


---
March 5th
Happy Birthday Mum. How old...ok we'll let that roll by. Sis buys her a dog and I give a cash donation and loads and loads of boxes of flowers for the gardens.

Head up and visit Bec and we both chill out having a cold drink on Chapel Street watching the people wander by. Get home in time for Angel- thanks Rebecca for the kind deed! Owe you one.

The latest artist I like is Tamara Guion. She has some good works on display at L.A.'s 'la luz de Jesus' gallery (4633 Hollywood Blvd.) De Jesus Gallery is also on the net. I also spotted a few of her pieces at very cheap rates... so if you are after some art that will value- go for Tamara. Plus there are a whole batch of new artists on the walls of De Jesus and some of their works can be viewed via the website. Art- what a brilliant escape from the day to day troubles.

Throw out my socks- they are covered in spiky grass seeds from Beenami, it's just too hard to pick that many out- so into the bin they go. So Mum and Sis if you are reading this- new Nike socks for my birthday please. My only wish....Marcos had her shoes, I have my socks.


---
March 6th
Some readers voted for BANG! in the UK book awards, the only problem is we don't have an official UK release so I think it's void- net sales don't count (nice try though guys).

One of our other Ben's (the actor Ben) is starring in Macbeth's "Something wicked this way comes" at the Athenaeum. Have promised him I will go. It's on from March 7th-23rd. Hope he acts as well as he makes coffee- he makes a good coffee. Babble is becoming the vane for actors.

Merelyn and Jen from Sydney call and they are on their way south for Easter- so that is something to look forward to. We are here for a few days so we can catch up and hang about. At least it won't be too hot-bring on the cool I say.

"Jackass:the movie" made it to #1 . I relented and watched the TV show the other night and ok I did laugh, what a stupid show...you can have "stupid good" I understand it's appeal- brings out the 13 year old boy in all of us. Have to go as Mark is pushing me down Melbourne's steepest hill in a Porta-Loo! Our Jackass fad will last for...2 weeks...the novelty will easily dissolve.


---
March 7th
Restless sleep...not sure why. Could be because we watched "The Sum of all fears" again last night and the Nuke attack kind of fucks my head a bit.

Have some food with Jackie at Babble- the staff are all on- like EVERYBODY- they expect a busy day because of the Grand Pricks (Opps Prix)... we have a table reserved so no waiting for us. Matt the dancer is serving, he knows Katie Bardot and wears the best ripped jeans. Plus he doesn't mess up our order.

Jackie is vibey, kind of man crazy but also focused on a new shop for her accessories. The coffee snaps me back to life and I am in hyper mode. I spend the first 30 minutes signing some copies of BANG!, another batch came in today....mostly from America this time. I also got a fantastic letter from a girl in Russia who lives in some super remote area and has re read "Hussy" a few times, she says she understands Australia "more" now... worries me, I hope she doesn't think Australians are as twisted as I am!

I love getting paper mail about the books, I save all of them, as they are all pretty nice and fun.

Grand Prix cars are going crazy on the track and jets are doing fly overs, Cosmo the bunny looks up and quivers thinking the planes are giant rabbit eating hawks...think he'll be hanging inside with us tonight.

Late afternoon and I am waiting on the book binders to deliver the copies of GLAMOUR...it's like the final stages of labour...so close and just a few more pushes....if they tell me their binding machine has broken down again a War could truly start in Melbourne!!!! They now arrive Tuesday. That sucks.

Email Nic , she has been a bit quiet these days, Fran tells me she hasn't heard from her either, she might be off on a calendar tour or making appearances for moral for the troops. She could just be working far too hard. C'mon Miss July where are you.

A few friends who live in NSW/Sydney emailed me about the NSW State election that is coming up on March 22nd. The two "main" guys are Bob Carr and John Brogden (think that's his name). I've only met Bob Carr once or twice. Once was at the Crowded House Farewell Show at the Opera House. As many of you know the main reason for the show was a fundraiser for the Royal Children's Hospital and Bob Carr turned up just before the show with a rather HUGE donation cheque. (You thought I was going to write HUGE erection didn't you!!!) He didn't make a big deal about it (the cheque not the erection), just handed it over. So I can report on one good thing that Carr did, I'm sure $$$ from that cheque probably saved a lot of kids lives. We had stage restrictions on the day and I think only 5 of us were allowed side stage, and Carr was more then happy to go out amongst the crowd. I wondered for the $$$ donation, if he wanted side stage, but as far as I can remember he never asked, and was happy to go out amongst the masses. So that's all I have to go on, and the Freeway improvements that managed to get us through all those bushfires safely and to the airport in record time were done by his government. Carr's been in for awhile now, so I guess his chances are smaller, could be a case of "better the devil you know " *grin*. No idea about Brogden though.


---
March 8th
Britain wants to make March 17th the final deadline for the Iraq's to disarm etc . I guess that is handy in some ways as 2 or 3 more English warships have to arrive and it's going to take at least 5 days for them to get ready. There are currently 25,000 British troops in Kuwait and 1500 arrive every day. It worries me how many of these people won't be coming home. It also means all our friends will be home from overseas before that date, so they are all safe and sound. I know a soldiers job can be about War but people being slaughtered makes me sick in the stomach. Suppose we all have a date at last so this War stuff doesn't linger over our heads.

Think the fly over planes have flipped Cosmo out a bit, he has even started going into his rabbit house- he tends to only do that when he flips out. I feel a bit flippy today I think I will join him.

So it looks like Faith won't be the new Slayer after Buffy goes...she does have some kick-arse scenes with Angel when he briefly returns to Buffy for those final episodes...and it's good news..Angel is bad again. Angelus is diabolically mean and we like that. The question is which Buffy cast member DIES! I figure it can't be Willow as she will make guest appearances in Angel. They wouldn't kill off Dawn....guess the word will be out soon as they are close to wrapping up the last bit of filming.

We did here a rumor that Marky is resurrecting his Nana Doughtfire one off appearance and has signed onto the new Slayer show as "Nan the Vampire Slayer"... kind of an old person version.!! Could just be a rumor!

Watch "The Bank" movie on Cable. Was great, really enjoyed it, filmed in Melbourne. The promo says something like "If ever you wanted to tell your Bank to "get stuffed" this is the movie for you...".

Stay up late watching DVD's....


---
March 9th
Rebekah calls and we head to Babble for Sunday breakfast. Packed, think it's Grand Prix people. Michael and Matty are fun, they even get our order correct...be scared.

My rain spell worked last night but I forgot to stay "stop" so it's still raining..it's nice and will hopefully kill some spectators at the Grand Prix (kidding)....

Decide not to head home, we are both very good and head to JB HI FI and we don't buy a thing....see we can behave. However a new Bar/Cafe called "Cafe in denial" was open so we both head in for a drink...with a name like that it seemed very "us". It's not even midday, Betty Ford we'll see you soon. Martini's and V&T's ...it's a nice little Bar/Cafe- located at 274 Chapel street Prahran for those of you visiting...celebrating....

A man in India was escorted off a flight as he tried to feed his pet snake milk.!!!

Got to see some of GAS clothing company's new range, looks great. I'm currently searching for some black jeans with the buttons on the outside of the fly. Not sure if GAS still make them. Will have to call my friend at Levi's to see if they still manufacture them, they use to. I spotted a pair the other day but they were way too big.

The sky is looking very grey and the cars at the Grand Prix have gone very quite...maybe Albert Park Lake has overflowed ....I need a few minutes of Sun as I want to photograph Neil Finns Crowded House jacket. It's the one going to the Rock and Roll Hall of Fame sometime this week. The black velvet design that's hand painted by Nick. The left hand side has the N.Z. grave yard on it...and the words "invisible now but in my dreams...". The back has the building exploding with the fire on top...basically this was the picture used for the "When you come" 45 cover. The right hand side has a "P" for Paul (even though it's Neil's jacket) patch on it... and a rose around the graveyard fence. It also has one of Nicks Picasso face paintings under it. Green lining inside. It's a lovely stage jacket...thought I'd better photograph it before we hand it over. In very good condition too.

A quick email from N.Z. Looks like the Finn Bros will be airing some new material at the Finn Bar (Tabac) in a few weeks time. No exact date yet but good to see the project is rolling along.

Well we've come to the end of another 2 weeks. I hope you all stay safe and don't let the world get you down, or this stupid War. We're all in the same boat on this planet, and even though we need oil to keep the motor running...remember we can always row. (I truly have no idea what I mean). So just be good to one another.

Your favorite Narcissist

Peter

---
If there are any problems with this site, please contact webmaster@aswas.com.