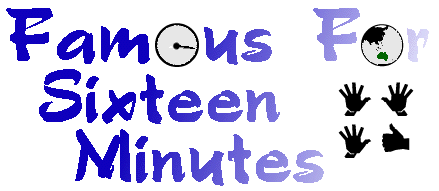 The Life and Times of Peter Green
Archive: 25 August - 7 September 2003
---
August 25th
Babble has an interesting assortment of people this morning. I tend to sit and watch, take it all in. Monday mornings are an interesting mix and it's kind of fascinating to see who can come on down and start their week this way. The fire is blazing away in the corner, and the staff are plying everyone with coffee and the conversation seems to be getting louder. Elvis is at Babble, well some Elvis Best Of CD, and I expect the breakfast crowd to burst into song. Sadly it never happens but Dan the Man has an attempt of an Elvis croon. Points for trying Daniel.

Kate and Lauren arrive to chat about the 'day in the life' doco., and by this stage I am wired on Latte' so all the ideas in my head come popping out. Hopefully if it happens it will be fun.

At the office do the Monday morning ritual of checking out the ARIA music charts, notice Alex Lloyd debuts at #24 with his new single, it's a healthy debut, week two and three are the true tests, usually a single like this will drop back a few spots in the 2nd and third week, unless it is going to be a hit, a lot depends on the public and just how much coverage and support it gets.

Work out our budget around the Andy White campaign, Andy is really easy to work with, and we all have the same focus, nice to be working on a song like 'Tell me Why' that we all enjoy.


---
August 26th
The second Lord Of The Rings (DVD) is out today, and we buy our copy from Coles Supermarket (of all places) but it is such a cheap price. Up to $15 cheaper then anywhere else, let some of our DVD loving friends know that they should buy it at Coles. Think we scored the last copy from Coles Prahran, so it is sure to be a huge DVD release. What a great movie, and how good looking is N.Z.'s scenery. It's also a chance to 'spot the aussie actor', there are a lot of them scattered amongst the cast.

Tim Finn's letter to the Frenz arrives today for our next mail-out, looks like the Finn Brothers have recorded sixteen songs for possible use, on their new Finn Brothers CD (2004 release). Tim has been really helpful & gets back to me so quickly these days, seems very focused. Nice to see.

Andy calls in for our meeting, he's heading off soon, so a last chance to catch up, take a snap for the Diary site (Deb put this up last diary, thanks gal!). Thought the old 'without a bullet in the chart, it's a bullet in my heart' line works for the caption... I probably stole that from Bon Scott?!

Weird night, wake up at 4.00 in the morning, feeling really strange, in the bathroom, and watch my face gold as white as alabaster, just know that I have that Flu Virus bug. Most of the people we know have it, so it's not too much of a surprise, spend the rest of the night awake and looking like a Greek statue.


---
August 27th
Spend all day on the phone, meetings and tidying up work stuff. Hear from Neil about Crowdies DVDS, think we will end up doing two, but won't be till late next year I guess. Just want to make sure that the projects are as good as we can make them, it's not something we want to rush out and have them half arsed. He has confidence in what we do and that's nice to hear, and it's not like they have to be rushed out. I need to talk to Nick when he returns in October, he has a lot of footage he filmed on the road, I want the home movies area to be cool...so input from all the guys.

Great postcards today on the Avant Free Card holder at Babble. My favourite is a B&W card of these two Kiss fans in total makeup, costume, guitars, on their way to Maxy's Disco on 24th August 1980. It's a Paul Harris shot (no relation to Trudi Harris!), the people in the background are really interesting as being 1980 you get to see what people are wearing, pretty sure it's the Kiss Army on the march, something funny about Aussie kids in regular street clothes but painted Paul Stanley faces...always makes me smile.


---
August 28th
Still working away on the Split Enz 'Letters to my Frenz' book. The LIVE Gig area takes up a lot of time, our office Archive press files are huge, masses of media on the Enz and a gold mine to fill in various one off gigs etc. So far around 600 shows we have confirmed, I tell Tim Finn I think the band played around 700, he says more, he's probably right. The Enz fans have been really helpful with people going the extra yard to track down dates and Venues.

Somehow it has caused fans to want to get a copy of the 'Wings off flies' photo book, as we are getting solid orders through Rocket Pocket Books, and loads of requests. I sent my first book to China the other day, am not going to ask how they managed to get USA $ which is how they paid. They can't get IRCS in China so I decided to cover the postage, hell you don't get a chance to send someone in China books like WINGS that often. It will be interesting to see what they think of some of the other bands in the book.


---
August 29th
How quickly time fly's by, my Sisters birthday today, so give her a call. She is so excited about heading off to Egypt with me in February, she probably has her bags packed already!!!

The one thing about Sis's birthday is that it is on the same day that our Skyhook lead singer Shirley died, in that helicopter crash. he's been dead two years today, I notice radio seems to be playing a lot of the band's songs today, kind of haunting. I play 'Living in the 70's ' while I am working, what a fine album, John Howard should pass a law that 'Living in the 70's' be part of every Australians CD collection. It is still in the top 5 albums that have stayed at #1 the longest, when you think that it's heading towards 30 years since it was recorded, that's a big effort.

This Flu big thing is starting to do me in, the casualty wards around Melbourne hospitals are overflowing with people, I've decided that massive amounts of Cranberry Juice is the answer and time in bed. Mark looks after me, I am a pain in the ar$e when I'm sick, and he ignores my baiting. How do people get sick so often, it's so fu*kin' boring. Thanks to all our friends who called by with flowers and things that made the week more bearable, you will be remembered! (:


---
August 30th
Over the bed thing, and do all that boring stuff like washing and the stairs (always the stairs). Am floating around in my own world, while some virus War is underway inside me. A Doctor friend tells me I will probably have this for three weeks, and to be careful I don't end up with Pneumonia (Ych).

Decide that I never really take sick days off, so forget work and concentrate on getting well, obsess over StarGate and we watch a few box sets worth (!).

Richard in N.Z. is sending over a DVDr of Bic Runga's 'Home Truths' interview, which is really cool of him, it's one of the few Interviews I want to see (thanks Richard). He spends a lot of time creating this really good Bic Runga site, one of my fave music sites on the Net.

Speaking of Ms Runga, she's in London Town and playing some Acoustic shows at The Garage. They are Monday nights, and only a few tickets available for the final two shows. September 15th and 22nd. 'Beautiful Collision' is out Sept. 15th in the U.K., but if you are reading this and live in London, try and get along to one of these shows, you'll have a good time. She heads back to N.Z. early October, for a show on the 4th at Christchurch Town Hall with the Symphony Orchestra.


---
August 31st
I must of been delirious today, as the paper diary is totally blank. The only thing I can tell you is that the counter on the F/16 site read 185,500 readers. Apart from that nothing happened, I spoke to no one and the World still continued to turn. Insular or what!


---
September 1st
Wow it's been ten years since 'Priscilla Queen of the Desert' was made. What a fun movie, and so cheap to make. $3.5 million. It went on to make $100 million. The movie made it's money back in 8 minutes at Cannes' 94 after a bidding War on it's first showing. Germany put their hands up first (those Germans love a good Queen!) and the amount they paid covered it's initial cost. I like Guy's story (Guy Pearce) how he gave his original DVD to the Dalai Lama...with the Anniversary DVD it means Guy finally gets another copy! I wonder if a full time drag queen can find enlightenment.????

Speak to Eddie and Dean about the True Colours project, wheels are turning and it's just a case of working out the when's and what colours.

Give Laura a call, it's her birthday today and the meter clicked over to one of those numbers with a ZERO behind it (: All that Tap dancing is paying off, you're getting skinny girl.


---
September 2nd
Spocks birthday today and he's getting close to the meter with a zero attached too! All these birthdays around this time, I'm broke on present buying.

Toni Collette's new movie release 'Japanese Story' looks kind of cool. Collette was presented with the Silver Medallion for Career Tribute at Telluride Film festival in Colorado last week. She's great, give me one Collette to ten fu*kin' Sandra Bollocks any day. (Am refraining from the usual tirade of Bollock Abuse).

Chatted with Jen BrisVegas and she will be allowing me to put the tasty Pin-Wheel recipe on the F/16 site in the not too distant future. Yum, they are pretty darn good. Thanks girl.

Hmm receive a fun present- 'Got Root' tshirt from the USA, means a different thing in Aussie *GRIN*.


---
September 3rd
Finally Bush starts including the U.N. in it's operations in Iraq. Mounting casualties and increasing costs of keeping 150,000 troops active will do that. Meanwhile UN staff in Baghdad is down to 50 from 300 after last months bombing. Been noticing that a lot more Americans are now not convinced about the Iraq situation, you can only spin so much, and even the percentage of people suckered by the B.S. and exaggeration have to stand up and say, it's not exactly as you say Mr Bush. Still waiting on those Weapons of Mass Deception (opps Destruction). The U.N. can be a toothless hag sometimes but it should have a place in the Iraq situation, as I'm sure I wouldn't be trusting the invading force that bombed my home. Yep Saddam is gone so so is my house, my kids my shop...my collection of Famous for Sixteen minutes books....and speaking of Fox News some of the reporters want to make me puke even without this Flu bug, about as one sided as you can get.

Augie in the States sent over an amazing parcel and as Clint would say , it made my day, the packaging job that Universal did on Re-Issue titles like Elton John's Greatest Hits (1970-2002) is inspiring. That's the way to do it!


---
September 4th
Sun is out, feels like Spring at last. My skin loves this warmth, I enjoy it as I wait on Platform One for the train to the city. So rarely take my car into the heart of Melbourne, the train is only a few stops away and always on time. Yep Spring has sprung, which should mean loads of daffodils springing up at Beenami.

Miss breakfast with Billy Cullen, catch up with the doctor instead, and I am told to take it easy for 2 weeks (!). Does all the tests and says I am a healthy guinea pig except for the virus. Says the flu shot is totally hopeless around this one, which explains why so many teachers etc are off school and only some R&R will get rid of it. I question him- R&R..oh Rock & Roll.....argh no Rest & Relaxation. (doh).

Myer have some sale on and end up getting a big bag of Jurlique products, so abuse the Myer card. Speaking of, it was time for my card to be renewed and Myers sent me FIVE cards, I know they want me to spend but really FIVE.

Was meant to have a book meeting today but it is postponed, other sick people, I was ready to go and infect the artists (: I feel like Typhoid Mary, but my table at Babble is located in the corner so I am away from the populace.


---
September 5th
Emails emails emails, bounding into my IN box, so many of them, lovely little creatures all with News and requests and far too many Porn site offers...is it only me. My Spam window works well, so few stuff gets in...

Russell who does some Art for us drops in for a meeting, nice chap but he is coughing like a barking Owl, another sick puppy, but the work must continue.

Cosmo is a bit insane today, he gets like this a few times a month, he went bolting inside and up the stairs. When I go to collect him at night, he has this annoying habit of bolting under my bed. he likes my huge bedroom and sits in the windows watching the world stumble past. So I have to get him out from under the bed, Mark says it's a game he is playing, I personally think he's just being a spoilt shit, but I do laugh about it. Bad arse bunny.

Catch up with Jj and Renee, Renee now has blonde hair, looks good. Jj looks a tad stressed, the joys of being a manager, the main reason I never want to be. The lady from the Izett Street Art Gallery is sitting at the table, I was pretty full on, and corrected her about the Bowie/Lou Reed stuff...Opps I'm sure that didn't go over well. If you are going to talk about Bowie, get it right.....

Watch cable music and we spot Katie Underwoods clip for DANGER, it's out in September and I hope it goes well for her. We thought the video was going to be more X rated, the media seems to say it is.... maybe we watched the edited version or maybe we are just really really really total perverts and nothing shocks us anymore.


---
September 6th
This sickly stuff is well past it's expiry date, and tried to sleep and recover...so I could head to Laura's birthday party. In the end I call and tell her that I'm not making it. I would make everyone else sick and now I have some cough...she sounded sad. So on my way to the Chemist shop, I made a quick turn and head into the outer suburbs with a massive bunch of flowers. I call and pretend I am a delivery man, and the trick works, eventually she comes outside and yours truly jumps out of the bushes with a bouquet and a nice card....she's a good friend so even if I had my legs chopped off I'd still find a way to at least call in. I thought about it, and most people would of just went to bed, so I thought that was my good PG side coming out. As soon as I heard The Beatles 'Let it Be' playing on the Jukebox I knew I was at the right house! Hope the rest of the night was fun Laura and Natty turned up.

Snuggle on the couch and watch Jack Nicholson in 'About Schmidt'- it's a really cool, we love Nicholson, and Kathy Bates made me laugh. It's the man at the crossroads of life type movie, Satire and Sadness and some people wouldn't get it...and what about that 35foot Winebago...very cool DVD.


---
September 7th
Promised Tania I'd catch up for breakfast at Babble, wake up really hungry, so I cook some bacon and eggs for Mark and myself, and then head off with Rosemaree and Tania. I'm just having coffee, and we get one of the last tables at Babble. Strangely enough it's next to Dr Pepper (David Pepperell) who was one of Juke magazines main writers. I just found a review he did of Split Enz in May 1975...at the Snake Pit (Alias Station Hotel) one of the very very early Enz Aussie reviews, possible the first... David's great and he has this cool family, always time for him.

After days of being good I am bad and annoy Rosemaree, she threatens my life with her 'fucking bag' as she says and she means it. She knows I dig her and only annoy her like a good 'brother' (eh girl?). At least I didn't use a sharp stick (:

Spend the afternoon writing, and answering emails. This is my life... and I'm still a bit blurry around the edges. The Finns depart in a few weeks for the U.K. to mix their Finn Bros II CD, can't wait for some new songs.

Hmm that's it....

Hope life is great.

Peter

---
If there are any problems with this site, please contact webmaster@aswas.com.