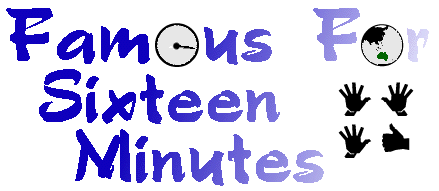 The Life and Times of Peter Green
Archive: 27 January - 9 February 2003
---


"GLAMOUR"-Book #3 of Famous for 16 Minutes Series.
Here is the back and front of the upcoming book "GLAMOUR" which is now at the printers. Thanks to our friends who made the effort to be "changed" and immortalized for the back cover shot.
L-R (Top to Bottom): Rebekah Devil Woman, Female Hitler-Spock, Trudi Lounge Lizard, Bob the Feral, Mark-Nana Doughtfire, Mrs Hairy-Legs-Paul Hester, Rosemaree Mr Sin-agogue, Tania the Bikie and Babbles -The Baroness. *Available to order via Sales area or email: peter@frenz.com
---
January 27th
Australia day holiday.

A lot of the fireworks celebrations are cancelled because of all the bushfires, many are still burning. With the drought I'm sure the odd skyrocket would just set off another round of fires. Is there anything left to burn?

Spent part of the day trying to buy a box of Devil Girl chocolate bars (from the USA). They have those great Crumb Devil Girl drawings on the wrappers. A friend told me she thought you could buy them in these cool cigar style boxes. I rate the Devil Girl Chocolate Bars up their with the DEATH cigarettes, the cigarette packets have a skull and cross bones on them. Not very subtle...

Speaking of cigarettes...the latest health report on Woman smokers arrived today. Cigarettes are now responsible for 90% of lung cancers. In 2001-2 more woman died of lung cancer than breast cancer. Since woman's smoking rates increased so did the death rate from lung cancer...by a massive 600% which is huge. I think they did the report on woman smokers because the amount of woman smoking has increased and men smoking decreased.

Really like Apple computers latest piece of MAC OSX software- "Safari" the snap back feature is brilliant. It should do well on the market.


---
January 28th
Neil plays the 9.30 club in Washington tonight- I really like that gig, usually a very passionate crowd- fond memories of the venue and people.

The "Secret Life of Us" has been sold to Russia, it's broadcaster is THT which is a free to air channel. I keep telling Mark we should get into the show, he says he watched some of it once and didn't like it. JB HiFi has "Secret Life.." on DVD for a very cheap $9 per disc...I'm going to take a chance...but the first disc (3 episodes on each disc).

Belinda Bardot keeps calling and I keep missing her, she's in Melbourne and working on songs for her solo CD.

Go for a walk to Rebecca's, it's such a nice night for a walk. The air smells like the bay, and that's ok as the bay hasn't smelt gross for ages, it's kinda nice. Bec has a supply of homegrown nectarines..so major YUM!


---
January 29th
Sitting at Babble this morning and one of the owners Michelle is in a frisky mood- we are having fun and she walks out with the giant turning hook for the fold down blinds. Only Mish can make this act of turning down the covers look fun and sexy..so I encourage her to do a dance while doing this....she turns to metal latch faster and faster....in time to Frank Bennetts version of Pearl Jams "Better Man" (its a crooners version-COOL)....and ways the canopy is rolled all the way down and covers a customer enjoying a latter...it engulfs them....like some giant sea cabbage....scared the hell out of them I am sure.....OPPS! Babble's good, I can just sit there and work away till Mark arrives, so many regulars and the feeling is a happy one. I like that sense of community.

I notice that the new local member (Labor) has taken over the office of the old Liberal person...was good to see. He gives me a wave and comes out and says HI. See they do remember that you supported them.!

Last X-Files tonight...it's a chorus line of who was on the show...was ok, not great but ok...was good to have Mulder back but I think Doggett was just starting to find his feet and his character. Ally McBeal last episode is soon...hope we like "Secret Life..." it might fill in one of our tv "vacancies".


---
January 30th
We see "One Hour Photo" at the Jam Factory. We really like it, tend to feel more sad for Robin Williams character....ok he's a bit of a freak but just sad. As soon as I saw his velcro(?) shoes I felt pity! It's one of those movies that you think about for days....Williams sure isn't Mrs Doughtfire in this one.

Get home and send a huge package of "Wings off flies" books to the library suppliers, they requested some for various libraries in Australia. Which is ok, I don't mind people having them on library shelves.

I expect BHP shares to drop over the next few years as the Bass Strait oil deposits start to decline. I've been told that they are already down by 16% on production from the North-West shelf (Bass Strait and Laminaria). BHP is currently propped up by it's Iron ore production...I'd be selling my BHP shares no matter what the current price of oil is ($33 US/barrel) eventually they will run out. Bring on the solar revolution I say.

Hear from our old Crowdies manager Grant Thomas today- was really good, I tried catching him on the phone at Christmas butt he office was closed. he sounds good, I do miss him, we worked well together too- he congratulates us on "Wings off flies"- really really likes it.

Spock is back so I finish my corrections for GLAMOUR, it finally goes to the printers in a few days...just waiting on the back cover. This one has taken ages, just seemed to get sidetracked...but I can see the light at the end of the tunnel....thanks to those people who pre- ordered and have been very patient. Much appreciated. Copies are available via the Frenz.com SALES area or simply email Peter (peter@frenz.com). Wow my 4th book- weird.


---
January 31st
Neil Finn performs "Human Kindness" on the Conan O'Brien show in the States. Our soundscan sales for his One All CD spike so it helped with sales.

I spend the day running about, getting a GLAMOUR rubber stamp made, dropping in some Neil Finn negatives, emailing and crossing things off my "To Do" list. In the end only 2 things left, heaps of fiddly stuff out of the way.

Well the year of the Goat is about to commence, as the Chinese New Year rolls around...it's quite outside no Chinese fire works.


---
February 1st
A few of us have dinner at Babble, an early birthday feast for Tania. So funny as Bongo Skyhook walks in, last year for Tania's birthday we were at the Gardens watching Bongo and the ol' Skydaddys play....so it's weird that he is here. He was meeting some friends...he's funny- always love the ol' Bongo. He's such an underrated guitarist.

I pick Rebecca up close to midnight, after she has a rather long cat nap (ahem)...we are off to see Betchadupa play- front bar at the Espy. They are onstage pretty close to time, there is a curfew tonight so the Venue is tight about stage times. It's really packed, crowds spewing out onto the street, we squash down the front to see the "Dupa boys kick some musical arse. It was one of the best gigs I've been to in a long long time- "Supa Day" is still a favorite song of mine and they did it justice. Kinda fun to see a gaggle of young girls squash to the front of stage, the same girls mobbed the band afterwards. One of the best looking Espy crowds, and they got their rocks off. Last song and a bass string goes....which limits the set....it ends in a super jam, so fine that I thought it was a cover version...frantic and over the top and it carried the crowd along for the ride. Matt is surely one of the best drummers on a world level...ahh shit Betchadupa have the ability to make it big world wide- tonight's performance proved that...was really happy we went. I think Bec was inspired to see more bands again...and a lot of people were leaving saying "good gig, really good"...you don't usually hear that on the steps of The Espy. Caught up with Nick Seymour and a few other friends- Nick has a bit of a beard happening. says he'll call into our place next week before he heads back to Ireland.


---
February 2nd
When I got home during the wee hours, I turn on the news that find that the Columbia space shuttle broke up during re entry- so very sad. I couldn't sleep after watching this...horrible. Space is always a major risk, and being in orbit around Earth is a risk on it's own, space junk and baby space rocks...it's like being in a shooting gallery.

Of course it showed some Iraq's saying "God is punishing the Americans" which is pretty B.S. all that will do is turn more Americans onto blasting the hell out of Iraq. Talk about fuel to the fire....

That just leaves 3 shuttles left: Columbia was the oldest, I think the shuttles should be retired after 20 years of service. The Discovery is around 18 years old..so that now becomes the oldest of the three. Atlantis and Endeavour have some time left....though Nasa keep saying they are using them till 2015!!!! That's way too long.

Very sad times, as Marianne Faithful said as she left the stage at her show tonight at Melbourne's Athenaeum Theatre..."Be strong, and lets hope for the best".

I get a very nice Happy Birthday call from Ben...all the way from W.A. His computer must of gotten my birthdate mixed up, it's not until May 11th- but it's so nice that I was even remembered...and hell if I would of kept quiet I'm sure that I could of scored in a major way on a birthday present. Sometimes people just making the effort is present enough. Yeah and he will hate it being mentioned here but there is something nice about friends making the effort...and it's hard to do on tour. Thanks Yeti!


---
February 3rd
Happy Birthday Tania!

Campbell and Bic Runga send over a multi platinum award for Bic's "Beautiful Collision"- a thank you for all the work we've done. The album is triple platinum in N.Z. I still play it a lot- it should be doing better in America....sales are healthy in Australia.

At the moment I am reading Sally Cline's "A woman called John" book. It's a biography on Radclyffe Hall- the writer. Radclyffe Hall was born in 1880 and was a legend in her own time. She was a lesbian and as time went on cross dressed and was fondly known by the name John. "The well of loneliness" is her biggest seller, banned for obscenity in a trial that made the book a best seller and brought her literary fame. She had passionate moments of infidelity and a marvelous spiritual side, which all rolled into one made her a feminist enigma. It's an interesting book because of the time period...and the part that Radclyffe Hall played (and still plays) in Lesbian culture...and besides that it cost me a huge $3.50 at the book sellers discount sale. I like a biography with a few twists!! *grin*.


---
February 4th
I was doing an interview the other day and was asked what are the main things I like about the "Famous for 16 minutes" books. One of the main things we are proud of is simply that the diary books are written, printed, assembled and bound, in Australia. 100% Australian made, employing Australians and putting some money back into the local industry. I guess in a small way we are proud of that- and I know a few Aussie readers have commented on how good it is to have them 100% Australian made. I guess it's why so many Australians have been buying "Glamour" , to show some local support- which is really good.

We run Rocket Pocket Books on an individual release scale. Out of each 1000 run, you need to sell around 450 just to break even, that's how expensive each book can be. Taxes, artwork, printing, binding, isbn numbers, postage and packaging it is quite a massive effort...but nothing beats that first day when the boxes all arrive and you open them up and hold the book in your hands...very cool.

The last Ally McBeal episode is tonight, it's a bit like the X-Files, a return of some old cast members....I still think she should of been raced off by John Bon Jovi's character in the series...it just wasn't as wacky as the previous season. Goodbye Ally.

The Michael Jackson special was on tonight, where the U.K. journalist interviews him and gets a chance to go to places where the cameras have never been before...the first 15 minutes you see a normal sort of Michael... and hear about his brutality at the hands of his Dad...after that it starts getting twisted...and another side emerges. Of course a few days after airing Jackson protests the show and his lawyers cry "invasion of privacy"..which is absurd ..how can it be an invasion when the artists invites the cameras in to film! Saying all that it was fascinating...and he really is looking a lot like the female monkey from the Planet of the Apes re-make movie.

The back cover art for GLAMOUR arrives (see main photo at top) what a fun day, some of our friends having fun and swapping sexes....all very tongue in cheek and not to be taken too serious. Thanks all of you who made the effort.


---
February 5th
The stock market looks a bit rattled these days. The U.S. deficit helped along by the proposed War means the USA is living on borrowed time and money (and that filters down on all world markets).Expect more falls on International and Australian equities, which probably means it will be years before markets start offering those attractive returns ....I bet people are buying Gold like crazy- which happens prior to all Wars! Vali Myers teeth must be worth a small fortune now! (-: (On ya Vali!)

It was Alfred Hitchcock week here at the house, the Hitchcock DVDs were so cheap- so we splurged on Psycho, The Birds and Vertigo...all brilliant. I love watching for those Hitchcock cameo's ...like in The Birds when he exists the pet store with his dogs.

I notice every house in Australia is getting John Howards "Lets look out for Australia" package. Protecting our way of life from a possible terrorist threat. I love how the Sun newspaper contacted Emergency Management Australia and put together one of the full emergency kits as suggested by Howards booklet and it cost around $400. So who says that the Howard Government won't profit from terrorism....after all who gets the GST (Goods and services Tax) on all those items...yep the government...so $400 per household times a few million people....if the federal government was serious about emergency kits they would remove the GST off these items for a limited time....yeah like that will happen.

If you are serious about putting together an emergency pack, I suggest you buy a bottle of Potassium Iodide Pills...these assist in radiation poisoning. To go the whole hog if you are really freaked, try this site...they have everything from shelters to radioactivity detectors. The nuke alert keychain device is the go...if for nothing else just for a good conversation starter over coffee...(opps). You can order the Potassium Iodide pills and other survival items at this site. http://www.ki4u.com/

I'm off to Egypt in February 2004, so I'm taking the ki4u/Iodide pills as God knows what fall out there will be from the Iraq attacks.


---
February 6th
Well we went to see Star Trek NEMESIS today and I really enjoyed it. The only part I wasn't into is the extra early model Data (B4)...but I loved all the space stuff, I loved the dark feel and I loved the Enterprise doing some serious spaceship ramming. Is it as good as "First Contact" no way, but it's quality Sci Fi and if people and magazine were more into not comparing it to so and so and just sit back and enjoy the movie it could have it's place. I know it will do really well on DVD. The cinema crowd seemed to enjoy it...and spoiler alert Data dies. He had to really but the B4 with data's memory download is just another Search for Spock mindmeld with Bones McCoy scenario...

Afterwards we did what we said..and bought "The Secret Life of Us" DVD- Series 1 shows 1-3......and we really loved the show. Talk about late bloomers...we are now 100% confirmed "Secret Life of Us" groupies....and I must say St. Kilda looks mighty fine as the background of the show. The Espy, the Palm trees, the Palais Theatre and all that neon on the coffee shops...all lively and exciting. It's Melbourne and it looks good. The show itself has a good combination of straight couples breaking up, straight boys chatting up gays boys, straight woman being not so straight, passionate affairs, sex sex sex, bums in showers, Australian expression (dickhead dickhead dickhead)....it's good.

Notice The Age Green Guide has a good interview with James Marsters of Buffy fame. The show returns to Australian TV this Tuesday Feb. 11th. This was one of the best Spike interviews I've read....Buffy is cool again. (How many times is that now....).

Spot a lot of flyers up and about for a "Dont bomb Iraq" Peace rally. It's Feb. 14th...am assuming its city square or federation square..was driving past so couldn't read the fine point....not sure if it's Australia wide or only the date for Melbourne. Think it's worth protesting....sometimes you just have to say killing is wrong and Iraq has all the flavor of another Vietnam....will try and find out the details and it will be mentioned further on the times and where etc etc.


---
February 7th
I keep returning Nick Seymours calls but his phone just rings out- he's probably catching a wave.

Greg Macainsh calls by in the afternoon and plays us a rough of a Skyhooks mix...can't really say what it's for as it's early days. It's always good to see him, he's a bit of a father figure. always been good to us from when we first moved to Melbourne.

Find a copy of "Acapulco Gold" on DVD. It's the true story of the harvesting, cultivation and smuggling of marijuana in the USA & Mexico. Mark's favorite bit is an extremely sexy blonde girl walking through acres of dope plants, rubbing them, sniffing them and smiling at the camera. Mark says she's a stoner but a nice girl!!! He has a theory that if you have acres of Marijuana plants cute blond girls will flock to you!Il think they'll flock to the vast amounts of illegal cash made from sales of dope! (: Probably blonde men too, dogs, cats, rabbits, and ground hogs. The movie doco was filmed in 1972..and it is kind of mind blowing, masses of wild marijuana growing in Kansas and all these other areas.... and the extremes that the smugglers go to getting blocks of it over from Mexico. Some great seventies clothes and a pot-ish style cartoon are all part of this Stoner movie. It's fun and a good $7 investment. Have to lend it to various crew members! *grin*.


---
February 8th
Drive to St Kilda and visit Deb V. she was asking about Vali and how she is going, and I thought she'd like to watch the "Tightrope Dancer" movie on Vali. Had to call into Acland St. first for some good cakes...she lives just too close to those brilliant cake shops. Arrived and got a double present for Deb and Marky B- some cool Spanish wine from the Marky B secret stock and the rather unique- blow up doll shower cap! Strangely it looks a lot like Bardots Sophie Monk! The blonde Bardot..was it modeled on her? Such a fun present and I can see us wearing this shower cap....ok not! But it was fun.

Make home made Lasagne tonight...I'm starting to prefer it cold, a weird PG taste bud thing...I only eat such small meals so it goes into the fridge..I think I'm becoming a bird..peck peck peck at meals...which is ok, my doctor told me it's ok for me to eat like that.

Did I tell you dear diary how much I love Monique Brumby's latest CD- "SIGNAL HILL"......fave tracks are: 'wired', 'silver dollars' and 'radiate'. I love her stuff and she truely deserves to sell a lot more CD's. Joe Creighton plays Bass on a few tracks- he was going to replace Nick Seymour in Crowded House at one stage....I think he played in the studio on a few Crowdies demos....anyway I am sidetracked...."Signal Hill" is worth spending money on. Would I lie to you!


---
February 9th
Have a weird sleep last night, people seemed to of been having a lot of conversations in front of our house last night, hell why don't I just install a park bench! Think I o.d.'d on dreams last night. A few about the war. I thought the woman at Byron Bay were amazing who stripped and spelt out NO WAR with a heart around it- all naked...one way to get the message across. They hoped for 67 woman just to spell it out. They got 600+! They decided on naked just because they were desperate to be heard- good ploy.

For Melbourne people the PEACE RALLY in on Feb. 14th...starts at the State Library-5pm. Swanston St city. Time to be heard.

I know Iraq must be disarmed but it truly worries me just how many people must die. If I was reincarnated as Barbara Eden I'd simply do one blink and send John Howard, Bush and all the others to the front lines and see where they are sending men and woman...and what they have to do. It just seems like WAR has been pencilled in despite that most people don't want it. Arn't politicians meant to be the voice of the people?

The American Ambassador seems pretty pissed off in Canberra because Australians are making Anti American comments- if he read between the lines he'd notice that people are actually making anti-War comments, just that Bush is trying to move this ahead, so naturally people are saying he's wrong. Sorry Mr Ambassador but people in Australia are allowed their say and if he can't understand that, he should pack his bags and leave Australia, because part of having Freedom is allowed to agree/disagree and have one's say, and if weapons of mass destruction are such a major concern why do so many countries apart from Iraq have them including your own Mr Ambassador. Yes Saddam must be disarmed, yes he is a liar and plays the UN...and is a dominant menace....but WAR....saying "those are brave men and woman who died for their country" truly does little for the poor families who will never see their loved ones again. The day that a President or PM loses a son or daughter in a War is the only time they will really understand....

Head to Babble and most people are talking about War, just can't escape it even at our coffee place. The latest survival kit is in the newspaper and it seems as every day goes by the kits become more full on! I think it would take 4 people to even carry all this stuff...and probably an hour to pack it in the car...we'd all be dead before we got the car packed!

Oh enough of this War....next diary I promise less War more sex, sin, gossip recipe's DVD reviews, nude pictures and swear words.

Stay Safe... and lets hope that Peace will prevail. It just seems like it's all locked in doesn't it? At least some people can say to their future generations, I stood up and said no to the War. For what ever that is worth.

Peter

---
If there are any problems with this site, please contact webmaster@aswas.com.