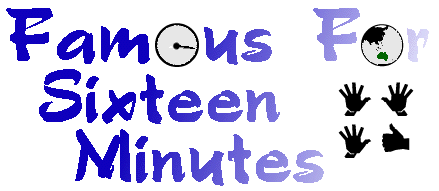 The Life and Times of Peter Green
Archive: 28 July - 10 August 2003
---
July 28th
Buy Mum some Arthritic Patches, there are two really great herbal ones on the market here. The Shang She Zhi Tong type which are a cool herbal patch and the Die Da Feng Shi Plaster which is an extra strength power patch. She says they work really well. The patch break down is pretty amazing, herbal is such a great way to go when it comes to easing pain. I hope I don't get any arthritis when I'm older ... need to eat more celery!

I saw this old man waiting in line for the Post Office to open to pay his bills, the only problem was he was standing with his walker in front of an empty shop, the post office use to be located there a year back ... when he finally made it inside he wasn't suppose to pay his bills at the Post Office but at the bank. Made me feel a bit sad for him, to lose that focus, then again some oldies are really sharp. Scary.


---
July 29th
Pick up the Split Enz master photo for the cover of the book, I still don't think it's sharp enough, may work from another source photo, such great costumes and that hair ... no wonder the Enz scared the Countdown teenage hordes in the seventies.

Performing Arts Museum calls and they will be having a costume exhibit later on, so they are dragging out the Enz cossies and want Noel to do an interview. I need to get in first so Noel isn't all Interviewed out! At least with our Enz book the interviews are in solid form right before your eyes, much easier to access. Am attempting to do a full listing of all the Enz shows in the book as well. See how we go, we put a lot of them in the two booklets for the Enz box sets.

The Enz book should be an easy write but the content is starting to become overwhelming so I am trying to keep it all structured, a bit like a runaway train and the brake lever is just out of my grasp. I can see the light at the end of the tunnel though *GRIN*.


---
July 30th
Track down my Enz poster for the middle of the book. Nathan gave me this poster on my birthday one year, a promotional one off done for the Enz True Colours period. Will make a fine centre shot ... perfect for autographs too.

Raining again today, it's breaking the drought but Australia needs more rain to fill up those reservoirs. Am heading off to Nathan's house with our good friend Laura. Natty use to be the Enz manager and I always have a big soft spot for him, he's fun.

Sit in the car and wait for Laura to arrive, right on time and we head in. So many pictures of Nathan's little girl, she's a cutie and Nathan jokes that she doesn't inherit his double chins! C'mon Nath!! The hours zoom buy and it really was nice to catch up. My time working in the Enz office with Nathan is nothing but good memories, Fiona, Shock and Laura , a good team.

Get home in time for a quick shower before we head off for some Turkish with Ben and Jen, a dinner before Mr Yeti heads off- once again. Head to our fave restaurant on that side of town, and it is the usual bedlam that I love so much, packed, huge families and very little staff... I like the idea of having to arm wrestle for a waitress. The skipper is far too kind tonight and pays for this massive feast- owe you one Yeti! I like nights like this, observe the planet, it's the true nature of us Gryphon's to sit and watch and occasionally right wrongs. Hell I surprised all by eating all my food.


---
July 31st
Well Mr Hester made me pencil him in and the little shit didn't show, 4 hours later... grumble grumble. Had work to do so it wasn't that bad, but I do hate waiting around. Spocky sends us the finished cover art for I Like It rare II, our fundraiser CD and it makes me laugh- X-cellanto. That Neil Finn unreleased song Fish Hook is swimming around in my head, to think this is the only place it will be released, and such a small run.

Red Symons 'This is your Life' is on tonight, and I must confess the show was so much better to watch on TV then being part of the studio audience. Was thrown for a six when I got a thank you credit and very few people did... but hey that's fine, for whatever I did. Apparently Red's little boy is very sick again,which is sad. Even though Symons is a shit, he does love his kids and they obviously adore the old bastard back.


---
August 1st
What a long day, work for 6 hours on the internet, mail-outs with attachments, and it just went on and on. At one stage had three computers going, Mark said Ben would be impressed with that, yep three computers.

After that we pick up hundreds of CD boxes from Aussie Post and start the tedious task of checking all names and addresses, filling in customs forms and tracking forms, we keep Aussie Post in business.

Hear from Sarah Morgan and I have to pick up a stash of Skyhooks files for our office, left over from Mushroom 25th Anniversary show. An email was on the digest today with a conspiracy theory around Shirl's death, wasn't into it, kept thinking of Shirl's parents and family members, all this stuff does is haunt those who are living- what's the point.

The first of the month is when I do the Rocket Pocket Books break down on book sales. GLAMOUR is now leading the pack with the little F/16 diary books, was it's biggest month yet. I think readers are adding it to their collection so they have a complete set, just in case the Pope sends a hit man after me for saying he is a craggy old goat and I'll be glad when he has gone. Old homophobic dick.


---
August 2nd
Decide to sleep in, make some fresh juice when I awaken, tidy up the kitchen, all very domestic today. Find another cool house, actually Mark finds this one, has a massive attic which has been converted into a giant cinema. We really are good at this luxury house locating.

Pansy Divisions new album is apparently winging it's way to me from the States. It's called TOTAL ENTERTAINMENT. Always interested to see what new level they have moved to. Fun band.

Deborah Harry and Blondie are on TV a lot this week, they are playing 2 shows at The Palais Theatre in Melbourne. Can not believe that Chris is not playing in the band, not right, he should be here. Deborah Harry has lost a lot of weight since last time we saw her play, she looks great for 57. I like how she wore that VULTURES Tshirt on ROVE-LIVE. The Vultures were this Adelaide band and they gave Deb a Tshirt in the late seventies and she wore it onstage and in clips, obviously this is a new one that's been updated, punked up and even (dare I say it) some sequins. I like the new Blondie clip, song is ok too. Notice they are playing Wollongong, after all those years ...the gig was cancelled the first time they came to Australia and I missed out on interviewing Deborah Harry. Hope it goes well for them. I always have a soft spot for that band, ever since my Mum bought the debut album with 'In the flesh' on it.


---
August 3rd
Jen arrives 1 minute early ... was going to stand on the other side of the door till it was exactly 9.00 but we can't be that mean to her (: Both of us are heading to Camberwell markets, my role is mostly driver as I am determined to pay millions of bills that have arrived. It's a lovely day too, weather Gods are smiling. The set up at the markets has changed a bit more cul de sacs but still fun. Find a lady who has the most incredible silverware and it's so cheap- I have a theory (no not a dancing demon..sorry Buffy joke) I have a theory she is a cat burglar... and pinches all this stuff and re sells it, it's just to cheap. She has these brilliant 100 year old silver spoons, 1/2 size tea spoons with crowns and emblems on the end, have to get them next time... before some suit buys them for his cocaine orgy ( don't say it Mark I know who you are thinking of!!!!)

We find this really nice old man who cuts his own gems and Jen buys some for her silver work, really nice cuts and so cheap. A lady asks one of the toy sellers if she has a Pokey ... and the toy person has no idea. Oh C'mon POKEY, Gumby's horse ... some people do not know about the important things in life *GRIN*. I intervene and tell her she can buy Pokey re issues on the Net. So much bric a brac, loads of good garden tools and we especially love the black velvet printed aboriginal portraits from the seventies. Have some lunch and escape home.

Spend the afternoon back on line, two newspapers have jumped the gun and mentioned that Split Enz might be playing this show in Sydney for the World Cup. I decide to do a VIP mail out or I'm going to be under siege from emails and mail. If the Enz show happens it's in November, am stressing to everyone that it is far from confirmed. Am hoping for a Melbourne show and the warm up gig would be for the fanclub only IF it happens. be great to see the Enz play and it really is Australia's turn. The guys have a vibe to play here.


---
August 4th
Betchadupa's EP is out today in the U.K. on Ignition. I order in some copies for our upcoming table at the Camberwell Collectors Fair. Am trying to buy a few more as a few people here in Australia have been asking about this EP. Apparently only the one run was done. The Camberwell fair has now moved to Box Hill Town Hall (1022 Whitehorse Rd, Box Hill) and it will be on August 17th. The club stall will be in the foyer. Doors open at 10.00. This is the only Collectors Fair we will be doing for the rest of this year, maybe longer. We have made a huge effort around this one and some amazing stuff will be available.

Felt like a boy scout today, helped an old lady across the road, I just had that feeling if I didn't she would get ploughed over by a car, she was a bit shaky on it. Kept patting my hand, poor old dear.

Went through a whole series of Stargate on DVD, didn't take long, am enjoying the show, it's underrated and should receive a higher cult status. So much better then Farscape- stupid puppets.


---
August 5th
Really like Australian artist Esther Erlich. Born near Hesters place at Elwood in Victoria, does really great Portrait work. There is a showing at Libby Edwards Gallery- 10 Williams St, Sth Yarra- August 8th- 24th, worth a look.

The 'official' number of U.S. deaths since the start of the Iraq War is 166- 19 more than the death toll in the first Gulf War. So much for the perception that Baghdad was taken as a quick easy victory- the total death toll is actually 248 which includes accidents, suicides. Non combat deaths outnumber combat casualties ...but the scary thing is this Pheumonia infections- 2 have died from this already, and 15 very ill. It's a type of streptococcal bacterial infection, but the identified infection has only been found in a few of these soldiers. No one seems to know what it is. It's sure to be buried under the carpet, a worry. What an evil little War this has turned into.

Notice some Sanity Record stores are closing down in Australia, pretty horrible music stores really and the staff overall are brainless when it comes to music knowledge. One day I asked for Split Enz and the girl took me to the MOVIE section. DOH!

Buffy second last Episode in Australia tonight- exceptional, well written etc etc at least it will go out with a bang and not a fizzle.


---
August 6th
Today was the biggest selling book day, ever, even more then the launch which is amazing. All titles, Hussy, Bang, Glamour and a few WINGS, spent the afternoon numbering and signing, so weird, just when you think it has gone quiet we get this run on copies of GLAMOUR. I spotted the girl from the bakery buying a copy at Greville Books... of course I stirred her a bit for doing so!! I am mean.

Our Crowded House 'Farewell to the world' DVD grinds to a halt, have to wait till Neil gets back, just red tape etc annoying, but we've waited this long so everyone will have to be a bit patient, it will happen eventually.

It's still cold in Melbourne town, woke up and all the ants were heading off to work, all rugged up, by noon it's ok but you can feel the cold in the morning.


---
August 7th
Eddie Rayners SMD track arrived for Rare II, love this track, too hard to describe, good one Stallion. SMD stands for????

Hound a few of the Enz guys that they have to play 'Parrot fashion Love' in the stage set, even suggested to Malcolm that he (re)learn the song, Dizrythmia is such a fine album.

The Finns head off to England in September to mix the album, which is good news, means it's coming together quite quickly. So hopefully the boss will send me a copy early October, dying to hear what they have come up with.

Rosemaree saved our life today, getting all this extra work done for us, much appreciated, finally returned her casserole dish, what a fine meal!

Call into Joes Cafe and have some hamburgers, sit and watch the trains and school girls go by...makes me sound like a dirty old man!!!!!

So Amrozi the Bali bomber got the death penalty via firing squad, evil little fu*ker, hope he suffers and burns in hell. A bullet in the head will wipe that smile off his face. He's not a martyr just a religious loser, hope all the faces of his victims go rushing by as he bites the bullet.


---
August 8th
Pansy Divisions 'Total Entertainment' arrives and it's a fine effort by the P.D. boys. The first thing I notice is the production, their best sound yet. The style of songs has changed, really diverse, still fun, wicked lyrics and I hope they send the Pope a copy- hell may just push him over the edge!!!! Go Pansy Division- world domination just around the corner ...

Visit the League of Extraordinary Gentlemen website located at: www.lxgmovie.com Can't wait to see this movie, starts here October 2nd.

Have a chat to Dean from the record company, about Enz stuff, will start on that next week, Eddie's up for it. As is his way.

Black Olive for some dinner, lost the vibe to cook, been working long hours.


---
August 9th
Mark gives me the release dates for Xmen 2 DVD (October 29th) and Lord of the Rings- Two Towers (August 26th) both will be huge.

I am up early off t the bank, grab some $ to pay the staff, and end up eating at Globe, waiting for the Post Office to open. First in the door, and when I leave the line runs out the door, so paid to be early. Post another batch of CDs and other fun stuff... pay the water rates which seems like a lot - the joys of being a home owner, all those extras.

Spend the afternoon boxing up stuff for next Sundays Record Fair, had quite a few emails from people attending. Should be a good day.

Cold night, really rug up, just finish telling Mark Winter will be much longer this year- just feels that way. Brrr, meanwhile Europe burns.

The Magnetic Island people sent me some house listings, gee one is only 1.25 million it is on top of the mountain and individual corridors join up the rooms, a 360o view of the sea and forest... now I know why it's a million +.

Dream a lot tonight.


---
August 10th
Cold morning, live in the big jumper that Marks Mum knitted for him, it's very snug. Think I'll light the fires today, and stay inside.

Cook breakfast, bacon and eggs, nice and crispy, that's another 1000 sit ups tonight. I wonder if I can do 2000 and have some chocolate too.

This is a quick diary update, typed it live so a bit rushed and probably full of mistakes. So a bigger diary entry next time I promise.

The World seems set on destruction and hatred, we all have it in our power to be kinder and more understanding to each other, and the planet. I'm telling you, one act of kindness can really give you a buzz, so give it a try. It's easy to say yep I'll do that, but actually doing something is much harder.

Look after yourselves.

Peter

---
If there are any problems with this site, please contact webmaster@aswas.com.