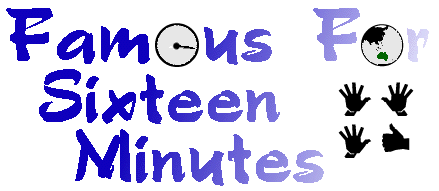 The Life and Times of Peter Green
Archive: 2 June - 15 June 2003
---
June 2nd
Good to see that nearly 5 million people in the USA tuned in for the last episode of Buffy the Vampire Slayer. Jayne in the U.K. mailed me the latest SFX magazine and one page has all the info on the last episode, I've been really good and although it is incredibly tempting, have not read that page... it's still a few weeks before the last episode is shown here... I will not look!!!!!!!

Hmmm well we have to get the plumber in, water has blocked up a bit, the joys of being a home owner, I'm o.k. about it but Mark is a bit freaky. It will be fine, am calm... go and escape and visit Rebecca who offers the use of her toilet *grin*. Hopefully Cosmo won't go sailing past on a homemade rabbit raft....he is looking more like Stuart Little every day (ok Stuart is a mouse Cosmo a rabbit...).


---
June 3rd
Campbell & Bic mail me the limited edition of Bic's "Beautiful Collision". I love the bonus CD, especially the two duets. The first "Good morning baby" with Dan Wilson, the second "Questions to ask me" with Tim Guy. Different styles for both songs but they work so well. Tim Guy called by with Bic just before we headed off on the Road trip- I think Bic is going to sign him to her own Record label that she is setting up.

Very Bic vibed at the moment and over the moon that the album is still #1 on the N.Z. charts- just wish the Australian record company would make more of an effort-it's such a good album. Had a grin as I notice that the Runga girl signed the front- feel all fan-ified!!! *grin* Thanks girl.

The plumber arrives, his name is Brendan and he is close to 7 foot tall!!!! A giant amongst men and plumbers...and he is great. Told me he had a crap day (is that a plumber joke???), he spent hours trying to fix up some old ladies plumbing, she flushed her bloomers down the system...and when he finally fixed it up..she refused to pay for the job, saying it was impossible that she flushed 'em- poor guy. An hour later and our plumbing is brilliant, he removed masses of tree roots from our drain, it looked like some animal from the hell dimension or a creature from the deep... but A'ok- toilets showers baths, sinks....life is good. Freely flowing clean water, a luxury we take for granted.


---
June 4th
Beautiful Collision still #1 in N.Z.

Just miss out on Sarah Michelle's Red cashmere V neck jumper that she wore on Buffy, if all goes well we will end up with one of the Slayers outfits, a great edition to the collection. Buffy is tiny though, all her outfits are XS or XXS, tiny, I'm surprised she doesn't snap in two when she is kicking vampy butt!

It's cold in Melbourne, a few people have commented on my desert tan since I have been back...it fades so quickly here and I will soon fit in with the rest of Melbourne's white society. I notice the cold more than ever, at least I have an excuse to wear some cool coats.

Hear from Neil who enjoyed his birthday present, he does look good in it. I sent him a DVDr of his 21st birthday-when he was in the Enz at Wellington Town Hall, don't think he has seen the footage for years-a bit trippy. Neil is kind of art-punky in it, looks great- think it's my Fave NF "look".

Was sorting through the office and we have found FOUR Rocket Pocket Books Tshirts. They have the marvelous RPB rocket logo on the front and all the book titles on the back. White Tshirt. All 4 are XLarge. Anyway the first 4 people who order-Hussy, Bang, Glamour or Wings off Flies from Deb's Frenz.com Sales area (Merchandise button at the bottom of this page)... will get one of these Tshirts for FREE. You have to mention this FREE F/16 offer when you order. It's a limit of one Tshirt per person. They are cool shirts, people have stopped us in the street and asked about them...anyway nice to give something away as a bonus.


---
June 5th
Mail Neil a batch of NF postcards for membership kits, we keep running out, we don't bombard him that often, it's a good thing.

We come in at #2 on one of the Buffy items, it's ok as there are a lot of items, I will be patient. So many things...poor old Dawsons Creek, they have heaps of stuff but no ones interested!!!!

Fave Book- The Slayers Guide
Fave colour- Blood red
Fave CD- Welcome to the Monkey House- (with bonus DVD) Dandy Warhols.
Fave Retro CD- Slade Alive!
Fave Food- Yoghurt Health Bars from Nice & Natural Company (NZ).
Fave Clothing- Chunky Black Bike Coat(fake fur lining).
Creep of the Month- Robert Mugabe.
Fave DVD- Queers as Folk-(USA) Season 2 (DVD set).
Fave Person-Peter Paige-Emmett (QAF)


---
June 6th
Head into the city, it's windy and the city is covered in a thick red layer. The strong wind blowing in the soil from the drought areas...looks apocalyptic. The Circus Oz people are setting up their tent for the current season.

My Grandad has been 10 years dead today, and even after a decade we all miss him heaps. I think that's the true sign of an amazing person, the longer they are away the more you miss them. I think of him sitting under those massive Peach trees playing his harmonica...he could hear a song and just play it 5 minutes later- I wish I was that talented.

Catch up with Jj for a quick coffee, we both really dug Star Trek Nemesis, so the usual space is the place conversation *grin*-all good.

Cosmo keeps following us around the house, since we came home the bunny is obsessed with us; think he thinks we are about to run away again- so we are going to try and spend more time at home.


---
June 7th
Earth Sanctuarys buy the lease for the National Park where Skippy the Bush Kangaroo was filmed. It's one of those 60's Australian TV shows...everyone loved Skippy.! Anyway the National Park is great and I'm sure the E.S. people will be releasing heaps of endangered Aussie animals or replacing ones that use to live there many many decades ago.

A day of cleaning, shower, house, leaves, compost bins, crappy sweat pants, Pansy Division Tshirt, leaves in my hair, grubby- kind of hot in a f*ck me I'm dirty sort of way....ok I was grotty- maybe not a turn on. Then again..

Rosemaree & Tania visit, good to see them, Rosemaree returns the magic key, so Mindy must of returned that (and her remote!). Bad Mindy.


---
June 8th
Mark splurges and buys a set top box-for digital TV broadcast...so now the programs look amazing, and really in a few years everyone in Australia will have to do the same as TV will only be digital....it looks great, so everything we record from TV is pretty exceptional. Good one MG.

Melbourne Weekly has a good interview with Melbourne journalist Peter Wilson. He spent 6 weeks in Iraq covering the War. He worked for "The Australian" newspaper and was only one of a handful of journalists to travel around Iraq independently. He was asked the million dollar question by David Bonnici.
Having witnessed the War and it's tragic consequences was the cost of liberating Iraqis from Saddam Hussein worth it?
"If that was the aim,yes,but I don't believe that was the aim," says Wilson. "If it was they should now be going onto Zimbabwe to get rid of Robert Mugabe who is killing and starving more people".

Peter Wilson is also responsible for the evacuation of 12 year old Ali Ismail Abbas who lost both arms and his parents when his home was bombed. After 2 days of calls and hassling people, it was Wilson who arranged for Ali to be evacuated to Kuwait for medical treatment and rehabilitation. I wish a lot more journalists were like Wilson, he is one of the honest ones and seems to care a bit about the human side of these conflicts.


---
June 9th
Public Holiday here, it's the Queens Birthday, but it's not really, kind of very strange. Hey most people have the day off, so happy birthday to all Queens everywhere (HUGE GRIN).

Interesting day on the charts. The Skyhooks Re-Issue that we have been working on...The Latest & Greatest is a bullet performer on the Aria album charts. It's outselling Kylie, Silverchair, Danni, Sophie, and a list of others....so go 'Hooks. The album is top 30 in States like Sth Australia and Western Australia and #8 on the Aria Australian Artist chart. We just blitzed past double platinum here and heading towards triple platinum. Go 'Hooks.

Nice to see "I See Red" being used as the song in the TV advert for red nose day. It's a good fundraiser,and seems to go from strength to strength. The version of I See Red is like how the song was originally penned, slow....it works well.


---
June 10th
Well suddenly GLAMOUR is selling really well. I guess F/16 readers want to get the third book if they have Hussy and Bang. Will be a long time till book #4 as I want a break from it...still gives me a buzz when we have to mail these little diary books out- so many nice emails and feedback- thanks.

Welcome home Mr Yeti, I'm sure he has many bizarre stories about Cold Chisel... oh I forgot what happens on the road stays on the road- damn roadies creed! *grin*.

Good to see Kim Beazley on the 7.30 Report, it's a hard all Beazley or Crean. Howard would prefer Simon Crean....he's a bit scared of the big bloke. Not sure if Beazley has the numbers to get the top job with Labor, will be damn close....feel sorry for Simon but hey that's politics... c'mon on the fat guy- and Beazley looks good like a man wanting to give Johnny Howard some shit so he has my vote. Plus that big Red Labor book has all those autographs in it and one is Kim Beazley's so it would increase it's value. We give all big blokes 3 chances, so Kim deserves one more.

How cool were Drew, Lucy and Cameron on ROVE. One of the best TV interviews I have seen, really fun, probably Rove at his best. Those 3 girls are obviously mates, out here in Oz to promote the new Charlie's Angels Movie.

The Led Zep DVD in the USA sold 120,000 units and debuted at #1, setting a "most sales in a week" record for a music DVD. It's #1 in Oz too.

Great Buffy Episode tonight....I wonder if all those wooden crosses in Principal Woods work room will turn up on Ebay...lets see that's $250 USA per cross times 500.......I can picture Jos outback nailing crosses and carving away at those stakes.....the main Buffy stake went for $7000 USA and a signed copy of the script from the last show went for an amazing $10,100.00 USA!!!!!!!!!!!!!! Mark cmon lets carve a few stakes...I figure just 100 would pay off my housing loan. Meanwhile Dawsons Creek stuff from the show sells for 10c or some measly amount......


---
June 11th
Breakfast at babble and Michelle goes in 2 weeks, off to Manchester to live...Babble won't be the same without her. Am working way on the Titanium Mac and Jacquie pops herself down for a morning chat- boys, boys boys.... she has boys on her mind. She should be thinking about her new jewelry shop on Greville street.

I am reading the paper and see that Rosario , the maid from Will & Grace, got caught for shop lifting $446 US worth of jewelry...quick Jacquie don't let this cantankerous maid into your store. So she has a touch of the Winona's.....all publicity is good publicity...I'm sure the script writers will be tempted to use this in the show.....

Splurge buy a big tattslotto ticket..this is the one....(final last words). Well a boy has to try, if you don't you'll never win.

Finally Season 7 of Star Trek Next Gen. arrives here on DVD, the last one, gives us something to do o these cold Winter nights.


---
June 12th
This week is zooming by, have got my holiday and some work down to a fine art. Spend the money boxing up copies and Glamour and signing the front, I wish I was better at the signing thing, always feel like a dick signing books-oh to be witty and bright like Morrissey! (: Today was a record amount of books for 2003, sent my first copy of Glamour to China, was hoping it would make the "banned book list" surely some country will ban me, probably the USA if I keep giving George Bush shit *evil grin*.

Tony Visconti has been approached to be Producer for the upcoming Finn Bros second CD...we will know very soon. So over the moon as he has worked with my hero's-T Rex and Bowie. he put this in his on line diary...really sweet.
"I have several projects slated for the rest of the year. Just recently I've been asked to produce a CD by Neil Finn, formerly of Crowded House, who is joined by his brother Tim Finn, formerly of Split Endz. What is so fantastic is that they made a private webcast for me, singing and playing the new songs from their home studio in New Zealand whilst I viewed it live in my studio in New York. I was literally a cyber-fly-on-the-wall. The songs are great, the brothers sing in perfect harmony. I am looking forward to this one." T.V.

Hmm my fave Retro Game of the week is Tetris. Yes returned to the classics, and just love this purple opaque Game boy...those blocks are really moving fast, am up to Level 15, that's pretty good- isn't it?

I email the Elkira Court Motel in Alice Springs for a missing Room bill, scrounging up Qantas Flight Points for Mark- hell I'm like his private travel agent...he is the only person who can get a Business Class Airfare to London and not actually fly to save up the points!

Liam Finn and the Betchadupa boys play Largo tonight, hope the show went well. Have been encouraging people to buy the Betchadupa album (Alphabetchadupa) online from Marbecks...it is so close to going Gold and hell it's a good play- worth buying for SupaDay alone. Marbecks also have copies of the Bic Runga Cd with the Bonus disc and a fine selection of Bic CD singles. http://www.marbecks.co.nz/ Plus overseas buyers get CDs tax free.

Babble was all frisky today, a few new faces serving, Jacquie and myself think they are connected to the mysterious "new owners" if there are "new owners"...we could just be paranoid. One of the new servers is very UN-Babble-ish....we can spot the difference.

Meanwhile I scare one of the new girls by demanding to know why Kylie Minogue is wearing her "hooker Porno" high heals in a beach shot- that was done in London a few days ago. I think she is promoting B.A...gee Kylie Australia has an airline too- it's called Qantas....so much for supporting home grown. Bet Kyles music gets kicked off the Qantas Sky channel on all flights. It's weird my vibe for Kylie has faded a lot...just a bit predictable- "I want a baby", " I'm writing more and more songs" " Did I say I want to have a baby" it's too tabloidy ...could just be the Melbourne Winter..those Hooker shoes on the fake beach annoyed me....wonder why!

and speaking of Hooker shoes....thank God that stupid rumor that Holly Vallance could be the new Slayer has been forgotten...Jos would never do that.....

The Dandy Warhols debut at #5 on the album charts here, their first Top 10 hit in Oz, the album fails to make the Top 10 in the UK, which sucks. Ex Bardot Sophie Monk is at #93...last time I say it- a wise move not to work with Sophie....it's not really Sophie, its more her management I'm not into.

A second Buffy stake just went for $6799.00 US, so the value is dropping from $7000 to $6799 still that's not bad for a table leg that's been sharpened! Today the Fox auction sold $16,000 US worth of stuff from the show, they seem to average around $15,000 US worth of sales per day, so they should end up with $100,000 US from the various Buffy items.

Have a quick coffee with Jj, and give Jen my secret recipe for a head cold guess there are a lot of colds and stuff about... think about decoying our neighbours dogs so I can grab a bag of lemons off their tree- we are sad lemon-less people. Get well Miss Jen as we don't want that Skipper in the nurses outfit...not again *grin*.

On the way to dinner at the Black Olive, we notice Greville Books is till open, so call in and see Jurate the owner. She tells me that "Glamour" is selling well and only has 4 copies left, and 2 copies of "Wings off flies" which is fantastic. She has a few new books in so I grab a copy of Rob Hirst from Midnight Oils, tour book- "Willies Bar & Grill" (A rock n roll tour of Nth America)- our mate Ben gets a serious mention as he was on the crew for that tour. I also pick up "Dopeland" by John Birmingham (Taking the high road through Australia's Marijuana Culture). JB penned "he died with a felafel in his hand", which became a feature film-looks like a fun read.

Yeti drops in for a quick visit and Mark spends the evening watching the Getaway-TV show-its one on animal safari's etc.


---
June 13th
Went on line last night and confirmed that Tony Visconti is the Producer for the Finn Bros, I just wanted to wait till Neil and Tim told me it's 100%, hate jumping the gun. Anyway it is, Finns off to the USA in 3 weeks to start recording. I am insanely excited, emailed NF far too much...he emailed today "Dear PG, a flurry of emails from you...always a pleasure..." I think excitement got the better of me, and that lemon Ruski at dinner...and the coffee with Jj, wired...I emailed the Finns to death last night (Opps).

Neil has also donated a song for the I LIKE IT RARE II CD, we will know if its Crowdies or Finn next week.... he's a good boss, hasn't let me down that I can remember, you can't say that about many people these days.

I had the vibe and it continued all day, won $10.40 on Lotto, I DO need to ask the Gods for more....but that comes under "greed" and I should be thankful for small "wins".

We joined the tables together at Babble this morning as a few of us "dined". Dutch Deb and Jacquie and MG and myself...shouted Deb, there goes my $10.40 *grin* oh well easy come easy go....good Karma in a good deed,always comes back.

Red Symons birthday today, he turns 54, and with all of his smoking he doesn't look a day over...60!!!! (Meow). Opps. Can not believe that a man of his intelligence is so stupid to smoke so much...especially having a family who could lose their Dad to lung cancer...so silly- I just don't get it, plus it makes your skin look horrible and the breath of an exhaust pipe that's pretty sexy (NOT).

Trudi calls and she is back home from O/s, she loved Prague as expected, heard from Robin too and we will catch up next week for some food and gossip. All the travellers are home.


---
June 14th
Got to sleep in, not too late but nice, was a bit frosty outside this morning, Mark told me that Cosmo refused to move off his mat in the Marks bathroom. We keep him inside in Winter- just from the afternoon onwards so the bunny is all snug....but this morning he just wanted to sleep in too.

Heard from Neil today and he has given me his blessing to be Director on the Crowded House "Farewell to the World" DVD release. Figure I will start on this around July 1st. No idea where it will be released etc etc, just want to get the ball rolling- have some ideas in my head (: (: (: Anyway thanks Neil, we'll do another good job. Will of course have Marky G as the Assistant Director (he is Assistant Director on so many of these now I want to change his name to Walter Skinner...sorry X Files joke). ideally I would love "Farewell...." to have a Christmas release....but we'll see.

Worked on a Bic Runga mail out in the afternoon, that was after I made the best homemade vegetable soup- Mums super special recipe. It's Winter here so great soup weather and this was spectacular- 4 bowls later- God what a pig.

I see a few familiar names got the chop from MCA this week, Gary Ashley who use to be at Mushroom during the Enz days...and Jeremy Hammond who was around Capitol in the CH days. A lot of record companies are cutting back on staff....it's a world wide thing.

Greg Macainsh from the Hooks calls and makes me laugh, he's just about to shave his beard off, which is a good thing, the auditions for Ned Kelly have long ended. *grin*

Go for a drive to the other side of town and visit Jen and RB, alwasy a good time. Take the last of my soup- all gone...):


---
June 15th
Rainy day in Melbourne, up in time for Rosemaree's phone call for breakfast. Babble was packed, really packed, that weekend crowd that none of us know. Michelle's last weekend before she heads off to the U.K.

The Sunday Herald Sun has our Skyhook Red Symons on the front. "Skyhooks Star's Sister in Red Rage". Four solid pages from his sister Jane and the "bitter family feud". The media were calling various people all week wanting poop from affairs to Redmonds bad side. Didn't think they would make it such a major story. I think I told someone recently that Red has to one day realize there is a difference between "playing a villain and being one". If nothing else it balances out the sugary sweet "this is your life" episode that goes to air later this year.

I joke to Greg that I bet the Skyhooks song "Sweet Sister" doesn't get much airplay in the Symons house this week. Typical papers run the most horrible photo they could find, Red snarling. It's always strange when family stuff is aired in the Press......hey I'm glad I love my sister.

For myself I'm not really close to Red, and never really wanted to be, I tend to ignore his crap, the best way is simply not to play the game. Guess it's a bit sad for the kids reading what family members think of their Dad.

In the same paper, in the Sunday Life area Neil Finn has a small feature on songwriting. Those Finns manage to get into all the magazines.

That's all from this neck of the woods, be kind to your Sisters.....you just never know....*grin*.

Peter

---
If there are any problems with this site, please contact webmaster@aswas.com.